"Legacy of Tradition"
October 7 – 8,  2022
USJF Seminar
Sensei Hector Estevez – 7th Dan, Olympian, Olympic Referee, World Championship Referee
UCHI – MATA:  There are 4 basic techniques that you must learn and practice them well and you will improve the quality and effectiveness for uchi-mata.
TSURI – KOMI – GOSHI: Will help you improving your hip action and position by lowering your body position

Imrove your suri -te pulling sleeve and shiche – te elevation of lapel

TAI – OTOSHI: Will help put the emphasis necessary to finish the throw
KOSHI – GURUMA:  Teaching the action of lowering your hip and placing the hip in the right direction
O – SOTO – GARI: Will increase your balance and strength in your leg for the pendulum of the leg
When you finish o-soto-gari this is the same leg pendulum needed for uchimata
GRIPS ARE ALSO VERY IMPORTANT
1 – IT IS RECOMMENDED TO ALWAYS TEACH THE BASIC GRIPS UNDER THE ARMPIT AS PER TSURI-KOMI-GOSHI
2- OVER THE ARM TO GRIP THE LAPEL
3- GRAB THE COLLAR AND CONTROL THE ARM
4- OUTSIDE GRIP
5- MY FAVORITE BACK GRIP (FROM COLLAR SLIDE DOWNWARD YOUR ARM GRIP TO THE MID BACK AREA, CONTROL THE BACK, AND MORE CONTROL OF YOUR OPPONENT
6- MOST POWERFEUL GRIP UNDER ARMPIT OR IN FRONT OF OPPONENT ARM
ENTRIES INTO UCHI-MATA
YOU NEED TO DEVELOP BALANCE COORDINATION AND RYTHMM
STEP – IN
SUSTAINING LEG DEEP INSIDE FAR INSIDE (HIP WILL LOWERED AUTOMATICALLY AS A RESULT OF THE DEEP LEG INSIDE)
REPLACING ONE LEG WITH ANOTHER
STEP BUT PENDULUM LEG IN FRONT
ASHI – UCHI-MATA – HIGH LEVEL COMPETITION
GO FOR THE OPPOSITE LEG – GOOD WHEN OPPONENT IS BENT
KOSHI -UCHI-MATA – HIGH LEVEL COMPETITION
GO INSIDE WITH SUPPORTING LEG – ONE LEG REPLACES THE OTHER
WHEN OPPONENT GOES BACK – SIDE
UCHI-MATA – HANE GOSHI – MY FAVORITE WHEN IN HIGH LEVEL COMPETITION 
SUPPORTING LEG IN FRONT OF HIS ATTACKING LEG
WHEN OPPONENT POSITION AND LEG IS IN FORNT
YOU CAN DO IT BACK, SIDE, LEFT AND RIGHT
MARE UCHI-MATA
STEP TO THE SIDE ROTATE HOP
CIRCULAR OR ROTATION DIRECTION
ONLY WORKS IN OPPOSITE SIDE OF OPPONENT
MAWARE UCHI-MATA
LIKE UCHI-MATA IN KATA
USING HIGH COLLAR GRIP
WHEN OPPONENT MOVE TO LAPEL SIDE
SAME SIDE OF OPPONENT
KEN KEN UCHIMATA
FIRST HOOK THEN HOP LEG AND GO HIGH AND HIGHER IN CIRCULAR MOTION HEAD DOWN
ADVANCED UCHI-MATA
NEED GREAT BALANCE USING MAKI-KOMI
ONE SIDE UCHIMATA
ARM PASSES OVER THE OPPONENT ARM
GOOD TO TAKE OPPONENT TO NE-WAZA
ERI GRIP UCHI-MATA
GRIP OPPOSITE LAPEL
DO LIKE SEOI -NAGE
ARM UNDER ARMPIT ON OPPOSITE SIDE
DOUBLE LAPEL UCHI-MATA – VARIATIONS
GAKE OIKOMI OR HANE OVER THE OPPOSITE ARM OF OPPONENT
OTHER ARM UNDER ARMPIT
UCHI-MATA INVERTED ELBOW
SWING TO THE OUTSIDE
UNDER THE ARMPIT OUTSIDE
YOU CAN DOMINATE WHEN OPPONENT HAVE A HIGH GRIP
MOROTE UCHI-MATA
WHEN OPPONENT GRIPS YOU WITH A HIGH GRIP
AGAINST TALLER OPPONENT
COMBINATION OF SEOI-NAGE AND UCHI-MATA
BAKIROV UCHI-MATA
OPPOSITE SIDE
LOCKING ELBOW USING OTHER MORE FOR LEVERAGE
ARM GRAB – UCHI-MATA
WHEN OPPONENT LIKE TO GRIP WITH A BACK GRIP
COMEOUT FROM TOP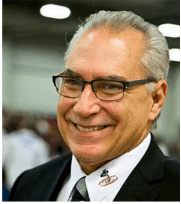 Register your participation in this Great Event!
Deadline for Pre-registration: October 5, 2022
No Walk-ups will be accepted
USJF Member Benefit (Free) or Join to be part of this Historical Event by becoming a USJF Member

"Legacy of Tradition"
Photoshoot
Members, please wear a white-gi and your obi to be part of photos documenting and celebrating 70 years of the United States Judo Federation.  1952 was the last time this type of picture was taken. Be part of Judo history.
Group photos: 10th, 9th, 8th, 7th, 6th – Dan Ranks – 5th, 4th, 3rd, 2nd, 1st Black Belts
Saturday, October 8, 2022 – 4:00 pm to 5:30 pm
City College of San Francisco Martial Arts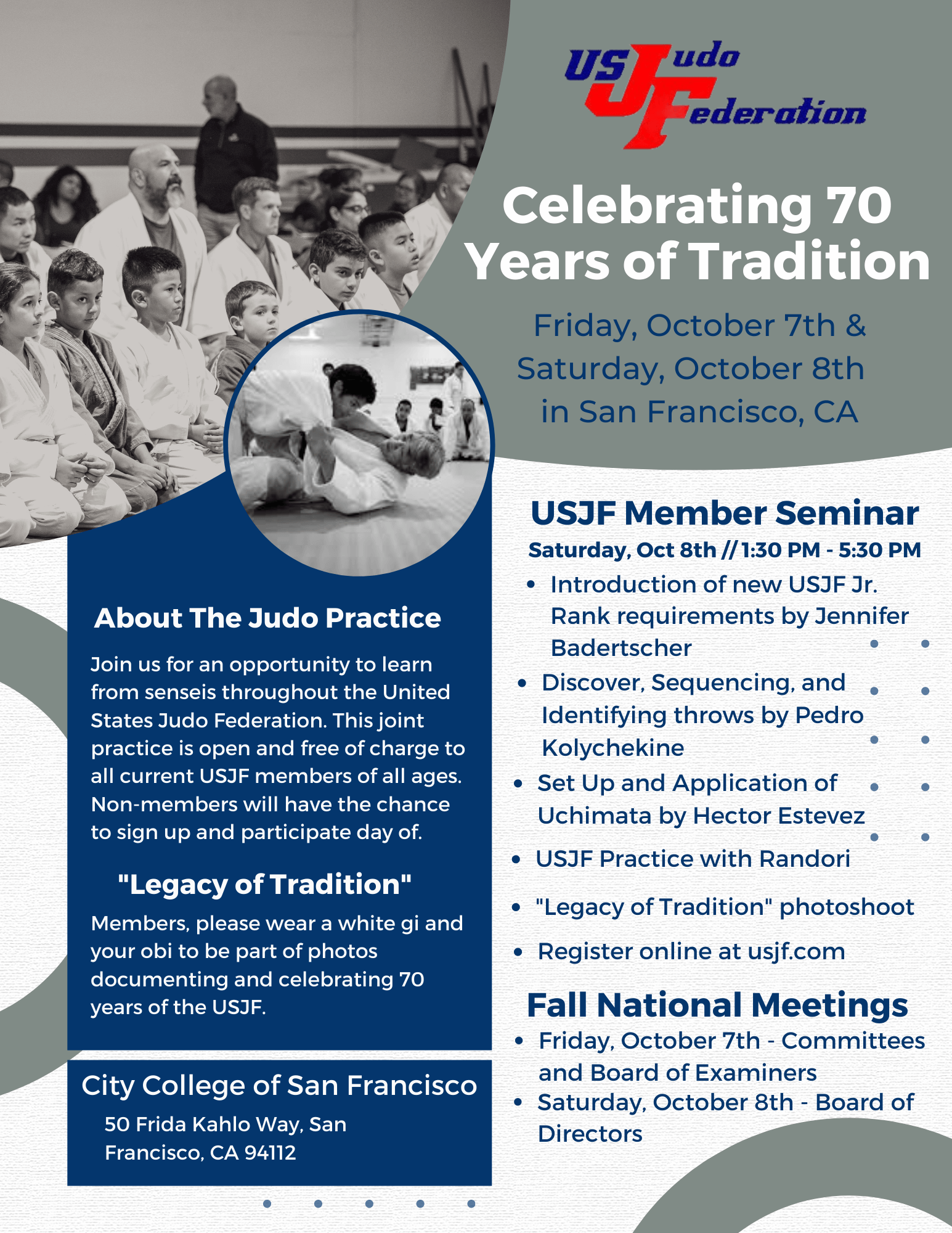 USJF National Committees, Board of Examiners and Board of Directors Meeting. Seminar, Randori and Historical Photoshoot.
Meeting Location: City College of San Francisco – 50 Frida Kahlo Way – San Francisco, Ca. 94112
HQ Hotel: Embassy Suites San Francisco Airport – South San Francisco, 250 Gateway Blvd, South San Francisco, Ca. 94080
If you are coming for the seminar and workout on Saturday, you can use the reservation Booking Link: www.my-event.hilton.com/sfosoes-usj-af61908b-6671-40f9-888c-2769aa1c9365/
USJF National Committees
Executive Committee
Yudanshakai Presidents
Promotion Committee
Women's Committee
Finance Committee
Board of Examiners
Development Committee
National Teachers Institute: Teacher/Coach Certification
Kata
Referee
Self Defense
Jr. Development
Friday, October 7, 2022 – 9:00 am to 9:00 pm
City College of San Francisco