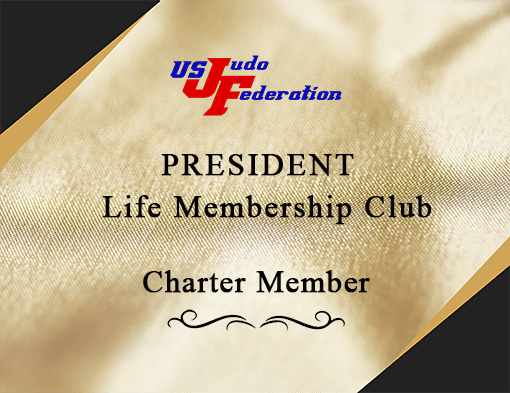 Every One Can
Make a Difference
President Club Life Membership
Life Membership Program is designed to recognize individuals and corporations that believe in the vision and mission of the USJF.
Our Vision is building strong wellness communities by empowering members to make known the Judo maxim, Jita-kyoei (spirit of mutual prosperity for self and others), through safe and positive experiences.
Our Mission to to promote and support Judo as a physical, mental and moral practice.
The President's Club has been established to receive and manage charitable donations made to the USJF.  All donations, which are tax deductible, are to be deposited into our Endowment Trust whose principal will be maintained, conserved, and invested so as to generate interest. Monies accumulated from the Endowment Trust will be used to support the development of Judo both local and nationally.
Presidential Sponsor ($20,000 donation)
| Number | Name | Date | Dojo | Yudanshakai |
| --- | --- | --- | --- | --- |
| 36 | Robert C. Brink | May 12, 2021 | Sterling J.C./49th St. Judo & S-D Inc. | 50th State |
Presidential VIP ($10,000 donation)
| Number | Name | Date | Dojo | Yudanshakai |
| --- | --- | --- | --- | --- |
| 191 | James R. Rivera | Apr 12, 2021 | Dale City Judo Club | Shufu |
| 161 | Asha K. Felice | Dec 31, 2012 | Smithtown Judo Club | Hudson |
| 159 | Philip V. Felice | Dec 31, 2012 | Smithtown Judo Club | Hudson |
| 102 | Donald Eric Spears | Apr 15, 2021 | College Park Judo Club | Shufu |
| 35 | Charles A. Neuendorf | Jun 20, 2003 | Heisei Judo Dojo | Pacific Southwest |
| 22 | Noboru Saito | May 19, 2000 | Saito Dojo | Konan |
| 10 | Edward A. Shirey | Sep 11, 1998 | Cranford Judo Club | Hudson |
Executive VIP ($5,000 donation)
| Number | Name | Date | Dojo | Yudanshakai |
| --- | --- | --- | --- | --- |
| 197 | Bradley K. Albrecht | Dec 21, 2021 | North Sound Judo | Northwest |
| 181 | Robert D. Donaldson | Oct 26, 2021 | College Park Judo Club | Shufu |
| 139 | Joseph J. Fitzsimmons | Jul 09, 2010 | Santa Clara P.A.L. Judo Club | Hokka |
| 3 | Lawrence S. Zaslow | Aug 22, 1997 | Watanabe Judo | Hudson |
Presidential ($3,000 donation)
| Number | Name | Date | Dojo | Yudanshakai |
| --- | --- | --- | --- | --- |
| 192 | George T. Antoniou | Aug 03, 2021 | Dale City Woodbridge Judo Club | Shufu |
| 146 | Thomas S. Seabasty | Jan 04, 2011 | At Large | Shufu |
| 63 | Daniel R. Israel | Nov 12, 2004 | East Bay Judo Institute | Daiheigen |
| 45 | Donald A. Kelley | Aug 20, 2003 | Saito Dojo | Konan |
| 29 | James M. Lally | Jun 21, 2001 | At Large | Nanka |
| 19 | Patrick J. Beckley | May 24, 2021 | At Large | Hudson |
| 12 | Vaughn T. Imada | Sep 18, 1998 | San Jose Buddhist Judo Club | Central Coast |
Executive ($1,000 donation)
| Number | Name | Date | Dojo | Yudanshakai |
| --- | --- | --- | --- | --- |
| 202 | Lance Miyamoto | Jun 14, 2023 | At Large | Shufu |
| 200 | Taylor Hayes | Mar 28, 2023 | At Large | At Large |
| 196 | Robert J. Hunt | Jan 18, 2022 | At Large | Shufu |
| 189 | Edgardo Rodriguez | Dec 31, 2020 | Goltz Judo | Nanka |
| 182 | Michael R. Martyn | Feb 04, 2019 | At Large | Northwest |
| 140 | Hee Ja Park | Jul 19, 2010 | Saito Dojo | Konan |
| 134 | Roy T. Englert | Mar 06, 2009 | At Large | Shufu |
| 133 | Isamu Kondo | Dec 25, 2009 | Saito Dojo | Konan |
| 130 | Mark Stavropoulos | Dec 11, 2009 | Saito Dojo | Konan |
| 123 | Vicki C. Trent | Jan 05, 2009 | At Large | At Large |
| 121 | Shinichi Munemasa | Dec 25, 2008 | Saito Dojo | Konan |
| 118 | J. Miki Takemori | Apr 07, 2021 | Toshi BudoKai | Shufu |
| 105 | Ray T. Imada | Sep 20, 2007 | Wadokan Judo Association | 50th State |
| 101 | Seung W. Ahn | Jun 01, 2007 | Saito Dojo | Konan |
| 98 | Bert A. Mackey | Apr 18, 2007 | BudoKan Dojo | Northwest |
| 96 | Tomiko J. Yabumoto | Jan 18, 2007 | Soko Joshi Judo Club | Central Coast |
| 95 | Harunobu Nishii | Jan 23, 2007 | Orange County Kodokan Judo Do | Nanka |
| 94 | Harold E. Sharp | Nov 27, 2006 | Gardena Judo Club | Nanka |
| 93 | Stacey C. Knapp | Nov 13, 2006 | At Large | At Large |
| 91 | Janet Y. Ashida Johnson | Aug 08, 2006 | Renshinkan Judo/Brockport State Judo | Niagara |
| 89 | Haruo H. Kaisaki | Jun 27, 2006 | Sawtelle Judo Dojo | Nanka |
| 85 | Joseph S. Kajita | Jun 27, 2006 | El Toro Judo Dojo | Nanka |
| 82 | Jerome T. Vessichio | May 22, 2006 | At Large | At Large |
| 80 | Harold K. Kawai | Apr 03, 2006 | Shunyokan Judo Club, Inc. | Hawaii State |
| 79 | Elizabeth Sidford | Mar 29, 2006 | Saito Dojo | Konan |
| 76 | Lillian Tom | Feb 13, 2006 | At Large | Hudson |
| 74 | Robert Balch | Oct 21, 2005 | Saito Dojo | Konan |
| 64 | Keith S. Sheppard | Dec 01, 2004 | Saito Dojo | Konan |
| 61 | Thomas J. Sheehan | Jul 23, 2004 | Michigan State University Judo Club | Konan |
| 52 | Neil J. Simon | Aug 20, 2003 | Shojin Judo Inc. | Konan |
| 44 | David R. Matsumoto | Aug 20, 2003 | East Bay Judo Institute | Daiheigen |
| 43 | Garrett C. Keais | Aug 20, 2003 | Saito Dojo | Konan |
| 26 | James L. Cornforth | Sep 22, 2000 | Saito Dojo | Konan |
| 24 | Leslie E. Stewart | Jul 18, 2000 | Saito Dojo | Konan |
| 23 | Richard D. Cook | Jun 14, 2000 | Desert Judo | Arizona |
| 11 | Phyllis Imada | Sep 18, 1998 | San Jose Buddhist Judo Club | Central Coast |
| 7 | Anonymous Donor | Jun 08, 1998 | At Large | At Large |
| 1 | Mitchell T. Palacio | Jul 01, 1997 | City College of San Francisco Judo Club | Central Coast |
Charter ($500 donation)
| Number | Name | Date | Dojo | Yudanshakai |
| --- | --- | --- | --- | --- |
| 204 | Barron T. Yanaga | Aug 10, 2023 | At Large | At Large |
| 203 | Mohammed Fdal | Jul 17, 2023 | Tohoku Judo Club | Rokushu |
| 201 | Jonathan Lee | Mar 28, 2023 | At Large | Florida |
| 199 | Gary A. Berquist | Jan 18, 2023 | Midway Judo Club | Chicago |
| 198 | Shane A. Hudson | Nov 20, 2022 | MaxOut Sports Judo Club | Konan |
| 195 | Clayton D. Willett | Oct 21, 2021 | Shipyard Judo | Northwest |
| 194 | Brandon H. Shimabukuro | Jun 18, 2021 | Island Judo Hawaii | 50th State |
| 193 | Frederick Fries | Aug 09, 2021 | At Large | Shufu |
| 190 | Jessey Bouchard | Mar 30, 2021 | At Large | At Large |
| 188 | Benito J. Caamano | Oct 14, 2020 | At Large | Hudson |
| 187 | Scott Momii | Jan 07, 2020 | Norwalk Judo Club | Nanka |
| 186 | Diane T. Jackson | Aug 29, 2019 | Hui-O-Judo Beltsville | Shufu |
| 185 | Kevin S. Tamai | Aug 29, 2019 | Hui-O-Judo Beltsville | Shufu |
| 184 | Margaret T. Kettl | Aug 29, 2019 | Hui-O-Judo Beltsville | Shufu |
| 183 | John A. Breen | Feb 11, 2019 | At Large | Chicago |
| 180 | Kainoa Li | Aug 23, 2017 | Mililani Seidokan Judo Club | 50th State |
| 179 | Kent T. Ochiai | Jun 26, 2017 | At Large | Nanka |
| 178 | Charles G. Bouton | Jun 26, 2017 | At Large | At Large |
| 177 | Gaiv M. Tata | Jun 15, 2017 | Arlington Judo Club | Shufu |
| 176 | Steven D. Rude | Mar 17, 2017 | Sawtelle Judo Dojo | Nanka |
| 175 | David P. Malek | Sep 19, 2016 | Tohkon Judo Academy | Chicago |
| 174 | Anton C. Lettner | Jul 30, 2016 | San Jose Buddhist Judo Club | Central Coast |
| 173 | Kaci-Lee E. Ver Sluis | May 05, 2016 | At Large | At Large |
| 172 | Gabriel G. Zubiria | Dec 18, 2014 | At Large | Florida State |
| 171 | Marcelo C. Gomes | Oct 22, 2014 | At Large | Florida |
| 170 | Maximillian N. Rayner | Aug 29, 2014 | Palo Alto Judo Club | Central Coast |
| 169 | Clayton K. Nishina | Jun 09, 2014 | Kona Hongwanji Judo Club | 50th State |
| 168 | Shintaro Nakano | Jan 10, 2014 | Nakano Judo Academy | Central Coast |
| 167 | Daniel B. Grunberg | Nov 20, 2013 | College Park Judo Club | Shufu |
| 166 | Michael W. Landstreet | Aug 05, 2013 | Arlington Judo Club | Shufu |
| 165 | Gary A. Hashiro | Mar 21, 2013 | Hawaii Boys & Girls Club Judo | Hawaii |
| 164 | Rodney K. Lima | Mar 19, 2013 | At Large | Intermountain |
| 163 | Charles M. Drust | Feb 19, 2013 | At Large | At Large |
| 162 | Bernie J. Semel | Jan 07, 2013 | At Large | Makoto |
| 160 | Richard H. Muller | Jul 06, 2012 | Obukan Judo Dojo | Northwest |
| 158 | Andrew Connelly | Aug 08, 2012 | Shojin Judo Inc. | Konan |
| 157 | Ronald R. Suggs | Mar 23, 2012 | Mikawa Judo Academy | Pacific Southwest |
| 156 | Edward C. Staniek | Jul 05, 2011 | Sacramento Judo Club Inc. | Hokka |
| 155 | Karen M. DuPage | Jun 20, 2011 | At Large | Konan |
| 154 | Hyeyoung Ahn | Jun 17, 2011 | Saito Dojo | Konan |
| 153 | Frank Kucsera | Jun 07, 2011 | Mountain Judo | Hudson |
| 152 | Michael J. Russell | Feb 09, 2011 | At Large | Northwest |
| 151 | Devin P. Cohen | Apr 27, 2011 | At Large | Hudson |
| 150 | Demetris Haritos | Apr 11, 2011 | Saito Dojo | Konan |
| 149 | Steven L. Floerchinger | Mar 28, 2011 | Anchorage Dojo | 50th State |
| 148 | Michael E. Freville | Jan 10, 2011 | At Large | At Large |
| 147 | Anson H. Pang | Jan 07, 2011 | Heisei Judo Dojo | Pacific Southwest |
| 145 | David Soto | Nov 08, 2010 | At Large | Hudson |
| 144 | Michael Grunberg | Nov 04, 2010 | College Park Judo Club | Shufu |
| 143 | Sharlyne T. Palacio | Sep 30, 2010 | City College of San Francisco Judo Club | Central Coast |
| 142 | Frances M. Christie | Aug 16, 2010 | Soko Joshi Judo Club | Central Coast |
| 141 | Benjamin C. Ott | Aug 10, 2010 | Mushin Judo | Intermountain |
| 138 | Barbara A. Houston-Shimizu | Jun 29, 2010 | At Large | Northwest |
| 137 | Robert D. Gleason | May 20, 2010 | Saito Dojo | Konan |
| 136 | Larry G. Canada | Mar 22, 2010 | At Large | Shinnanbu |
| 135 | Roy E. Nanjo | Mar 22, 2010 | Yama Arashi/Villanova University Judo | Shufu |
| 132 | Richard D. Riehle | Oct 14, 2009 | Goltz Judo | Nanka |
| 131 | Kenneth Davis | Dec 23, 2009 | Saito Dojo | Konan |
| 129 | Shintaro Taniguchi | Jun 18, 2009 | Honolulu Judo Club | 50th State |
| 128 | Kevin H. Funasaki | Jun 17, 2009 | Mililani Hongwanji Judo Club | 50th State |
| 127 | Jesse H. Ingram | Jun 01, 2009 | College Park Judo Club | Shufu |
| 126 | Terry D. Fukuda | Dec 31, 2008 | Western Idaho Judo Institute | Daiheigen |
| 125 | Piotr Dziadowicz | Jan 09, 2009 | Saito Dojo | Konan |
| 124 | Peter V. Catlos | Jan 09, 2009 | Saito Dojo | Konan |
| 122 | Timothy J. Jordan | Jan 02, 2009 | Saito Dojo | Konan |
| 120 | Abdi B. Levi | Nov 14, 2008 | At Large | Chicago |
| 119 | Ronald I. Hiyakumoto | Oct 10, 2008 | Wailuku Hongwanji Judo Club | Hawaii |
| 117 | Jack R. Rogers | Dec 10, 2007 | Saito Dojo | Konan |
| 116 | Gerald E. Wee | Jul 08, 2008 | At Large | Konan |
| 115 | Don J. Flagg | Jul 08, 2008 | At Large | Konan |
| 114 | Michael A. Mooney | Jun 02, 2008 | Chu To Bu Judo Club Inc. | Konan |
| 113 | S. Leonard Auerbach | Mar 31, 2008 | At Large | Hokka |
| 112 | Robert S. Fukuda | Jan 23, 2008 | Western Idaho Judo Institute | Daiheigen |
| 111 | William D. Kennings | Dec 10, 2007 | Saito Dojo | Konan |
| 110 | Freya D. Saito | Jun 13, 2008 | Saito Dojo | Konan |
| 109 | Darren N. Horiuchi | Apr 07, 2008 | Leeward Judo Club | 50th State |
| 108 | Iris Mair | Feb 12, 2008 | Shojin Judo Inc. | Konan |
| 107 | John B. Weiner | Oct 29, 2007 | Goltz Judo | Nanka |
| 106 | Allen E. Inouye | Oct 11, 2007 | Seinan Judo Dojo | Southern Pacific |
| 104 | Carl F. Tenckhoff | Aug 23, 2007 | Chico Judo | Central Coast |
| 103 | John C. Morrisson | Aug 09, 2007 | Arlington Judo Club | Shufu |
| 100 | Matthew J. Cain | May 07, 2007 | Tucson Dojo | Arizona |
| 99 | Rena Kanokogi | May 07, 2007 | Kyushu Judo & Community SVC C | Hudson |
| 97 | Joseph Banyai | Feb 08, 2007 | Saito Dojo | Konan |
| 92 | Fred O. Nuthall | Oct 16, 2006 | Sanshi Judo Club | Pacific Southwest |
| 90 | Anthony J. Catanese | Aug 07, 2006 | Cranford Judo Club | Hudson |
| 88 | George Y. Tsubota | Jun 27, 2006 | Hodokan Judo Club | 50th State |
| 87 | Teresa L. Schweitzer | Jun 27, 2006 | Soko Joshi Judo Club | Central Coast |
| 86 | Eva McCatty | Jun 27, 2006 | At Large | Pacific Southwest |
| 84 | Yoshisada Yonezuka | Jun 27, 2006 | Cranford Judo Club | Hudson |
| 83 | John T. Anderson | Jun 27, 2006 | At Large | Shufu |
| 81 | Joseph F. Ciokon | Apr 17, 2006 | NAS North Island Judo Club | Pacific Southwest |
| 78 | John Denora | Mar 14, 2006 | Nichijo Kore Dojo | Pacific Southwest |
| 77 | Gladstone O. Seale | Mar 13, 2006 | At Large | Hudson |
| 75 | Robin M. Rosenthal | Feb 13, 2006 | Empire Budokai Judo Jujitsu and Karate | Hudson |
| 73 | Julie A. Koyama | Oct 11, 2005 | Oregon State Judo Club | Northwest |
| 72 | Blane L. Bellerud | Oct 11, 2005 | Shudokan Judo Dojo | Northwest |
| 71 | George G. Bechtold | Oct 11, 2005 | Obukan Judo Dojo | Northwest |
| 70 | Richard H. Middlebrooks | Oct 11, 2005 | Obukan Judo Dojo Inc | Northwest |
| 69 | Rod W. Conduragis | Oct 11, 2005 | Obukan Judo Dojo Inc | Northwest |
| 68 | Mark E. Hirota | Oct 11, 2005 | Obukan Judo Dojo Inc | Northwest |
| 67 | Toshio Ichinoe | Aug 08, 2005 | Obukan Judo Dojo Inc | Northwest |
| 66 | Jim S. Onchi | Aug 08, 2005 | Obukan Judo Dojo Inc. | Northwest |
| 65 | Clay Y. Asato | Apr 04, 2005 | Ko'olau Judo Club | Hawaii |
| 62 | William H. Stevens | Oct 04, 2004 | At Large | Rokushu |
| 59 | Lloyd K. Migita | May 24, 2004 | Shobukan Judo Club | 50th State |
| 58 | Preston R. Quam | Feb 25, 2004 | Los Angeles Tenri Judo Dojo | Nanka |
| 57 | James R. Webb | Nov 10, 2003 | At Large | Shufu |
| 56 | Bruce E. Wilson | Aug 20, 2003 | Michigan State University Jud | Konan |
| 55 | George Y. Tashiro | Aug 20, 2003 | Soko Joshi Judo Club | Central Coast |
| 54 | James H. Takemori | Aug 20, 2003 | Washington Judo Club | Shufu |
| 53 | Eiko S. Shepherd | Aug 20, 2003 | Kitokan Judo Club | Chicago |
| 51 | Richard E. Petherbridge | Aug 20, 2003 | Sonoma State University Judo | Daiheigen |
| 50 | Mark E. Pasquinelly | Aug 20, 2003 | Toledo-Maumee Judo Club | Konan |
| 49 | Alan J. Panackia | Aug 20, 2003 | Black Swamp Judo | Konan |
| 48 | Anthony R. Owed | Aug 20, 2003 | Toledo-Maumee Judo Club | Konan |
| 47 | Chris J. Mitsuoka | Aug 20, 2003 | Okubo Judo Club | Daiheigen |
| 46 | Daniel J. Mitoraj | Aug 20, 2003 | Saito Dojo | Konan |
| 42 | Paul E. Jordan | Aug 20, 2003 | Chu To Bu Judo Club Inc. | Konan |
| 41 | Frances Glaze | Aug 20, 2003 | Black Swamp Judo | Konan |
| 40 | K. Hiroshi Fujimoto | Aug 20, 2003 | Saito Dojo | Konan |
| 39 | James J. Colgan | Aug 20, 2003 | At Large | Chicago |
| 38 | James E. Carmer | Aug 20, 2003 | At Large | Konan |
| 37 | Wilson A. Burgess | Aug 20, 2003 | At Large | Florida State |
| 34 | Thomas A. Bruno | May 05, 2003 | At Large | At Large |
| 33 | Walter P. Dean | Apr 15, 2003 | Goltz Judo | Nanka |
| 32 | Gerald P. Uyeno | Mar 13, 2003 | Gardena Judo Club | Nanka |
| 31 | Richard A. Petty | Feb 26, 2003 | Pacific Grove Judo Academy | Ganbaru |
| 30 | Steve Antes | Mar 07, 2002 | DeLeon Judo Club | Central Coast |
| 28 | Edward E. Wilkes | Jan 29, 2001 | Shubukan Martial Arts Center | Nanka |
| 27 | Rick Blanco | Oct 23, 2000 | Budokan Judo Club | Florida State |
| 25 | George C. Balch | Aug 28, 2000 | Saito Dojo | Konan |
| 21 | Harry K. Kaneakua | May 01, 2000 | Hanapepe Judo Club | Hawaii |
| 20 | Thom Layon | Dec 24, 1999 | At Large | At Large |
| 18 | Don E. Speakman | Jan 07, 2000 | Shojin Judo Inc. | Konan |
| 17 | Herbert J. DeVusser | Dec 13, 1999 | At Large | Shufu |
| 16 | Albert N. DeMers | Nov 08, 1999 | At Large | Central Coast |
| 15 | Roy S. Murakami | Mar 01, 1999 | San Fernando Valley Judo Club | Nanka |
| 14 | Harold H. Oshima | Nov 19, 1998 | Tohoku Judo Club | Rokushu |
| 13 | Michael F. Schubert | Oct 06, 1998 | Stockton Judo Club | Daiheigen |
| 9 | Tawni McBee | Jul 13, 1998 | Ikudokan Kasuga Judo Club @ T | Arizona |
| 8 | Rumiko Hatano | Jun 29, 1998 | At Large | Southern Pacific |
| 6 | Joanne C. Barthold | May 11, 1998 | Tohkon Judo Academy | Chicago |
| 5 | Toshiaki Inouye | Jan 20, 1998 | Kaimuki YMCA Judo Club | Hawaii |
| 4 | Malcolm F. Hodges | Oct 14, 1997 | Washington Judo Club | Shufu |
| 2 | Wayne M. Cunningham | Jul 21, 1997 | Albany YMCA Judo Club | Central Coast |