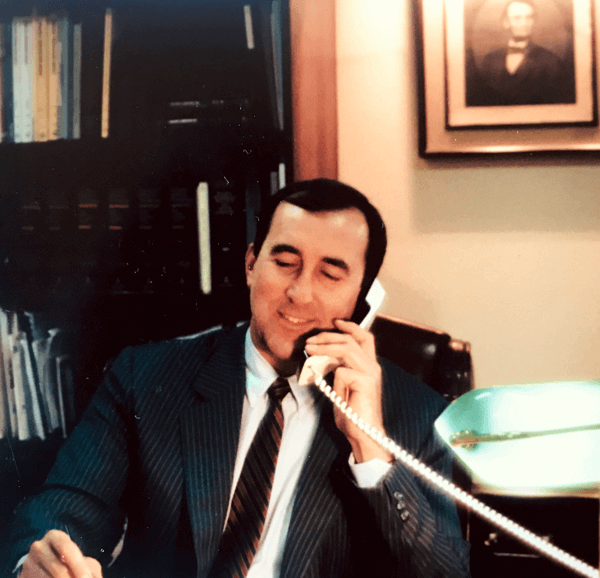 copyright 2020 USJF. All rights reserved.
Robert Brink
Inducted 2020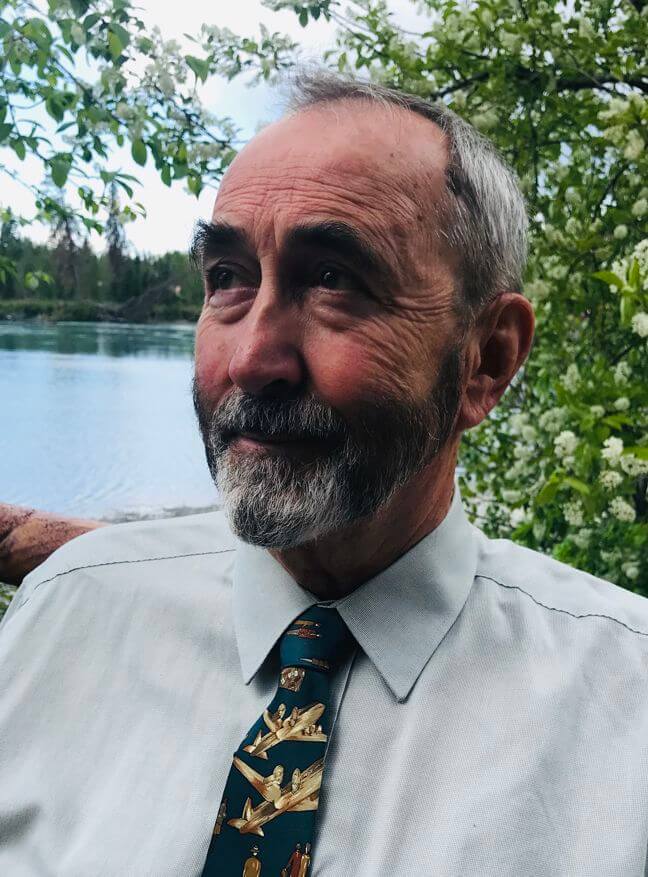 Copyright 2020 USJF. All rights reserved.
58 years in the trenches as young competitor and as 100% volunteer teacher, coach of many medalists, referee, club founder and administrator such activities including:

U.S. Navy-Marine Judo Team, Yokosuka, Japan: 1963-1965
Watanabe Dojo, Yokosuka, Japan: 1963-1965: Riichiro Watanabe, Sensei (Teammate & mentor Isao Inokuma '64 Olympic Gold and 1965 World Gold, etc., and Ed Alseika, Larry Fryar, Gunny Hank Lemar, Wayne Beck, Jerry Hayes, etc.)
Elmira Judo Club, Elmira, NY: 1966-1970
Founder University of Nebraska Intramural Judo Club in Lincoln and Scottsbluff, NB: 1966-1969 primarily for undergraduate students
Anchorage School of Judo, Anchorage, AK: 1970-1972
Ft. Richardson Judo Club, Anchorage, AK: 1972-1976 Head Sensei
Founder Valdez Judo Club, Valdez, AK: 1975-1976 (during construction of Trans-Alaska Pipeline); Head Sensei
Gonzaga University, Spokane, WA: 1977-1979 while J. D. law student, Judo PE credit courses for undergraduate students (Judo 101 and 102)
Univ. of Miami, Miami, FL: 1979-1980 intramural judo while a LL.M. law student
Founder Olympic Judo Club of Alaska: 1980-1983 Organizer and head sensei
Judo Cup '84: May 1984 Organizer and Tournament Director of international judo competition in Anchorage, AK with teams from around the world
Founder Anchorage Dojo aka Anchorage Judo Center, Inc., Anchorage, AK: head sensei 1983 – until 2012 retirement and relocation
Founder Sterling Judo Club, Sterling, AK aka 49th State Judo and Self-Defense, Inc.: 2012 to present. Head sensei.
Sterling Judo Club 2018 Alaska State Team Champions and 2018 Athlete-Scholar Recipient

Support State, Regional and National Judo Organizations as Officer, Director or Organizer


State AAU Alaska Judo Association, Anchorage, AK delegate 1970-1979
State Governing Body Alaska Judo, Inc., Anchorage, AK: 1980~1992. Organizer, incorporator, 1st president and delegate to national governing body (US Judo, Inc.)
U.S. Judo, Inc. (aka U.S.A. Judo) 1980-1998 member of board of directors (representing Alaska's SGB or USJF for 38 consecutive semiannual national meetings over 19 years), Law and Legislation Committee, Finance Committee, Sports Festival official 1987, Seattle Goodwill Games official ~1995, etc. Mentored over 20 years by Frank Fullerton. Some original ideas/initiatives including establishment of national office, paid executive director and professional fundraiser, cash awards to U.S. Olympic and World medalists, presidential term limits, 1996 dual national registration, and 1984 case for admission of judo women to the Olympics (see photo from 8/1984 ACLU news conference).
Regional black belt association
Northwest Yudanshakai (regional black belt assn.): 1972~2009 represented Alaska clubs as an officer and director and examiner
50th State Judo Assn. (yudanshakai): 2010 to present as director and examiner
U.S. Judo Federation: ~1972 to present representing N.W. Judo Yudanshakai or 50th State Judo Association Yudanshakai as director and/or Board of Examiners, Promotion Committee delegate; corporate counsel (1986-1992); USJF 1st VP ~1988-1992; President Yonezuka's hand-picked successor as USJF President (~1992-1996) and as Chairman USJF Board of Examiners (2006-2016); USJF Parliamentarian 1986~2010; Organized USJF Hall of Fame and served on selection committee from its 1989 creation; served on numerous other committees including legal, finance, kata, Executive Committee (most years 1988-2016), talent inventory; USJF Magazine Executive Editor (1992-1996); USJF Judo Ambassador (~1992-1996 and 2000~2006) including travel and presentations to Presidents Putin and Shevardnadze, et al (Russia and Georgia); USJF Photo-journalist to several Sr. Worlds including Makuhari, Munich, Paris, Birmingham, Osaka (see photos), membership for U.S. judo in Nat. Sportscaster and Sportswriters Assn.; Draftsman of USJF (1987) Bylaws and USJF Endowment Trust (1991) & Addendum 2001, etc. Lots of original ideas and new initiatives including Hall of Fame, Athlete Scholar Award, Endowment Trust, Most service, contributions, etc. were the result of having a hard working and dedicated team of volunteers much more concerned with how we could serve the USJF membership rather than who got the credit (including during the period of 1988-1996 – the Yonezuka-Brink Administrations with D. Mastumoto and R. Fukuda when the membership of USJF increased from ~4,000 to ~10,000).

U.S. Kodokan Committee Chairman Yonezuka's legal counsel ~1997-2015
Women's judo advocacy: LA ACLU News Conference During 8/84 LA Olympics

Rena "Rusty" Kanokogi and Robert Brink with others
copyright 2020 USJF. All rights reserved.

Four USJF Consecutive Presidencies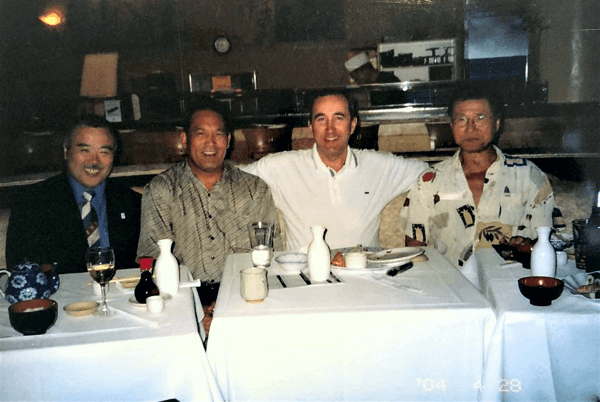 Noboru Saito, Mitchell Palacio, Robert Brink and Yoshisada Yonezuka
copyright 2020 USJF. All rights reserved.
Judo Program Certification

USJF Certified 2015 and 2020 Master Teacher Instructor
USJF Certified Master Instructor Level Teacher
USJF Certified 2015 Master Teacher Instructor
USJF Certified Self-Defense Trainer
USJF National Coach
PACE (Michigan State Univ. program for volunteer coaches): National Certified PACE Instructor
USJF and Kodokan Judo shichidan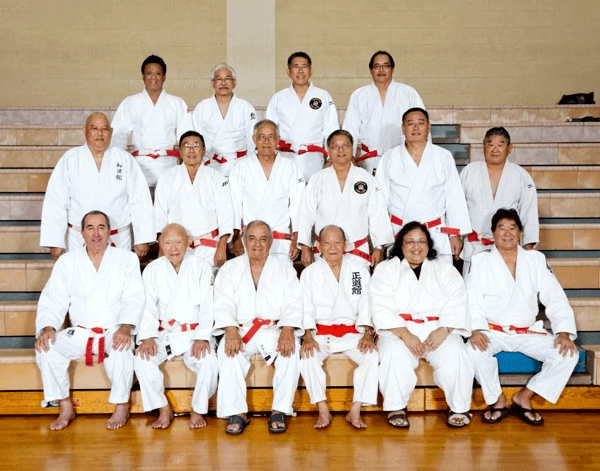 50th State Judo Association Kodansha Colleagues (2018)
Photo credit: Steven Nohara
Personal Background

Born Elmira, NY December 1944 and Vietnam Navy veteran
University of Nebraska Bachelor of Arts, Cum Laude 1966-1969, Lincoln and Scottsbluff, NB)
Gonzaga University Law School, Spokane, WA.: Doctor of Jurisprudence, May 1979
University of Miami School of Law, Miami, Florida: Master of Laws (LL.M. Taxation), May 1980
Brink is a retired tax attorney, still enjoying fly fishing, wood turning, snake wrangling and continuing in "the trenches" since 1963 while traveling around the world for judo and fun.

Special Honors

USJF's 1st Kano Outstanding Leadership Statute ~2006 (Pres. Saito)
USJF's Jeremy Glick Award, July 4, 2004: Jeremy was a collegiate judo champion who lost his life during the terrorist attack on 9/11/2001. The plane he was a passenger on the fourth of four passenger airliners taken over by terrorists was headed for the US Capitol in Washington, DC. Due to the heroic actions of Jeremy and two or three other passengers attempting to re-take control of their plane (none with any flying experience) they were in the process of broaching the cockpit door when the terrorist mission was aborted and the plane was then deliberately crashed in Pennsylvania. It was later reported that due to the heroic actions of Jeremy and his "team", many lives in the Capital Building were probably spared. This is a very special award. (Saito Administration)
U.S. Judo Hall of Fame Class of 2020 May 2020
U.S.J.F. Presidential VIP Life Member
Robert Brink Photo Journalist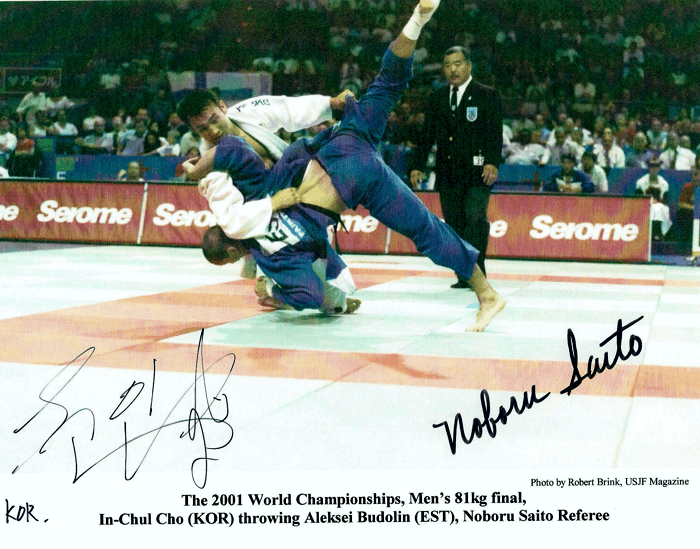 copyright 2020 USJF. All rights reserved.
Munich World Medal Match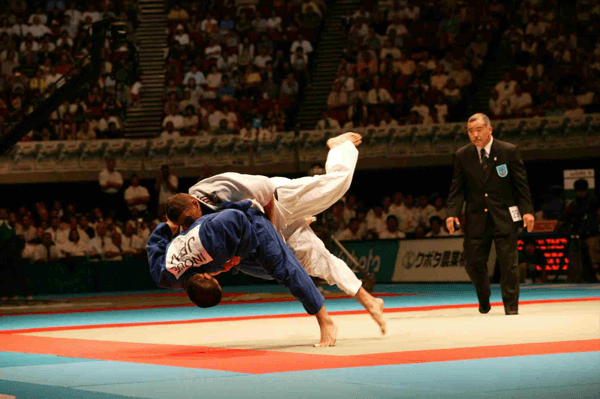 copyright 2020 USJF. All rights reserved.
Special People, Special Occasion – Fukuda Sensei Judan Ceremony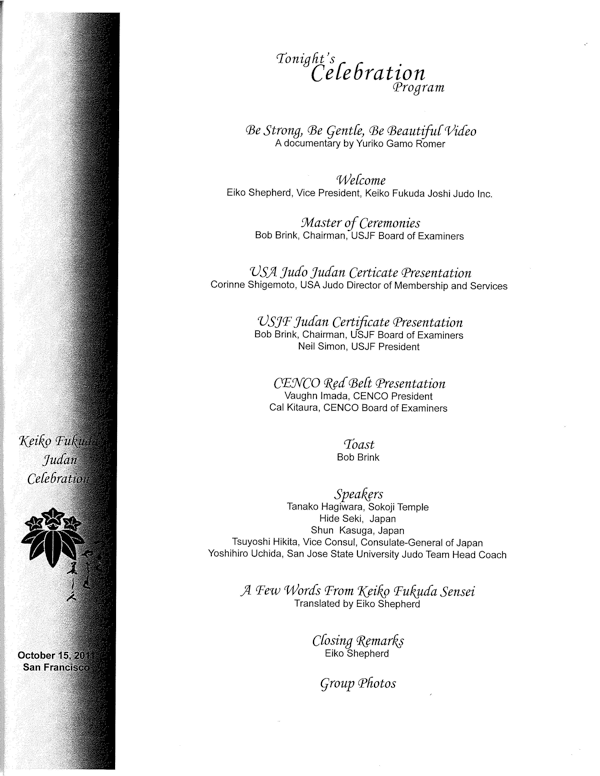 copyright 2020 USJF. All rights reserved.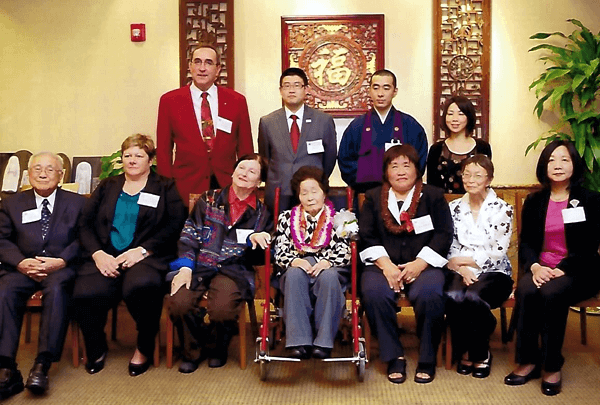 copyright 2020 USJF. All rights reserved.