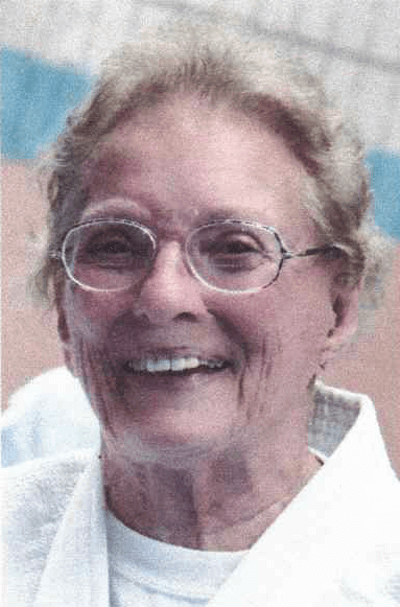 © 2023 USJF, all rights reserved
Judo Biography
Sensei Peggy Whilden started judo in 1969 as a fun thing to do with the family, a new endeavor by the professional physical educator and Pan American swimming competitor. Nearly 40 when she started, she took to judo with the same gusto as everything else she did in life, reaching 6th dan a half century later. It was a love affair from the start.
Peggy came up at the Washington Judo Club, at that time the center of judo development in Shufu, under the guidance of Jimmy Takemori and his brother Edwin Takemori, later in Baltimore under the tutelage of John Anderson, and finally at Hui-O Judo in Beltsville, Maryland. She brought technical precision, natural physical intelligence, and diligent labor to her judo, even teaching judo in her high school PE classes for 16 years.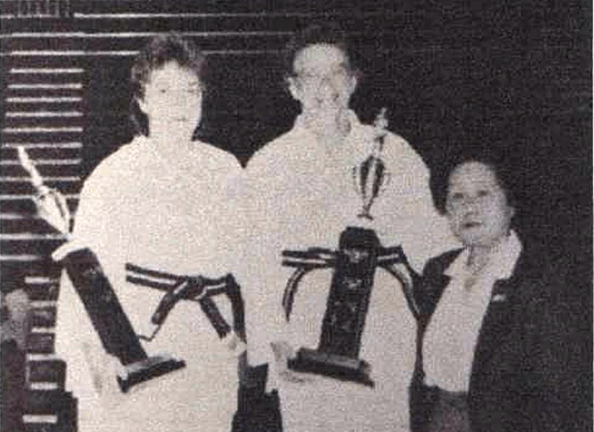 © 2023 USJF, all rights reserved
Within a few years she became a premier kata competitor at national and international levels. Over her long career, she competed with several partners including Gloria Smith, Miki Takemori, Phyllis Dresher, Karen Whilden, and Frances Glaze, placing an amazing 25 times, most often in first place.
Peggy was quiet but was a force for continual improvement with attention to detail and dedication, and practice of "mutual welfare and benefit". Although she partnered with experienced judoka who had extensive kata experience, she worked to gain information to help improve every team of which she was a part. She sought out the best teachers with the best feedback to raise the standard of her teams even more.
For Peggy, judo was an active pursuit to be fully engaged in and worthy of sustained devoted effort, making the most of the opportunities in kata competition that were limited for women in those years. She became a student of Keiko Fukuda – the only female 10th dan – even though Fukuda's dojo was on the other coast. She continued to learn from local teachers but was always willing to make a pilgrimage to places where there was more to learn. She was a regular at a variety of judo camps, including the famed "Joshi Camp", where she could focus and dedicate herself to deepening her knowledge and learning from the best.
Over 30 years, Peggy and her partners competed and won at all levels of kata competition, especially in Ju no Kata and Katame no Kata, even winning at the World Masters held at the Kodokan itself. During most of this time she was ranked number 1 in Ju No Kata and Katame no Kata.
Peggy persevered, living the lessons of judo and constantly getting up when she got knocked down. She qualified for Pan American Championships in swimming as a young woman but was not permitted to compete because she was pregnant. She qualified again in judo, only to have her partner decline to go. Peggy was always willing to start over with a new partner and invest the time and training required in building a new team. This led to the successful accumulation of podium honors at national, Pan Am, and World Masters' levels during her long competitive career.
She continued competing in kata into her 70s, retiring from active competition in 2005. But understanding that her skills and capabilities created a responsibility to share and teach, she continued to contribute to the judo community as a certified "A" level judge in six of the katas at most of the major judo events, as a judge at the World Masters, and was a frequently invited kata clinician, inspiring so many with her dedication to judo and its practitioners.
Peggy was honored with the James Gosnell Inspirational Judoka Award for her lifetime commitment to judo. (The James Gosnell Inspiration Judoka Award is awarded by Hui-O Dojo – to a judoka that inspires us to be better people. The award embodies the spirit of judo, awarded to someone who truly loves the sport and shows the beauty of being an overall great judoka.)
Peggy Whilden's Competitive Record
(information is incomplete as records could not be found for some of her active years)
1976 – Senior Nationals, Ju no kata 1st with Gloria Smith
1977 – Senior Nationals, Katame no kata 3rd with Miki Takemori
1978 – Senior Nationals,.Katame no kata 2 with Miki Takemori
1979 – Senior Nationals,.Katame no kata 2nd with Miki Takemori, Ju no kata 2nd with Martha Quinlan
1980 – Senior Nationals,.Katame no kata 2nd with Miki Takemori
1981 – Senior Nationals,.Katame no kata 1st with Miki Takemori
1982 – Did not compete
1983 – Did not compete
1984 – Did not compete
1985 – Senior Nationals,.Ju no kata 1st with Phyllis Drescher and.Katame no kata 2nd with Phyllis Drescher
1986
1987 – Senior Nationals,.Ju no kata and.Katame no kata 1st with Phyllis Drescher
1988 – Senior Nationals,.Ju no kata and.Katame no kata 1st with Phyllis Drescher
1989 – Senior Nationals,.Ju no kata 1st,.Katame no kata 1st and Nage no Kata 3rd with Phyllis Drescher
1990 – Senior Nationals,.Ju no kata 1st and.Katame no kata 1st with Gloria Smith
1991 – Senior Nationals,.Ju no kata 1st and.Katame no kata 1st with Gloria Smith
1992 – Senior Nationals,.Ju no kata 1st and.Katame no kata 1st with Gloria Smith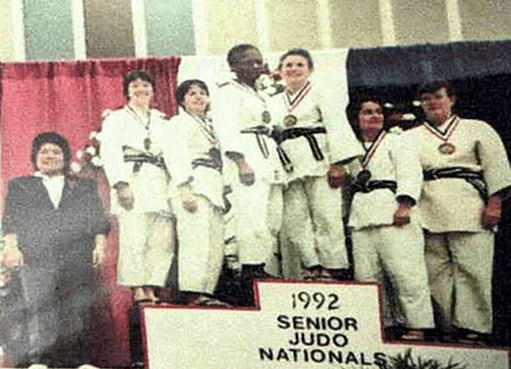 © 2023 USJF, all rights reserved
1993
1994 – Senior Nationals,.Ju no kata 1st and.Katame no kata 1st with Gloria Smith
1995 – Senior Nationals,.Ju no kata 1st and.Katame no kata 1st with Gloria Smith
1996 – Senior Nationals,.Ju no kata 1st and.Katame no kata 1st with Gloria Smith
1997 – Senior Nationals,.Ju no kata 1st and.Katame no kata 1st with Gloria Smith
1998 – Senior Nationals,.Ju no kata 2nd and.Katame no kata 1st with Gloria Smith
1999 – Senior Nationals,.Ju no kata 2nd and.Katame no kata 1st with Gloria Smith
2000 – Senior Nationals,.Ju no kata 2nd and.Katame no kata 1st with Gloria Smith
2001 – Did not compete
2002 – Senior Nationals,.Ju no kata 3rd and.Katame no kata 1st with Karen Whilden
Pan-American Championships (Santo Domingo, Dominican Repulic), Katame no kata 1st with Karen Whilden
2003 – Senior Nationals,.Ju no kata 2nd and.Katame no kata 2nd with Karen Whilden
Fifth World Masters JKudo Championships (Kodokan, Tokyo, Japan) ,Katame no kata 1st and Ju no kata 7th with Karen Whilden
Judoo Clinics
3/10/2002 Shufu Nage no kata and Promotional exam, Beltsville, MD – clinicians Peggy Whilden (4th dan), Karen Whilden (4th dan) and Fan Vall (5th Dan)
8/20/2006 Kata me no Kata clinic, College Park, MD – clinicians Peggy Whilden (5th dan), Diane Jackson (4th dan) and Fran Vall (6th dan)
10/7/2007 Ju no kata clinic, Baltimore, MD-clinicians Peggy Whilden (5th dan) and Karen Whilden (5th dan)
1/19/2008 Katame no kata clinic, Lancaster, PA- clinicians Peggy Whilden (5th dan), Karen Whilden (5th dan) and Diane Jackson (4th dan)
3/6/2010 Goshinjitsu Clinic, Beltsville, MD – clinicians Peggy Whilden (5th dan), Karen Whilden (5th dan)
5/15/2012 Kime no Kata Clinic, Beltsville, MD – cl inicians – Peggy Whilden(5th dan), KW (5th dan) and Frances Glaze (6th dan)
6/16/2012 Ju no Kata Clinic, College Park, MD – clinicians – Peggy Whilden (5th Dan) and Karen Whilden (5th Dan)