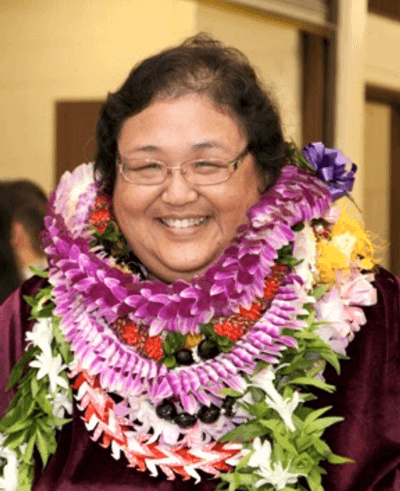 © 2023 Sensei Steven Nohara
Natalie Roy
Inducted 2023
Proposal Letter
To: United States Judo Federation (USJF), USJF Lifetime Achievement Award Committee
Attn: Mr. Neil Simon, Chair – USJF Lifetime Achievement Award
From: Nathan Lee, President – 50th State Judo Association
Subject: USJF Lifetime Achievement Award
Dear Mr. Simon:
On behalf of the 50th State Judo Association, we are pleased to submit Sensei Natalie Roy as our Lifetime Achievement Award (LAA) nominee for consideration for induction into the USJF Lifetime Achievement Award Class of 2023.
Judo Biography
This is a story set during a time of female suppression. Sensei Natalie
depicts her struggles and determination to be involved and to help through challenging the odds in a male dominated world:
Nat helped to bridge the gap of yesterday for the girls of today.
She did not give up. Nat discovered life lessons that made her want to
contribute continually to this day by taking on daily tasks to big projects.
Sensei Nat's two older brothers took judo since they were 7 years old. Nat was an infant at that time but went to every judo event they entered on Oahu. She grew up watching judo at their dojo until the age of 14 years old until a very kind instructor, Sensei Yotoku Meshiro, tried to start a girl's class. He encouraged girls for self-defense; however she wanted to win a trophy like her brothers. He was such a great sensei teaching youths just as they were starting out. Kids were drawn to him, he recruited kids wherever he saw them. Their club grew to over 250 kids and 5 days of scheduled classes. She was so lucky to learn of his abilities to train youths as she always hung around his kiddie classes to learn his techniques.
She immersed herself in judo, traveled all over Oahu with her older brothers to many dojos. Her brothers instilled in her the desire always to do her best and not to shame the family name. She was a tyrant, not wanting to lose any match in tournaments or practice. She found herself not being able to have practice partners (girls), so she decided to join the senior class which were all males at the time – some were a little younger than she was, others were adults. It was tough being the only girl in class, but her brothers were the assistant instructors, so she was never alone.
Eventually, she was dominating the girls in the 145 pounds & over division with the age range of up to 18 years old. Nat was barely 140 pounds and only 15 years old but because girls did not want to fight with her, they pushed her up the divisions. As she advanced, she tried to enter tournaments as a late registration so people would not drop out of the division. Eventually after a few tournaments no one wanted to fight her. The tournament directors told her she could not enter tournaments because she was "killing the sport of judo".
That set her on another quest. She was determined to get her black belt. Back in the day a female was not able to collect points for promotion but had to do a series of katas, tumbles, sugiashi moves, and pass the elders' scrutinizing requests. It would take 3 years to complete the Nage no kata, Newaza kata, Ju No kata with absolutely no flaws. During this time, Nat used to tour with her instructor, Sensei Yasuyuki Sakabe, and demonstrate Nage no Kata at various sport fairs, and at other dojos. She literally practiced 7 days a week seeking perfection. In the meantime, Nat also initiated having girls do the timing tables which was all male at the time. That opened the way for females to take a bigger role in judo. She mustered up enough courage to volunteer as a referee. She did this for several years and got to referee at the high school nationals and was a registered National referee.
High school judo started in 1974, she was just a junior but tried to practice with them. In 1975, after she graduated from high school, she started to help the Pearl City High School Judo team as the assistant instructor – yes, she made her black belt by then. Eventually she became the team's manager, taking them around to other schools for practice and on longer journeys to the outer islands.
After a few years she became the head coach at Waipahu High School while the former coaching staff stepped away for a year. Nat eventually returned to her former high school.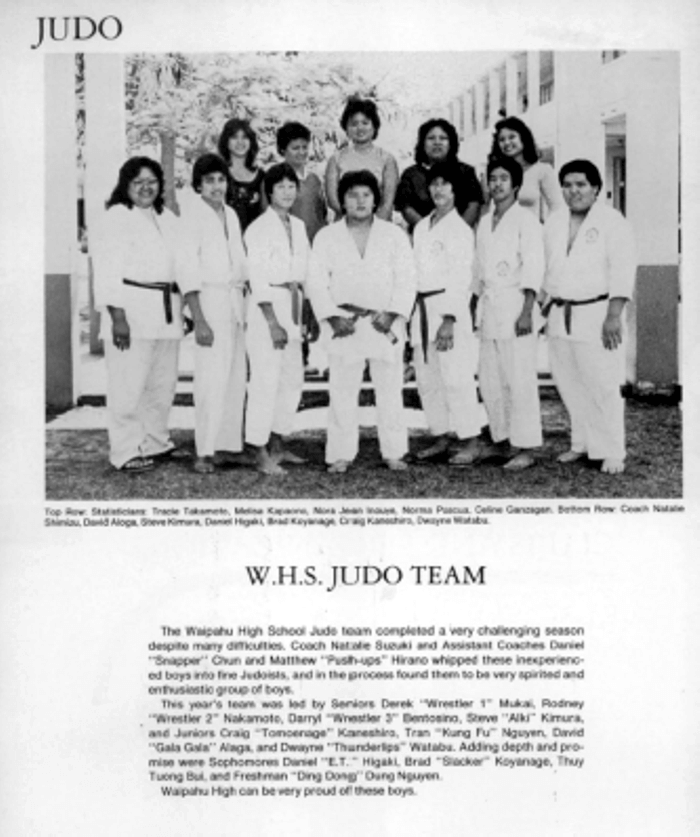 © 2023, USJF, all rights reserved
From High School to Collegiate level judo…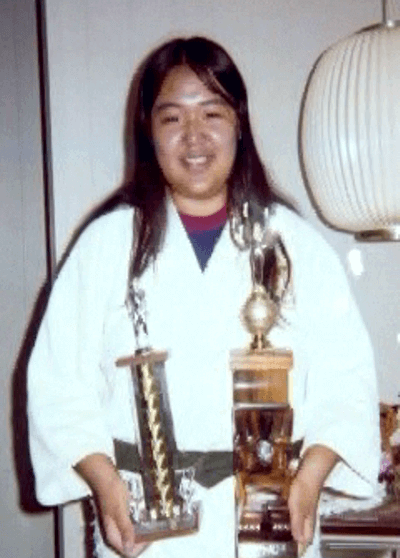 © 2023, USJF, all rights reserved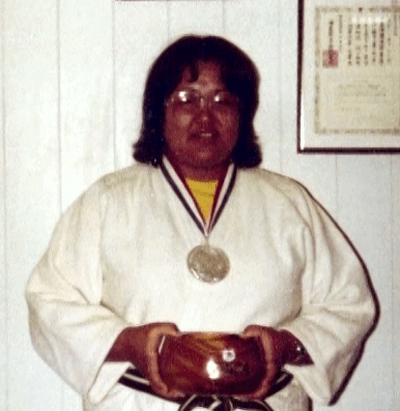 © 2023, USJF, all rights reserved
While in college a bunch of her friends decided to go to a national collegiate tournament. The University of Hawaii allowed her to enter the tournament but had to be 'unattached' or non-affiliated from the school. The tournament was held at the University of Iowa and her friend placed 2nd and she placed 3rd. It was the first time Hawaii went so far to compete at the University of Iowa.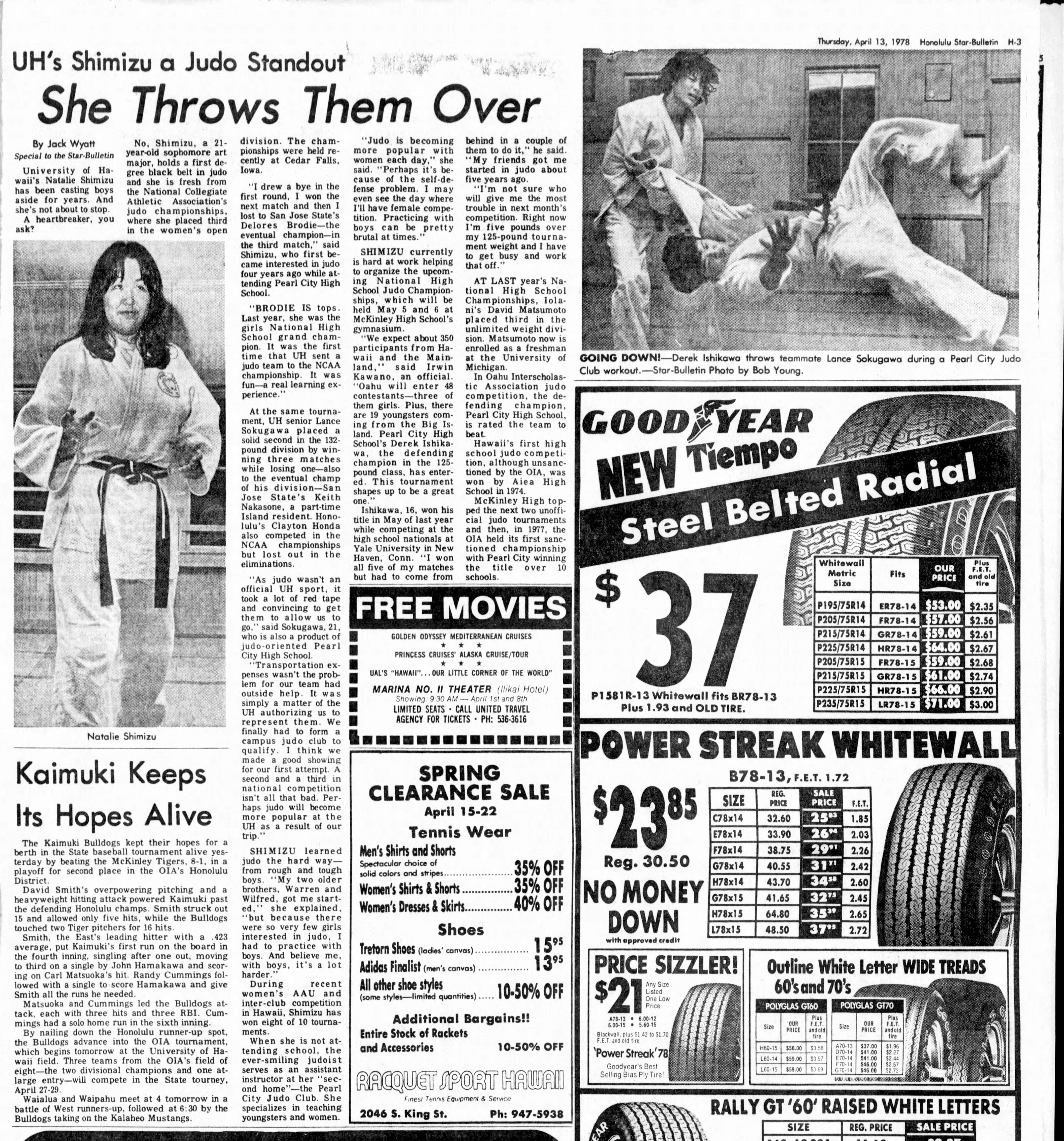 © 2023, USJF, all rights reserved
---
Excerpt from UH's Shimizu a Judo Standout by Jack Wyatt, Special to the Star-Bulletin
"…University of Hawaii's Natalie Shimizu (Maiden Name) has been casting boys aside for years. And she's not about to stop. A heartbreaker, you ask." No, Shimizu, a 21-year old sophomore art major, holds a first degree black belt in judo and she is fresh from the National Collegiate Athletic Association's (NCAA) judo championships, where she placed third in the women's open division. The championships were held recently at Cedar Falls, Iowa."
---
For the first time, Hawaii tried to start an international tournament called the Pacific Rim Judo Championships. All countries along the rim of the Pacific Ocean were invited. Nat joined the committee to create the program booklet and she enjoyed the opportunity very much. This was a great learning experience for her – observing a tournament from a different perspective. This tournament; however, was also unknowingly her last competition…
Her coach at the time was disappointed with her attendance at club practice. She was exhausted from training for months for the collegiate tournament and decided to take a leave to unwind even though the tournament was only 3 months away. Within those 3 months, she only practiced a couple times at the dojo, although at home she did shadow uchikomis, ran for miles, and lifted weights by herself. Nat worked on mental health with meditation and game plays in her head. The day of the tournament, she realized she should have trained harder, but "it is what it is."
Her coach gave her such an attitude and spoke so rudely to her in front
of the Hawaii and US team that it sparked a rage. All she could see was
red. Her teammates stayed far away from her as she was fuming. When the
competition began she went to her matches without a coach, although her
brother was on the head table watching. Her parents and family were in
the stand supporting her as well. It was the first time her parents came
to see her judo matches. In the past, they told her brothers to take care
of her because they had other things to do at home.
She won all of her matches until the finals. She challenged international players and her mindset was so strong after the events of the morning that she just wanted to win. Eventually, she made her way to the semi-finals, She faced a girl that broke five girls' arms prior to Nat's match. She was full of confidence, but Nat was full of her fighting spirit but still in control of her game plan. She thought what would be so humiliating for a person like her. Her opponent would grab and slam the arm of her competitor's arm and break it. She did attempt this move several times; however, Nat was waiting for the right moment to get her to the ground. With Nat's harai goshi, she stumbled to the ground. It was her chance as she pinned her by kesa gatame and sucked all the air out of her. She was tapping out, so the A referee stopped the match. She said could not breathe, as she eased up so she could talk. The referee said with a huff, "Continue" and Nat again squeezed all the air out of her, and Nat eventually won the match.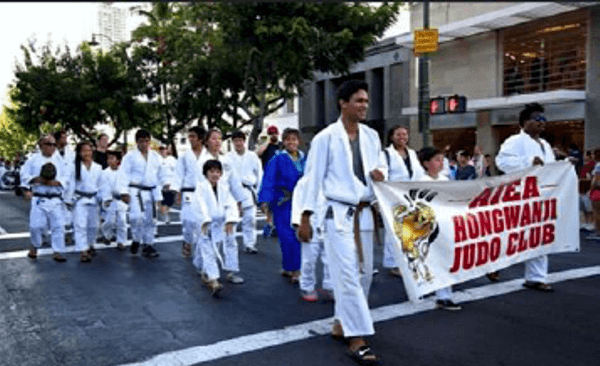 In the finals, she noticed her toenail was ripped, she had no choice but to ask her coach to tape her toe. She asked her friend to call the coach and tell him to wrap her toe without seeing her toe. Nat was against a USA player and in her mind she was happy she obtained a place in the finals, telling herself 'second' is ok. Nat never did this before and lost to her opponent. Lesson learned.
Eventually she returned to her club with no great welcome back, shunned
by her coach, as the under ranks just stayed away. "That's when I decided to close this chapter in my life."
The New Chapter…
She went on to help as an Assistant Lecturer at the University of Hawaii at Manoa and eventually became the Lead Lecturer. But as life moves you, she needed to find a full time job and so she had to move on.
After a year or so, the board members of her judo club called her, pleading with her to come back and help the club. Although, they knew the back history with the coach, they begged for her to return. She returned to her former club for the sake of loyalty of those who supported her over the years. However, for two long weeks it was very uncomfortable running class with a man that showed so much hatred for her for not practicing before the big event.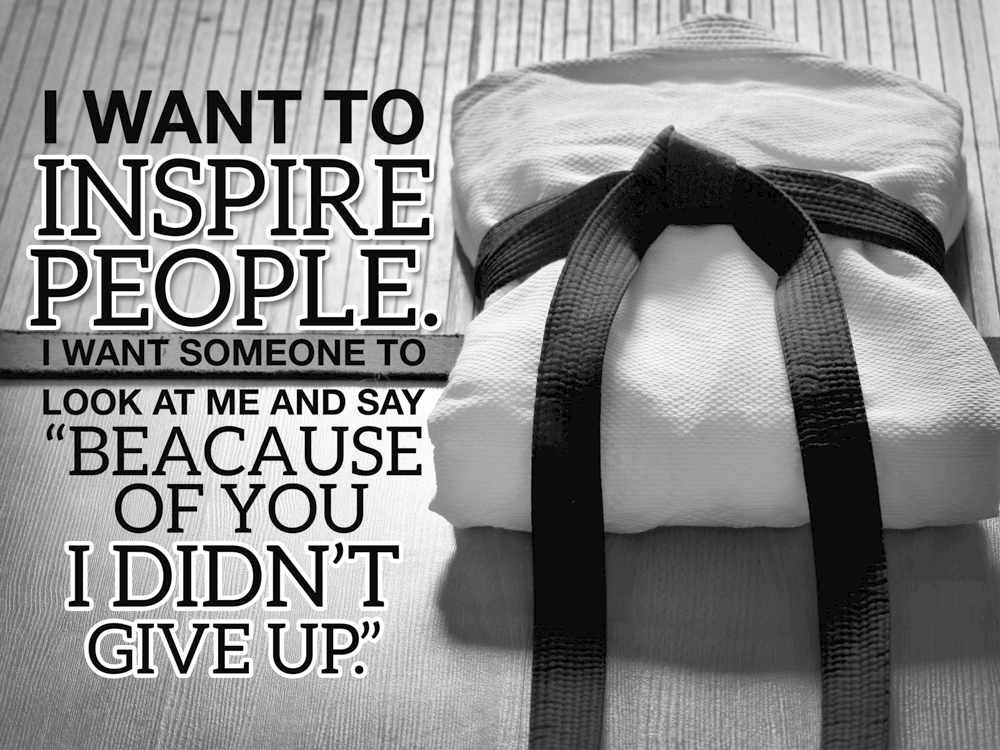 © 2023, USJF, all rights reserved
Realizing the loyalty she had for her club and what he put her through, he approached her and apologized. It was a little too late, but she accepted for the sake of her club. During this time, all of the black belts, brown belts left to join the other instructor. It was the first time she observed a rift at a judo club. This is where she grew up and it was where her heart was, as she could not simply just leave. Eventually things subsided and were running smoothly as none of the older students came back. The club was running smoothly once again, so she decided to leave. This was when she knew her competitive days were over. She got invitations to the British Open and others but declined, as it was going to have to be self-funded and all her fellow partners also gave up judo to start their careers.
© 2023, USJF, all rights reserved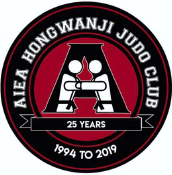 © 2023, USJF, all rights reserved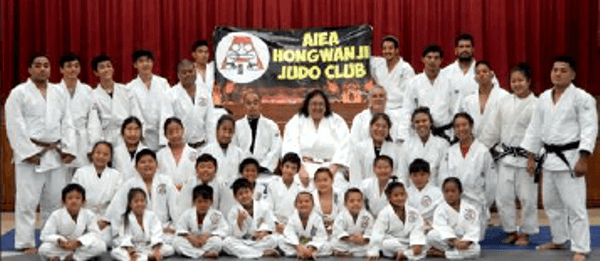 © 2023, USJF, all rights reserved
She went to visit her friends' dojos here and there while taking her niece and nephew to practice. They were not into judo while in elementary school. However, in high school they wanted to play, and their father and Nat knew they could not send them to any dojo. They needed to teach them. Nat helped the high school judo team for a while until she decided to open Aiea Hongwanji Judo Club with 5 members including their spouses, niece and nephew.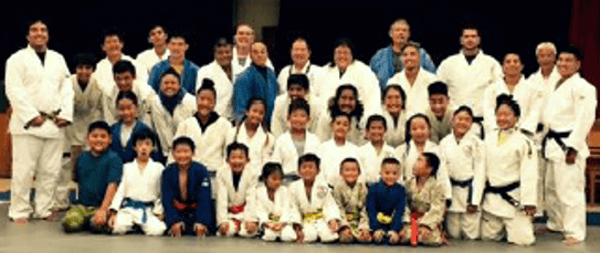 © 2023, USJF, all rights reserved
© 2023, USJF, all rights reserved
This was catch up time! Teaching them as much as they could, so they could hold their own in judo. At this time, she became the Association's Secretary as this was all new to her! Nat continued to learn kata in the meantime, every weekend while learning all the finer points to this waza.
Aiea Judo Club was flourishing …
She approached 50th State Judo Association and was pretty persistent in getting in as a member. Eventually they allowed Aiea Hongwanji to join. What a happy day! She joined in all their activities while her brother not wanting to be out front, encouraged Nat to be more politically involved. So that she did – she stood up to all the male members in the Association. Then one day they were voting for a secretary and her friends volunteered her for the position. Shocked – she was new – and they wanted her. Through the ups and downs, she became the 50th State Judo Association's Executive Secretary. It has been nearly 26 years in the making, doing what she loves, spreading the spirit of judo.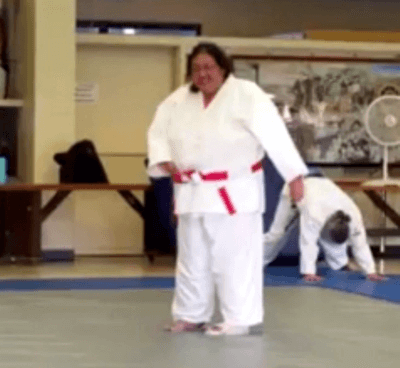 © 2023, USJF, all rights reserved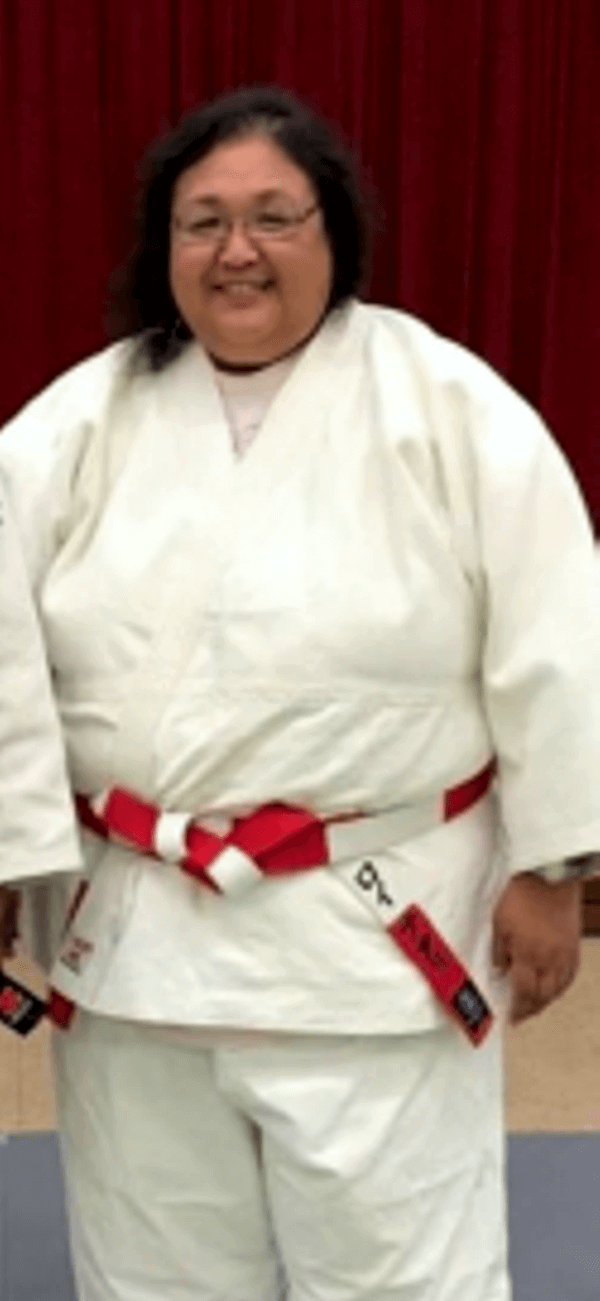 © 2023, USJF, all rights reserved
Notable Lifetime achievements
Assistant instructor Pearl City Hongwanji from 1975 – throughout the years.
Co-Head instructor and Founder of Aiea Hongwanji Judo Club from 1994.
Head instructor for over 15 years.
26 years Secretary / Executive Secretary for Hawaii State Judo Association and 50th State Judo Association.
Assistant Coach/ Manager – over 20 years at Pearl City High School.
Head Coach at Waipahu High School – 1 year.
Assistant coach at Aiea High School – 3 years.
Head Coach over 30 years.
Layout/Designer for most program booklets for major events in Hawaii.
Hosted hospitality room for USJF/ USJA Grassroots Jr. Nationals in 2014, Honolulu, Hawaii.
Proud host of the 442nd Regimental Combat Team (RCT) Memorial Judo Tournament hosted by Aiea Hongwanji Judo Club since 2014.
Encouraged the adoption of the 442nd in the Jr Nationals starting with
2014.
Helped organize Association outings, luaus, selling of 50th SJA T-shirts, grand picnics with huge door prizes.
Organize the Pan Pacific Parade judo section, having more than 300 members marching in the parade for over 10 years.
Coordinate all banquets for promotions, events and hosting the Japan Olympic team in Hawaii.
Write, post, coordinate 50th SJA Monthly tournaments, Shodan Shiais.
Help with registration communication for our clubs.
Help with Promotion applications.
Promotion Committee for 50th SJA.
Advise the up and coming youths who will someday replace our elder advisors.
Highest ranking female judoka in Hawaii, 50th SJA
Over 52 years of dedicated judo service as a competitor, High School Judo Coach, Head Instructor, University Lecturer, 50th State Judo Association Executive Secretary, and among the many other countless activities noted above.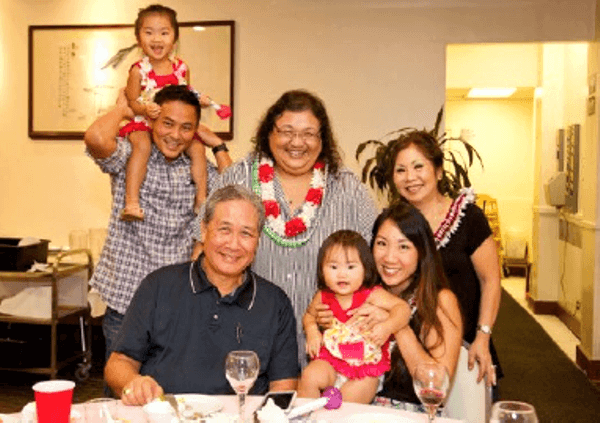 © 2023, USJF, all rights reserved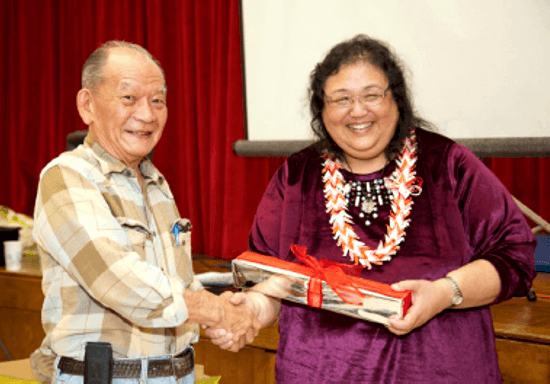 © 2023, USJF, all rights reserved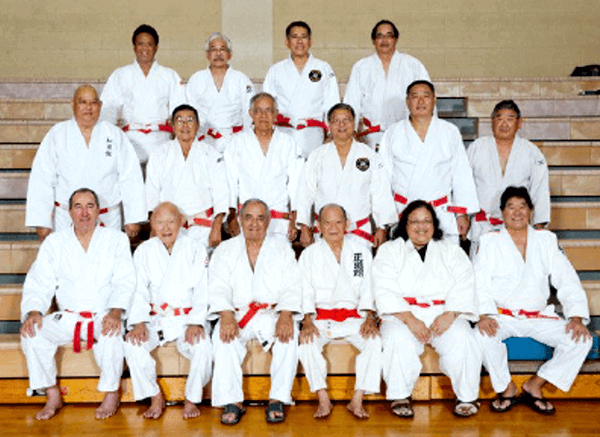 © 2023, USJF, all rights reserved