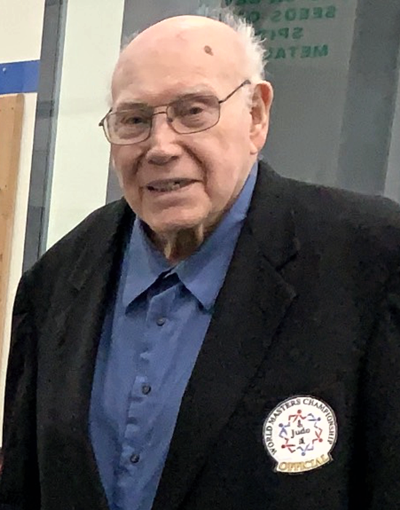 © 2023, USJF, all rights reserved
Ferdinand Tihista
Inducted 2023.
Judo Biography
He was born on December 24, 1927 in Marysville, California. Moved to the Salinas and graduated from Salinas High School.
High school wrestler and body builder
Started Judo at the age of 29.
Started the Apollo Judo Club under Sensei Tom Tanimoto and eventually became the head Instructor as a brown belt.
Currently a USJF 7 dan and Kodokan 7 dan
Head Instructor of Watsonville Judo Club for 37 Years
Inducted into the Salinas Valley Sports Hall of Fame for his Judo achievements and contributions in 2022.
In high school he was a wrestler and "He started [a] body building" career in 1942 before the Weider influence set in on natural body building. He never used steroids or other performance enhancers.

© 2023, USJF, all rights reserved
The muscle development was done naturally through a lot of hard work. His drink was brewer's yeast, soy powder, desiccated liver, wheat germs and eggs in a blender. He said, "If you smelled it, it would make you puke." In 1951, he won the prestigious Mr. Apollo title competing among the top body building competitors at the time. Also, he won the "Iron Man" title as a body builder. It was impressive, that he was able to butterfly press 110 lb.dumb-bells in each hand.

© 2023, USJF, all rights reserved
He owned and operated a chain of health centers in Monterey and Santa Cruz in California and 4 in Texas. His partner said that he wanted to start a Judo program and he introduced him to Sensei Tom Tanimoto a judoist.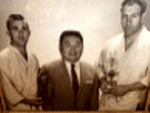 © 2023, USJF, all rights reserved
He became a student of Sensei Tom Tanimoto and as a result, the Apollo Judo club was established in Salinas. At that time, when he started Judo, he was 29 years old, 6 foot 1 inch tall and about 235 lbs. That's "old" by some standards to be entering such a rigorous and demanding sport for competition but that is what he wanted and he decided to compete. The wrestling and body building initially played a major role in winning his Judo matches. However, to better his Judo Techniques and skills he went to study with Sensei Mits Kimura at the San Francisco Judo Institute. He was only a brown belt when he became the head instructor of the Apollo Judo Club when Sensei Tom Tanimoto left.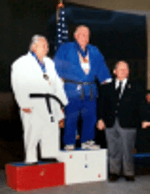 © 2023, USJF, all rights reserved
He later moved to Watsonville and started the Watsonville Judo Club in 1983 when he closed the Apollo Judo Club in Salinas. He was the head instructor until 2020. He has trained hundreds of students and produced numerous National and International level Judo competitors in his years as an instructor. He also conducted the Watsonville Judo Invitational tournament as Director from 1986 to 2006. He competed in the USA National Master tournament from 1986 to 2010 in the heavy weight division, and always was the champion.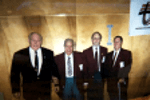 © 2023, USJF, all rights reserved
He decided to compete in the World Master Judo Championships when it was
formed. He competed from 1999 to 2010 in his seventies and eighties. He
was always victorious. In some of the contests he was uncontested. Many
saw him at weigh-ins and immediately dropped out of the competition. The
competition was held in the USA (2000, and 2009), Canada (1999, 2001, 2005 and 2010), Brazil (2007), Japan (2003), Austria (2004), Northern Ireland (2002), France (2006), and Belgium (2008) and he made many new friends in those countries. He was also able to referee at the World Master Judo Championship events.
He has been an active member of the Hokka Yudanshakai's for over 60 years. He has held many positions in Hokka such as being on the Board of Directors, Promotion Committee and Officer. He attained the USA National Referee Certification and refereed at many local, regional and National Judo Tournaments until his retirement. Also, he got a USA Certification as a National Coach.
He is currently a USJF 7th Dan (USJF# 7-253) that he received on 10/31/2013 and received his Kodokan 7 dan on 9/30/2019.
For all his achievements and contributions as an athlete and Judoka, he
was inducted into the Salinas Valley Sports Hall of Fame on August 27,
2022 with 12 others.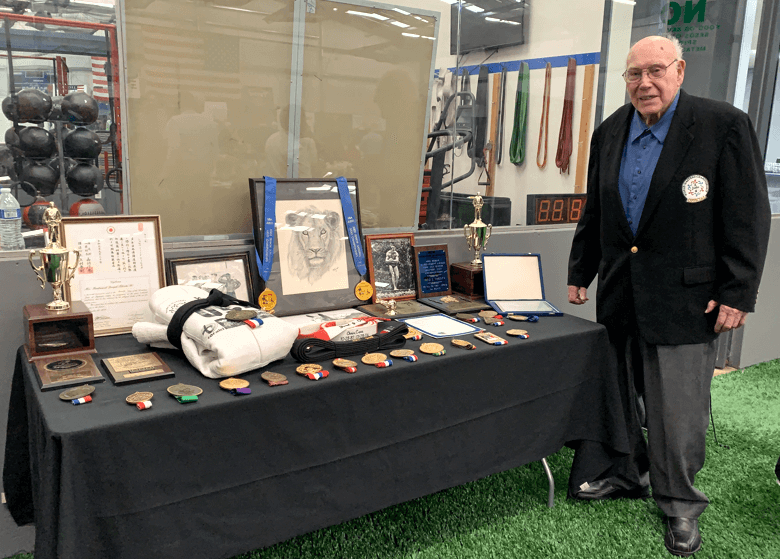 © 2023, USJF, all rights reserved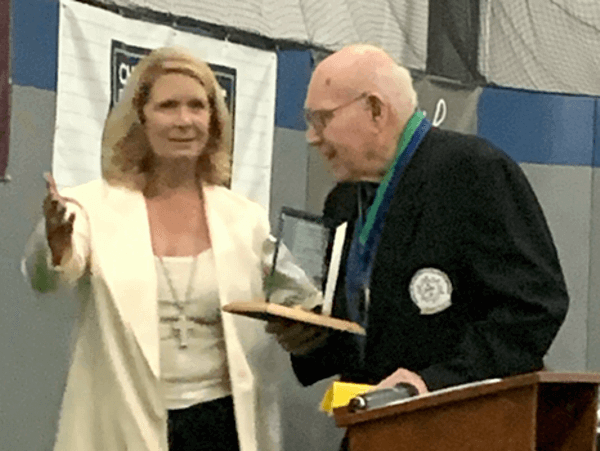 © 2023, USJF, all rights reserved
At the age of 95 he is still alert and teaching judo and engages in weight lifting.
Here are some articles and youTube that pay tribute to him on the internet
Sensei FERD Tihista and Mario Marquez, Salinas Ca MMA – YouTube
Mario Marquez a student of Sensei Tihista pays tribute to him at an MMA event. He was 70 years old and retiring from Judo.
2003 World Masters Championships – One Competitor's View – Judo Info
This was in the 2003 World Masters Championship's competitor view in Tokyo, Japan. "My favorite quote of the week was from 70-something Ferd Tihista. He was undefeated in this tournament and said, "If you can't beat 'em, out live 'em." I'll drink to that. Being 0 for 4 in my world masters career I may have to settle for winning by attrition."
Musings from the Doc . . .: If You Can't Beat Them, Outlive Them – Ferd Tihista – docmagik.blogspot.com)
Acknowledgement how he has affected the lives of many in his teachings as a Judo instructor.
Judo Info Site – Judo Art – Judo Info
He is an extraordinary individual. He is a very talented artist. This site shows his talent in the drawing of Judo Techniques. He was also excellent at drawing insects, animals etc.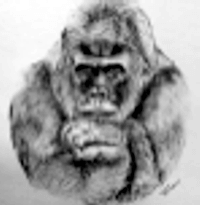 © 2023, USJF, all rights reserved
Fruitful Friendship – Santa Cruz, Register-Pajaronian
This article is about an individual that Sensei Tihista provided guidance to as a youth and he is providing his gratitude in funding his Judo program and a gymnasium in Watsonville.
Salinas Valley Sports Hall of fame
Salinas Valley Sports Hall of Fame returns with star-studded class. There were 13 new inductees that got their bronze plaque placed on the Hall of Fame Memorial Wall at Rabobank Stadium. Ferdinand Tihista was one of them for his achievements and con-tributions as an athlete and Judoka. He was inducted on August 27, 2022.