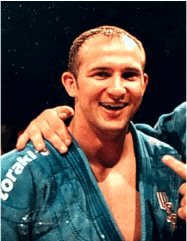 Brian Olson
inducted in 2010

Professional Summary
My work ethic and professionalism were forged from the many years of training
and competing as a 4-time Olympian. I am extremely adaptable in all of
my skill sets allowing me to enter into a situation, assess and survey,
while making proper adjustments and shifting the outcome to move the product
forward.
Skills
Coaching and mentoring
Relationship building
Problem resolution
Process improvement
Effective leader
Staff training/development
Operational improvement
Work History
Owner/ Operator- Entrepreneur
Alliance BJJ St. Croix/Olson's Judo Center
Current membership- 250 students
Currently Sr Accounts Manager/ Brand Development
Fuji Mats
Work directly with accounts focused franchises and martial arts affiliations
to provide proper materials needed per location
Location design/set up
Sales for Martial arts, yoga, fitness, and home locations
Help locate and work to identify additional brands and markets
Director of Operations      10/2018 to 03/2020
Anytime Fitness – Woodbury, MN
Worked directly with management, Regional Directors, and various Self Esteem
Brands departments to brainstorm, discuss strategy and mitigate Operational,
construction and design, marketing and or legal issues.
Trained, coached, and mentored staff to support smooth adoption of new
programs.
Enhanced and redefined organizational structure to maintain company's competitive
edge across territories.
Enhanced operational efficiency and productivity by managing budgets, accounts
and aligned compensation restructure.
Director of Proof of Concepts Field Implementation      08/2017 to 10/2018
Anytime Fitness – Woodbury, MN
Spearheaded field operations for company marketing and technology initiatives
for proof-of-concept initiatives.
Met with senior management to determine needs and develop roadmaps.
Trained, coached, and mentored staff to support smooth adoption of new
company programs.
Implemented and maintained high standards of quality in all areas.
International Operations Manager      12/2014 to 08/2017
Anytime Fitness – Woodbury, MN
Assisted global development and partner relationships, enabling footprint
expansion into Southeast Asia market.
Improved brand awareness by monitoring all marketing campaigns and fostering
membership acquisitions and business development.
Served instrumental role in organizational growth and transformation and
implementation of emerging markets.
Assisted Anytime Fitness Asia corporate team and Regional Agents with all
support needs.
Assisted in providing key metrics and best practices to re-align all franchise
training modalities
Area Manager      03/2009 to 12/2014
Anytime Fitness – Longview, TX
Recruited and developed successful leadership staff to handle day-to-day
business operations.
Oversaw 5+ franchise locations across Texas, including all payroll, business
planning and marketing.
Delegated operational daily, monthly, yearly tasks to employees, streamlining
daily progress and efficiency.
Increased profits by establishing goals, overseeing performance, and building
actionable monthly and yearly development plans for individual team members
Education
High School Diploma     05/1991
Coronado High School – Colorado Springs, CO
Born in the very small town of Woodville, Florida, I started my judo career in 1979 at the age of 6 years. My father had been in the army and stationed in Korea, where he had the opportunity to experience judo. He immediately loved the martial art for its technical and physical requirements. There happened to be a local judo club that was held at the Woodville elementary school and being that it was summer, my dad looked for something close that he could put me and my brother in to get us out of the house – and most likely his hair. Both my brother and I immediately took to the martial art and we decided to do a few local competitions and as they say the rest is history.
My first Junior national was at the age of 6 years old. My parents loaded us up with our airstream camper and we drove across country stopping and camping at different campgrounds and spending quality time as a family while being able to see different states and meeting different people. I would say that this started my affinity for traveling and experiencing new things. One of my fondest memories is my dad having a Gi top on at campground and me doing Uchi Komi's on him. My first junior nationals were as expected, a lot of tears and some losses, but nothing some fun and ice cream after couldn't fix. This set the tone and the fire for my competition hunger. My parents are super amazing! They never told me that I could not accomplish anything, but just made it known that if I want something great then it will take hard work and sacrifice to accomplish those goals. My parents always gave and figured out a way to make it happen. They would take us every weekend to different tournaments all over the state. There were so many trips to the Miami area as that was the hot bed of Judo and has produced so many amazing Judokas. My first coach Don Trussell (RIP) started me off on the right path. Don was a hard nose and crazy guy at that time. He truly set the foundation of my judo and my work ethic. Don had done judo at Florida State University when they had a program. Don stayed in the area and helped to create a great number of local competitors and some National competitors like Jill StokesBerry that had some great success in the national scene. I would now say Don wasn't the best technician, but he made up for it in physical conditioning and work. I remember our running excursions through a golf course around his house where I was always scared of golf balls and on the lookout for them.
As times changed and life happens, I started training under Bobby Fukushima (RIP), Bobby also attended Florida State University Judo program and stayed in the area. Bobby is the son of Sensei Fukushima in Hawaii (RIP), who many of you know and was Kevin Asano's Instructor. Bobby was more traditional judo and hard nose on the martial arts side. I remember if you got out of line there was a knuckle waiting for you. As these are different times, I would say that this instilled the respect side of how important it is to have a show respect to others. My best friend, Danny James, started Judo under Bobby and we had a great many trips together throughout the years. These years were amazing, and I can tell you that Danny and I have been best friends ever since. It created a great many relationships that I am ever thankful for.
I would say that any athlete has moments of their career that we remember and stick out to us. I knew at a very early age that the Olympics were something that I wanted to shoot for. It was 1984 and the Olympic Games were being held in Los Angeles. As we know Judo is not the most televised sport here in the US, But the US had an amazing showing in that Olympic Games, and I saw one of our best win an Olympic medal. I was hooked, I was like "this is the coolest thing ever and its what I want to do." I ran into the kitchen and told my parents what I had just seen and that I wanted to go to the Olympics and win a medal. As parents do, they smiled and told me that in order to accomplish that it will take more work than I am used to and I will have to dedicate myself to that in order to accomplish that goal. Boy were they right and I found that out very quickly!
During this time, I had competed quite a bit in numerous competition and Junior national events. I had placed but never really winning at the big tournaments. I attended training camps like Marquette Michigan where I had my first real taste of how much work that it would truly take. This Camp was after the junior Olympics and man let me tell you it was tough. It was run by Jim Pedro Sr and Irwin Cohen and they had some of our best competitors there – Damian Keeve, Dave Faulkner, Grace Jividen and others. Let me tell you these guys set the pace. Early morning runs, 2 training sessions a day and man never be late at all. If you were late, there was extra, and their extra was something that you didn't want. This camp happened over several different years, and I give credit that these camps set the tone for many great judokas that went on to do amazing things. I think
many athletes during my era have memories of these camps.
Back home life happens, and things may change. Change is not always a bad thing but can be hard for many. At this point I had a bit of a rocky relationship at that time. I had had some success in my competition but just couldn't break to the next level. I remember this do like no other.– I was fifteen, and we had moved our program to the local YMCA. I remember sitting there and in walks this massive specimen of a man. I remember he walked in and I was like "Geez, I hope I don't have to train with him." He was ripped and I wondered, "can someone have that many muscles." Well, to say that I did not have to train with him would be a lie, He beat me from pillar to post, but in the nicest way possible. The gentlemen's name is Fred Hand and anyone that trained with Fred knows how physically strong he was and that was rivaled by amazing technique. I later found out that Fred had been on the national and international circuit, training and competing in the 95kg division against Leo White and so many other greats of that era. In our careers there must be level changes – this was a level change for me, as it showed me the next level, where I needed to go. I trained with Fred for a few months taking my lumps like everyone does and there was a point where I remember sitting down with Fred and asking him to coach me full time. I remember saying to him that this is what I want to do and I need you to be there for me andI will give it everything that I have. Fred took me on and opened a completely new aspect to my training. Under him was the first year that I won the Jr Nationals and it helped me to move a level up.
Fred also introduced me to his good friend and former training partner, Ed Liddie. Ed was still competing during this time and overseeing the National Judo Institute team. Fred arranged with Ed for me to go out and train with the team a few times during the summer. The training was tough to say the least, but it started to prepare me for my journey. To say that I took a beating was an understatement, but I adjusted to everything and enjoyed it. The summer of 1990 rolled around, and I was scheduled to go to Colorado to train with the team in preparation for the junior circuit. It was during this time that Ed sat me down and discussed if I might want to move out full time at some point to train. I was going into my senior year at high school and this, I guess, was my recruiting class. The juniors that year were in Miami and so a bunch of us drove down and stopped at my house in Woodville, FL. My parents cooked a great meal and we swam and hung out a bit before making the remainder of the drive down. During the competition Ed sat down with my parents and discussed the options. Ed and my parents sat me down and actually discussed if I might want to go early and start during my senior year.  I accepted greatly but had no idea what was about to happen. Ed became my legal guardian in Colorado and after the circuit was done my parents helped me to move to Colorado and living in a duplex with a few other teammates. My parents had prepared me well for life on my own, but it was truly an overwhelming experience being a senior and having my own apartment.
In 1992, I ended up qualifying for the junior World Championships. I had been on a few trips, but this was on the biggest stage for the Juniors. The were held in Buenos Aires, Argentina and the competition was awesome. I had since moved up to 86kg at this point and was by no means the favorite to medal or win. Nick Gill was the favorite to win as he was just coming off an amazing performance with a Bronze Medal at the '92 Olympic Games. I had a great competition losing a very hard-fought match in the Semi-Finals to Japan and then I lost to Korea by decision for the bronze medal. It showed me that I was on the right path. Later that year the US Open came around as it always does. Then the US Open was always held at the Olympic Center in Colorado Springs. I had not broken into the official senior ranks yet, but I knew that I wasn't far off. I had an amazing day as I believe that I shocked everyone when I beat the Brazilian in the semi-finals and then went on to win the entire tournament. It was the first real step in my career that showed I belonged.
In 1993, the World Team trials came along as they were being held in Canada. I believe there were a lot of eyes on me to potentially earn the spot but there was a ton of tough guys in my way. I can say that I bombed for sure. It was the first real time that the pressure got to me, and I didn't perform up to my expectations. I remember one point I was sitting in the main area of the Olympic center and Big Jim Pedro walked in and in Big Jim fashion looked at me and said, "You messed up today," and then walked off, lol. That's big Jim and I couldn't argue with him at all. I had but it told me there would be more of these moments and I needed to learn how to handle them.
In 1994, they decided to take me on my first senior team to the Paris Open. If you know anything about the Paris tournament, it is one of the toughest tournaments there are. It rivals the Olympic Games and World Championships. During this era the French team was allowed to put their top 10 French players in each division. I remember Jason Morris telling me that it is inevitable that you were going to get a French player and if you beat them be prepared, because they would be your first round at the training camp. You see at this time after each big tournament we had a four-day training camp after each one. The tournament went well for my first real experience and I ended up losing in the second round and oh I forgot I beat the number five French guy first round. Jason was right, guess who my first battle was at the training camp? This guy and he felt about 20lbs heavier it was a WAR, but there were so many of those in my career. A little about the training camp. – As this was my first one and I would say I was naive to what it was really like. It reminded me of a 400-person brawl. The heavyweights went out first and I watched as these guys were running each other's into walls and just going at it all the time. I couldn't believe it and let me tell you that going through these training camps either shows you that you want it or maybe it isn't for you. There were some epic battles, and I took my lumps as so many do. More than I would like to count, but it is part of the learning process.
1996 fast approached and the Olympic Trials rolled around, and I was seeded number one. This was the culmination of everything that I had been working towards. My dad retired in January of that year and the Olympic trials fell right after it. I don't think he was focused on his retirement but was more worried about the trials. I had some stiff competition, and it was time to put up or shut up. My first match was Andy Ruggerio. To know Andy was to know how strong he was physically. It was going to be a very hard match and very physical. The match went well, and I ended up winning by Osaekomi. My final match was against Marius Popescu. Marius is an amazing Judoka and had moved up from the weight division below. Marius was always in the mix and had some great battles with Jason Morris. Marius was super tough, and I knew that I had my hands full. It was a great match, very hard fought but I ended up scoring a wazari and won the match securing my spot to represent the US in the Olympic Games.
1996 Olympic Games – The Games were something truly amazing. It was overwhelming at some point to when you go through processing, they give you a grocery cart and just start putting things in it. I can say that if you are not careful it is easy to get lost in the shuffle of things that are right there. The opening ceremonies were just nuts. It was so long ago but opening ceremonies with 80 thousand people screaming and my first Olympic Games being in the US was the most memorable thing ever. My parents were there somewhere, but coming over that ramp was the defining factor that said this is another level and you better be prepared. It wasn't the greatest of competition, I lost 2nd round to a tough Lithuanian, Merkevicius. He and I had a battle that year at the Czech Republic to where I lost by split decision. He unfortunately lost next round and I was sent to the seats to watch. It showed me that there are levels and just making a team isn't enough. It was going to take more and if I wasn't prepared to give everything, then I should get out.
In 1997, the World Championships were to be held in Paris. Ed and I sat down the beginning of the year and along with Steve Cohen we mapped out the year. It was a year that I believe that I had the most growth and leveling up. It was a year that I was traveling more than I was home. I was competing and training, and training and competing. I had a decent year and some good wins. I think there were two defining moments for this year. Going to Canada for a training camp where I trained with Nick Gill and he just took it to me (to which I thank him) and the training camp in South France. Something just clicked there, and I had major battles that, I can tell you, put me on the brink.
The World Championships rolled around, and every division was packed. My draw was tough, but I was prepared and ready to go, I won my first two matches and then my next round was Spitka from Germany. Spitka had become a rival that year for me. I seem to draw him everywhere and I can't say that it went well. I was 0- well just 0. Spitka also won the bronze medal in 96′ beating Yoshida for Bronze. Unfortunately, it went the same I got thrown for ippon and I was like "ugh not again." The great thing is he was on fire. He made it to the finals and pulled me back into the consolation bracket. I had to win one match and then I fought for the Bronze Medal. My match was against Fujita from Japan. He and I had some training battles against each other at training camps and I knew it wasn't going to be easy. I ended up catching him with a foot sweep for ippon that I would never be able to duplicate again. I was in the Bronze Medal match and guess who it was the same Lithuanian that I had lost to at the Olympic Games. I remember being in the back and seeing Ed and Steve so nervous. I now know what they felt as we had all put everything into each other for this moment. Steve sat in my chair and Ed was literally right behind him. The match was tough. Merkevicius was shorter but so explosive. I went up by Yuko and then it was on. I swear he threw everything he had at me. Lifted me in the air more times than I can count and somehow how I held on for the win. I remember after time ran out that I said "Thank God, that was the toughest thing I had been through," and I made it! I ran over jumped into Steve and then I did it with Ed and I think I almost knocked him over. We had put everything into that year, and it paid off dividends. SO many amazing things came from this and things that I hold dear. I got a picture with Tammie and Ed Liddie there right after in the venue that I value so much.
The 2000 Olympics rolled around. There was a new qualification system for us with no trials. If you were number one and you qualified the division in the Pan American region, then you made the team. I was number one in both and so I qualified to make the team.  Before the 96 Games, my coach Fred Hand's son, Ato, had moved to the Olympic center with us. He fought in the 96 trials but lost in the process. Ato was number one going into the trials and had a barn burner of a match with Rhadi Ferguson. They were teammates at the Olympic Center, so we all knew it was going to be tough. Ato made the team by .5 of a point being the smallest margin possible. There was no easy draw in this division and of course who did I draw once again in the first round? – My nemesis, Spitka. The difference is that I had beaten him prior to the Olympics. The match was not easy but finally I made it through and won the match. I eventually ended up against Mark Huizinga. Mark and I had some epic battles, and I always came up on the losing end. We both knew it was going to be a fight and I would say that we were both ready. I went up by wazari and was leading the match and then with one minute to go, I got caught for ippon. The feelings that went through me were overwhelming. Years of training lead up to this moment and years of hard work felt wasted. It wasn't over, however, and I was still in the consolation bracket. Ed saw that my brain was not in the right place and the day was not going to get any easier. I had the Cuban, Despigne, next, and we were the guy who won every major event. I had his number in all of our matches though and Ed could tell that I wasn't in the right place mentally. Before we walked out, he pulled me into a room and literally gave me the pep speech of a lifetime and that it wasn't over, and we still had work to do. Well, I ended up catching him with a De Ashi Barai for ippon. I wish that I could say the day ended with a medal, but I lost the match to fight for Bronze by split flags and finished 7th.
European Club team – During all my travels I became great friends with Ben Sonnemans from the Dutch team. Ben was 5th in the 96 Olympics. Ben spoke to Cor about me potentially fighting for their Kenamju team in the European club cup. It was amazing what the Kenamju team has built, so many home grown Olympic and World Medalist and to be a foreigner fighting for their team was super special. Their events were amazing. A thousand people around one mat area and just true fans of the sport and the amazing athletes there competing. Cor and Els, Dennis and Elco became some of my closest friends and this was a true highlight of my career and being able to spend time with them and being welcomed with such open arms. They accepted me as a part of their family and team, so much that Cor sat in my chair at the Dutch Open one year even as he was a national coach. That showed me how much he truly cared about me as a part of his family.
2004 Olympic Games – I made the Olympic Team with the trials in San Jose, California. The Games were back in the place of its birth. I knew that this was a make-or-break point for me in my career. I had the pleasure to be with my good friend, Buck Wessell, who was the team manager for the Olympic Team. Buck and I were introduced after I won my Bronze Medal in Paris. I started teaching Buck private lessons in Boulder, CO and I became part of his family. Buck, Amy, Max, and Axel became another family for me. I remember going up to their home when I was back in town to hang out and decompress a bit and Buck was an avid Judo fan. Even to the point that he has a USA Judo screen saver on his phone to this day. Walking in Opening Ceremonies with him and Ed were amazing and sometimes we take these moments for granted. As I look back, I tend to remember the moments with people and less about the crazy moments in competition. The games didn't go my way and I lost 2nd round to Dumonfaucon of France, who was world champ in 2001. I decided that I was going to hang it up and I remember sitting there in the corner after I lost with tears in my eyes that this would be the last time that I experienced this and an entire lifetime of dedicating ourselves to the opportunity to win Olympic Gold was over.
2005 was a big year for me, I had met my fiancée a few years back and she went with my parents to the Athens Olympic Games to watch. In March of 2005, we were married in Georgia. About 200 Plus people were in attendance and you can tell with all my groomsmen how great of a day it was. My closest friends and family were there, and it was a truly amazing day. It flew by and as I spoke to everyone afterwards. All they said was how much fun that they had and how great it went. It was a perfect day for us and Kimberly being the love of my life supports me to this day knowing the drive that I have for certain things. It was an amazing day!
In 2007, I had been working for 24 Hour Fitness for a few years and I started to get an itch. I, as many athletes do, realize that we might have unfinished business. In the beginning part of 2007, I spoke to Ed and told him that I had an itch and I wanted to scratch it. He was beyond excited about me returning. I also went to Buck, as he had become a mentor, closest friend, and brother to me, to get his thoughts. There is a funny conversation on this one. I decided to officially make my return. It was not easy, and it is the hardest thing that I have ever done. My body had changed. I worked for a fitness company, but we know that nothing simulates Judo, and it was so very hard. I broke my ankle twice and my first tournament back was the US Open in Georgia. My ankle was not close to being 100% and it was a super tough day. I made it to the final where I would face Gary St Ledger. Gary and his brother, Harry, have amazing judo and are some of the nicest guys that you will ever meet. I remember that I could barely walk and so I went back to Buck's hotel room and just laid there wondering how I could make it through the match. I took a few advil and somehow it stopped hurting long enough for me to fight the final. The final was a great match and Gary is so dangerous. I ended up winning the match and this put me back on the national roster.
US Nationals, 2008 – This was a bad day for me but an absolutely life changing day for my family. I was not having a good competition at all. I was tired, felt off and just not performing up to my expectations. I made it to the final against Gary and this one didn't go my way. I got caught with Katagaruma for ippon. I can't lie I contemplated stopping my run right there, but something told me to finish it out no matter the result. That night, though, my life completely changed! My wife kept complaining that she was hungry and so we went and ate but she still couldn't satisfy her hunger. You see we had been trying for a while to get pregnant, so she said that maybe we should go get some tests. Well, we do and it came back positive. It was super amazing to find out this way as we had both our families there and were able to share this together.
US 2008 Olympic Trials – The trials were amazing! We shared the stage with wrestling and their trials, so it was amazing to see both our sports going on at the same time. I felt very good going into this. My family was there my wife was pretty darn pregnant and I was prepared to leave it out there and finish it. I went in ranked number three. There just wasn't enough time to climb the ranks back up. I had some tough and great matches leading up to another final with Gary. Our first match was crazy and almost went the full distance. It was back and forth for a bit but ended up catch Gary and the end of the match for ippon. I still had to win one more match. Our second match didn't go my way. I ended up getting tripped up and got caught for Ippon. UGH!!! It all came down to one final match. I would say that we both went for it and was letting it all go. I ended up catching Gary with a De Ashi Barai for ippon. I remember us both laying there for a moment and I can't say what went through his head, but I can only remember my thoughts of what it took to get back to this point. Sacrifices from my family and supporting me all the way through. This was a true test in the face of adversity – so many hard pieces that I had to overcome. I truly felt that this was a highlight for me as there was so much that went into making this team.
2008 Olympic Games – This Olympic Games was an amazing experience. I was the veteran and the old guy on the team. We had so many new faces and teammates that I had watched come up and now to share this moment with them. I remember walking in Opening Ceremonies, Ryan Reser said we must get on tv. I told him ok, you guys hang with me and we will get on TV. I had learned a bit on who they look for and so we hung with the Basketball team. They were cool and really seemed to be enjoying the ceremonies. Ryan, Taylor Takata and I walked in with them, and they really got some great TV time in there. It was amazing to see the excitement on their faces when their families were sending them messages. The Games Day came and went, and I wish that I could say that I had an amazing day, but I didn't. I realized at that point that my career was done, and I was ok with it. I realize that even though our brain thinks one way, reality is different. Our bodies change and get older and with these young ones coming up like I did, that it was time. The Games came and went, and we had a lot of great memories with everyone.
In December of 2008, Kimberly and I welcomed our first son, Bryce Ernest Olson, to the world, and it was truly a joyous time for us all. This was right at the beginning of the recession and so our life took us to Longview, Texas. A former boss and buddy of mine, Bryan Bradford, had left 24 Hour Fitness and opened up a franchise location of Anytime Fitness. Bryan needed someone to run one and so we went down to visit and soon enough we moved down and started a new chapter in our life.
In 2012, we welcomed our second son Henry Camble Olson to the world. And it was the start of a new chapter of chaos with two wild boys.
2014 took us in a different direction, The health clubs were doing very well, and I got an opportunity to do some consulting work overseas for Anytime Fitness International. The southeast Asia market was growing so fast, and I had a great relationship with the Co- Founder, Dave Mortensen. Dave is a wrestler, and we have a similar mid-set. He always joked that he was going to approach Bryan and me when he had something and so he made good on that. The next thing I knew, my family and I were on a plane to live in Singapore. You should have heard my parents when I told the that we were moving to Singapore. In a very southern accent pronouncing Singapore. Little did they know it was on the other side of the planet. We lived and worked abroad for 2.5 years, and it was one of the greatest things ever. My family got to experience so many different cultures and meet so many people and make some amazing friends that we are still close with to this day. I had the opportunity to do work in Singapore, Malaysia, China, Japan, Hong Kong, Taiwan, Philippines, Bahrain and India.
In 2017, our job was completed, and we were relocated back to the US and took up residence in River Falls, Wisconsin and where we currently reside. I worked for Anytime Fitness for another three years and now I am proud to say that I run my own Dojo and Academy with over 250 students and also I work for Fuji Mats, helping other martial artists to realize and obtain their dreams of opening their own locations.
There is one catalyst here. JUDO! Judo has brought me everything in my life. I met my wife because of it and all of my opportunities in life have come from it. I would never be where I am today without it. I now have the opportunity to pass these experiences on to others and help improve the lives of kids and adults every day.
Judo has opened more doors for my life than I could ever share, and it has brought me relationships and friendships that I would have never thought possible. Judo is the main reason I was able to work abroad, all over Southeast Asia and create so many amazing opportunities for me and my Family.
I could go on for hours on the amazing things that I have experienced in my life, but it has led me to the place that I am now of owning my own academy with 250 students that I get to help impart my knowledge and help change lives on the mat.
I continue to work with my coach Ed Liddie and US Judo to travel and provide seminars that will help bring up the knowledge and excitement around our great martial arts. I have had the honor to serve on the USA Judo Board of Directors as an athlete rep and as well as the Athlete Advisory Council for Judo to the Olympic committee. MY last assistance was as a representative on the American Judo Development Model task force to provide a foundation for our system. I would hope that anyone that served with me on these committees would say that I always had a fire to improve and push the boundaries to help take things to another level of improvement. As I said before I have had an amazing career and accomplished so many wonderful things because of Judo.
Here are a few Judo highlights
Olympic Teams: 2008, 2004, 2000 (Seventh), 1996
World Championship Teams: 1995, 1997 (Bronze), 1999, 2001, 2003
Pan American Games Teams: 2003 (Gold), 1999 (Gold), 1995 (Bronze)
Pan American Championship Teams: 2004 (Silver), 2003 (Bronze), 2002 (Silver),
2001 (Gold), 1998 (Gold), 1997 (Silver), 1996 (Silver)
© 2022 USJF all rights reserved
Career
2008
Gold – U.S. Olympic Team Trials for Judo
Silver – USA Judo Senior National Championships
2007
2004
Gold – Olympic Trials
Silver – Pan American Championships
Fifth – Rotterdam World Cup
2003
Gold – Pan American Games
Gold – Rendez-Vous Canada
Gold – Puerto Rico Open
Gold – New York Open
Gold – Olympic Qualifier
Silver – U.S. Open
Bronze – Pan American Championships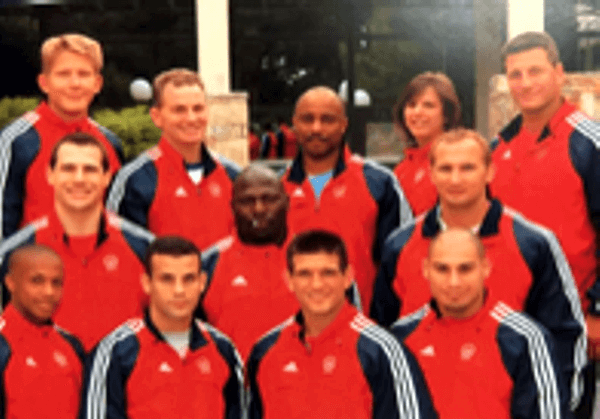 2004 Olympic Men's Team
© 2022 USJF all rights reserved
Bronze – Benito Juarez Championships
2002
Gold – U.S. Open
Gold – Budapest World Cup
Silver – Pan American Championships
Seventh – German Super World Cup
2001
Gold – Pan American Championships
Gold – British Open
Silver – Rotterdam World Cup
Silver – European Club Cup Final
Silver – IMCA America U.S. Open
Bronze – Budapest World Cup
2000
Bronze – Rotterdam World Cup
Seventh – Olympic Games
1999
Gold – Pan American Games
Gold – USA Judo Senior National Championships
1998
Gold – USA Judo Senior National Championships
Gold – Pan American Championships
Bronze – British Open
Bronze – Budapest World Cup
Bronze – Leonding World Cup
1997
Gold – USA Judo Senior National Championships (86kg)
Bronze – World Championships (86kg)
1996
Gold – U.S. Open Championships (86kg)
1995
Gold – USA Judo Senior National Championships (86kg)
Bronze – Pan American Games (86kg)
1994
Gold – USA Judo Senior National Championships (86kg)
Gold – U.S. Olympic Festival (86kg)
1993
Gold – U.S. Olympic Festival (86kg)
Silver – USA Judo Senior National Championships (86kg)
1992
Gold – U.S. Open (86kg)
JR World Championships- 5th place
1991
Silver – USA Judo Senior National Championships (78kg)