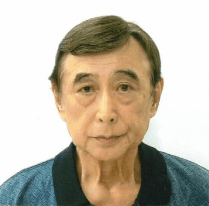 © 2021, USJF, all rights reserved
Lloyd Migita
inducted 2021
Sensei, Dr. Lloyd K. Migita has devoted over 74 years to the study of judo. Sensei Migita was designated as an assistant instructor in 1957 at the age of 17. Born and educated in Hawaii, Dr. Migita started learning judo in 1946 at the age of 7. By the age of 16, he won first place in the territorial-wide senior judo tournament in the 150 lb division. Over a ten year period from 1956–1965, Dr. Migita obtained a remarkable tournament record. He was undefeated in 19 territorial-wide and statewide championship tournaments in his division winning most of his opponents by ippon. In addition, he had earned his first black belt (age 17) through his 4th degree black belt by the age of 24. Of the numerous tournaments he participated in, his most prestigious accomplishments were winning a silver medal in the 1963 Senior National AAU Judo Tournament held at Fresno State University and placing second at the United States Judo Olympic Trials at the New York World's Fair in 1964, making him an alternate for the 1964 Olympic Games held in Tokyo, Japan. However, being in graduate school working on his Ph.D. thesis in Biochemistry at that time, Dr. Migita decided to pursue his studies rather than train with the U.S. Olympic Team.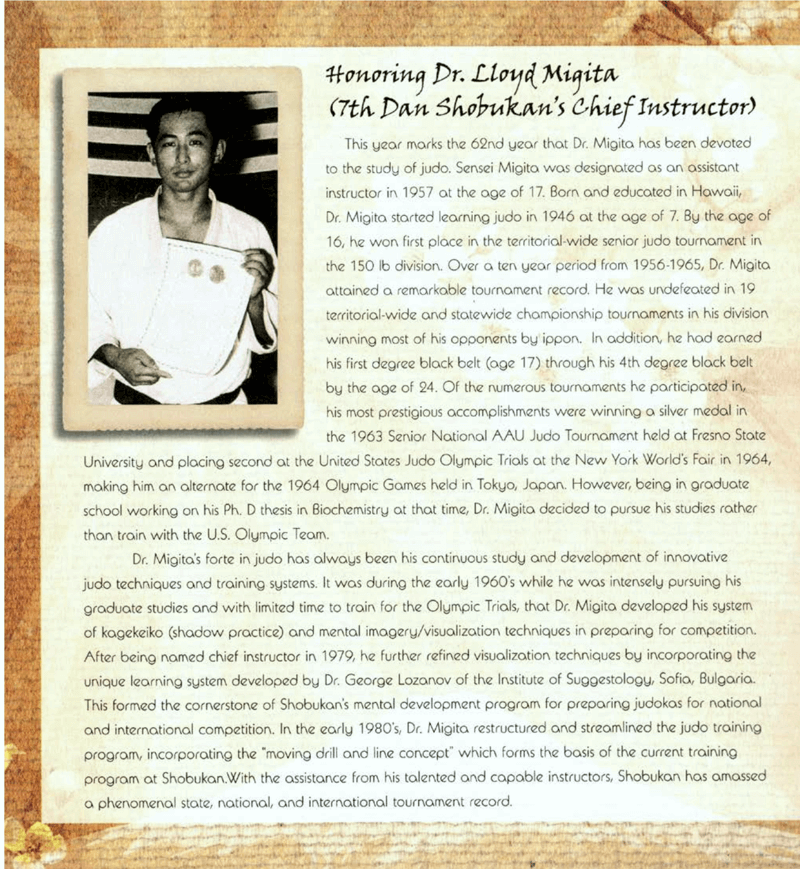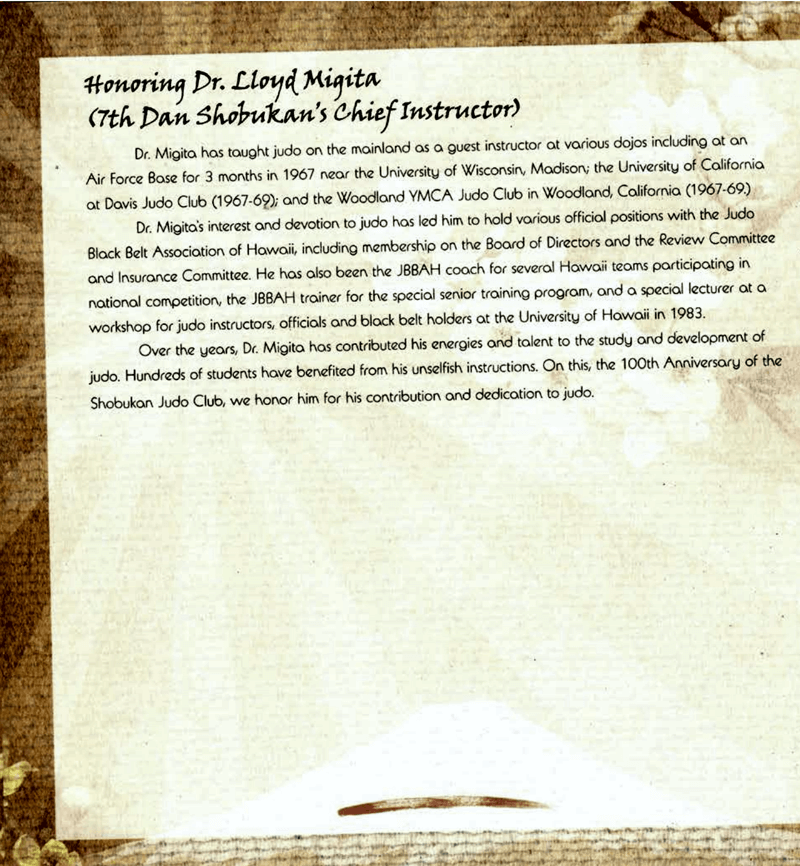 Dr. Migita's forte in judo has always been his continuous study and development of innovative judo techniques and training systems. It was during the early 1960's while he was intensely pursuing his graduate studies and with limited time to train for the Olympic Trials that Dr. Migita developed his system of Kagekeiko (shadow practice) and mental imagery /visualization techniques in preparing for competition. After being named chief instructor in 1979, he further refined the visualization techniques by incorporating the unique learning system developed by Dr. Georgi Lozanov of the Institute of Suggestology, Sofia, Bulgaria. This formed the cornerstone of Shobukan's mental development program for preparing judokas for national and international competition. In the early 1980's, Dr. Migita restructured and streamlined the judo training program, incorporating the "moving drill and line concept" which forms the basis of the current training program at Shobukan. With the assistance from his talented and capable instructors, Shobukan has amassed a phenomenal state, national, and international tournament record.
Dr. Migita has taught judo on the mainland as a guest instructor at various dojos including at an Air Force Base for 3 months in 1962 near the University of Wisconsin, Madison; the University of California at Davis Judo Club (1967-69); and the Woodland YMCA Judo Club in Woodland, California (1967–69).
Dr. Migita's interest and devotion to judo has led him to hold various official positions with the Judo Black Belt Association of Hawaii, including membership on the Board of Directors and the Review Committee and Insurance Committee. He has also been the JBBAH coach for several Hawaii teams participating in national competition, the JBBAH trainer for the special senior training program, and a special lecturer at a workshop for judo instructors, officials and black belt holders at the University of Hawaii in 1983.
Over the years, Dr. Migita has contributed his energies and talent to the study and development of judo. Hundreds of students have benefited from his unselfish instructions.
CLUB HISTORY
The Place of Challenge!
Shobukan's Mission Statement is to create a nurturing place of trust, order, fellowship and respect for others. To provide the opportunity for each person to learn and grow physically, mentally and spiritually in order to gain the discipline, confidence and skills to become responsibly independent and serve a worthy purpose in society.
Shobukan is a place of respect! Any student or parent not showing proper etiquette in the dojo will be dismissed from class by a sensei and shall be allowed to return only with the permission from the sensei who dismissed such individual.
Shobukan has an open door policy where students from all over the world may come and practice with us. So before you start planning a vacation in Hawaii contact us at shobukan@hawaii.rr.com and don't forget your judo gi.
Shobukan has produced over 75 National Champions. Many have won multiple National Championships and several have won the prestigious Triple Crown, i.e. 3 National Championships in each of the 3 National Judo Organizations, over a period of 3 weeks. Two Olympians , Clifton Sunada (1996 Olympics) and Taylor Takata (2008 Olympics) trained at Shobukan before moving to the Olympic Training Center in Colorado to train for the Olympics.
Many Shobukan students have become accomplished judokas and have become skilled instructors and coaches at Shobukan, various clubs, and high schools.
Shobukan Judo Club is a private, non-profit 501(c)(3) entity whose members include students from the ages of 5 years and older to adults (parents, instructors and seniors). Established in 1908, it is one of the oldest judo clubs in the State of Hawaii and the United States.
Shobukan was started by immigrants from Japan in 1908, Shobukan 's founding fathers were Kanajiro Mino and Kakuji Fukai, who were Judokas trained in the art of Kodokan Judo.
The Club's first dojo (gym) was in the basement of the Asahi Bakery on Beretania Street in Honolulu. At this time, Yajiro Kitayama, a skilled practioner in Judo and Sumo was called over from the island of Hawaii, for one year to be Shobukan 's first chief instructor. In 1910, Shobukan moved to the Katojinsha on Hall Street with Kakuji Fukai serving as the Club's chief instructor until 1924.
It was during this 14-year period that Professor Sunao Migita, joined the club and became an instructor in 1920, and later became Shobukan 's third Chief Instructor. Shobukan relocated to the Liliha Daijingu in 1924 with Professor Migita serving as the chief instructor. Shobukan flourished in the following years until 1941 when World War II temporarily halted all Japanese martial arts activities. Shobukan was reactivated in 1947 at the Palama Gakuen and a year later, moved to Kuakini Street in Liliha.
In 1953, the first National AAU Judo Championships was held in the United States. Of the 6 weight divisions, Professor Sunao Migita's students George Hatae and Charles Nakashima respectively won the 130 lb and 150 lb National Judo Championships, thereby winning 2 of the 6 divisions.
ln 1957 through the efforts of Professor Migita, club members and friends, Shobukan was able to purchase a property and move to its present permanent site in Liliha in Kunawai Lane. Dr. Lloyd Migita, the son of Professor Sunao Migita was selected to become Shobukan's fourth Chief instructor. Dr. Lloyd Migita, a 7th degree Black Belt served as the Chief/Head Instructor from 1979 to 2010. He is now serving as an Advisor to the Shobukan Judo Club.