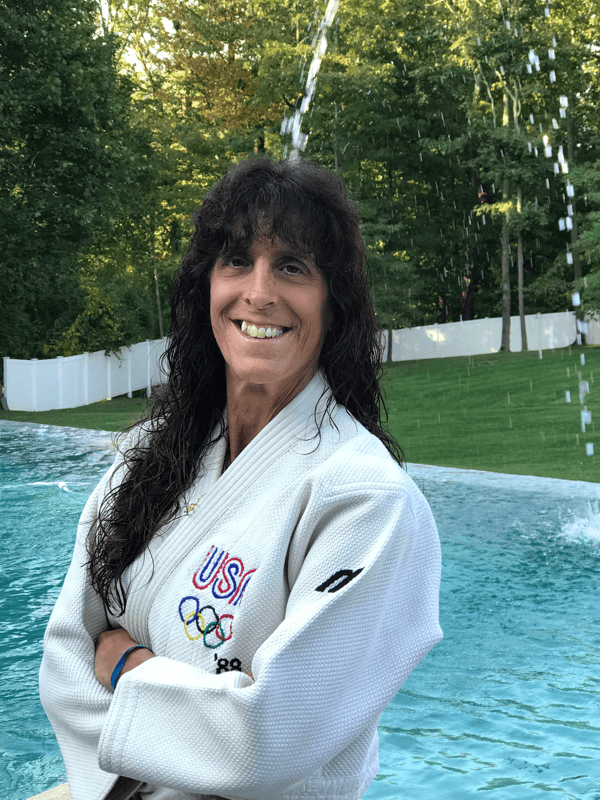 © 2021, USJF, all rights reserved
Eve Aronoff Trivella
Class of 1993
Eve Aronoff Trivella was born July 10, 1963 in Bronx, New York. She was raised in Hartsdale, New York. She attended Woodlands High School and Westchester Community College.
From a young age, Aronoff Trivella engaged in physical fitness winning her first competition at 11 years old. All throughout High School she ranked within the top 2 percent of physical fitness in all of New York State. While in High School, Aronoff Trivella won Woodlands High School outstanding athlete even though Judo was not a sport.
At the age of 6, Aronoff Trivella was stricken with Rheumatic Fever due to complications of Strep Throat. This disease left her paralyzed from the waist down for over a year. While being home schooled, she saw a commercial on TV for Martial Arts. Aronoff Trivella immediately fell in love with the fierce elegance of a Judo throw. At age 9, she recovered and insisted her mother let her take Judo lessons. The doctor agreed it would be good physical therapy and at 9 years of age she set off on a journey from paralyzed to pioneer of Women's Judo.
Aronoff Trivella excelled quickly and began teaching Kata to adult judokas from as early as 12. She earned her first Black Belt by the age of 15. By 16 became a member of the All American Women's Judo Team and held 28 major titles consisting of national and international. At 17, while competing internationally, Aronoff Trivella began fitness instructing athletes.
Starting at 12 years of age and until retirement from competition she trained with and was coached by Sensei Rusty Kanokogi who is credited with getting Women's Judo into the Olympic Games.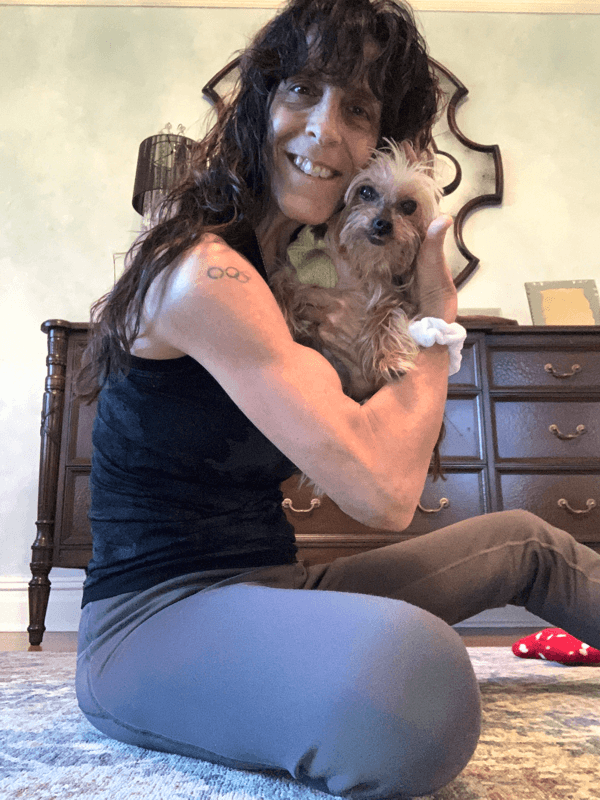 © 2021, USJF, all rights reserved
Aronoff Trivella competed in the 56-kilogram weight division. To mention a few, she earned a Bronze medal in the 1982 World Judo Championships at the age of 19 and finished 7th in the 1987 World Championships. She was a member of the historical First Women's Olympic Judo Team of 1988 where she earned 6th place. She medaled in 14 National Championships: 12 senior and 2 junior. She is a 5 time U.S Open champion.
Aronoff Trivella was the recipient of the prestigious Olympian Award sanctioned by the U.S Olympic Committee. The award is in recognition of athletes who have made significant contributions to the various Olympic disciplines. Additionally, she was elected to the United States Judo Association Hall of Fame as an outstanding female competitor.
Other honors include the Phyllis S Harper Sportsmanship Award from the United States Judo Federation in 1984, Resolution 10-1983 from the City of Yonkers New York in recognition of her excellence and contribution to the sports world, Metropolitan Judo Association for Outstanding Female Competitor for the year 1978-1979, and Coach of the Year at the New York State Championships for the year 2019. Aronoff Trivella has been the proud founder and owner of Eve's Ultimate Body Training LLC since the 1980s, teaching private one on one fitness and or Judo sessions as well as group. She also has created a fitness Judo workout for beginners, intermediate or advanced, using a combination of fitness exercises and Judo techniques without a partner which has been very useful during the Covid 19 pandemic.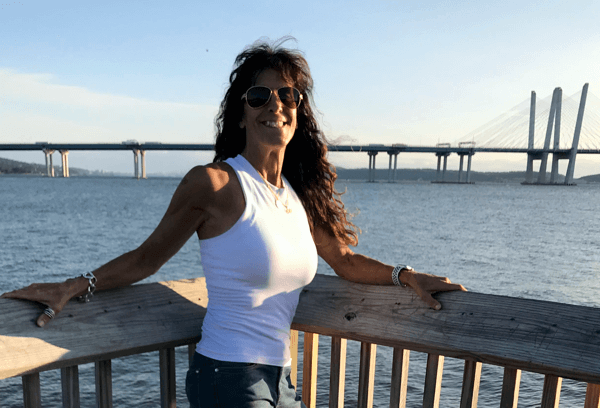 © 2021, USJF, all rights reserved
Ranks Achieved
Ikkyu – 1978
First Dan – 1979
Second Dan – 1981
Third Dan – 1984
Fourth Dan – 1994
Fifth Dan – 2013
Sixth Dan – 2020
Competitions
(Descending in reverse chronological order)

Date
Result
Event
City
07/07/1990
2
Olympic Festival
St. Paul
1990
1
Am-Can
Tonawanda
1990
3
Quebec Open
Quebec
21/04/1990
3
Us National Sr. Championships
San Diego
27/09/1988
6
Olympic Games
Seoul
02/07/1988
2
Asko World Tournament
Leonding
1988
1
Am Can
Niagara Falls
30/04/1988
2
US National Sr. Championships
Ft. Wayne
27/09/1987
2
Pacific Rim Judo Championships
Colorado
11/08/1987
2
Pan American Games
Indianapolis
17/04/1987
1
US National Sr. Championships
Pittsburgh
25/10/1986
7
World Championships Women
Maastricht
06/09/1986
3
Dutch Open Nieuwegein
03/05/1986
1
US National Sr. Championships
Honolulu
25/01/1986
3
USSR Women Tournament
Moscow
02/11/1985
1
US Open
Colorado Springs
27/04/1985
1
US National Sr. Championships
Farmington Hills
16/02/1985
1
Pan American Championships
Havana
1985
1
National Sports Festival
1984
1
US Open
27/04/1984
2
US National Sr. Championships
Orlando
05/02/1984
2
Canada Cup
Quebec
10/12/1983
2
Fukuoka Tournament
Fukuoka
19/11/1983
2
US Open
Colorado Springs
22/04/1983
3
US National Sr. Championships
Los Angeles
1983
2
National Sports Festival
05/12/1982
3
World Championships
Paris
24/04/1982
3
US National Sr. Championships
Indianapolis
1982
1
US Open
1982
1
National Sports Festival
13/12/1981
3
Coupe Canada Cup
Quebec
05/12/1981
1
US Open
Brockton
25/04/1981
2
US National Sr. Championships
Little Rock
1981
3
Quebec Open
Quebec
1980
2
Quebec Open
Quebec
26/04/1980
1
US National Sr. Championships
East Lansing
18/02/1980
3
Pacific Rim Judo Championships
Honolulu
14/04/1979
2
US National Jr. Championships
San Francisco
15/04/1978
2
US National Sr. Championships
Chicago
1976
1
US National Jr. Championships
Edison, NJ
Camps, Clinics and Events
Eve's Judo Academy, Clinic
New York Metropolitan Area.
Head Instructor, Circa 1990's.
Combat Judo, Clinic
Long Island, New York.
Guest Instructor, 2012 – Present.
Bronx Judo, Clinic
Bronx, New York.
Guest Instructor, 2012 – Present.
Universal Judo, Camp
San Antonio, Texas.
Guest Instructor, Summer, 2017.
Black Hole Judo and Jujitsu, Clinic
Wappingers Falls, New York.
Guest Intructor, April, 2015.
Private Volunteer Training for Athletes on the U.S National Roster, Camp
Westchester, New York.
Head Instructor, Summer 2015 – 2019.
Falling For Seniors, Clinic
Special volunteer clinic taught and founded by Eve Aronoff Trivella that teaches senior citizens modified Judo break falls in order to help reduce the risk of serious head injuries in the event of a fall.
Downstate, New York.
Head Instructor, 2016 – Present.
Video Call Physical Training, Clinic
Weekly live video training clinic for athletes including those on the U.S National Roster and the Number One Ranked female from Brazil.
Head Instructor, 2020.
Video Call Judo Training with Viviane Caixeta, Clinic
First all-female judo clinic over video conference where I teach judokas a range of moves and techniques to be done either alone or with one partner due to 2020 Covid-19 restrictions.
Guest Instructor, April 2020 – Present.
Rena Rusky Kanokogi Street Naming, Ceremony
Street naming ceremony for the mother of women's judo Sensei Rusty Kanokogi.
Coney Island Brooklyn, New York.
Guest Speaker, 2019.
New York State Judo Championships, Competition
Purchase, New York.
Guest of Honor/ Coordinator, 2019.
International YMCA Judo Camp, Camp
Huguenot, New York.
Guest Instructor, 2020.
USA Judo Hall of Fame Committee, Committee
Delegate, 2018-2020
USA Judo Hall of Fame Task Force, Committee
Delegate, 2020
USA Judo's Fitness Judo – USA Task Force, Committee
Delegate, 2020
New York State Rank Promotions, Committee
Delegate, 2020
First Virtual Judo Challenge USA v Brazil
USA Women's Head Coach, 2020