On Sunday, March 21, 2021, we lost Harold E. Sharp, Hal to his friends and Sharp Sensei to the many judokas lives he touched over his 70+ years of involvement in Judo.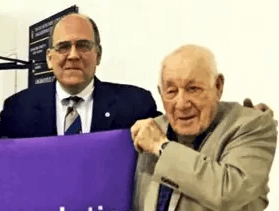 Sharp Sensei was approaching his 94th birthday. He passed away peacefully at home and is survived by his wife Joan Joanie, son Richard, and daughters Kary, Denise, and Lisa. Last November, the Nanka Judo Yudanshakai (the SoCal Judo Association) recognized by Jigoro Kano in 1930, bestowed judo's highest rank of 10th Degree Black Belt, on Sharp Sensei.
USJF recognised Hal Sharp as a member of the United States Judo Hall of Fame in 2016. To read more about Sharp Sensei, see his entry on the USJF website and Gary Goltz's article in Black Belt Magazine.
See an interview by Masters Magazine on Mr Sharp's history in judo.