Ken Tamai
Inaugural class of 2020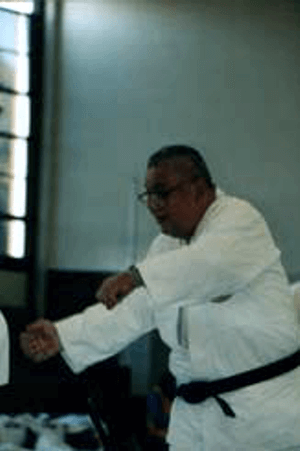 What makes a great judoka is not only what he did in his lifetime but the direct influence he made that continues to grow and develop judo for many decades after. He lived judo in every sense of what makes an outstanding judoka – Jita Kyoei, mutual welfare and benefit. His judo career spans many decades, but even greater than his own contributions is the continuation of his legacy thru his children, grandchildren and judoka he taught.
Kenneth Bunji Tamai loved sharing his passion for judo. Throughout his life he worked to help others understand all of the wonderful aspects of the sport of judo. He believed that the aim of judo was to help develop the human character and to constantly improve oneself – physically, mentally, emotionally, and spiritually. He showed everyone how judo was mutually beneficial for all who met a judoka. He began his judo career as a small boy in Honolulu, Hawaii in 1942 when he was 8. The dojo was a very humble place with makeshift walls. The practice area was very small. The dojo was run by his sensei, Mr. Richard Takamoto. Mr. Tamai worked very hard on basic techniques and skills. He was taught to perfect the basic skills as his foundation or building blocks for being a good judoka. Over the next nine years he achieved the rank of a junior black belt.
He left Hawaii and went into the army from 1953 to 1955 serving as a clerk. He was decorated while serving in the Korean War. After leaving the army, he went to Milwaukee School of Engineering, a private university in Wisconsin, for a year then he transferred to Michigan Technological University, where he studied mechanical engineering specializing in aerospace engineering. He graduated in 1959. For the last two years of his schooling, he interned with the Department of Navy in Washington DC. After graduation in 1959, he moved to the Washington DC area, where he was employed as an aerospace engineer with the Department of Navy. He specialized in vertical propulsion systems.
He restarted his judo career from scratch as a white belt with the newly forming Washington Judo Club. Sensei Tamai was instrumental in the development of Judo on the east coast. He helped to form one of the first yudanshakais – Shufu Yudanshakai (Capital Judo Black Belt Association). He once again focused on his foundation of basic techniques done to perfection. He earned his Sankyu in November of 1960, earned his Shodan in November of 1963, Nidan in 1967, Sandan in 1972, Yodan in 1981, Godan in 1991 and Rokudan in 2002.
He met his wife of 42 years while they were both practicing judo at the Washington Judo Club at the Florida Avenue markets in Washington DC. Through their love for each other, six wonderful children were born and raised. All of them, including his wife Dorothy, are all various levels of black belts in judo.
His career in judo continues to be a legacy. His commitment to the development of judo in the US is unrivaled. His service has included 25 years as tournament recorder, 25 years as a member of the Board of Examiners, 25 years as registration chairman, 25 years on the Maryland Judo Inc Promotional committee, member of the US Senior National pairing committee 6 times and numerous other posts and assignment too many to mention. He has been the coach multiple times for both the male and female teams at the national championships for both the United States Judo Federation and United States Judo Inc. He has been the delegate for Shufu at national and international events and meetings. He was on the USJF Junior Development Committee and the USJI Tournament Committee.
He was a technical official at the Olympic Games in Los Angeles serving as the head scorekeeper for the International Judo Federation. He served as head scorekeeper for over 15 years at various tournaments including the US Senior Nationals, US Junior Nationals and the US Open. He has been on many of the subcommittees for the development of judo and the direction of the future of judo. He has been the Shufu delegate to the USJF board of governors 15 times. The history of Shufu Yudanshakai growth and development is also tied directly to him.
He started is own club, Hui-O-Judo, which is Hawaiian meaning "club of judo", in Berwyn Heights, Maryland in 1968 as a family dojo to teach both competitive and recreational judo to students of all ages (juniors and seniors, ages 5 and older). Sensei Tamai teaches judo for the development of the students. He trains each judoka based on the principle and morals established by Dr. Jigoro Kano in the formation of Judo. Judo's aim is to develop character of each person and help them develop into the best person they can be.
Hui-O-Judo developed and grew through the 1970's. The club captured its first team trophy (junior division) in 1976 at the Eastern Invitational held at the Police Academy in Washington, DC. The junior team successfully defended the team title in 1977 and 1978. Hui-O-Judo outgrew the Berwyn Heights dojo in 1981, and relocated to the current dojo at the Beltsville Community Center.
The new dojo permitted Hui-O-Judo to host local tournaments and Shufu Yudanshakai events. Sensei Tamai acquired new mats in 1994 to provide for the continued growth in the club. Sensei Tamai coached the Shufu Female Youth Team to a USJF national title in 1991 and a second place finish in 1997. The Shufu Male Youth Team had a strong showing in 1997 placing third. Hui-O-Judo has maintained a presence in area through out the 1990's by capturing the senior team trophy at the Beltsville Invitational in 1993 and 1997. The club has recently achieved a Hui-O-Judo first by taking both the junior and senior team trophies at the 1999 Eastern Open.
In 2000 and 2001, as we entered into the new millinimum, Hui-O-Judo Beltsville became a leading judo team the Washington Area by taking the team award championship honors at the Shufu Open Championships, Beltsville Spring Open, Eastern Open Championships, Beltsville Fall Championships, Maryland State Championships and the Virginia State Championships.
Sensei Tamai, in cooperation with the Maryland National Capital Park and Planning Commission, has hosted most of the local tournaments and clinics in the DC area since 1981. Through his commitment to the judoka in the area, he hosted at least one clinic or tournament a month at the Beltsville location. He ensures that judo is accessible to everyone by keeping the cost of tournaments and clinics very low. He helped to develop interest in the sport of judo in the area. Currently, within a 7 mile radius, there are now five large judo clubs.
Part of being a good sensei is the legacy you leave behind. We look at who he developed to follow in his footsteps. His son Kevin, took over leadership of the dojo and continues to be the head sensei. He, along with his brothers, Kirt and Karl, have continued to run most of the events, including clinics and tournaments. Hui-O Judo was the third club in the country to be designated as a United States Judo Federation 5 Star dojo.
His sons, Kurt and Karl Tamai, started a new club, College Park Judo in 2000. They have trained and developed many judoka who compete nationally and internationally. College Park Judo is one of the United States Judo Federation 5 star dojos. Two of Ken Tamai Grandsons have continued to represent Team USA on the world judo stage. Alex and Jake Tamai both continue to excel in judo excellence.
Diane Tamai Jackson and Karl Tamai, have represented Team USA on the World Kata stage. They also travel the US teaching clinics on the various katas. Both Karl and Diane are also Class A referees. Robert Gouthro and Lisa Capriotti, also on the World Kata team, started their judo development at Hui-O-Judo and continue to be registered members. Diane currently serves as the Shufu Yudanshakai secretary and USJF secretary. She has taken both positons to new levels. His oldest daughter Margie Kettl is also competing in many katas regionally and nationally.
When he passed, he was a Rokudan recognized by the Kodokan in Japan, the United States Judo Federation (USJF) and the United States Judo Inc (USJI). He continues to be recognized and honored with awards and citations for his service and dedication to the advancement and development of the sport of judo. We can reflect on his life and easily see how much he loved his judo and his family. He leaves behind a legacy. He gave so much of himself to all that he did. His happiness was found in the experiencing of the entire journey through his life rather than a goal at the end of the path. He leaves his mark not only by the life he led, but in each one of his children. He will be greatly missed but his spirit will always live on inside of us.
He lived a very full life through his judo. He was often remembered by his smile and laugh, his Hawaiian shirts, zoris (flip-flops) and the cigar smells. Ken Tamai touched each of our lives in a different and unique way. He was able to give a little part of himself to each us and develop us into the people we are today. He developed our character and instilled the framework of who we are into each one of us. He gave of himself, to guide us and to teach us. He became a mentor and friend to so many people. He was respected and loved by all of the students, friends and judoka he knew.