I would humbly ask for your support in a judo zoom clinic that we are hosting on Saturday, November 14 at 7pm Central time (or by even just passing this information on).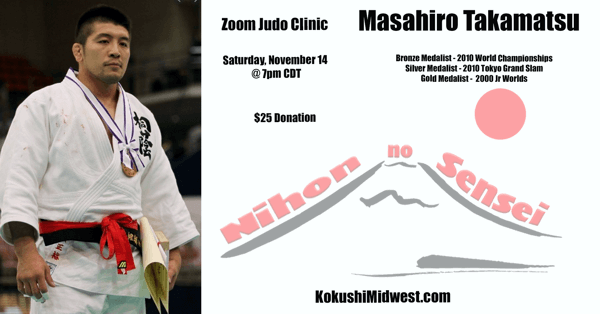 Sensei Takamatsu is currently the head coach of the boys judo team at Toin Gakuen High School located in Kanagawa prefecture. It is a private school known for accelerated academic programs and various sports such as judo, rugby, soccer and kendo. He is known for leading the team to No.1 in Japan multiple times.
These zoom clinics are one of the few ways we can call the students back, those who have left the dojo since the start of the pandemic. We have all become a little bit creative, but I started this particular zoom clinic as a way for people to learn judo directly from a Japanese sensei in Japan (Nihon No Sensei) – it is co-hosted by my friend, Michihiro Omigawa who owns Omigawa dojo. This will be our fourth clinic.
We have had Keiji Suzuki, Takashi Ono, and this weekend we will have 2010 World bronze medalist, Masahiro Takamatsu. We go through solo drills and exercises for about 40 minutes, then Sensei teaches his special technique and finally we have time for Questions & Answers. All of our clinicians have given us some really great "Golden Nuggets".
It's $25 and they can register at KokushiMidwest.com
There are many virtual events. I know that there is a free Neil Adams clinic at noon, but I would encourage your to attend both, since there is about four hours between the sessions.
With our best regards,
Grace Talusan, Kokushi Midwest.