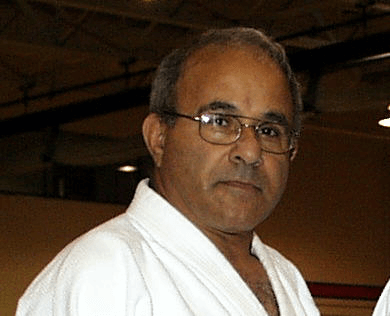 Copyright 2020 USJF. All rights reserved.
Tony Owed
Inducted 2020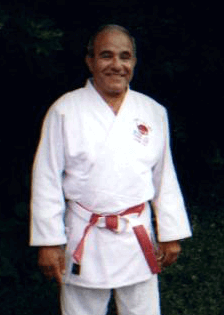 Anthony R. Owed was a judo teacher and coach whose students competed nationally and internationally. He continued to teach and coach judo at the University of Toledo through 2003. Mr. Owed was seventh-degree black belt. His emphasis during the last 40 years of his career was coaching, teaching, and promoting the sport, but he had competed widely and was a U.S. alternate for the 1964 Olympics in Tokyo. Through the years, Mr. Owed's students won state, U.S., and international championships.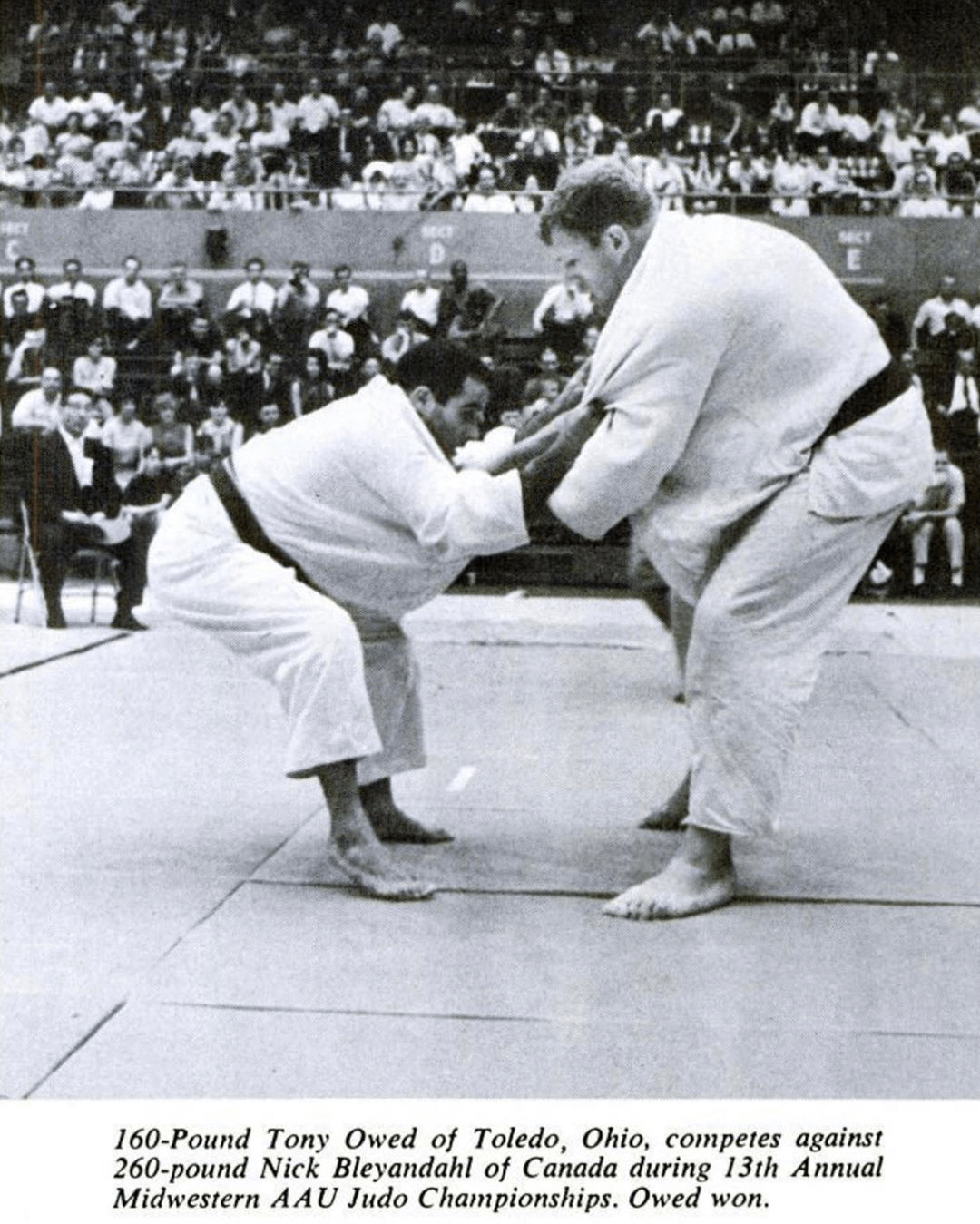 copyright 2020 USJF. All rights reserved.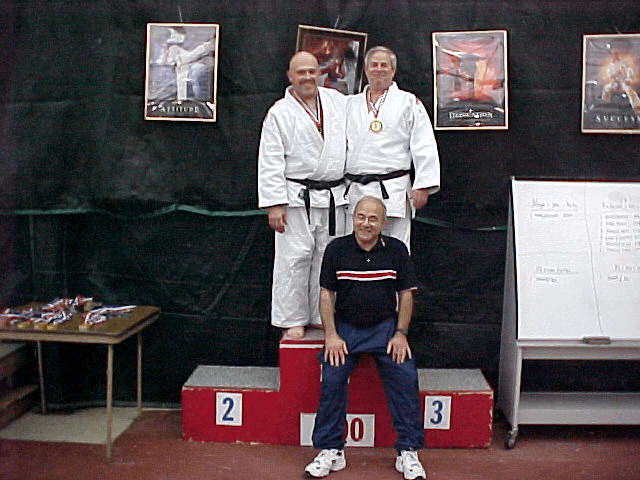 Tony Owed with Mark Pasquinelly (left) and Al Panackia
copyright 2020 USJF. All rights reserved.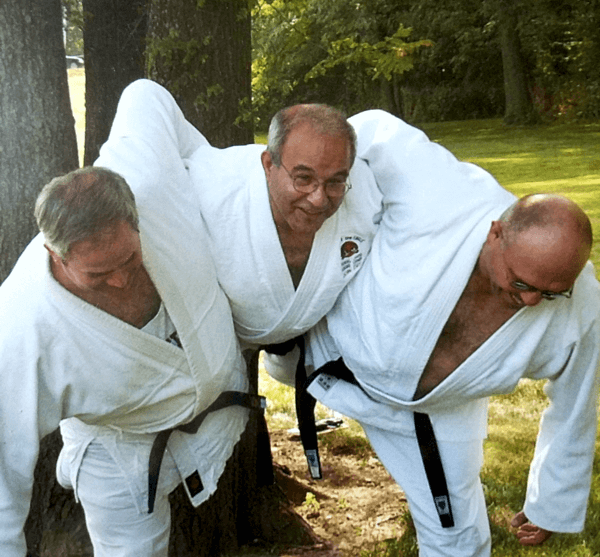 Tony Owed with Al Panackia (left) and Mark Pasquinelly

copyright 2020 USJF. All rights reserved.
Mr. Owed took up judo at 16 while attending the former DeVilbiss High School, from which he graduated. During U.S. Air Force service in Japan, he studied at the esteemed Kodokan Judo Institute. He received bachelor's and master's degrees from University of Toledo.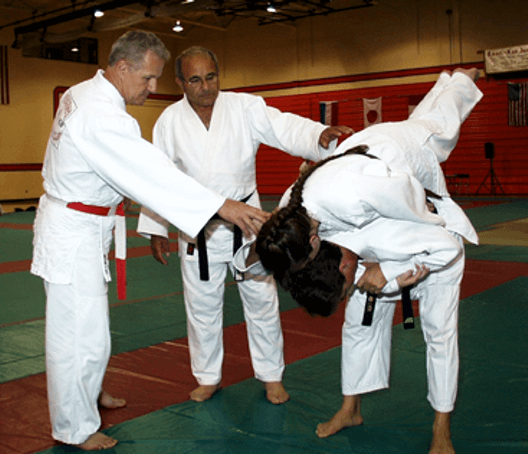 Bill Ryan(Rokudan) from Claksville TN and Tony Owed with Michael Mooney (Tori) and Jennifer (Weill) Chase from Cincinnati
copyright 2020 USJF. All rights reserved.
As a coach he has produced several national and international champions. Below is a partial listing of some of the competitors he trained.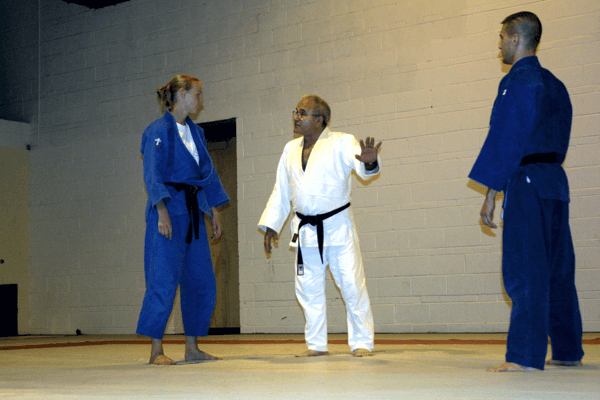 Tony Owed with Chantal Klein Gunnewiek from Enschede Netherlands (left) and Heiko Rommelmann (right)
copyright 2020 USJF. All rights reserved.
Tony Owed students who became national and international competitors
Shiai
Frances Glaze – National Champion National bronze medalist in shiai and gold medalist at National, Pan American
Kata
Frances Glaze and Mark Pasquinelly 1999 1st World Masters Bronze
Jana Seaborn and Frances Glaze kata gold Cleveland 2000
Anna Glaze and Diana Justice kata 2001 Nationals Disney World 4th place
Karen Whilden and Frances Glaze 2001 Nationals Disney World and Pan Ams in Cordoba, Argentina 2001 3 gold medals at each
Frances Glaze and Bonita Hudak Nationals 1972 bronze and silver and 1973-1975 gold
Ryan O'Connor and Frances Glaze 2004-2007 Nationals Gold; 2007 represented Pan American Union at 1st Kodokan World Championships
Ron Justice and Ryan O'Connor Bronze 2004 Nationals in kata in San Diego
Al Panackia and Mark Pasquinelly, three-time medalists at the 2005 National Kata Championships in Virginia Beach, Va., silver medal 2005 Pan American Kata Championships in Caguas, Puerto Rico, gold, silver and bronze medals at the 2005 World Masters Championships in Mississauga, Canada.
Jeff Giunta and Heiko Rommelmann gold medalists at National and Pan American won the men's overall award 17 times at the Senior Nationals. Internationally, they represented the U.S. at 7 Pan-Am Championships (2001, 2003, 2004, 2005, 2007, 2008, 2018, and 2019), 8 times on the USA World Kata Championships, multiple World Master's Championships, and the Canadian Judo Master's Championships. Highlights from this impressive record including winning the gold medal in the 2005 World Master's Championships; in 2007 they represented the Pan American Judo Union at the 1st International Kodokan Kata Championships in Tokyo, Japan.