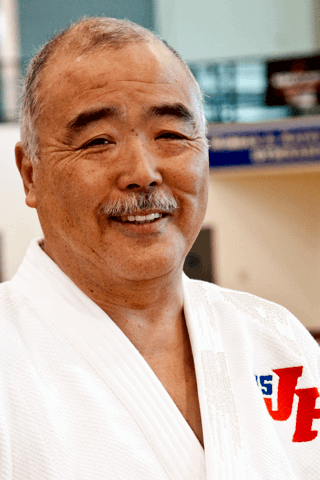 Copyright 2020 USJF. All rights reserved.
Noboru Saito
Inducted 2020
Born in Yokohama, Japan in 1948, Saito Sensei started judo when he was 12 years old because his father was concerned about his health and wanted him to get in shape. He was fortunate to meet Yoshio Kawaguchi Sensei, a lifelong judo sensei, who not only taught judo and karate skills, but who, more importantly, shared life lessons with his students. In high school, Saito Sensei was ranked number three in the heavy weight division for Kanagawa prefecture as a junior and in his senior year he was ranked second. Upon graduation from high school, Saito Sensei began assisting the Kawaguchi Dojo by teaching judo, where he also started taking lessons to become a karate instructor. He continued his training while teaching at two other dojos, the Yokohama Shogyo High School Judo team and for the U.S. Navy Special Service judo and karate programs.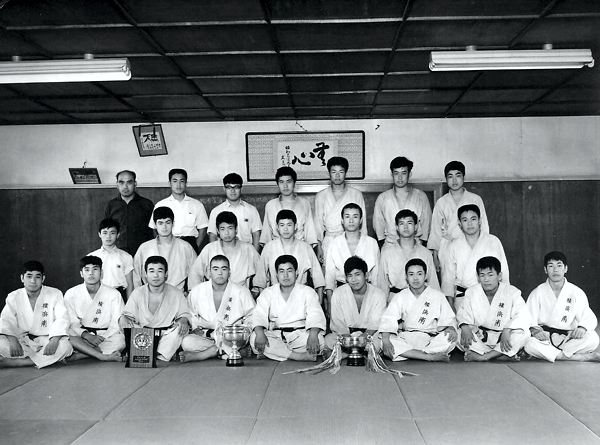 1965 Minami High School Judo Team (Mr Saito is first row, 4th from the left)
© 2020 USJF. All rights reserved.
In 1974, Saito Sensei had the opportunity to come to the United States and start a judo club managed by his sponsor and partner, Seiji Araki Sensei. Soon after, he met his wife Freya through judo. In November of 1985, Saito Sensei began teaching judo and karate at the Birmingham YMCA in Michigan, where he continues to teach and operate the Saito Dojo. Saito Sensei is blessed by a great family consisting of his daughters Amy and June, son in law Nate, and grandson Zackary Makoto.
In August 1977, Saito Sensei started work at FIAT Research and Development Laboratory as an emission lab technician. He continued teaching, organizing tournaments and clinics, and served as President of Judo Affiliates of Michigan and Chairman of the Konan Board of Examiners. He started attending USJF National meetings from 1978. In 1996, USJF leadership had a desire to operate a kata development program. Based on a strong recommendation from Keiko Fukuda Sensei, Saito Sensei served as the first USJF Kata Development Sub-Committee Chair.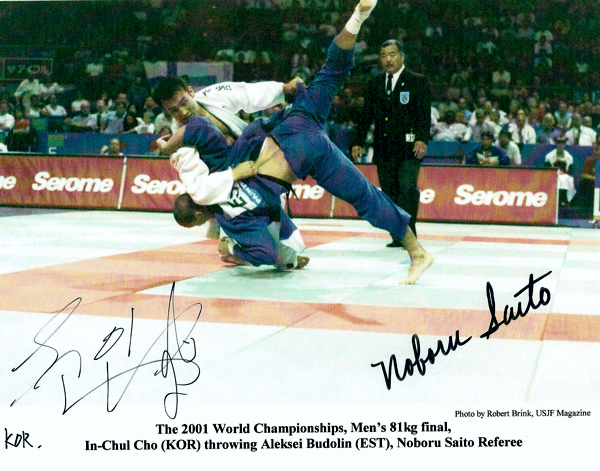 2001 Munich World – 81kg Final – Cho throwing Bodolin
© 2020 USJF. All rights reserved.
He subsequently was nominated and elected USJF President in April 2000. While he was president, Saito Sensei initiated many new programs, including a junior rank promotion system to augment the color belt system, the judo record book, numerous memorial endowment funds, and the publication of Judo in the US where he collaborated with Dr. David Matsumoto and Professor Michel Brousse.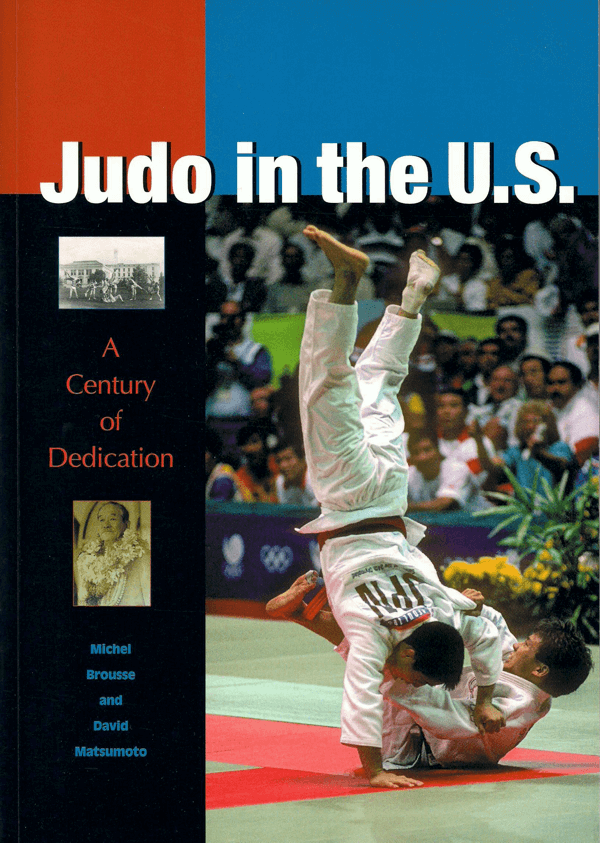 2006 – Judo in the US
© 2020 USJF. All rights reserved.
Saito Sensei also championed the importance of life membership within the organization. While serving as USJF President, Saito Sensei's refereeing activities increased drastically.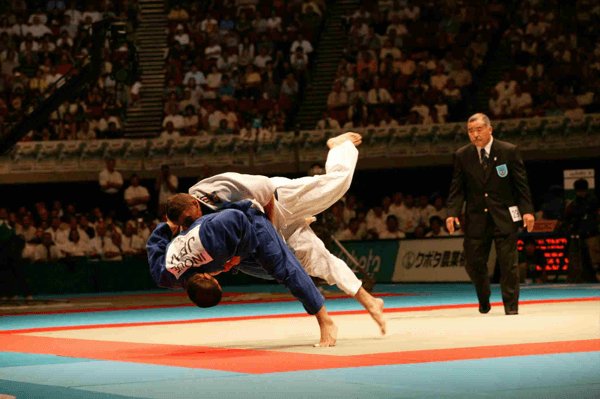 2003 Osaka World – 100kg final
© 2020 USJF. All rights reserved.
He refereed many Pan American events, the 2001 Senior World Championships in Munich and 2003 Senior World Championships in Osaka.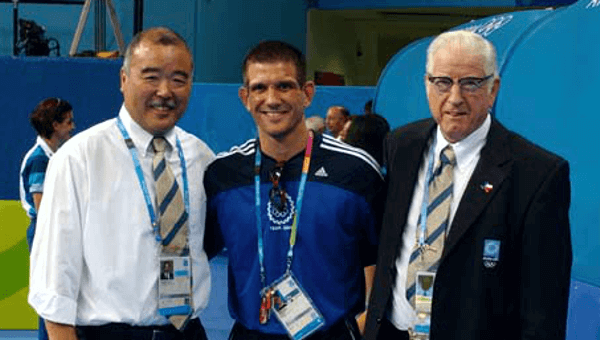 2004 Athen Olympic – Saito Pedro Fullerton
© 2020 USJF. All rights reserved.
In the summer of 2004, he refereed at the Athens Olympic games where his most memorable match was the men's -73 kg final between Won-Hee Lee and Vitali Makarov. This match initiated the current dynamic edge rule. The Won-Hee Lee vs. Makarov match can be viewed on YouTube.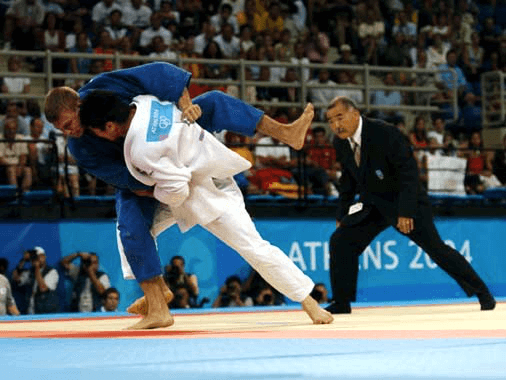 2004 Athens Olympic – 73kg final
© 2020 USJF. All rights reserved.
In October 2008, he was elected to the USA Judo Board of Directors by the USA Judo Referee group. This election was the first under the new USA Judo by-laws which established the ten member board. Saito Sensei worked hard to build trust with others to foster an environment for cooperation between national organizations to better promote judo in the U.S. During this period, he received the USA Judo Lifetime Achievement Award in November 2012 and the IJF Special Recognition Award in November 2016. After ten successful years as a member of the USA Judo Board of Directors, Saito Sensei is enjoying his time as teaching at his dojo, managing the Michigan Judo Development Association, Inc., organizing Sanix programs, and spending time with his family. Saito Sensei has served as a teacher, mentor, and leader to his students and colleagues in judo through living by his motto Jita-Kyoei, or the idea that human beings cannot exist alone, and we prosper by helping each other.