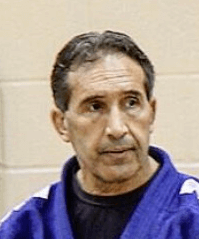 Copyright 2020 USJF. All rights reserved.
Clyde Worthen
Inducted 2020
Competitive Achievements
Member of four U.S. World Judo teams – 1969, 1971, 1975, and 1977
Pan American gold medalist – 1976
North American Black Belt middleweight champion
U.S. Senior Nationals (when competition was open to international competitors) – middleweight champion – 1969
18 consecutive New Jersey State championship titles
World Masters bronze medalist two times
National Masters middleweight champion 2001 – 2005
Coaching History
USA Judo certified Coach
Coached 1992 U.S. Olympic Team for pre-Olympic European training tour
Coached U.S. team for Rodriguez Cup in Cuba
Coached many students at national and international level, including:

Doug Nelson, who fought for the Olympic bronze medal in 1992. (Nelson lost to Korea.)
Alaine Abuan, who won the Pan Am silver medal
10 or more senior competitors
Many more junior competitors
Community Judo Programs
Even while competing, Sensei Clyde ran a judo club, to which he devoted increasingly more time as he competed less. Due to his position with the Hudson County School of Technology, he is able to offer an affordable club to the community. As he stated, "Having a good club promotes judo."
Sensei Clyde has the largest high school program in the country. He currently has 72 young people participating through the Hudson County Technical School's high school program. "We have [instituted] judo as a recognizable part of the school and as a [money maker] because we have an open judo club that generates revenue." This model is a multi-tier revenue generator that includes:
Membership
Rentals
Fund-raising
Merchandise
Program Administrator
Sensei Clyde has been a Hudson Judo Yudanshakai Promotion Board member for about 35 years.
He is a member of the Hudson Activities Fund (formerly Hudson Athletes Fund) Committee. Over the years, Sensei Clyde's persistence paved the way for the creation of this Fund by Sensei Billy Martin. Sensei Clyde has been instrumental in helping to raise money and then approving disbursements to qualified applicants for reimbursement for travel and competition or training camp expenses. As Sensei Clyde says, "It's always about the judo. You're developing people and keeping [them] in judo and trying to develop the sport by providing excellent experiences at all levels."