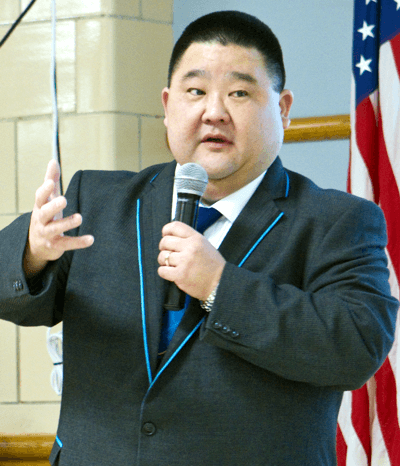 Copyright 2019 Charles Medani. All rights reserved.
Robert Fukuda
Inducted 2019
Our mission is to serve and support our members in the American Judo community while upholding the principles of mutual welfare and benefit.
This statement serves as the USJF's motto and also best describes its Executive Director for the past several decades – Robert Fukuda.
Robert Fukuda remembers the first matches that he refereed at the age of 15 in Hawaii. He'd be on one mat officiating and suddenly hear his name called to fight on another. "Folks were allowed to referee in their judogi back then."
Not at the World Championships in Paris this year. That was Fukuda's third time officiating at this pinnacle event, previously working the Worlds in Tokyo last year and Rotterdam in 2009.
Photo from Konan Yudanshakai
The road from Hawaii to those ethereal heights has been a bit circuitous. Fukuda began to referee because his coach, Hisashi Kochi Sensei at the Shobukan in Honolulu, told him to. "Later on, I found out that it was a requirement for promotion (to shodan)."
But Fukuda didn't stay with it, heading to Michigan and the judo clubs at the Ann Arbor YMCA and the University of Michigan where he attended school. He returned to his destiny only after moving to California's Bay Area in 1985. His dojo then was the Berkeley Judo Club, which later became the East Bay Judo Institute. Referees were in short supply "and it looked like they could use some help."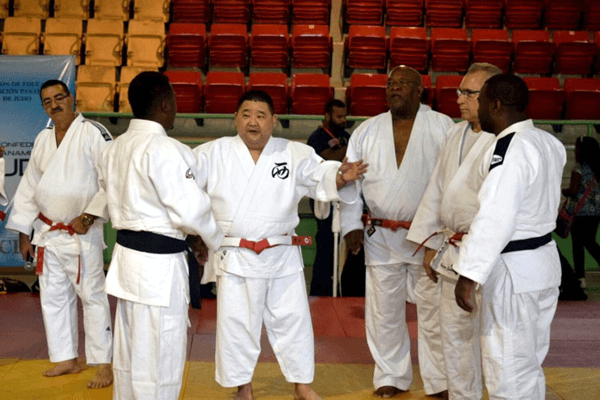 Photo from USAJudo
Something must have clicked. Fukuda obtained his national certification in '93, within a few years moved to the small town of Fruitland, Idaho, but remained on track to earn his Pan American regional certification in '97, his International Judo Federation B-certification in '99 and his A-certification in 2004. Also, after moving to Fruitland, he started the Western Idaho Judo Institute, a prestigious dojo in the judo-heavy Northwest.
That Fukuda would someday officiate at the World Championships "was not even a thought at the start, but I kept resetting my goals higher and higher." He also says that he received tremendous support from his wife and family, pointing specifically to the financial sacrifice that such a climb requires.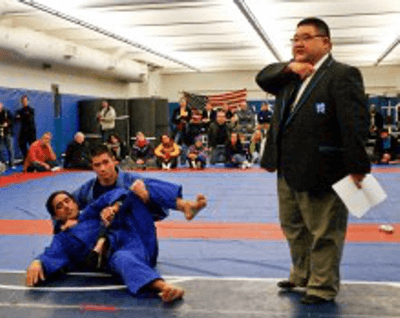 copyright 2019 Charles Medani. All rights reserved.
The difference between a national and A-Level certification? "In my humble opinion, in general, the biggest differences between a strong national referee and an 'A' is the level of confidence and experience. The A-level referee has a very low 'surprise' quotient."
Fukuda continued, "Active working A's are very rarely surprised, but even when they are, they are very good at keeping a lid on it and quickly working it through mentally. The surprise can be due to a technique that they have not seen before or by an unexpected reaction of the athletes. Any time a referee thinks to her/himself, 'Huh? What was that?' in the middle of a match, it is a potential opportunity for a small disaster."


Photo from Konan Yudanshakai
A referee will need something else for the long climb. "To move up the license ladder? Well, it starts with your wife, family, and friends. Without their support, it will be a difficult, or impossible, row to hoe."