First off, I would like to say I'm blessed beyond measure for being giving this incredibly opportunity. My trip to Japan was truly an eye-opening Experience for me filled with Historic culture, top notch Judo randori and competition and the unforgettable people that I met, showed unbelievable hospitality and respect. I'm truly forever grateful for This life changing experience.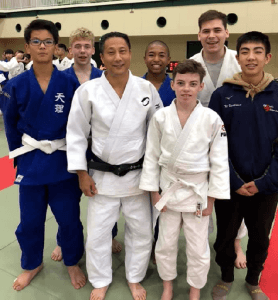 Bryson Baker is front row, second from right
After arriving to Japan, I was a little nervous and so very excited but after meeting my teammates and coaches I knew what a great opportunity I had been given.
My first day of training camp at the Global Arena I will never forget. It was an amazing facility filled with so many amazing Judokas from many different countries. And having the opportunity to train and learn so many valuable lessons with them and from them was a wonderful Experience I will never forget and had a huge impact on my Judo. The unbelievable hours of Randori and conditioning drills were very challenging and taught me many lessons and a different style of conditioning I will continue to use to Improve my Judo.
My favorite experience was having the opportunity to learn from World Class Olympian, Ryu Shichinohe. It was truly an amazing and unforgettable experience getting to learn a different technique setting up Ouchi Gari and a more efficient way of following through and I will apply to my Judo. The Sanix team competition was an amazing experience not only competing in but watching great clubs and judo at the same time. The athletes were not only really good, but very respectful.
Next was the Tasei middle school tournament. Upon arriving at Tasei, we were greeted by the students from the school. They were very friendly and took lots of pictures. We participated in a mochi making festival, which I learned how to pound the rice. Everyone, including the principal, was very welcoming and treated us with great respect. The way the students take care of their school could be a lesson learned to American students. The tournament was no less than awesome. Again, training with the best students from Japan was a great honor. It showed me what a top-notch Dojo and students look like and how they train. Even though I didn't fair as well as I would've liked, the experience and knowledge I learned from my time in Japan will stay with me forever. From the Senseis, students, interpreters, my coaches and teammates, and the beautiful cities I was able to see, will stay with me forever. This was a once and a lifetime trip for me. Thank you for the opportunity that without your help, I wouldn't have been able to be a part of. I hope others will have the same opportunity in the future to experience such a memorable moment. A big thank you to Mr. Saito, Michigan Judo Development Association, USJF/Konan for giving me this opportunity.
Respectfully yours,
Bryson Baker