The 2018 Jeremy Glick Award recipient was announced on July 7, at the opening ceremonies of the summer nationals in Grand Rapid, MI. This year's recipient is Mr Jim Murray of the Konan Yudanshakai. Mr Murray is the founder of Godai Judo and through Godai, has raised 10's of thousands of dollars which have been used to maintain judo in Grand Rapids and help economically disadvantaged youth through judo.
The Jeremy Glick Award reads:
This award is based on the spirit of Judo, courage, compassion and character. We are honored to add you as recipient of this award for your many years of leadership, development of people, development of Judo, and your courageous dedication in insuring the continued success of Judo and the USJF. You truly epitomize the spirit of this award.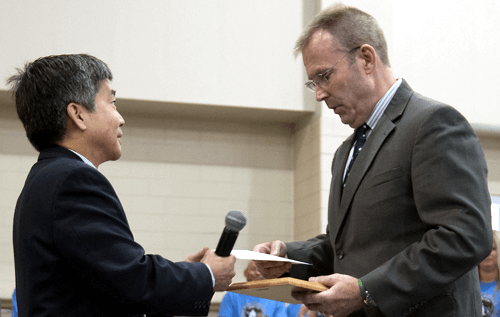 Photo by Felix Lanier
Jim Murray sees Judo as a chance to reach out to "at-risk" youth though the instruction of sport judo. The cornerstone principle of judo is "Mutual Welfare and Benefit". He writes, "Our goal is to reach out to 'at-risk' youth in our community to provide mentoring and positive adult role models to children and teenagers." He continues saying that Judo instruction provides a great way to impart such primary values as respect, discipline, perseverance, and many more. So far the programs he has been involved in have produced several Jr. National medalists, funded and sent three students to the Sanix Program and three to the Korean Training program. Our goal is to provide opportunities through the great sport of Judo and thereby change the trajectory of young lives.
Jim Murray's Judo Accomplishments
Godan, 5th Degree Black Belt
Head Instructor Godai Judo
President – Konan Judo Association (USJF Yudanshakai)
Past President – Judo Affiliates of Michigan (USA Judo State Organization)
Vice President – Konan Judo (Multi State) Association
USA Judo Certified Continental Coach
USJF Certified Kata Instructor (Nage, Katame, Kime, Goshin)
2010 Local Liaison for USA Judo National President's Cup Tournament
2011 Local Liaison for USA Judo National Scholastic Championships
2018 Tournament Director USJF/JA Jr. Nationals
Multi Time Tournament Director
Michigan State Games/State Games of America
Great Lakes Open
Konan Championships
Michigan State Championships
2017 Gold Medalist USA Judo National Championships Master Division 90kg
2008 Bronze Medalist USA Judo National Championships Master Division 90kg
2005 Silver Medalist USA Judo National Championships Master Division 81kg
2005 Gold Medalist Midwest Judo Championships Master Division
2004 Silver Medalist Pan-American Masters  Championships
2004 Silver Medalist Pan-American  Masters Team  Championships
2003 Bronze Medalist Pan-American Masters  Championships
2003 Silver Medalist Pan-American Masters Team  Championships
Multi-Time Masters Champion Michigan State Championships
Multi-Time Masters Champion Great Lakes Championships