This year's 2018 Grassroots Kata Championship was held in Grand Rapids, Michigan. The tournament ran very smoothly thanks to the dedication of Jim Murray, Neil Simon, Don Flagg, Calvin Terada, and Noboru Saito.
The kata competition was held on Sunday, July 8th beginning at 9:00 am. Our head referee, Mr. Terada, provided excellent judges. Mr. Terada made an announcement requesting the referees to help judge kata. He displayed very positive team work and reflected Dr. Kano's philosophy.
Special gratitude is extended to these fine judges, Barbara Shimizu, Don Flagg, Neil Simon, Theo Schwalm, Doug Tono, Carla Martin, David Malek and Eiko Shepherd.
A special thank you to Karen Nagai from Seattle, Washington who ran the kata computer system with the help of Frances Glaze.
The results are:
Nage No Kata Senior
1st place Tello (Tori) & Suguieda (Uke)
2nd place Portice (Tori) & Morrice (Uke)
Katame no Kata Youth
1st place Salvatore, H. (Tori) &Salvatore, A. (Uke)
Ju no Kata Senior
1st place Oue (Tori) & Sumida (Uke)
2nd place Crawford (Tori) & Crawford (Uke)
Kime no Kata Senior
1st place Tello (Tori) & Suguieda (Uke)
2nd place Crawford (Tori) & Oldfather (Uke)
Goshin Jutsu Senior
1st place Sumida (Tori) & Oue (Uke)
This year's USJF Grassroots Kata Championship was excellently conducted. Several competitors and coaches commented how well it flowed. Konan Yudanshakai's president and other members' hard work paid off. Congratulations to Konan Yudanshakai for a job WELL DONE!
Special gratitude to USJF President, Mark Murananka, for his support and presence.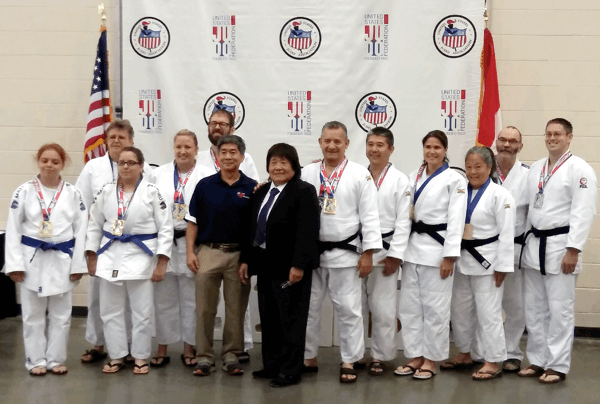 2018 USJF Grassroots Kata Champions with USJF president, Mr. Mark Muranaka.