Albert Aoki
Inducted 2018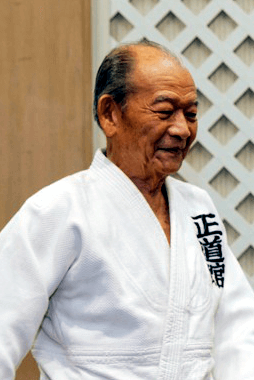 Albert Masaji Aoki was born on January 28, 1933, and died on April 21, 2021 (see his obituary here). The Aoki Family judo tradition originated in Kumamoto, Japan. Aoki states in the second edition of his autobiography, Many Hurdles to Cross, "The kanji character in my middle name, Masaji, stands for gentleness, straight and strong backbone in character and morality."
In 2015, Aoki became the Hawaii's first Kudan and USJF's 12th 9th dan. All of his yudansha rank was awarded by the USJF!
A video of this presentation is here
Sensei started his judo training in 1938 in Hilo under Sensei Raymond Honda, Dokoritsu Gakko Judo Dojo, a member of Hawaii Shima Judo Kyokai, Hawaii. The five days a week practices were not too much for the eight years old Aoki kid.
World War II was a very dark period of U. S. history for Japanese-Americans including many from the Hawaiian Islands, like the Aoki Family. Being forced to abandon most of their property, the Aoki's were relocated for one and a half years in the Jerome, Arkansas Interment Camp followed by another one and a half years at the Gila River Relocation Camp in Arizona; however, judo studies continued for young Aoki during this entire period.
The fall of 1951 saw Aoki again travelling to the Main-Land, but this time it was with the express purpose of higher education. Coming from banking and ranching background, his declared majors were agriculture and economics. Well that's what the Aoki parents back home thought. In an early freshman physical education class, the subject was, guess what at the defending NCAA champion Iowa State: WRESTLING sentence not making sense. From gym class with opportunities to execute some well-practiced judo throws especially given the number of big Iowa farm boys, the 114 pound Albert was soon drafted to the varsity wrestling team. Not long afterwards, he saw action in the Olympic Wrestling Trials for the 1952 Helsinki Olympic Games. He won the 114 pound team slot to represent the USA in Helsinki outpointing the reigning NCAA national champion from Kansas State, but a trip to Finland wasn't in the cards. Soon after the Trials Aoki was quarantined by the university due to a suspected case of measles.
In 1953 Aoki was drafted into Service out of college. After Service he continued his education attending the University of Hawaii, University of Washington and UCLA finishing up with a degree in economics. Most of his working years he worked as a banker, following the family tradition and later becoming a notable contractor around Hawaii and Australia.
Pioneer in Hawaii Judo
Founded Makiki Seidokan Judo Club where he continues at age 85 years young as professor and advisor
Co-founder of 50th State Judo Association after an up-hill battle for recognition in 1978-1979 by the USJF
Was a major driver in the early development of Hawaii high school judo
Following the Aoki practice of YOU FIRST, the Aoki Team 38 years later has built the 50th State Judo Association into the largest yudanshakai membership in the USJF
Has been an ambassador and major judo booster in Hawaii, promoting four junior national championships, hosting international renowned judo personalities visiting the Islands and offering financial support time and time again for judo
And here are a few other examples of the Aoki view of service to judo, here at the national level:
Since 1979, member of USJF Board of Directors, Promotion Committee and Board of Examiners
Co-founder and Initial Trustee, USJF Endowment Trust Fund
USJF Emeritus Director Award Committee, Chairman since inception
USJF Talent Search and Leadership Committee, Member since inception
USJF Hall of Fame Committee, Chairman
USJF Corporate Treasurer, 1989-90
Some pictures of Aoki and friends.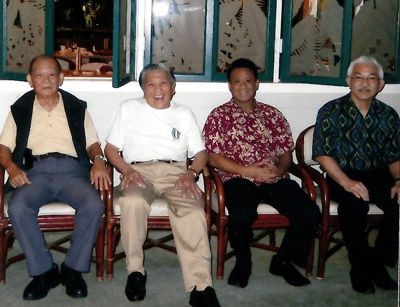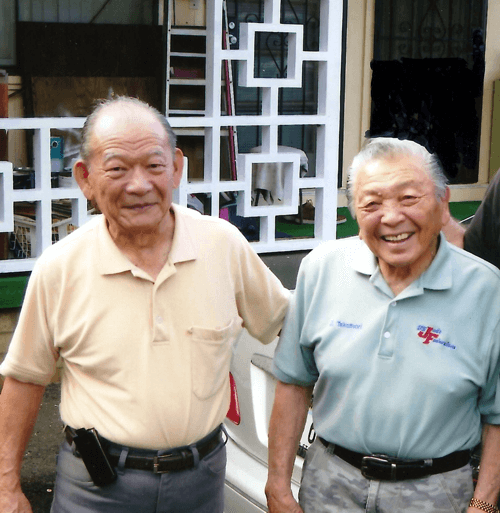 It's no wonder Albert Masaji Aoki was recognized by the Emperor of Japan in 2011 with The Order of the Rising Sun, Gold and Silver Rays. His father, Tamatsu Aoki won this prestigious award in 1975.
Source: 50th State Judo Association