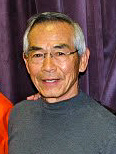 Toshiyuki Seino
Inducted 2018
Personal History and Judo Background
Toshiyuki "Tosh" Seino was born in Hawthorne, CA and was raised in Japan after the World War II. He went to Japan at the age of 7 in Dec.1945, immediately after the World War II, from Tule Lake detention camp in Northern California where his whole family was incarcerated during the war. He lived in Kagoshima from January 1946 to August 1951 and moved to Kobe where he graduated from Kobe Commercial High School in 1956. He returned to the USA in June 1956, went to Denver Colorado to live and moved to Los Angeles after only 3 months in Denver.
While attending English School and later Los Angeles City College to learn English, he started his judo career at Hollywood Judo Dojo in Jan. 1957 at the age of 18. In 1959, he competed for the first time in AAU National Judo Championship and won a bronze medal in 70kg. Because of his outstanding performance, he was approached by Air Force Judo coach who enticed him into US Air Force with a promise to become a Self Defense Instructor for the Air Force Combat Crews (Fighter Pilots). He enlisted into the Air Force in October 1959 and was sent to Japan to receive training at the Kodokan in 1960. Six months after finishing basic training in San Antonio, Texas. At Kodokan, he learned basic Karate, Aikido, Police Tactics as well as advance Judo for three months and returned to his assigned SAC (Strategic Air Command) Base, Lackland Air Force Base, in Tucson Arizona. There he assumed his duty as Physical Conditioning and Self Defense Instructor for airmen and pilots.
He was sent back to Kodokan in 1961 and 1963 for the same program to further improve his Self Defense Techniques. He was discharged in July 1964 after serving 4 years and 9 month and later joined Japan Airlines working at three different airports (LAX, SFO, ORD(Chicago)). He retired in 2002 after 37 years of service. He is currently teaching judo twice a week at the Gardena Judo Dojo as a technical advisor and hold rank of 7th degree black belt.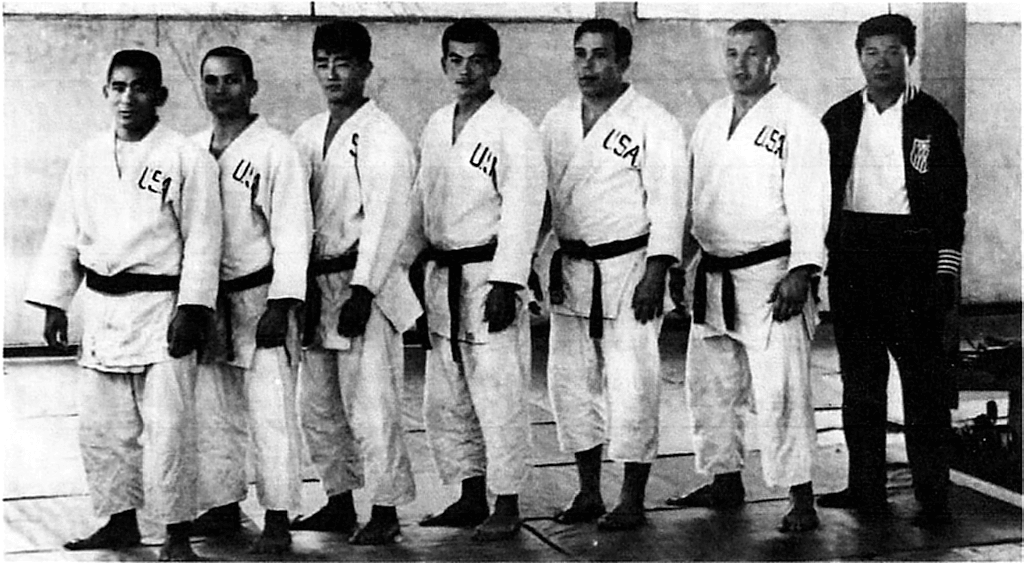 United States Judo Team
IV World's Judo Championships, Rio De Janeiro 1965
Pan American Championships, Guatemala 1965
(left to right) Paul Maruyama, Jim Bergman, Hayward Nishioka, Tosh Seino, Dock Waite, Boll Po????l, John Osako (Coach)
Tosh Seino – an appreciation
One of the finest gentleman and judo technician "Tosh" Seino was known for his lightening fast hanegoshi that carried him to four U.S. National Championships, two Air Force Grand Championships, a Pan American Championships Gold medal, and fourth place in the 1965, and 1967 World Championships.
Born in Hawthorne Ca. in Oct. 1938 "Tosh" spent his toddler years in Tule Lake relocation camp and moved to Kagoshima Japan with his family after WW II. Returning to the United States in 1956, initially starting judo in Denver, he moved to Southern California and joined Hollywood dojo. After serving his country in the U.S. Air Force, he joined Japan Airlines, first as a ticket agent and quickly moved up to high-level management due to his quick ability to solve problems with American and Japanese customers, both in English and in
Japanese.
After retiring he lives in Rolling Hills Estate, but can be seen every Monday and Thursday at Gardena dojo where he at 77 years of age, dons his judogi, teaches, and practices with the senior competitors. About 20 or 25 years back when Tosh was working in San Francisco's Japan Airlines, he happened to visit Willie Cahill's dojo and worked out with a much younger Brett Baron who was on the Olympic team. Surprised by a couple of uchimata's Brett was prompted to inquire, "Who is that guy?" – The generation gap bridging answer: – Tosh Seino.
A note from Hayward Nishioka
During the mid 1950 and through the 1960's if you knew anything about judo, you would have heard the name of Tosh Seino, especially if you were a light middleweight. You should remember that the USJF as an organization had just started in 1952. Tosh came out of a time that, when if you found a judo club and went in, it was 95% Japanese faces. His then dojo, was Hollywood Dojo, a converted Garage made into a dojo by a sawdust mat covered by a grey plastisized 30×40 foot tarp, and full of Champions.
In his prime Tosh stood about 5' 9" or 10" inches tall, about 150 pounds, and chiseled like a Greek God. I was put on notice when I tugged to pull him off balance and only his judogi moved to reveal a washboard stomach. What you couldn't see was his lightening fast hanegoshi, a technique hardly seen today. Tosh however could execute with equal agility a number of other techniques such as seoinage, osotogari, okuriahsibarai, sasaetsurikomi ashi, uchimata, ouchigari, to name a few. At least these were some of the techniques he used in tournaments. By anyone's standard he was a "wazashi" then and still is today. He still teaches at Gardena Judo Club in Gardena, California.
Tosh was one of the golden boys coming out of "the Golden Era of judo" of the 50's and 60's. He was four times U.S. Champion. He was also once Grand Champion in the U.S. Armed Services Championships beating fellow team mate George Harris in the Finals with a seoinage. George was the heavyweight champion, while Tosh was the light middle weight champion at 150 pounds.
Additionally during the 60's he was on two World Teams representing the United States and placed 4th both times.
Unknown to many today, those who fought or practiced with him can attest to his dedication to excellence, ferocity in battle, and never say die attitude which even to this day is evident even as it is hidden behind his gentlemanly manner. At a recent judo event, "Dining with Legends" he spoke of his preparing for the 1968 Olympics where he was determined to make the team he was an alternate for in 1964 by a questionable decision, only to find that for demonstration sports like judo, they had to wait out the following Olympics before it would be back in as an official Olympic event. Undaunted he kept up his practice of his beloved sport, even as he does to this day.
Just a side story, in 1985 or 86 Tosh visited Willy Cahill's Dojo and suited up to practice. He, as well as his opponent in practice didn't know each other. Tosh was just there for a practice and threw his opponent around a couple of times and thought, "Boy, this guy is pretty tough." His tough opponent went to his teacher and asked, "Who is that guy any way?" "That's Tosh Seino", answered Willie Cahill. Tosh's practice partner that day was Brett Baron, a member of the 1984 U.S. Olympic Team.
Tosh Seino is one of our finest judoka, not just as a fighting competitor, but for the gentleman that he is.
A note from James Bregman
The highest compliment for a judoka in my view is to be called a Technician, Wazashi. Tosh belongs to the pantheon of American Judoka who have represented our country internationally and judo nationally for many honorable years. His knowledge, skills, and abilities are widely admired among his peers and recognized by all American Judoka as well as international judo practitioners.