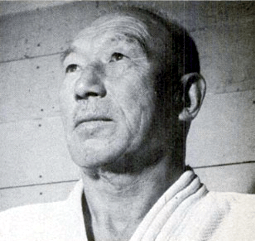 photo of Toshitaka Yamauchi from the West Clovis Dojo site
Toshitaka Yamauchi
Inducted 1993
Clovis Judo Club was started in the spring of 1956 by Professor Toshitaka Yamauchi, 7th Degree Black Belt from Japan (Later promoted to 8th Degree Black Belt). He started the first women's class in Central California, at the Club, in November of 1956. Professor Yamauchi was a direct student of Professor Jigoro Kano, the founder of Kodokan Judo.
Rafu Dojo was established about 1910. Toshitaka Yamauchi Sensei was head instructor in 1930.
He was associated with a number of dojos, Moneta Dojo established late 1920s, Harbor City Dojo with Marumoto Sensei established about 1934 and Palos Verdes Dojo established 1934.
The West Clovis Judo Club has posted an appreciation of Toshitaka Yamauchi.
source: Clovis Judo Club and ejmas.com