2017 Sanix Judo Report by David Michael Capron
Although I have been to several countries in Europe on more than one occasion, not in a thousand years would I have dreamed of being able to visit Japan. Thanks tothe vision and generosity of several people, going to Japan went from something I never dreamed of to a dream come true.
It started with Sensei Tono, his belief in young people's abilities and his commitment to them. Not only did he make me believe that I could accomplish greatthings in judo, but he taught me how. Without his training and experience as an international champion in judo and 7th degree dan, I would never have attained the skills necessary to dare to go to Japan to compete at a judo tournament in the country of its birthplace. And oh, what a country it is!
While in 7th grade, I won 2nd place in the physics category of the Chicago Public Schools Science Fair demonstrating the gravity defying properties of magnets. But in Japan, I had the incredible opportunity to ride on a bullet train which weighed hundreds of tons but nevertheless floated on a magnet field, proving that the only thing more impressive than Japanese tenacity is Japanese innovation, which brings me back to judo.
The night before my sister and I took our first judo class at the Tohkon Dojo in Chicago, my father, who had taken years of calculus based physics and a couple of years of judo, explained the scientific principle involved in judo's extreme effectiveness. He told us how judo uses torque, momentum, center of gravity and timing to allow the skilled judoka to take down the biggest attackers. While I have seen these principles skillfully used over and over again at our beloved dojo, Tohkon by a great many international competitors and champions, (to whom I also owe a great debt of gratitude), I had never seen them used so well by so very many people my age until I had the privilege of going to Japan to compete in the Sanix tournament.
Competing at Sanix was a life altering experience. It taught me just how much dedication one must have to participate in judo at the international level. The battles were hard fought. Some were won, some were lost, but all were a lesson in what it takes to be a champion. Because of my experiences there and despite the shoulder injury I suffered there, Sanix created in me, the great desire to compete in the Olympics one day in judo. I am very grateful to those responsible for having created and maintained throughout the years the phenomenal event that is Sanix, with a special debt of gratitude to Sensei Saito for 15 years of dedication to this cause. In addition to having met great competitors in Japan, I also made a great many friends. Be it at the Global Arena, Tasei Middle School, or on the way there, everyone was so very welcoming. We enjoyed each other's company and learned of each other's ways of life, if only for a brief time together. By having exchanged social networking information, we have been able to continue our new found friendships. Just recently, one of the teammates, along with her family, traveled to Chicago from Idaho. We treated them to two different Chicago style pizzas, one at the Tohkon Dojo and the other at our home. I have not doubt that this will be just one of a great many lifelongfriendships made through this trip and judo in general, because that is the way judo is. It is a brotherhood of judokas that reach across borders and time. I want to thank, once again, all those who made this experience possible through their time, effort and generosity. I now have memories that will last a lifetime and a judo gi that I will cherish for just as long.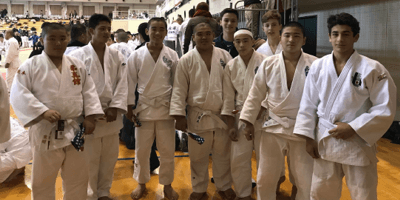 David Michael Capron
Letters of thanks
Dear Mr. Hiroshi Munemasa,
I would like to thank you for our tournament which has inspired and progressed me and many other athletes across the world. I met so many new friends, and connected with people from my country and others. The sparring and technical training not only improved my judo, but disciplined me. Thank you for everything!
Sincerely,
David Capron
Dear Mr. Isamu Kondo,
Thank you so much for all the hospitality! One of the biggest parts of my trip to Japan, other than judo, was meeting new people and having met with people at the Global Arena was one of the best highlights ever! The U.S. team not only had lots of fun in the dorm house and sporting facilities, but we played rugby and other games with other countries and we couldn't have done it without you. Thank you so much.
Sincerely,
David Capron
Dear Mr. Makoto Adachi,
Your kindness, and your students kindness did not go unrecognized. Everyone at Taisei was so friendly, interesting, and caring. I met many new friends, had lots of fun making mochi, and wanted to keep talking for hours. I was very grateful when we were introduced to all your students and had lots of fun at the competition at your school. The competition was very fun and very impressive.
Sincerely,
David Capron
Dear Mr. James Murray,
Thank you for all the funding and help the you've given me and my teammates. Without everything you've given us, our trip would not have been possible. I had a great time at all the places we went to all thanks to you, and I made a lot of new friends. Thank you!
Sincerely,
David Capron
Dear Ms. Rika Nishida,
You are the most cheerful and uplifting person I have ever met and you helped me and my teammates so much! Thank you for guiding us on the cruise and letting us meet your students. You also helped us with translation which is greatly appreciated. I hope to see you again!
Sincerely,
David Capron
Dear Ms. Lia Hatashita,
Thank you so much for the team apparel. I love the warm up suit and the embroidering on it was very nice! It has saved me from many cold Chicago days and has been through lots of use.
Sincerely,
David Capron
Letters from Trent Tono
Dear Sensei Saito,
Thank you for organizing the trip to Japan and allowing us to participate in the SANIX tournament and Training camp. It was really fun practicing with foreign judo teams and making friends. I enjoyed seeing all those places like in the shopping mall and the castle. My favorite part was when we went to the Korean BBQ. I hope to go again when I'm older so I can compete in the tournament and represent the USA. I know it must have been a lot of work planning the trip and I thank you very much.
Sincerely,
Trent Tono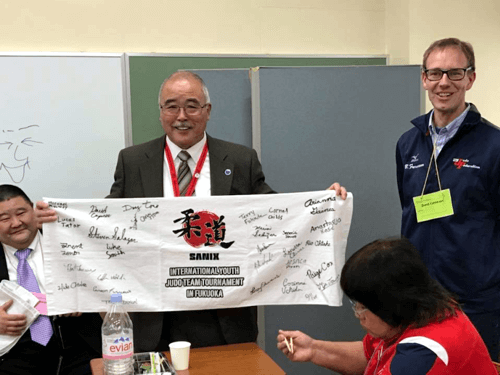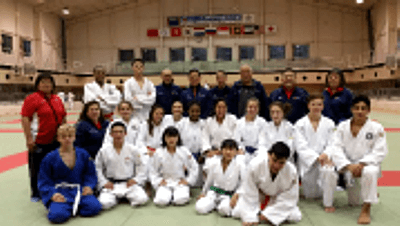 Mr. Robert Fukuda, Ms. Julie Koyama and Mr. James Murray,
Thank you, the USJF and Konan Judo Federation, for supporting us on our trip to Japan. It was very fun, we got to go to many places like a shopping mall, some temples, a castle and go on a boat ride. We also got to do a lot of judo training. I was too young to compete but I cheered the team on. My favorite part was going to a Korean BBQ place. They had the best food. Thank you again for the support to make this trip possible.
Sincerely,
Trent Tono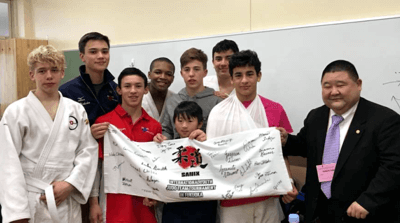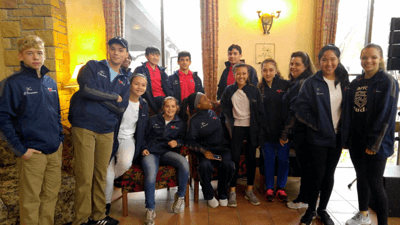 Mr. Kondo
Thank you for allowing us to stay at Global Arena during the SANIX tournament. It was really fun. I got to meet many judo players from around the world and make many new friends. The rooms were nice and the drinks and food were very good. My favorite drink was the grape drink from the vending machine outside our room. The festival light show was very interesting. I enjoyed staying at the Global Arena and the people were very nice. Thank you for the hospitality.
Sincerely,
Trent Tono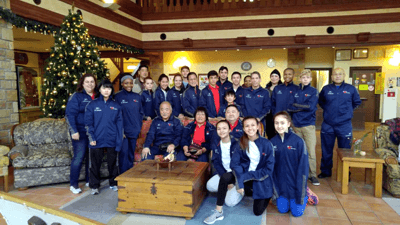 Mr. Munemasa
Thank you for sponsoring the SANIX tournament and training camp and allowing us to participate. It was a great experience to train with so many other foreign judo players and make so many friends. I got to learn some new techniques and improve some of my other techniques. I really enjoyed it when the Japanese Olympic Gold Medalist and World Champion taught us their techniques. That was a wonderful opportunity for me. I hope to come back when I am old enough to compete in the SANIX tournament and meet you again. Thank you again.
Sincerely,
Trent Tono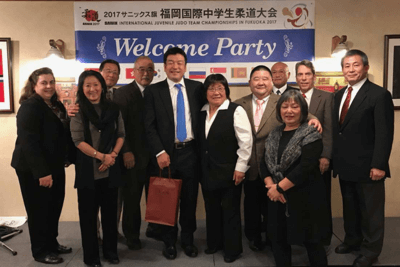 Sensei Kugisaki
Thank you for running the SANIX Training Camp and allowing me to participate. It was fun and a hard workout. I learned so much and improved my judo but I have to continue to practice more. It was also very fun learning from the Olympic Gold Medalist and World Champion sisters. That was a great opportunity. I appreciate all your time and effort it took to run the training camp.
Sincerely,
Trent Tono
Mr. Adachi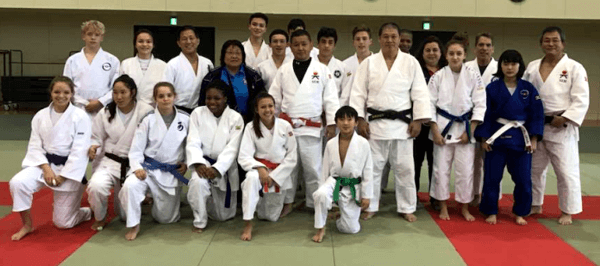 Our trip to Taisei Junior and Senior High School was a great experience. Meeting your students was a lot of fun and they were so nice to us. I enjoyed rice pounding at the Mochi Tsuki and eating it too. It was fun exchanging gifts and taking pictures with your students and making new friends. The food was great especially at the Korean BBQ. I hope to come back when I am old enough to compete and train at Taisei. Thank you for allowing us to join your tournament and meet all your students.
Sincerely,
Trent Tono