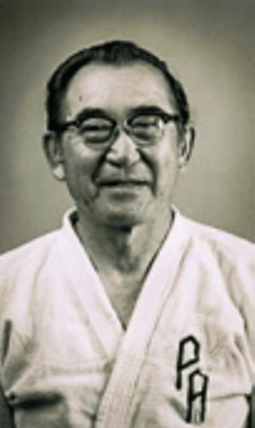 Sam Hamai
Inducted 1994
On January 27, 1994, the Judo community lost one of its leaders when Isamu (Sam) Hamai passed away at the age of 72 at his home in Palo Alto, California. Hamai Sensei was survived his wife Emiko, son Harold and wife Laura, and his two granddaughters, Tomiko and Tamara.
Sam Hamai was born on August 12, 1921 in Brawley, California. He started judo in 1934 under Sensei Tamanaha in Brawley. After moving to Oxnard, California, he continued his judo training with Sensei Dick Doi where he attained Shodan (1st degree Black Belt) at the age of 18.
The Hamai family was interned in 1942 at the Gila River/Butte Relocation Center in Arizona. He was inducted in the U.S. Army in 1944 and served in the Philippines. He also served in Japan with the Military Intelligence under General Douglas McArthur during the post war occupation.
Discharged from the military in 1946, Sam settled in Palo Alto and resumed judo at San Jose Buddhist Judo Club under Yosh Uchida. In 1952, he founded the Palo Alto Judo Club and was head instructor until he retired in 1990. He had achieved the rank of Shichidan (7th degree Black Belt).
Hamai Sensei's accomplishments are numerous. A pioneer and active leader in the United States judo movement, he was one of the founders of the Central Coast Judo Association. He has been the President of the Northern California Judo Association (Hokka Yudanshakai), Vice President of the Central Coast Judo Association, and for many years, Central Coast Judo Association's Chairman of the Board of Examiners. He also has been the Head Scorekeeper at many national judo events, including the U.S. Sports Festival and U.S. International invitational tournaments. Hamai Sensei was also a national level referee.
We all share the loss of Isamu (Sam) Hamai, a man who touched the lives of young men and women while teaching them the art of judo.
source: Howard Watanabe