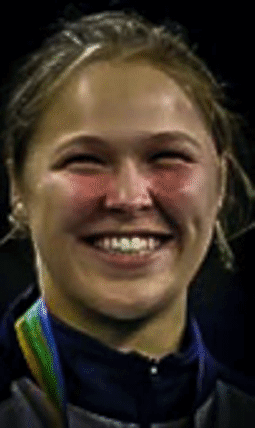 Ronda Rousey
Inducted 2010
Born February 1, 1987 in Riverside County, California, Rousey qualified for the 2004 Olympic Games in Athens, becoming the youngest competitor in those entire Games, at just 17.
In that year she won a gold medal at the 2004 World Junior Judo Championships in Budapest, Hungary. She has won numerous medals at 63kg and 70kg. Rousey became the first American to win an Olympic medal in women's judo since its inception as an Olympic sport in 1992.
Ronda now trains in the Olympic Training Center in Wakefield, Massachusetts under guidance of Jimmy Pedro.
Ronda styles her web site with "following the judo life – from a blonder perspective," and she would advise youngsters – "Don't grow up too fast, make the most of your childhood."
source: USJF