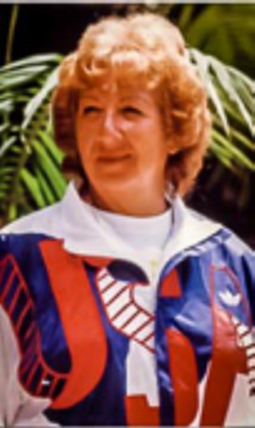 Rena "Rusty" Kanokogi
Inducted 2010
Rusty is often called "the Mother of Women's Judo".
She lived for judo. She was passionate about judo as a participant. Her entry into Judo was in 1959 when she disguised herself as a man to compete in the YMCA Judo Championships. She beat all the men in the weight division, and when she was about to receive the gold medal she was disqualified because she was not a man. In 2009 the New York state YMCA finally awarded her that medal she won so many years before. That was the beginning of her activism for women in judo.
Rusty was a former member of the Women's Sports Foundation Board of Trustees (1996-2001) and former chair of the International Women's Sports Hall of Fame Alumnae Association. She is featured in the Women's Sports Foundation book, "SuperWomen: 100 Women 100 Sports." She was inducted into the International Women's Sports Hall of Fame in 1994 and received the 1991 Women's Sports Foundation President's Award.
Many other awards were given to Rusty. In 2001, she was presented with the bronze medal by the International Judo Federation. In 2002, she received a citation from the Brooklyn borough president for her contribution to the Brooklyn fitness program. She also was given the 2002 Woman of Achievement Award by Kingsboro Community College. In 2007, the USA Judo Referee Commission voted unanimously to award the John Osako Award for excellence in refereeing to Kanokogi. The prestigious John Osako Award is given to those who have worked continuously to develop their referee skills and contribute unselfishly to the Olympic sport of judo.
She dedicated herself to the whole of judo, a fact that was acknowledged by Japan when she was awarded the highest honor bestowed to a foreigner by the Japanese government, the prestigious "Emperor's Award of the Rising Sun" in 2008.
Rusty said that what she got from judo was more precious than any medal. "Judo saved my life. It put me on the right road. It gave me structure when I needed it." She dedicated her life to offering the same to others, especially children.
Her whole life advanced the cause of Women's Judo, and that work influenced the whole of Judo. Many Olympic competitors were eloquent in paying her tribute upon her death from cancer in November 2009. Rusty was named 1988 Olympic Coach, and Jason Morris competed in his first Olympics then. He wrote, "I recognize that my debt of gratitude to her is immeasurable. Without Rusty's life's work women might still not be playing judo today. Without her, life my life would be very much poorer."
source: USJF