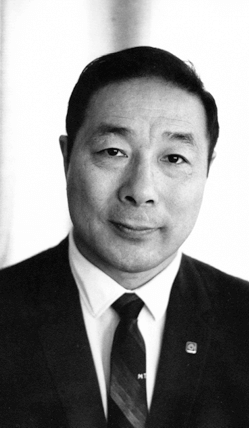 Masato Tamura
Inducted 1993
"Wherever Masato Tamura has gone, Judo has been strengthened."
He was born in Fife, Washington in 1912. He started his training in the martial art when he was 11 years old in Fife.
Mr. Tamura has built an enviable reputation of respect and tribute from his students and fellow leaders in Judo. In 1936, Jigoro Kano, the founder of Judo, awarded him his Sandan after he won the Outstanding Judoka trophy in the very first Northwest vs. Nanka (So. California) tournament held in honor of Dr. Kano in Los Angeles.
Instruction was his way of life and he originally taught at four different dojo in the state of Washington. During the same time he was an active competitor, adding many northwest championships to his credit. While competing in tournaments, Tamura liked being the team anchor, as this gave him choices. If his opponent were powerful, then he would go all out to beat him. On the other hand, if someone junior had shown spirit or improvement, then he might allow himself to be thrown so that the junior could get the trophy.
In May, 1941 he moved to Chicago and undertook a rigorous plan to bring Judo to the Midwest. The growth of Judo in the Midwest is credited to his program which was never curtailed: eight hours a day, five or six days a week until his retirement!
Two years later, he received national publicity in his quest for publicizing the effects of the martial art. Masato Tamura consented to a contest with an internationally known wrestling champion as "US soldiers might be better able to defend themselves during hand-to-hand fighting if they knew something of judo."
He defeated Karl Pojello in 1:20 rendering his 60+ lbs. heavier opponent unconscious. Performed before military athletic officials, various newspaper editors and Avery Brundage of the Olympic Committee, the feat was the talk of the nation at that time. The Navy and Marines evidently agreed with the newspaper editor's assessment, and in 1944 some judo was added to naval pre-flight training.
As the head instructor of the Jiu Jitsu Institute, Mr. Tamura was not only one of the finest judo instructors in the country but a gentleman of unimpeachable character. As a Japanese American he earned the respect and admiration from all parts of the entire community. No one identified with Judo in Chicago had done more to give Judo the high degree of publicity it has enjoyed. He gave exhibitions on TV programs, was the guest on radio shows, and secured a great deal of publicity among the major newspapers.
During these years, any team that represented the U.S. was mostly made up of people from the Chicago Judo Black Belt Association. Chicago sent teams to the first two Pan-American Judo Tournaments and one of the two American representatives to the 1st World Tournament in Japan. A long time supporter of Judo, Masato officially attended the First and Second Pan-American Conferences in Cuba. He was with his brother Vince, who was a quarter finalist at the First World Judo Tournament. Masato attended the First and Second World Tournament and Conferences in Tokyo.
Mr. Tamura was president of the Chicago Yudanshakai for 14 years and elected president of the USJF in 1958-59. He could have been re-elected but he endorsed the nomination of younger men in the post to expose them to an invaluable experience.
In 1960 he was nominated as a candidate for Nisei of the Biennium by the Japanese American Citizens League. He was instrumental in starting women's shiai in the early 1960's a controversial introduction at the time. Mr. Tamura's long-avowed dedication and his pioneering efforts in Judo won him acclaim and entrance into the Black Belt Hall of Fame in 1969 as recipient of the Judo Sensei Award.
Masato Tamura died in 1982.
source: Rose Knudsen