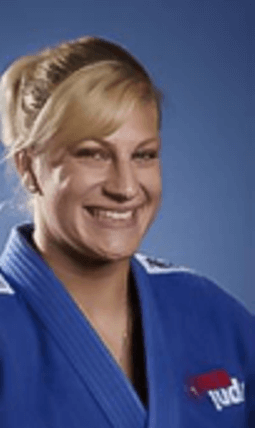 Kayla Harrison
Inducted 2015
Kayla Harrison made history at the 2012 Olympics in London by winning the first Gold Medal by any American (man or woman) in the history of the sport of judo. Her victory marks another step in a career characterized by success at the sport's highest levels. Kayla's judo career has been undeniably impressive. However, it is her perseverance through incredible personal struggles that is truly inspiring.
Kayla began judo at the age of 6. As a teenager, she quickly distinguished herself as one of the top junior players in the country. Among other national titles, she won the Junior U.S. Open in 2003, 2004 and 2005. She was a two-time US Senior National Champion before she turned 18 and she became only the third American to win the Junior World Championships in 2008. She won a Silver Medal at the Junior World Championships in 2009 and became Senior World Champion in 2010. She was only the fourth American ever to become World Champion. Since 2008 Kayla has been on a world podium every year.
Her competitive success masked an unimaginable personal struggle. At the age of 16, Kayla revealed the fact that she had been for years sexually abused by her coach. After the story came to light, Kayla moved from Ohio to Massachusetts to train with Jimmy Pedro, a two-time Olympic Bronze medalist and his father Jim Pedro, Sr. The Pedros became Kayla's coaches but also her surrogate family. When she arrived in Massachusetts, she entertained suicide, was depressed, hated judo and wanted to run away. Through discipline, tenacity, and the support of others she fought through the pain both on and off the mat, transforming herself into a strong, confident, articulate young woman who happens to be a world-class athlete.
She also summoned the courage to face her abuser, delivering a victim impact statement at his sentencing hearing in Federal Court in Ohio. She intends to use her Gold Medal profile, voice, and example to encourage and empower others. She also plans to maintain her dominance on the mat by remaining a competitive Judo player with sights on defending her Gold Medal in Rio in 2016.
Kayla created the Fearless Foundation to shine a light on the darkness that is child sexual abuse and to enrich the lives of survivors through education and sport, leading survivors to mastery and enabling them to flourish in all aspects of life. She is a member of the Board of Directors of Doc Wayne, an organization that provides sports-based therapy for at-risk youth, and uses her voice on behalf of countless organizations dedicated to protecting children and women.
Kayla was awarded the 2012 OC Tanner Inspiration Award, The Women's Sports Foundation's Wilma Rudolph Courage Award; was named one of Glamour Magazine's Women of the Year for 2012, Boston Globe Magazine's Bostonian of the Year, and the Boston Sportswriter's Association Athlete of the Year. She has been inducted into the New York Athletic Club Hall of Fame and the Middletown High School Hall of Fame.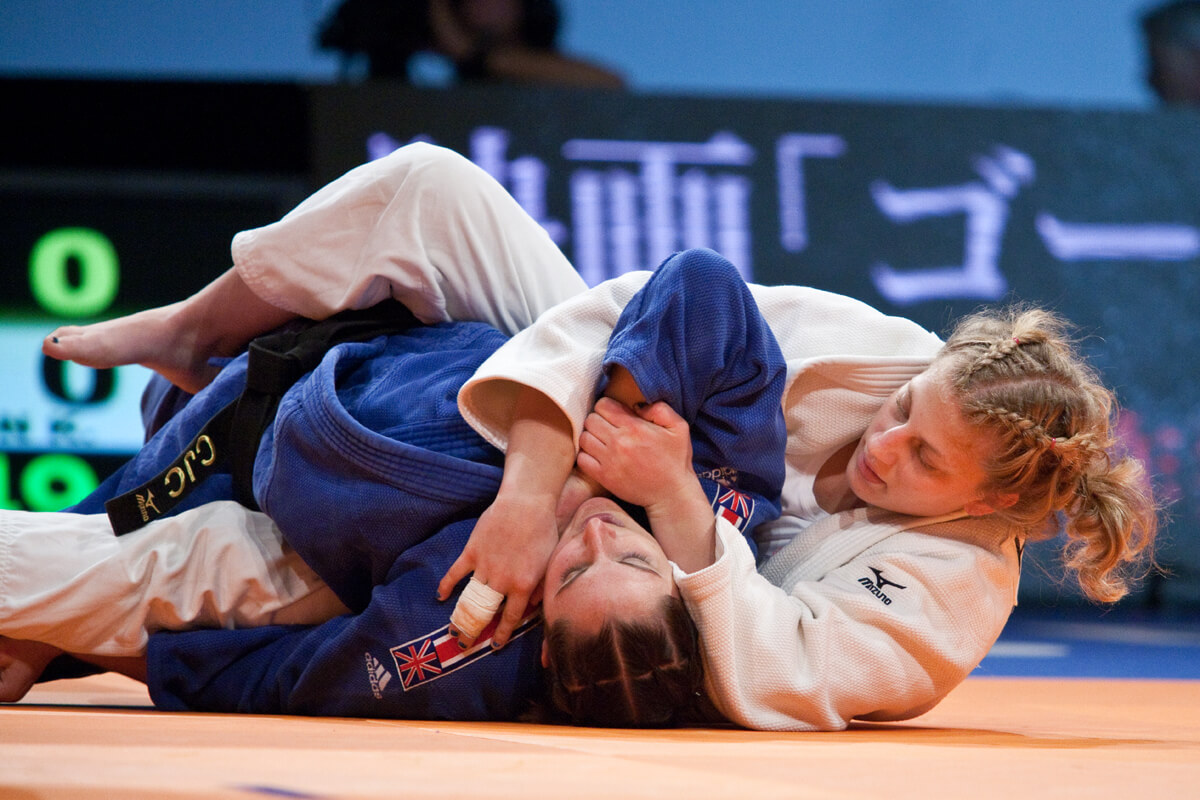 photo © 2016 Chuck Medani
Kayla Harrison's Career Highlights
2016
2014
Bronze – World Championships Chelyabinsk
Silver – Russia Grand Slam
Gold – Miami World Cup
Silver – El Salvador World Cup
Gold – Cuba Grand Prix
2013
Gold – Senior Nationals (-70kg)
Gold – World Cup Argentina (-70kg)
Silver – World Cup Uruguay (-70kg)
Bronze – Pan Am Championships (-70kg)
2012
Olympic Champion
Gold – Brazil Grand Slam
Gold – German Grand Prix
Gold – Hungary World Cup
Gold – Czech Open
Silver – Paris Grand Slam
2011
Gold – Pan-American Judo Championships
2010
Gold – Senior World Championships
Gold – USA World Cup
Gold – Sao Paulo World Cup
Gold – Venezuela World Cup
Gold – El Salvador World Cup
Gold – Birmingham World Cup
Gold – U.S. Open
Gold – USA Judo Senior National Championships
Silver – Uzbekistan World Cup
Bronze – Rotterdam Grand Prix
Bronze – Senior Pan American Championships
Bronze – Dusseldorf Grand Prix
Bronze – Warsaw World Cup
Fifth – Rio Grand Slam
2009
Gold – USA Judo Senior National Championships
Gold – USA Judo National Junior Olympic Championships (IJF-Junior, 78kg)
Silver – Junior World Championships
Bronze – Belo Horizonte World Cup
2008
Gold – Junior World Championships
Gold – USA Judo Senior National Championships
Gold – U.S. Olympic Team Trials for Judo
Gold – Fall Classic National Championships
Gold – Junior World Team Trials
Gold – U.S. Open
Gold – U.S. Open (Open)
Gold – USA Judo National Junior Olympic Championships (IJF-Junior, 78kg)
source: Kayla Harrison's website