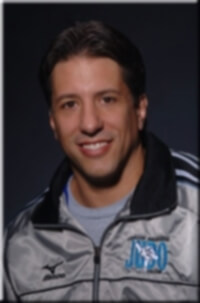 Jason Morris
Inducted 2010
Jason started his Judo Journey in 1975 at the age of 8 and retired after his fourth appearance at the Olympics in 2000. Jason's competition career spanned 26 years. Included among the many awards and titles Jason won is a Silver medal in the 1992 Olympics and a Bronze medal at the 1993 World Championships.
Morris competed in four Olympic Games, and won bronze in the 2002 World Championships. Today he owns and writes for Real Judo magazine, is the head instructor at the Jason Morris Judo Club. Morris lives in Glenville, New York. He went to Burnt Hills high school then Syracuse University where he was an All-American Wrestler and now is coach of many major elite judo athletes from all over the country, including, AZ, CA, PA, TX. Jason Morris' training center which he runs with his wife, Teri Takemori, is one of the top training centers in the country.
Once a year the Jason Morris Judo Center holds a tournament, the Morris Cup, that brings competitors from all around the nation and other countries, including Great Britain and Canada.
Jason Morris was 2008 U.S. Olympic Team Coach.
source: USJF