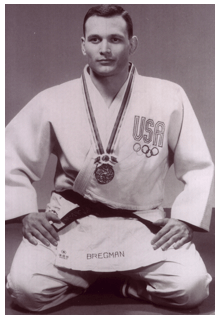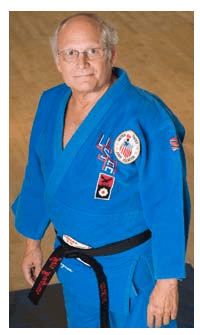 James Bregman
Inducted 1993
James Steven ("Jim") Bregman (born November 17, 1941, in Arlington, Virginia) was a member of the first American team to compete in judo in the Summer Olympics.
Jim Bregman started his judo career when only 12 but he quickly became very interested in the sport. In fact, after high school he went to college in Japan, at Sophia University of Tokyo, in order to study judo. Bregman returned to the United States just before the 1964 AAU Championships, where he defeated the Brazilian Pan-American champion to win the middleweight crown.
Judo was first in included in the 1964 Summer Olympics in Tokyo, and Bregman won a bronze medal in the under 80 kg category in those games—the only American to bring home a medal in judo in the 1964 Summer Games. At the time of the Tokyo Olympics, Bregman was a third degree black belt.
The judo world sometimes speaks with pride of the 1964 American Olympic judo team as consisting of a Jew, an African-American, a Japanese-American, and a Native American. Bregman was the Jew in this grouping.
In 1965 he won a gold medal at the Pan American Games in the 176 pound division. He also won a gold medal in the Maccabiah Games that year. Additionally, in 1965, Jim Bregman became the first American to win a medal in the World Championships held in São Paulo, Brazil. He won another Bronze at that competition. Bregman has continued to be involved in the American judo community, and until recently served as president of the United States Judo Association.
On August 19, 2009, Bregman was promoted to the rank of Kudan by the United States Judo Association. This event took place at the YMCA International Judo Camp in Huguenot, New York.