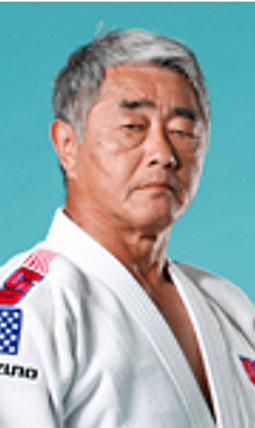 Hayward Nishioka
Inducted 2015
Hayward Nishioka is the retired Professor of Kinesiology and Health, Los Angeles City College for 41 years teaching judo as a credit course.
His education culminated in an MA. in Physical Education and MA. Administrative Education, CSULA.
He obtained these credentials – California Community College Chief Administrator Credential, Supervisors credential, and Instructors credential, (Lifetime) Standard Secondary Credential.
He has attained the status of 8th Dan (since 2002).
As a competitor:
Placed 5th in the World Championships 1965 and 1967
Pan American Games Gold Medalist, Winnipeg Canada 1967
U.S. National Grand Champion 1965, runner up 1970.
U.S. National Champion 1970, 1966, and 1965
U.S. Overall Kata Champion 1978 and 1979
He has also been the "A" level Coach for USJI at the following events: Head Coach for Guido Sienne, Tre Torri, Canada Cup, Good Will Tournament to Argentina, Pan American Championships (twice), World University Games, Pan American Games in Cuba. Assistant Coach at the World Championships 1987,1989,1993,1995,1997,1999. 84 Olympic Training Site Manager.
He has acted as "A" level IJF Referee at the following events: World Military Games (twice), World University Games, Pan American Games (twice), Pan American Championships (twice), Kano Cup, Fukuoka Cup, Canada cup, German Open, Dutch Open, Hungarian Open New York Open, U.S. International Invitational (Numerous times), 1996 Olympic Mat "A" Technical Observer.
Administrative positions:
Past President of California Judo, Inc.
Past President (Nanka)
Past First Vice President (Nanka)
Past President of Southern California Collegiate Judo Association
Past Chairperson of Public Relations (USJI)
Past Chairperson of The Teachers Institute (USJF)
Past member of the following Committees:
Teacher Institute (USJI)
Referee Commission (USA Judo)
Promotions Committee (USA Judo)
Law & Legislation (USJI)
Standards (USJI)
Endowment (USJF)
Athletes Representative (USJI)
Coaching Committee (USJA)
Current Chairperson of Coach Development (USJF)
Current member of the following committees:
Board of Directors and Board of Examiners (USJF)
Teachers Institute (USJF)
Development (USJF)
Promotions (USJA)
Board of Directors (NANKA)
From his list of publications are
Foot Throws, Ohara Publications
The Judo Textbook, Ohara Publications
Judo Heart and Soul, Ohara publications
Training for Competition Judo, Ohara Publications
Excellence in Judo, Palacio Publications
He has produced over 35 videos on judo, the first "I (HEART) JUDO" bumper sticker published in the early 1980's and the first popular 'throws of judo chart' published.
He has published over 150 judo articles in various magazines, plus others electronically.
Among honors received are
Scholarship to Tenri University
Kodokan Kenshusei
Selected to demonstrate nage no kata at the All Japan Championships 1962
Member of the U.S. Goodwill Team to Europe 1964
Member of 2 U.S. Judo Teams to the World Championships, 1965, 1967
Black Belt Hall of Fame; for competition 1967, for coaching 1972
The Johnny Osako Award for excellence in refereeing
Shodan in Shotokan Karate
Shodan in Kendo
source: USJF