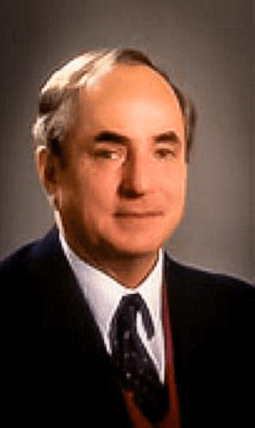 George Wilson
Inducted 1994
George was born on April 2, 1928, in Brookings, South Dakota. He graduated from Highline High School in 1945 and then joined the United States Marine Corps where he served in the Marine Aircraft Group Fifteen while stationed in Honolulu, Hawaii. He earned the rank of Sergeant, played football, and was honorably discharged in 1949. He served as a Cadet Captain with the United States Army ROTC from 1953-1954. Following his service in the Marine Corps, he attended the University of Southern California for one year and then Seattle University where he earned a Bachelor Degree in Commercial Science with honors.
He was employed with The Boeing Company for one year as an accountant then returned to Seattle University for a Bachelor of Education degree. At Seattle University, he was the Captain of the tennis team, a member of the Alpha Sigma Nu Fraternity, and a member of the National Jesuit Honor Society. George coached football at O'Dea High School in Seattle and led the International "Fighting Irish" Little League Football Team to the American Conference Championship.
He subsequently obtained a Masters and Doctorate Degree in Education from Seattle University. George retired from the Kent School District in 1991, after serving 36-years. He began his career in education at Kent Meridian High School, where he taught history and geometry, coached football, and served as a student counselor. George became the Vice Principal of Kentridge High School in 1968. In 1972, George became the Principal of Kentridge High School. In 1980, George took part in the creation and development of Kentwood High School and served as the Principal of Kentwood from 1981 until his retirement. He was involved in teaching and educational pursuits throughout his retirement.
While serving in the United States Marine Corps, George began his training in the martial art of Judo. George was invited to train at the Kodokan Judo Institute in Tokyo, Japan, and served as a Judo Instructor at the Air Defense Command, United States Air Force, McChord Air Force Base. George was recognized as an international Judo competitor, referee, and mission leader.
George earned his Yudansha Seventh Degree Black Belt from United States Judo, Inc.
He taught judo at the Washington Athletic Club and was in a partnership to establish the Kent Judo Institute in 1966. George was instrumental in bringing the sport of Judo to Kent School District and initiating the first officially recognized high school judo program in the United States in 1955. George received many awards, including a Recognition Award from President Kano, Kodokan Judo Institute; Referee, World Judo Championship, Mexico City; Mission Leader, 1970 United States High School Judo Team; served as the Chairman for the United States National Judo Committee; Referee, World Military Games; Hammelberg, West Germany; Mission Leader, 1975 United States High School Team, Japan, Korea, Taiwan; and organized the first International High School Competition in 1976 in Kent, Washington. He also served as the President of the Washington Chapter of the Amateur Athletic Union and he published many articles on fundamental teaching practices, school counseling and judo in the physical education curriculum in American schools. George was elected to the United States Judo Hall of Fame in 1994.
source: Wikipedia