Over this past winter, I was given the opportunity to train and compete in Japan alongside other Judokas from around the United States. I can safely say that throughout the whole trip, there was not one part I found disappointing or boring. I thought that everything about Japan, the competition, all the different athletes and judokas, the scenery, the modes of transportation, the shopping and so much more was absolutely breathtaking. This trip was a once in a lifetime experience that has disciplined me as well as make me a better person and has furthered my knowledge as a judoka. During the trip, I had a great time learning about the Japanese culture, meeting new people from the United States and from different countries, and just getting to hang out with people across the United States.
When my mom and I first got there, we were greeted with the beautiful scenery of what winter in Japan looks like. When I first arrived at the Global Arena, I thought that it would be strictly training and competition but I had a wonderful time making friends not just from the United States, but from different parts of the world. The Global Arena was a wonderful place where I met and became a part of team USA. The athletes on my team were so down to earth and friendly we had a great time getting to know each other and this only strengthened us as a team. I will never forget our coaches and I will be forever grateful to have met them. I learned so much from Senseis Tono and Mooney who coached the boy's team but all of the other coaches and senseis were always there to cheer us on and encourage our learning and training. Everyone that I met was so nice and welcoming which made the experience even more enjoyable. I would say that one of my most favorite parts of this trip was meeting new people and making friends with them even though they might live on the opposite side of the world.
The training and competitions in Japan were outstanding and it was amazing to just look at how many judokas there were in the gym all brought together to both train and compete. It was inspiring to see how many people from so many countries love the art of Judo as much as I do. The training was very different from what my dojo's traditional schedule and it was great to learn how the Japanese train and even get to train with some of the Japanese judokas. I thought that these training sessions were some of the most valuable trainings that I have had so far in my judo career and I hope to keep on training harder to hopefully make it to the Olympics. Overall, the training sessions had a great impact on my outlook towards Judo and I am more inspired to work harder and achieve greater goals in the new year.
Aside from the training we had excursions to shopping, dining, and sightseeing. One of my favorite places we visited was the Tasei Middle School where we had our last competition. The students were so warm and welcoming. It was incredible to see how much effort and hard work they put into preparing for our arrival. They greeted us on the first day with mochi making and took care of us throughout our stay there. On our last day they gave each of us a gift, they had made a hand decorated picture of us to remind us of our visit to their school. It was truly heartwarming, and I will always remember our friends at Tasei Middle School.
Towards the end of the trip, I was both happy as well as sad. I was happy of the wonderful opportunity that had been given to me to travel across the world and have the experience of a lifetime. I was proud of my team knowing that we fought hard and made it to the semi-finals and I was inspired to continue training even harder. I was sad that I had to go home because I will miss the diversity of the wonderful people that I met while there. I was especially sad that I would be missing all of the wonderful food that Japan has to offer. In the end, I had great time and it was an amazing experience and an honor to represent the United States in the tournaments as well as my dojo Norwalk Judo Club. I would like to thank all the senseis and mat partners that have helped me along the way as well as all the people who made this trip possible and I would like to especially thank Sensei Oishi and Sensei Jimmy for electing me to go on this trip, USA Judo and the USJF for all the support, as well as Hatashita for the uniform, and Sensei Saito for allowing me to witness what Japanese judo is all about.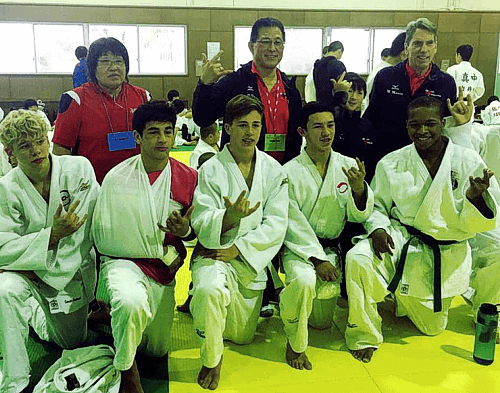 Stevem Salazar is second from right