2017 Sanix & Taisei Cup US Participant List:
Boy's Team:
Tohkon Team
COACH – Michael Mooney, Douglas Tono
PLAYER: David Capron, Chicago, IL
PLAYER: Cornel Childs, St. Louis, MO
PLAYER: Carson Furneaux, Windsor, Ontario
PLAYER: Steven J Salazar, Los Angeles, CA
PLAYER: Luke Smith, Colorado Springs, CO
PLAYER: Lucas Tatar, St. Louis, MO
Girl's Teams:
Kitokan Team:
COACH – Eiko Shepherd, Loretta Edwards
PLAYER: Arianna Gaines, St. Louis, MO
PLAYER: Sereniti Stewart, St. Louis, MO
PLAYER: Anastasija Kosic, Popma, OH
PLAYER: Mja Towner, Weiser, ID
Birmingham Y/Saito Dojo Team
COACH – Robert Fukuda, Hideyuki Ohtake
PLAYER: Paige Cox, Ossian, IN
PLAYER: Jessica Dixon, Honolulu, HI
PLAYER: Rio Ohtake, Ann Arbor, MI
PLAYER: Corinne Uchida, Birmingham, MI
In addition, 8 family members traveled with the teams for a total of 31 people including Noboru Saito.
Purpose of this program:
1. Give opportunity to experience Japanese Judo & Culture to US middle school age judo students who are not necessarily elite athletes in US, but are willing to learn, practice hard and want to experience new things.
Desired outcome is to understand what's going on in Japan and to observe how the same age group practices judo much harder in Japan. I want to encourage US students to practice more often and harder at their home dojos.
2. Keep ongoing relationship with Japan to increase opportunities for participation in events in Japan for US middle and high School students, networking.
3. Honor Mr. Shinichi Munemasas' vision to send US team/s to Sanix event each year.
4. Increase the number of Japanese coaches and students that visit US for exchange programs.
5. Teach US coaches about team events. US needs to hold more team events.
Sanix Sport Foundation/Global Arena – Purpose of this program:
This tournament has been established to foster the spread and advancement of Junior High School Judo, as well as to train and educate future participants in the Olympic Games and World Championships, and finally, by providing the youth with the chance to meet and mix with their counterparts from different cultural backgrounds, to contribute to their development as individuals with a global vision.
Taisei Middle School – reason for inviting US Team this year.
Fostering international cooperation
Improving Judo skill
Training mind and body
Promoting Judo
To open the door for future exchange programs between US and Taisei Middle School and High School, not necessarily just the judo program.
Schedule:
By December 22, 2017 – Arrived in Fukuoka, Japan
December 23, 2017 – Training camp for overseas teams with Tokai Fukuoka High School Judo team and a few local Junior High School Judo teams.
December 24, 2017 – Training camp for overseas teams with Tokai Fukuoka High School Judo team and a few local Junior High School Judo teams. One hour of instruction/demonstration by Tachimoto sisters.
December 25, 2017 – Morning: Most US members went to downtown Munekata City for shopping (three members stayed and practiced at the dojo from 9 am to 11:15 am). 2 pm: Technical clinic, 3:30 pm: Coach's meeting, and 7 pm: Opening Ceremony and Reception.
December 26, 2017 – 9:30 am – 5:00 pm: 2017 Sanix Juvenile Team Championships, 7:00 pm Team Dinner
Girls Team Results:
Birmingham Y – Cox, Ohtake, Dixon -reserve Uchida.
1st round – Taguma JHS (Fukuoka), won by Birmingham 3-0
2nd round – Futami JHS (Hyogo), won by Futami JHS 3-0
Kitokan – Towner, Kosic, Stewart – reserve Gaines
1st round – Onga Minami JHS (Fukuoka), won by Onga Minami 2 – 1
Boy's Team Results:
Tohkon Judo – Salazar, Childs, Furneaux, Capron, Smith – reserve Tatar
1st round – Bye
2nd round – Onga Minami JHS (Fukuoka), won by Mizuki 5 – 0
Final results:
Boys: 1st Place – Kokushikan Middle School (Tokyo), 2nd Place – Taisei Middle School (Aichi)
Girls: 1st Place – Koryo Middle School (Nara), 2nd Place – Takeo Middle School (Saga)
December 27, 2017 – Practice shiai – Girls' team 6 matches, Boys' team 7 matches. 5:30 pm left Global arena for Shin Moji Harbor and boarded the ferry to Osaka.
December 28, 2017 – 8:00 am arrive Osaka Harbor and move to Taisei School, Ichinomiya City, Aichi by bus. Arrive Taisei School and joined Taisei students for Mochitsuki. Noboru Saito addressed entire student body. Orientation and sightseeing to Inuyama Castle. Dinner at Denny's in Inchinomiya and one hour shopping at nearby mall.
December 29, 2017 – 9 am Taisei cup started. Boys' team shiai and Girls' individual tournament. After boys' team tournament, the boys competed in an individual tournament. The girls had a one-hour randori session (around 100 girls participated). The boys had randori after the tournament was over. Dinner was hosted by Taisei School at an all-you-can-eat barbecue restaurant. December 30, 2017 – Teams departed from Ichinomiya hotel by buses arranged by Taisei. Departures to Chubu International airport at 4:30 am and 9:45 am and to Nagoya station at 8:30 am.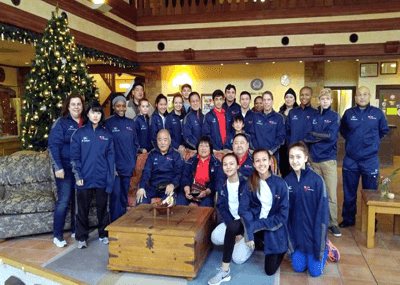 My role as the coordinator of Sanix 2017, started early in 2017. Some people interested in participating in this event contacted me in February. It's a self-funded event and basically I will place anyone who wants to learn, and has a good recommendation from known coach. I had many face-to-face inquiries at events, as well as e-mails from instructors, and individual parents. At the end, six people dropped out due to financial reasons, their school schedule was too busy, or because of a passport issue. At the end, one boys' team and two girls' teams were formed. Since the Sanix and Taisei team tournaments are based on a club team championship, the organizers unofficially allowed me to put together teams from across the United States so that US middle school age students could have the opportunity of a lifetime to experience and train with top players from other counties, especially Japanese.
This years' international camp was attended by all international teams, Tokai Fukuoka High School Judo team and Hakko Middle School Team. The camp has been lead annually by Hiroaki Kugisaki sensei and Kai sensei (Tokai Fukuoka). This year they were joined by Dai Asahi, Japanese Junior Coach, Haruki Tachimoto, 2016 Olympic Champion 70kg, and her sister Megumi Tachimoto, All Japan women's champion.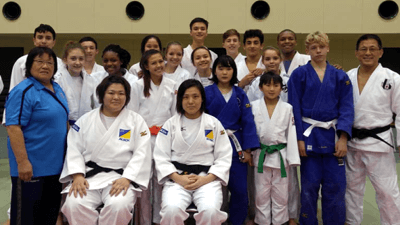 On December 25th, at the Opening Ceremony reception, organizers prepared a whole tuna for sashimi and sushi along with steak and other great food and drink. All parents and coaches enjoyed the evening with the organizers, Kyushu Judo Association officials, foreign coaches and Japanese coaches. It was a great evening to share stories and memories.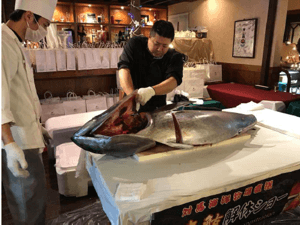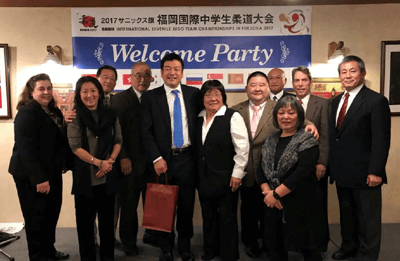 (With Hiroshi Munemasa, Sanix President, Shun Kasuga sensei and all US Coaches)
December 26, 9:30 am Opening Ceremony. 89 boys teams (11 foreign, 78 domestic) and 48 girls teams (5 foreign, 43 domestic). Our US teams fought hard. The Boys' team winner was Kokushikan fromTokyo and the second place team was Taisei Middle School from Aichi. The Girls' team winner was Koryo Middle School from Nara and the second place team was Takeo Middle School from Saga.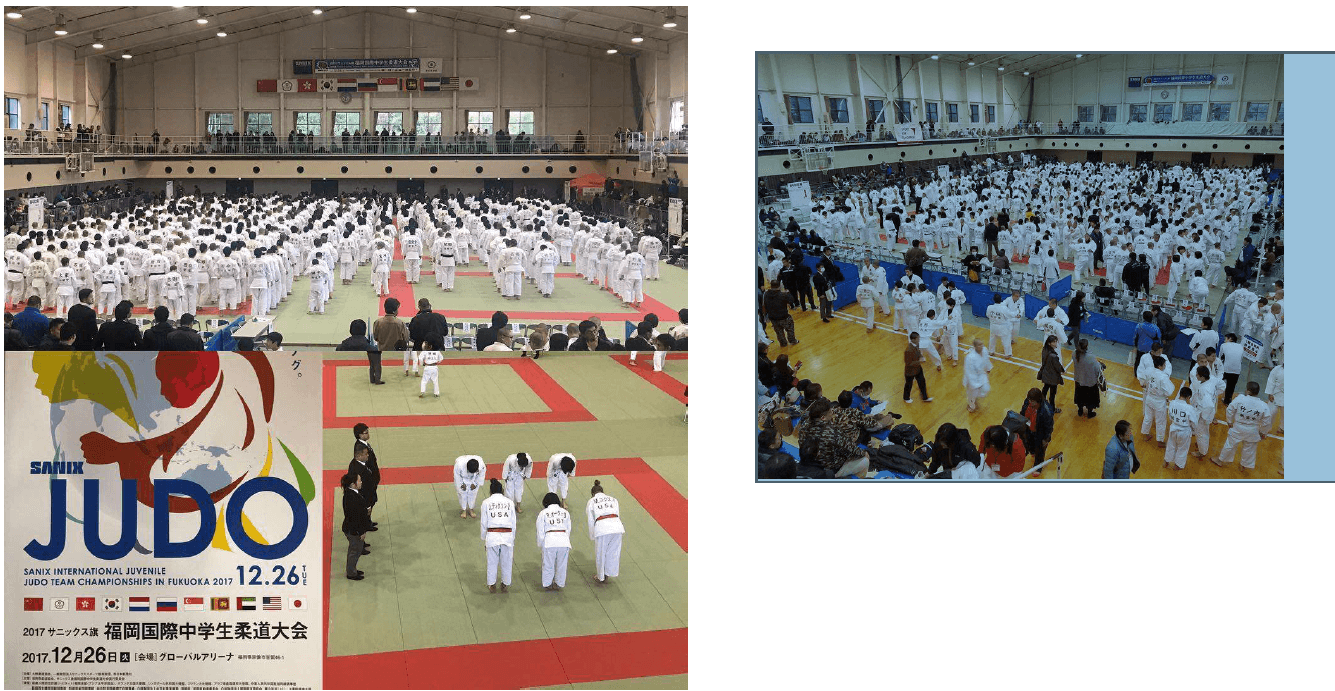 December 27, practice matches started at 9:30 am in both the gym and dojo. Coaches were split taking care of their students. The boys had many practice matches and enjoyed themselves by winning some and losing some. The girls' team had a harder time with two athletes injured. Jessica and Paige fought well that day. Great fighting spirit were shown on the mat. The coaches were very happy with the students' performance.
December 28, Arrived Osaka harbor, transported to Ichinomiya City, where met Taisei Middle School students and enjoyed an exchange with them. One of the events was the rice pounding (mochitsuki). US players and coaches joined students pounding mochi and eating fresh mochi. It was great eating.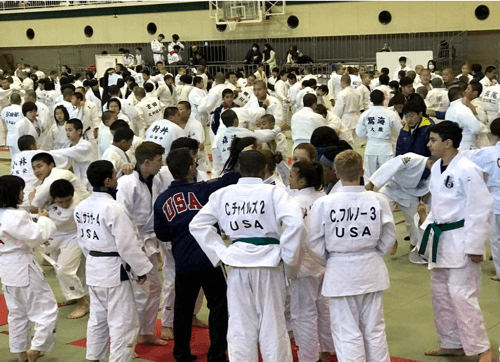 Afterwards we met with International Club members and learned the schedule for our Taisei visit. Taisei took us to Inuyama Castle (a National Treasure). It is the oldest wood structure/castle in Japan. It was a very impressive castle.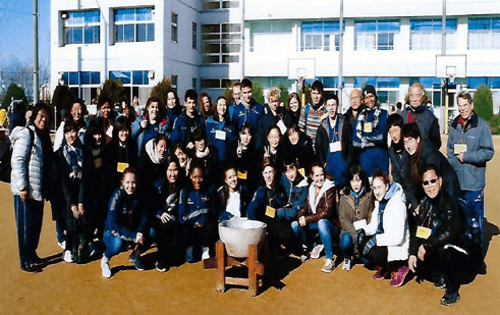 December 29, Taisei Cup day. Boys' team, boy's individual and girls' individual tournament was held at Taisei Judo dojo which is large enough for eight separate modified competition mats.
Tohkon team was in pool G and won 3 matches in the pool. A very respectable outing. When they came out of the pool, Tohkon won 2-2 in the first match of the tournament bracket, winning by points. In the quarter finals, Tohkon team lost to very good team but performed superbly.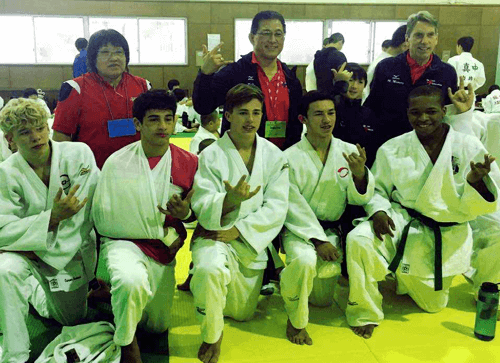 Here is a list of concerns from this years' experience:
Individual Contests by Division.

Boys

Girls

-55kg
102
-52kg
57
-66kg
84
-63kg
34
-81kg
70
+63kg
11
Open weight
45
This year, US players also participated in a one-hour long randori session after tournament fights.
Conclusion:
Again, the hosting organizations hospitality was great, nothing to compare. Global arena/Sanix Sport Foundation sponsored one boys' team and one girls' team during official tournament period. With that and the USJF grant, we were able to cover all of the teams costs at Global Arena, one extra coach cost and the cost of gifts. Also, Taisei School took care of the cost for all team members (22 including me). Accompanying members paid 20,000 yen for ferry boat, bus transportation from Osaka to Taisei School, all meals, sightseeing costs and transportation from hotels to Nagoya Station or Chubu International Airport. I sincere gratitude to Mr. Adachi, Taisei School Principal, and all the teachers and students that assisted us while staying in Ichinomiya. Unbelievable care was extended to the US teams by Taisei School. I hope the US team members remember how lucky they are. In March, I will be hosting an eight member delegation from Japan led by Hiroaki Kugisaki Sensei. All other members of the delegation are female, and four of them from Taisei High School, a teacher and 3 students, are not Judo members.
I strongly believe these events will help our youth open horizons that they never thought they could experience and open their imagination so that they are able to dream big. And, to learn an appreciation of the opportunity and care received from their parents, coaches, organizers/sponsors and myself. These things do not happen without a sincere effort by many people.
1. Communication with participant's coaches and parents.
Due to the large number of participants, I had one period, where too many people were not responsive to my e-mails. Too many times, I had to make phone calls to get answers. Good thing, I am retired, and have time and patience.
2. The application form contains most of the necessary information including conditions and accommodations at Global arena. All participants need to understand the conditions at Global Arena when they sign up to participate in this event. They need to understand this is judo training trip, not a family vacation trip.
3. There were no major injuries to US players. Some participants and parents got colds as this time of year in Japan it is very dry and easy to get sick.
Everyone arrived back home safely, even though some people like myself came back tired and have suffered with a cold that lasted a week to 10 days after returning.
Ongoing reports are posted at the official Facebook page for Friend of Sanix in US.