The Jeremy Glick Award has been announced for 2017. The recipient is Albert Aoki of the 50th State Judo Association.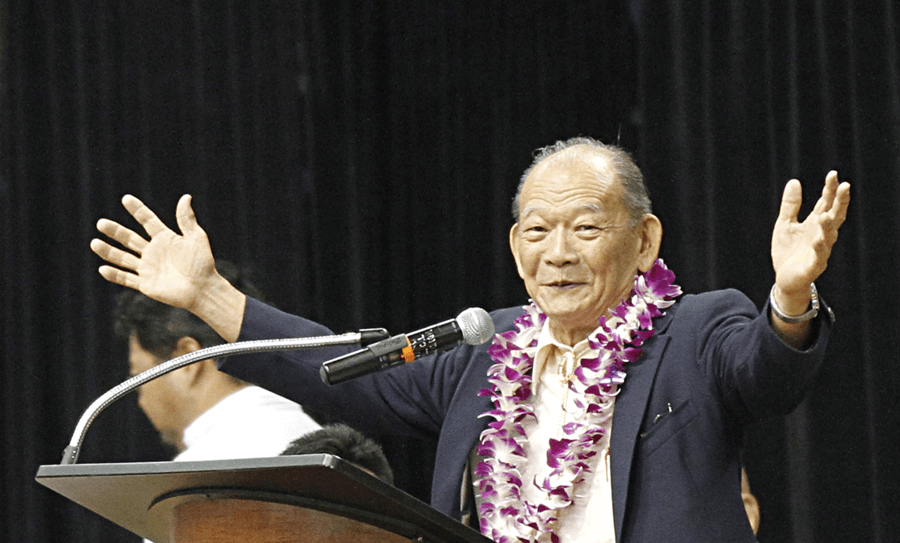 Photo by Tyler Kanoa/Special to the 50th State Judo Association, at the 2014 Junior Nationals, reproduced with permission.
Some bullet points from his USJF Judo career
Member of the USJF since 1952
Helped establish the 50th State Judo Association in 1979
Member of the USJF Board of Directors and Board of Examiners
USJF Treasurer 1988–1992
Current Chair of the USJF Emeritus Committee
Current Chair of the USJF Hall of Fame Committee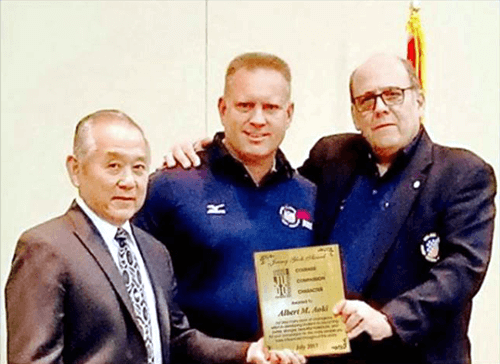 Vaughn Imada, John Paccione and Gary Goltz with the Glick Award for Albert Aoki.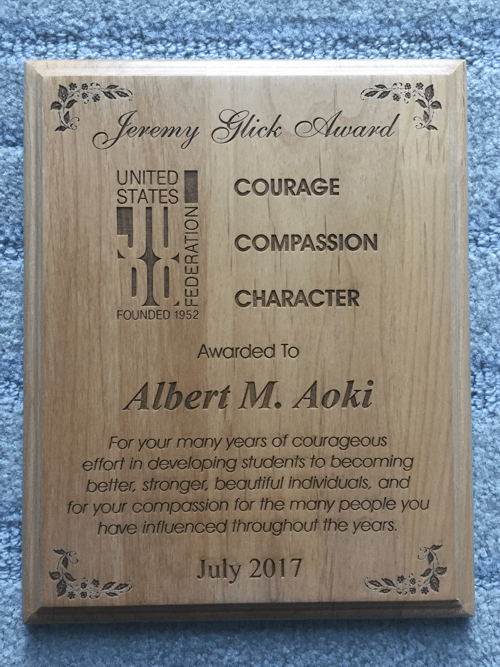 The Jeremy Glick Award reads:
This award is based on the spirit of Judo, courage, compassion and character. We are honored to add you as recipient of this award for your many years of leadership, development of people, development of Judo, and your courageous dedication in insuring the continued success of Judo and the USJF. You truly epitomize the spirit of this award.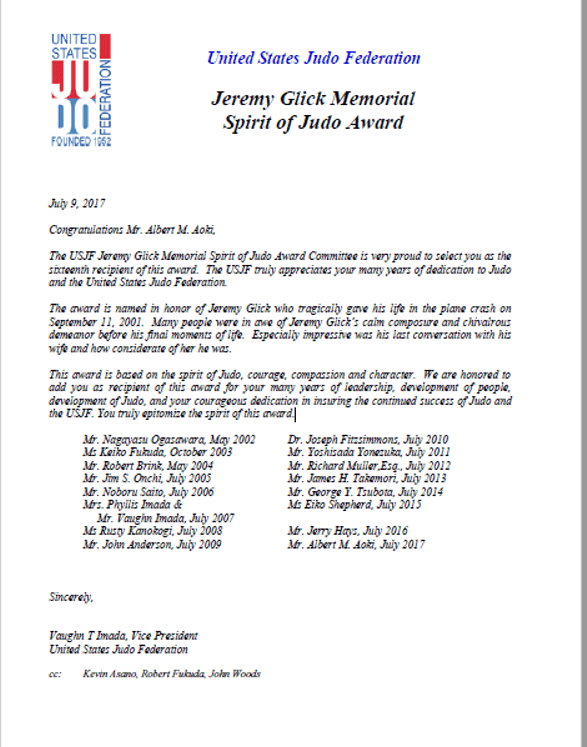 ---
Kalani Takase wrote this article on Albert Aoki for the Honolulu Advertiser in 2014, reproduced with permission.
About Albert Aoki

Albert Aoki has always been a pioneer.

In 1978, the rancher and real estate development tycoon was entrusted to lead a new organization — the 50th State Judo Association — which has grown to become the largest such association in the country.

Aoki, whose father was a co-organizer of American Savings Bank, left the banking business after 17 years and went into development.

"I got tired of sitting in an office so I went out and opened a consulting business," Aoki said. "I went down to Australia to develop a big resort and that's where I saw the opportunity to start ranching."

Ranching began as a hobby for Aoki, but he eventually made it a profession, purchasing 66,000 acres in Australia and converting it into his own ranch.

Aoki used the same pioneer-vision to kick start the 50th State Judo Association 30 years ago. The association is one of 23 yudanshakai (black belt associations) in the nation registered with the United States Judo Federation.

The USJF is divided geographically by yudanshakais, which includes clubs local to its area. The 50th State is the largest of three yudanshakai in Hawai'i.

Each yudanshakai hosts local tournaments for its members and a national tournament — involving all 23 yudanshakai — is usually held in July at a rotating venue.

Aoki, who now oversees the association as chairman, was asked by the Kodokan Judo Institute in Tokyo to construct the 50th State Judo Association from the ground up, but not following the usual diagrams.

Open to all

Kodokan was founded by the sport's creator, Jigoro Kano, and remains a leading voice in the sport.

"They wanted a more dynamic way to showcase judo, namely in the high schools," Aoki said.

Aoki started with a handful of clubs across the state, but instituted a monthly tournament system with an open-door policy.

"There used to be 'closed' tournaments, which was by invite only," Aoki said. "This organization … we're open. We invited everybody … it was always an open-door policy."

Each member-club was asked to host one tournament a year, a system that remains in place today. Judoka (players) were welcome to practice at other clubs within the organization, which was not always the case in Hawai'i.

Aoki's approach was not always well-received by others in the judo community, but he vowed not to let it slow him down.

"Our position on friends or foes, we treat them equally," he said. "Some of our foes became our friends. We realized we can't be wasting our time, protecting our backside all the time."

The organization was beginning to grow and its stability was proven with a successful bid to host a national tournament in 1984.

Focus on youth

The 50th State was awarded the Junior Nationals by the United States Judo Federation, the first time the tournament was held in Hawai'i.

"We were high-powered salesmen and we made sure they were taken care of when they got here," Aoki said.

The tournament was held at Saint Louis School and was the first of four Junior Nationals held in the state.

"(The USJF) claimed that it was the best Junior Nationals they've ever had. Every time they come back they tell us that," Aoki said.

Another lift to the sport came in 1988 when former 50th State member and Pearl City graduate Kevin Asano captured a silver medal in the Seoul Olympics.

But as the organization prospered, Aoki realized a new generation would soon have to take over.

"Young people are the basis of success for any organization," Aoki said. "No matter what rank we are or how old we are, we want to listen to the young people."

Due in part to the success of the 50th State, it was natural for Hawai'i to become the first — and so far, only — state to officially sanction judo as a high school sport. What's more, the USJF held its first-ever High School Nationals on O'ahu last May, a week after the state tournament.

"The 50th State is right now the biggest (organization) in the nation and I think it's also the most progressive. It's a tribute to the vision of Aoki sensei," Shobukan head instructor Lloyd Migita said. "When he first started about 30 years ago, it started with just a couple of clubs and he nurtured it and built it up to become what it is today."

Still, Aoki sees room for growth. This summer the 50th State will host The Great Hawaiian International Fitness Challenge and Judo Competition, Aug. 14 to 16 in Honolulu. The challenge tests general fitness and stamina through timed exercises broken down into ages and teams. The judo competition will be divided by age and weight and is open to ages 6 to 17.

"There are a lot of overweight children today and we're just trying to give them an opportunity to have fun while exercising and getting in better physical condition and overall health," said George Tsubota, head instructor of Hodokan in Manoa.

Sharing and caring

Aoki said there are also talks to bring the U.S. Open — a top-level international tournament — to Hawai'i this Fall.

One of the sport's most recent stars is Wahiawa's Taylor Takata, who represented the U.S. at last summer's Beijing Olympics. Takata, who belongs to 50th State-member Shobukan Judo Club, appreciates the early opportunities the organization presented.

"It was a good opportunity for me because every month there's a competition and I think that's the only way anybody can gain experience is to actually fight in a tournament," Takata said.

"I've been to California, Texas and Colorado and I haven't seen tournaments like this where the whole (organization) comes out. For a small state like Hawai'i to get 200, 220 competitors at every tournament, every month, while a state like Colorado gets about 200 kids at a tournament held once every year, that says a lot about what the 50th State has done."

Aoki said the generosity of individuals has been the driving force of the organization — which now includes over 1,200 members in 22 clubs.

"I think our secret is we use the word share. We share responsibilities and we share successes, hardships and disappointment," Aoki said. "We have a 'You first, me second' policy. This is magic … This is why we're successful."
---
2011 Autumn Conferment of Japanese Imperial Decorations Awarded

In recognition of his promotion and enhancement of Judo in the United States and the enhancement of the cultural relationship between Japan and the United States, Albert Aoki was awarded the Order of the Rising Sun, Gold and Silver Rays, from Japan in 2011.

Mr. Kenneth Francis Brown and Dr. Kyoko Hijirida also received awards. Read more about their contributions.