By Chuck Medani for the USJF
Paris, February 11, 2017. Angelica Delgado, reigning US National Champion, 2016 Olympic team member, and multiple-time US World Team member at 52 kg, scored big today in Paris with a fifth place finish in one of the most competitive tournaments in the world.
After receiving a bye in the first round, Delgado took on Leandra Freitas of Portugal, following this with a hard-fought golden score win over the 2012 London Olympics champion Sarah Menendes of Brazil.
She then had to face her second Olympic champion, Majlenda Kelmindi, the "Golden Girl" of judo, owner of three European championships, two World Championships, and the reigning 2016 Olympic champion in the 52 kg class.
But Delgado faced this challenge with her own high level of confidence, taking Kelmendi the distance for the full four minutes, losing by two waza-aris (Note: new rules stipulate that competitors can amass any number of waza-aris without having them add up to an ippon.)
She then had to fight Russia's Natalia Kuziutina for the Bronze, but had to settle for fifth place.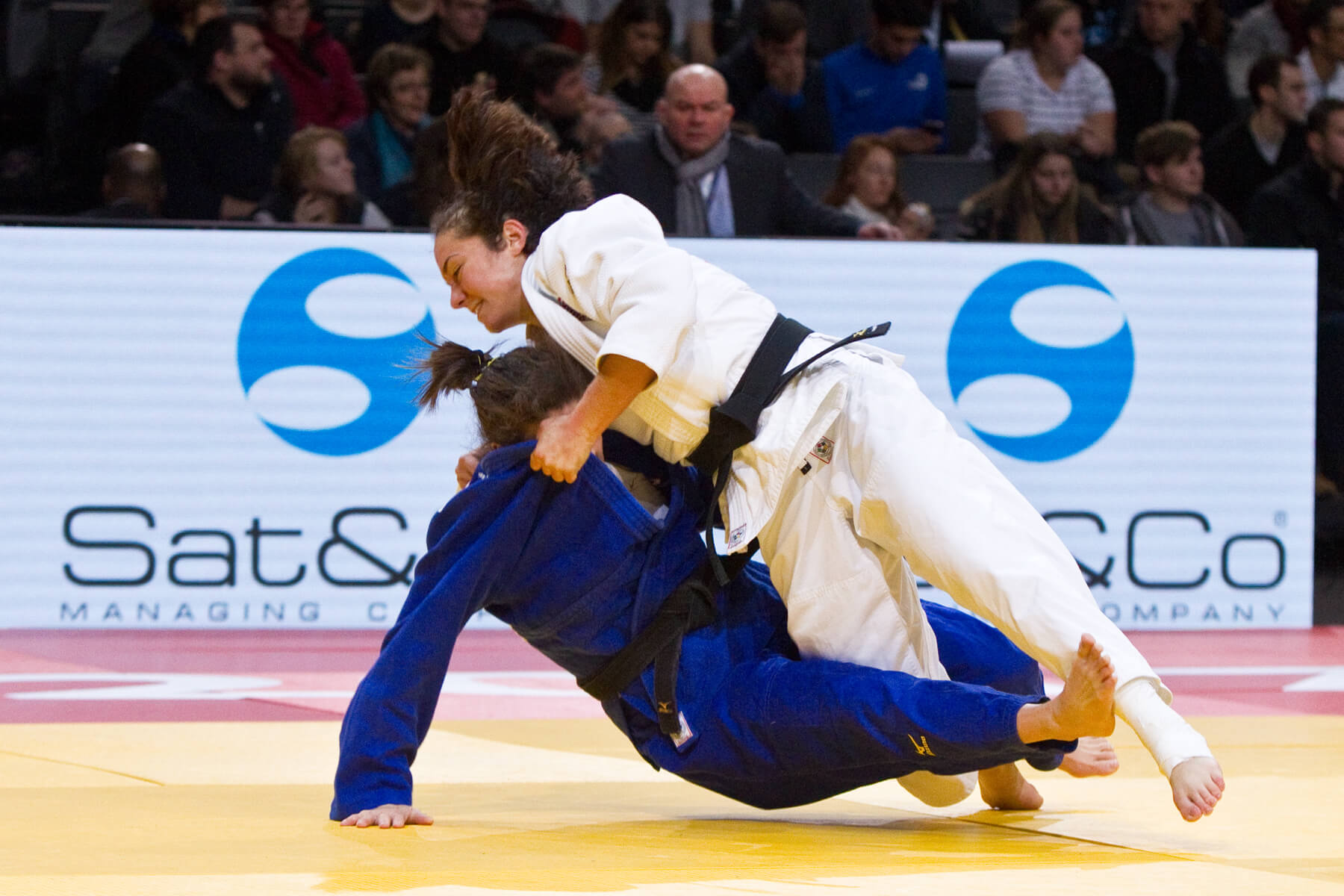 Delgado throwing Leandra Freitas
A second bright light from the US team was 23 year old Alexander Turner, who trains at the Jason Morris Judo Center in New York. Turner defeated Czechoslovakia's Jacub Jecminek in the first round, followed by a victory over Senegal's Samba Maiga in round 2. Round three matched him with World #2 Soichi Hashimoto. Turner took the fight to Hashimoto, and was winning the gripping battle so important at the international level, according to coach Jason Flores, when Hashimoto scored quickly with a waza-ari, followed by a successful pin.
Jhonny Prado, who with Justin Flores is coach of the US team in Paris, was pleased with the team's performance on day 1: "We had a 50 – 50 day – the people with less experience showed that they have a lot of talent, and they have given us an idea what we have to do to improve them. And then there is the case of an experienced judoka, Marti Malloy, who lost in the first round against the French woman (Priscilla Gneto) in the first round.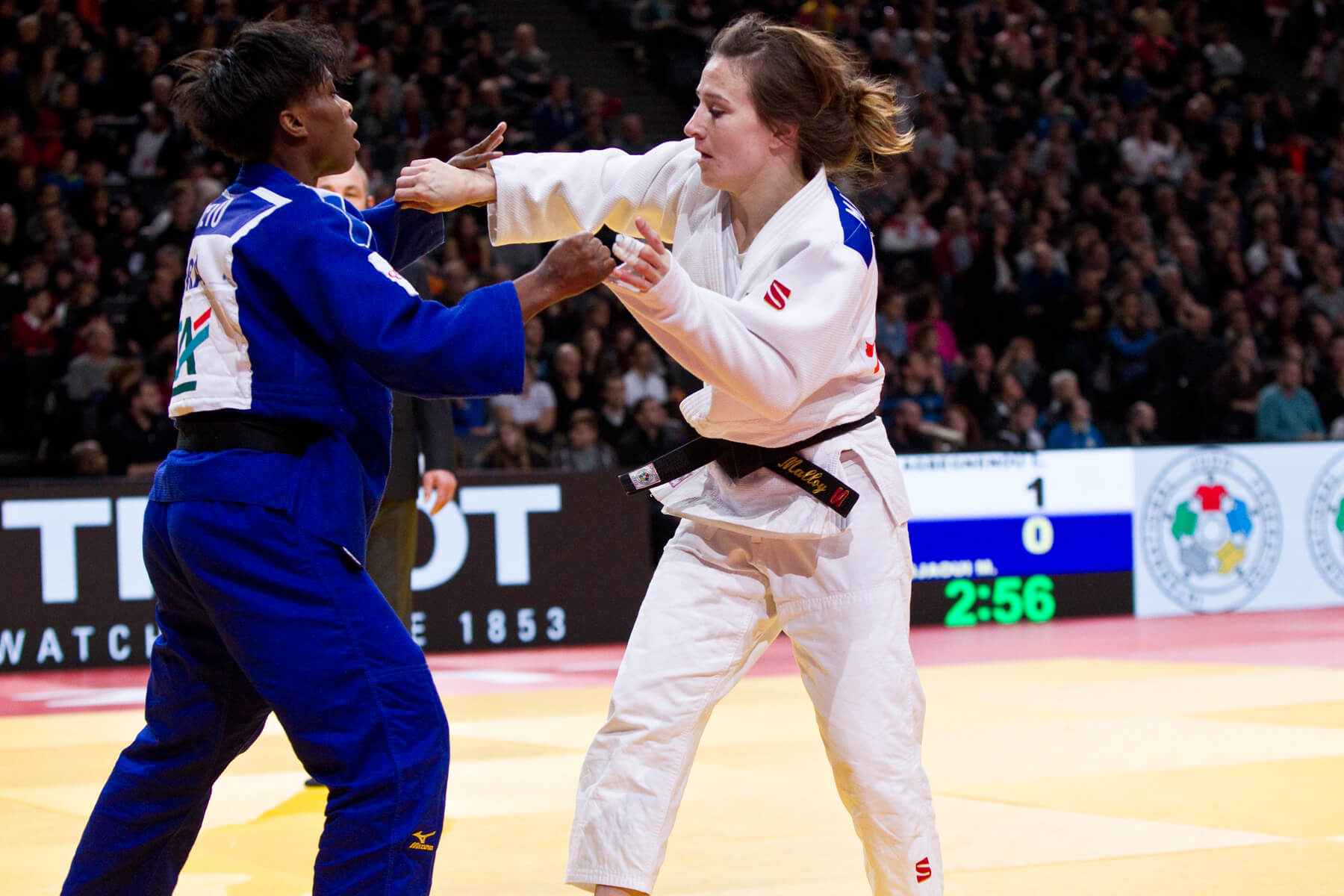 Priscilla Gneto vs Marti Malloy
"Overall it is a learning experience for most of the players. We only have two players with experience, Marti and Angie. And Angie did great and her accomplishments were really outstanding.
Tal Flicker vs Ryan Vargas
"In cases like (Ryan) Vargas, he fought with an Israeli player (Tal Flicker) who really has a lot of experience. And our guys don't give up – that's the main thing. As coaches, our main goal is to see them facing the players and showing the attitude and their techniques. We have to start working on the tactics part, but it's a learning experience for everybody.
"For Angie, it was great, beating the 2012 London Gold Medalist – it was really outstanding. We just need to keep working on things and she will produce. This is the sixth or seventh time that she has fought at this event. To get to fifth place, almost close enough to get to the podium, it makes me proud and happy, and it's telling us that we're going down the right path.
"Majlida Kelmendi (Kosovo), the Gold Medalist from Rio, is a strong player and outplayed Angie because she showed more strength and has more experience at this point.
"Alex Turner was outstanding in his first two matches. He is another player who is coming up, and showing a lot of talent. I think he's improving, and he's always listening, and getting detail in every single issue that we go over. He is a good player that we really have to focus on and invest in."
Alexander Turner throwing Jacub Jecminek
Coach Justin Flores was quite pleased with the team's performance. "We had a lot of stellar performances, led by Angie Delgado. She faced two Olympic champions, beating one in amazing fashion to reach the semifinals. I'm super proud of her performance.
"Alexander Turner also fought amazingly. He made one mistake and paid for it there in the end. He lost to the eventual champion (Hashimoto) from Japan, but still fought brilliantly in that match. Alex was all over him in the grips and that's going to build for later experiences. Look for big things out of him.
"Overall I'd have to say that the team fought admirably. There are a few disappointing spots, but we'll take care of those performances in the camp and make those jumps that are necessary for the rest of the tour this year. I'm really proud of everyone."
Ryan Vargas, "Lakea" to his friends (meaning "Bright Sun" in Hawaiian), is 19 years old, and trains under Germann Velasco and Shinjiro Sasaki in Florida at the National Training Center. The Paris tournament is his second international tournament as a senior, and his first Grand Slam.
When asked about the day's match, he said, "I fought Flicker from Israel. I'm a leftie and he's a rightie. I felt that I was at his strength level, but I also felt that my experience was lacking, and that's where he caught me. I feel like I need more of that European fighting. And I need to get used to that. Then I'll start winning.
"I lost by two waza-aris, and felt like I really learned a lot today. Just by watching, also. Today was a positive thing for me, and it also woke me up and gave me more vision of what I have to do to get to the next level. I can do that by doing the camps and fighting and doing a lot of randori with these international players. This (week) will be my first camp in Europe."
Adonis Diaz, 20, who also trains at the national training Center in Miami, Florida under Germann Velasco and Jhonny Prado, has been developing his experience in international senior tournaments since he was 16 and has been on the judo circuit with the Olympians. Despite this experience, he feels that real experience comes from spending years, such as for an entire Olympic cycle, on the tour.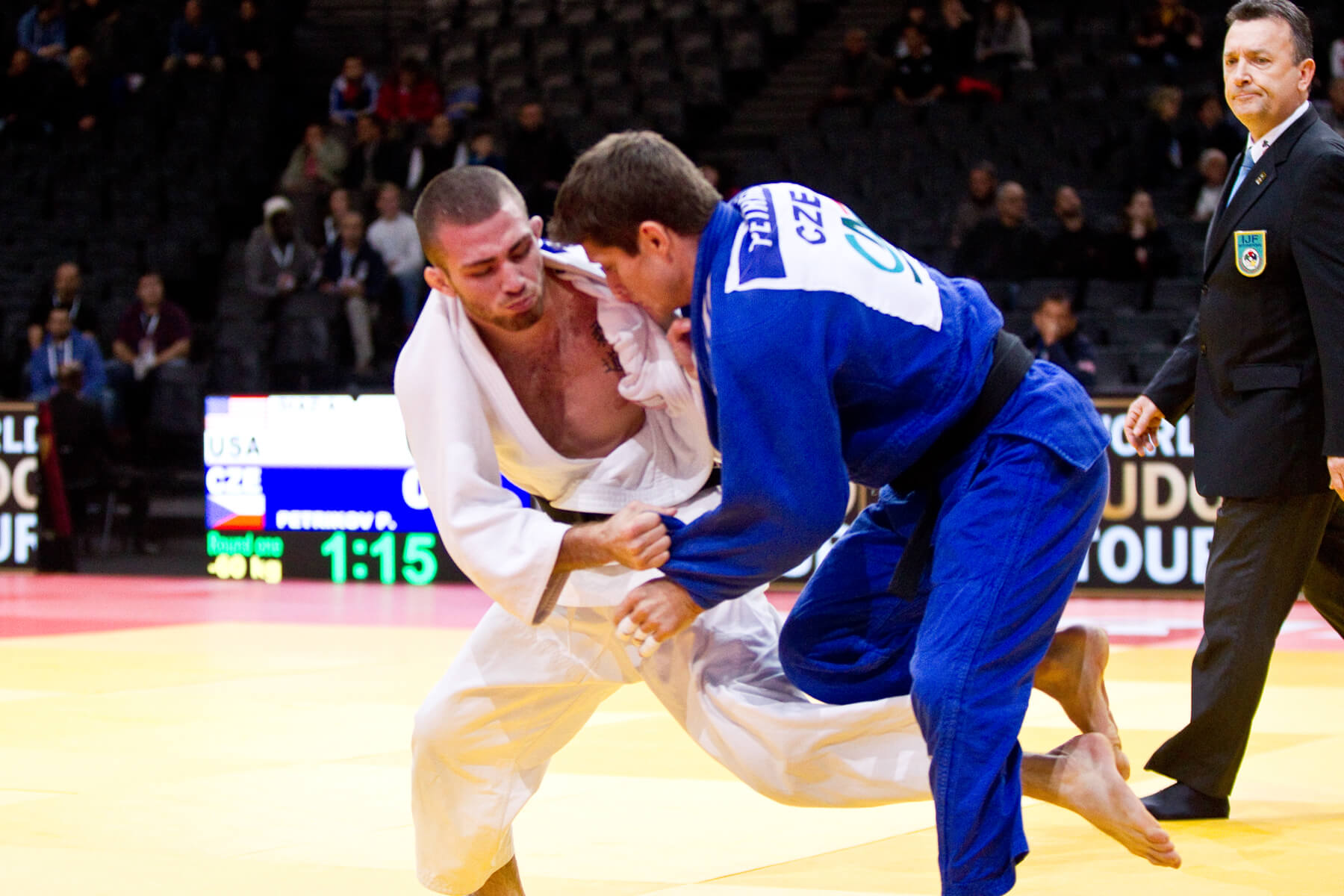 Adonis Diaz vs Pavel Petrikov
When asked about his performance today at his second Paris Grand Slam, he said, "Rough day. Usually I don't go one round and out. I need to execute more, do the things you practice in the match. When you do techniques, don't do them half-way. Basic things. Execution.
"This is the best tournament you can go to. Since I was a kid, I've always wanted to compete here and win. I've competed here twice – now I just need a win. It's the best tournament in my opinion. I just love traveling, fighting, doing the camps. It's what I do, it's what I love, it's all I've known since I was young."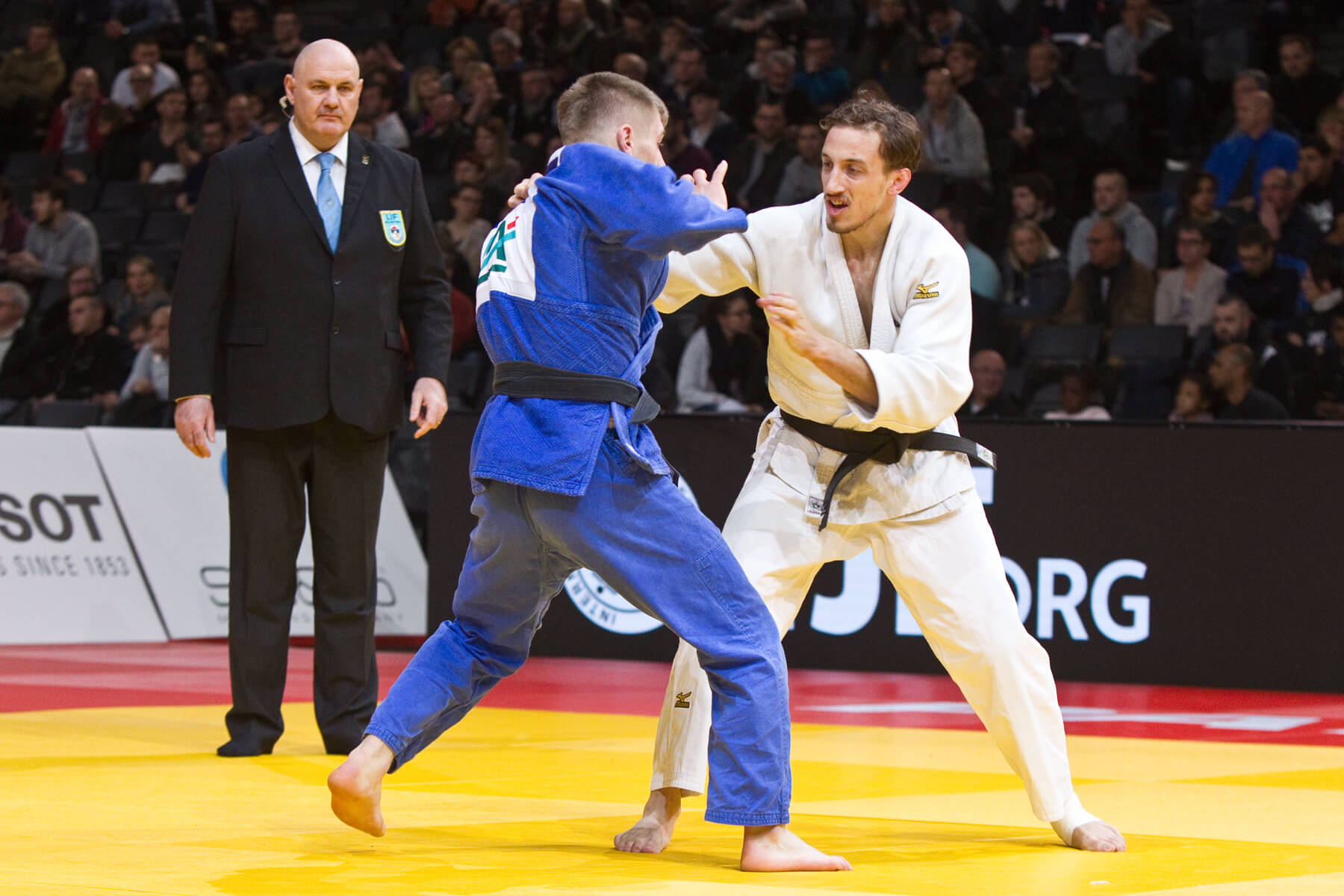 Akil Gjakova vs Bobby Lee
Bobby Lee, an experienced national and international champion, and who trains at the Olympic training Center in Colorado Springs, Colorado, did not have his best day. "This was my fourth time at the Paris Grand Slam, unfortunately the way I fought, probably the worst I've fought out of the four. This is the first I've fought here in three years, and I need more mat time, honestly.
"It's been a while since I had back-to-back tournaments in Europe. It's good to be here, but at the same time, you want to come here and perform well, and I didn't, so that's disappointing. Now I'll do the camp here and finish up my tour in Rome, then I'll head home."
Alexander Turner, had the best run of the U.S. men on Day 1. When asked for his thoughts about the day, he described his feelings and how he learned from the day's competition. "This is my first Paris Grand Slam, and walking into this stadium instantly brings chills on the back. Just looking around at all the lights and the people was something to see. It was mesmerizing. It was something that I had always dreamed of, and getting to compete there, making it to the third round was just amazing. I'm pretty happy with my performance – I got to fight the world #2 and gave him the best I could but unfortunately I was eliminated in the third round just before the quarterfinals.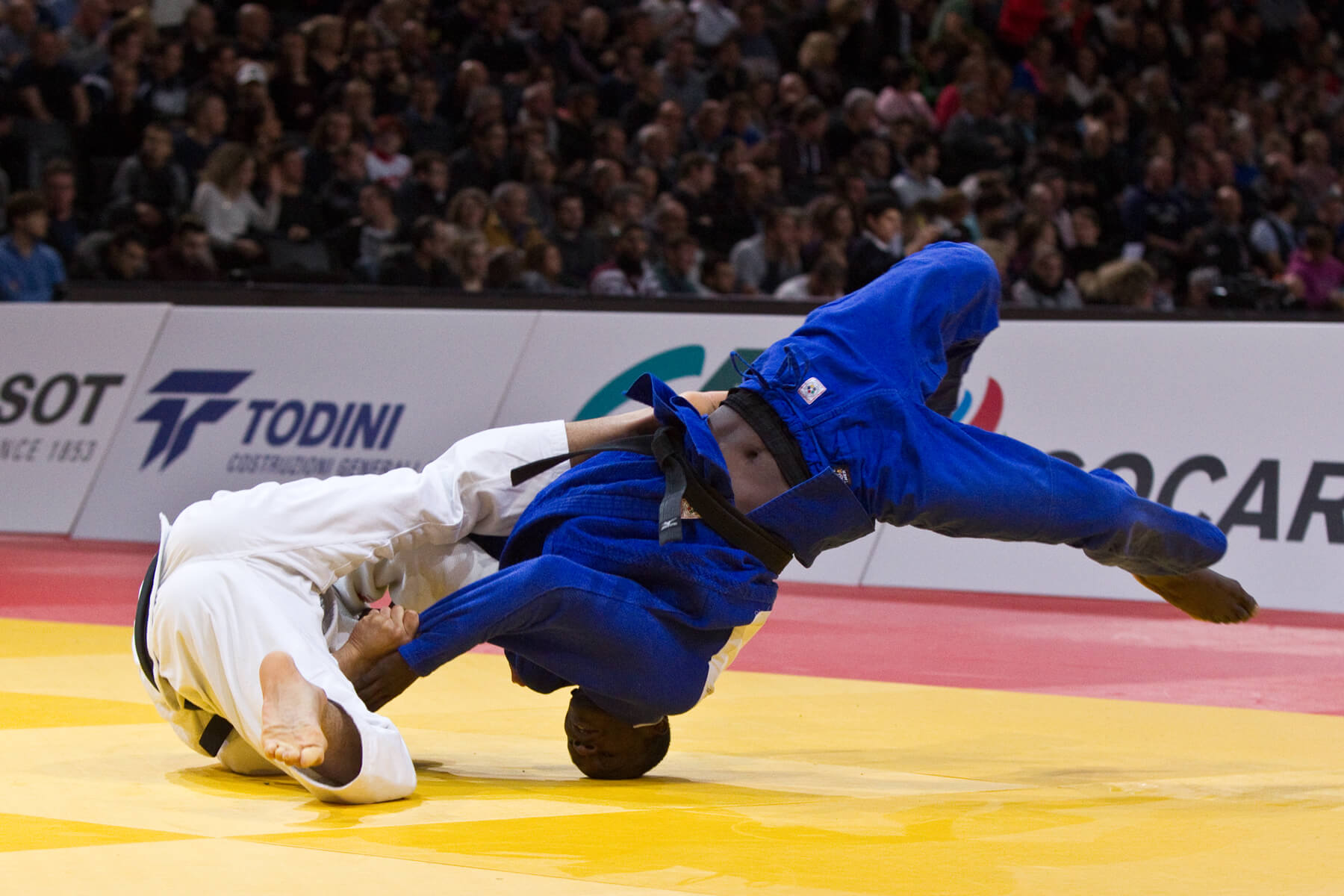 Alexander Turner throwing Samba Maiga
"I'm looking forward to the rest of the year to compete, but I gave it my all in the French Open (previous name of the Paris Grand Slam). Every match is a learning process. I haven't fought in Europe so much, so getting the feel of a couple of Europeans, then the Japanese style was different for me, so every match has been an experience as far as the Europeans, and now dealing with Japanese guys."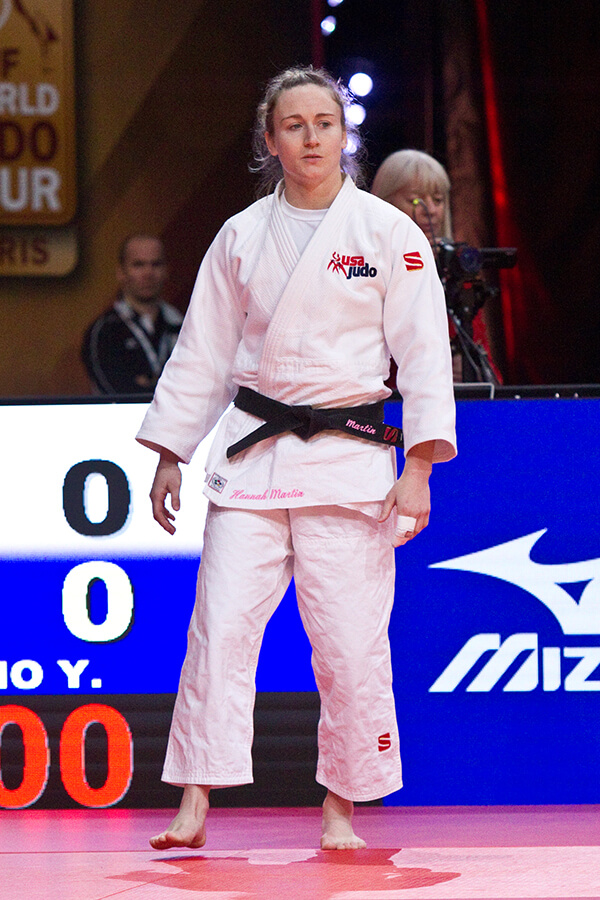 Hannah Martin
Day 2 of the Paris Grand Slam is next. Watch for the next report of one of the toughest tournaments in the world and how the U.S. Team fares.
All images Copyright 2017 Charles Medani/Refreshing Images