Dear Mrs. Koyama,
Japan! Wow!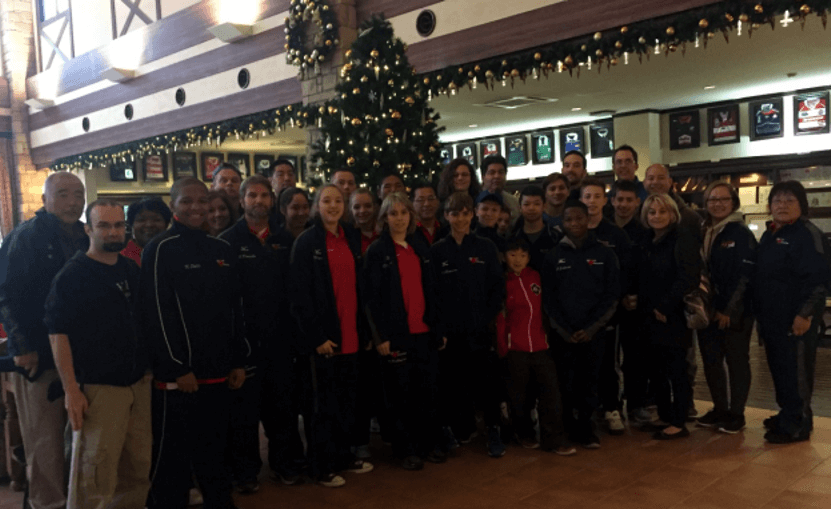 The 2016 Sanix event was fantastic!
I can't believe I was chosen to participate in the International Sanix Judo Tournament and clinic. What an incredible experience.
On the way to the airport I was very nerves and scared because I have never been on a plane, or even out of the country. We were delayed 2 1/2 hours before making it to our destination 18 hours later. Mechanical problems, Medical Emergency, Peanut Allergies…
When we arrived in Fukuoka there were people waiting for us. They were holding signs that said "SANIX"! When we arrived by bus from the airport to the "Global Arena", it was around 11pm., we had been traveling all day and night.
The next morning we had breakfast in a cafeteria and had our first Japanese breakfast. I was surprised by how beautiful the country-side was with all the hills and mountains. The Global Arena complex was great.
We worked out for 3 hours in the morning with the Japanese National Cadet team. I have never worked out so hard in my life. Everyone seemed to be really nice. Lunch time and back to another 3-4 hours of workout. The training from all the instructors and coaches were consistent and knew exactly what they were doing. The technical training was interesting as there was a Gi with different color spots on it. These spots represented where we should be positioning our bodies and how we should be pulling or lifting.
At the arena we slept, ate and trained all as a team. Up by 6, breakfast by 7, and training started by 8:30 till lunch at noon. Then more training till 5:30 then dinner.
The 24th we got to go into town to do a little shopping at a mall. Team USA took a bus and walked to the mall. Christmas in Japan was fun.
I fought against an incredible team who made it to the semi-finals. I must say they know their judo! My team fought hard but it just wasn't our day.
On the 6th day we took a boat to Osaka which was overnight and was 12 hours. We had a dinner and a breakfast on the ship then took a bus from Osaka to Nagoya to the Tasei middle school. The bus trip took us through some mountains and the scenery was pretty, there were some snow caped mountains. The bus trip was over 3 hours long.
When we got to the TASEI School everyone participated in a Japanese New Year's tradition where we all took turns "Pounding Rice" with a big hammer. As the rice get pounded it turned into a dough and it is then use in a traditional New Year's meal. It was fun and everyone cheered as we took turns "Pounding the Rice". I met some awesome young girls. We exchanged contact information so we could keep in touch. The kids from the school were all so happy to meet Americans for the first time.
The tournament at the Tasei School were individual matches. The school had a big Dojo in it and Team USA fought hard. The boy's team did pretty good but the Japanese team were excellent. The girl's team fought hard also, but didn't make it out of the first round. I worked hard and ended out getting pinned in the end.
We did some site seeing were we visited a Shinto Shrine and an outdoor museum. It was fun and exciting to see a mix of "Old Imperial" and newer "Modern Japan". We also went to a shopping district in Nagoya where there were blocks and blocks of stores. After shopping we eat dinner at Denny's.
I had such a great experience and for only being 13 and to say I went to Japan, to represent the United States in a judo tournament is INCREDIBLE!
Thank you for all the work that made this trip fantastic. My Judo will never be the same.
Grace Magee
Birmingham Girls Konan Team Sanix 2016