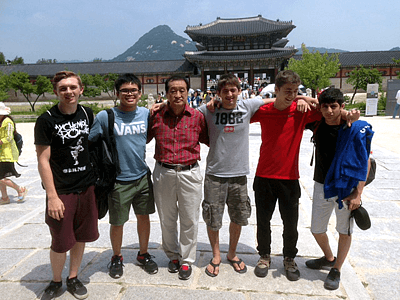 Hello President Asano,
Here are letters from the students who have been able to participate in the 2016 USJF High School Special Training Camp in Korea. It pleases me that they had such wonderful experience.
I hope you will enjoy reading their messages below.
Also, I am grateful to have had the USJF High School Special training camp in Korea.
As always, we appreciate your extra care and efforts for this Special youth program.
Best regards,
Joon Chi
Dear Sensei Chi,

As the youngest and least experienced in attendance I am gracious to have had such an opportunity. Arriving in Incheon alone, looking for a man I had only seen once and spoken to in the midst of a hazy rush of tournament induced adrenaline left me with thoughts of home and who really are you? Yet in this time, when you had found me in a half frantic search and greeted me with open arms it was the most accepted I had felt in the previous fifteen hours; temporarily muting the shock of culture and surrounding of strangers, people who I had no relation to except judo, but people that wouldn't staystrangers for long.

Bonding, talking, making friends – any way it is synonymized will always be what it is for me: an arduous endeavour with no intermission. Although I may talk and answer monotonous questions, forging a real connection with someone doesn't typically happen for me; except it did. Scrambling through the beginning gawky conversing and a hard night's sleep the traveling to the Museum of Korea was an early turning point in the trip which conceived a first breath of comfort. It was there that strangers lost their titles and became so much less of forgetful faces, and so much more of friends, it was there that walking with two men, and four other boys became exploring with Sensei Chi, Mr. Chi, Corbin, Ari, Sandro, and Leon. A physical sensation of adventure wouldn't die, for the entire week would prove to yield new experiences that will forever change me as a judoka, and a person.

Home being so far away I was fearful not for the distance, but for the people I would be with; now I realize I had nothing to fear. Despite spending a mere nine days in Korea, nine days with the students and four others, and nine days with you I see myself as a much more well rounded person with friends thousands of miles away. it is for this that I am forever grateful for your love for judo and the people that keep it alive. Thank you for accepting me.

With love and appreciation,
Peter Smedley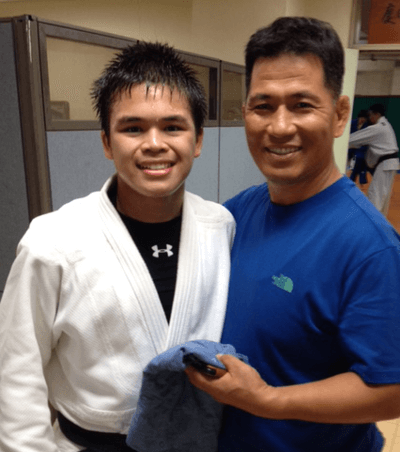 Sensei Chi,

Below is what I have written regarding the 2016 Korea Training Camp.

This trip is the second time I have been to Kyungmin High School, and even though it was the second time, it was still incredibly challenging and rewarding. The teachers at Kyungmin knew how to make a difficult but fun practice that gets the best out of each player. Everyone on the Kyungmin team was strong, and they all knew how to fight well. The experience was very humbling. The senseis at Kyungmin were kind to their students and our American team, but strict as well. They were very keen on having us improve our judo technique and throws. Off the mat, the students were very friendly and helpful to us. They talked with the American team and we shared food and played games together. Sometimes, we did not practice at Kyungmin and instead went to the Korean Olympic Training Center. There, we practiced with elite Korean high school and university teams. We also were training on the same mat as the Korean Olympic team. After the randori, we were able to get thrown by them.

To practice at the Olympic training center was an honor and very humbling. We were able to practice at both the men's and women's training center and the training was very difficult in both. We had the opportunity to come to the Olympic Training Center later and visit their gym and eat lunch there. Inside the gym were many Korean Olympians and filled with posters about the Rio Olympics and past Olympics. Everyone inside the gym was working out to the best of their ability, and you could feel the energy and anticipation in the air. Then we had lunch with the director of the Olympic Center. The cafeteria was huge, with good food being served and posters for the Olympics all over. In addition to the Olympic Training Center, we visited Korea's capital, Seoul. We saw the imperial palace and saw museums of Korea's history. Then we went to go shopping and find souvenirs at the shopping district. We also visited a sauna to relax after difficult training. The whole team enjoyed these experiences, both difficult as well as enjoyable. I would like to thank Mr. Joon Chi for taking me and the rest of the American team on this trip, as well as the teachers and coaches of Kyungmin High School for letting us stay here and treating us so well. Thank you to the USJF for giving me the opportunity to participate in this program. The experience of coming to Korea for a second time was fantastic and I am very grateful for the opportunity to come again.

Thank you again for letting me come on the trip. Best wishes for the rest of the year.

Regards,
Corbin Balitactac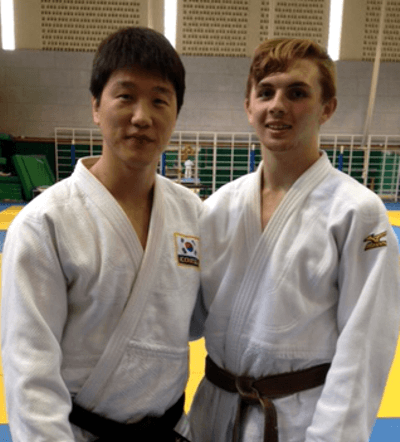 Hello sensei,

This trip was another great experience for me like last year. Even though I came last year for this trip I still learned new parts of the Korean culture and judo. I learned a new style of judo which makes me want to continue this style and enhance it myself. Because of this trip I now have the determination to sharpen up my skills and get ready for the important tournaments that the world has to offer. I also got to meet new people from this trip such as Peter, Coach Oh, and Mr. Han. I also got to meet more of the Korean boys that I didn't get to meet last year. The boys at Kyung-Min high school were very warm hearted and really kind and funny to talk to. When it came to judo the boys were very determined and always were happy to be your partner. The Korean coaches i met on this trip were really friendly and always knew how to make you feel comfortable during judo. They were excellent coaches and respectful towards judo. We also got to visit the Korean olympic team and practice with many other olympians and this had to be one of best thing i have ever experienced. I really love this high school because it made me feel right at home and I would love to visit it every year. Of course, I would've never made it far enough to Korea without my warm hearted sensei, Joon Chi. Thank you sensei for the pleasurable experience of my life I will never let you down and I will never give up.

Sandro Chaladze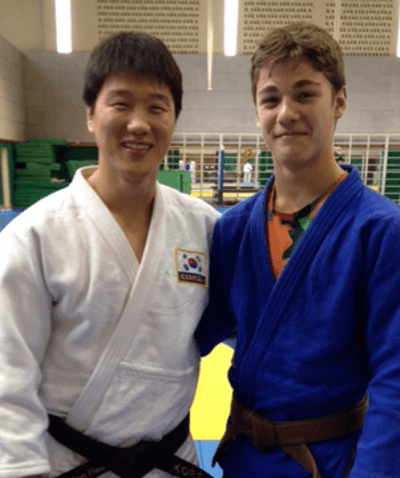 USJF Sponsored Korean Exchange Program

Coming back to Korea was absolutely exhilarating, the same faces grown older, new coaches, teammates, students and people all made for a new and fantastic experience that I'm honored to have been able to undertake. Once again Sensei Joon Chi met us at the airport, took us sightseeing, and made the trip as fun and efficient as possible.

The training environment consisted of generally three practices a day, one conditioning, two judo. All workouts began with about five minutes of stretching before and after. The conditioning workouts were generally centered on cardio and upper-body training. Some of it contained plenty of running and sprinting exercises, Carries (Fireman's Carry, Wedding Carry Etc.), Wheelbarrows (Forward, Backwards, Hopping), and many, many hundreds of pushups. The Judo workouts centered on 100-200 Uchi-Komi's/Three man Uchi-Komi's, atleast an hour of randori, and nagekomi to finish practice. Many of the students are some of the best in the country for their age and weight, always providing a challenge when sparring. To keep up with this training schedule, the students are fed three rather large meals, cafeteria style, with (In my personal opinion, some of my teammates would argue otherwise) amazing Korean food from Bulgogi to Dak Gui and a near endless supply of Kimchi and rice.

Some of the major highlights this trip were the chances to train at the Men's and Women's Korean Olympic Training Center, meet many of their Olympic Champions and stars, as well as view the strength and conditioning training of a variety of different Korean Olympians just a month before the Olympics. It's difficult to describe how amazing these opportunities were, and getting to train on the same mat as multiple World and Olympic Champions was simply incredible.

Sensei Lincoln Han, and Sensei SeungJun Oh were great support this trip. They provided tactical advice on dealing with gripping techniques, corrections on throwing, newaza, etiquette, and Sensei Oh gave the team personal workouts. Their time and advice was a great addition to the trip.

Thank you to the USJF, Sensei Joon Chi, Sensei's Oh, Han, and Kyungmin Highschool. I'm honored to have been given the opportunity to make this trip once more, and new training, food, people and experiences made this trip as rewarding as the last.

Ari Berliner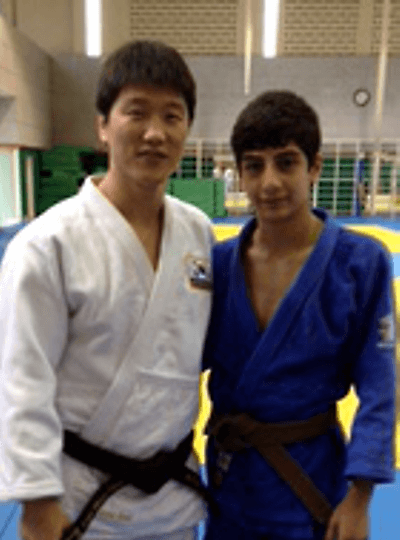 I enjoyed the hard work, getting up at 5 in the morning for conditioning, then judo in the afternoon and judo again at night. I enjoyed training at the Olympic center and meeting all of the Olympians and Olympic champions. The training was really hard and I learned a lot from it. I learned a lot of different fighting styles and I learned a lot of new judo techniques that I will start using. I started doing a lot of new conditioning drills that I learned. the first few days I couldn't take the training because it was to hard but then I got used to it and wanted to train more. I feel like I got a lot better now. The food was really good and I ate a lot of new foods that I never tried before. I made a lot of Korean friends. This was a amazing experience for me and I would love to go back.

Sincerely,
Leon Simakhov