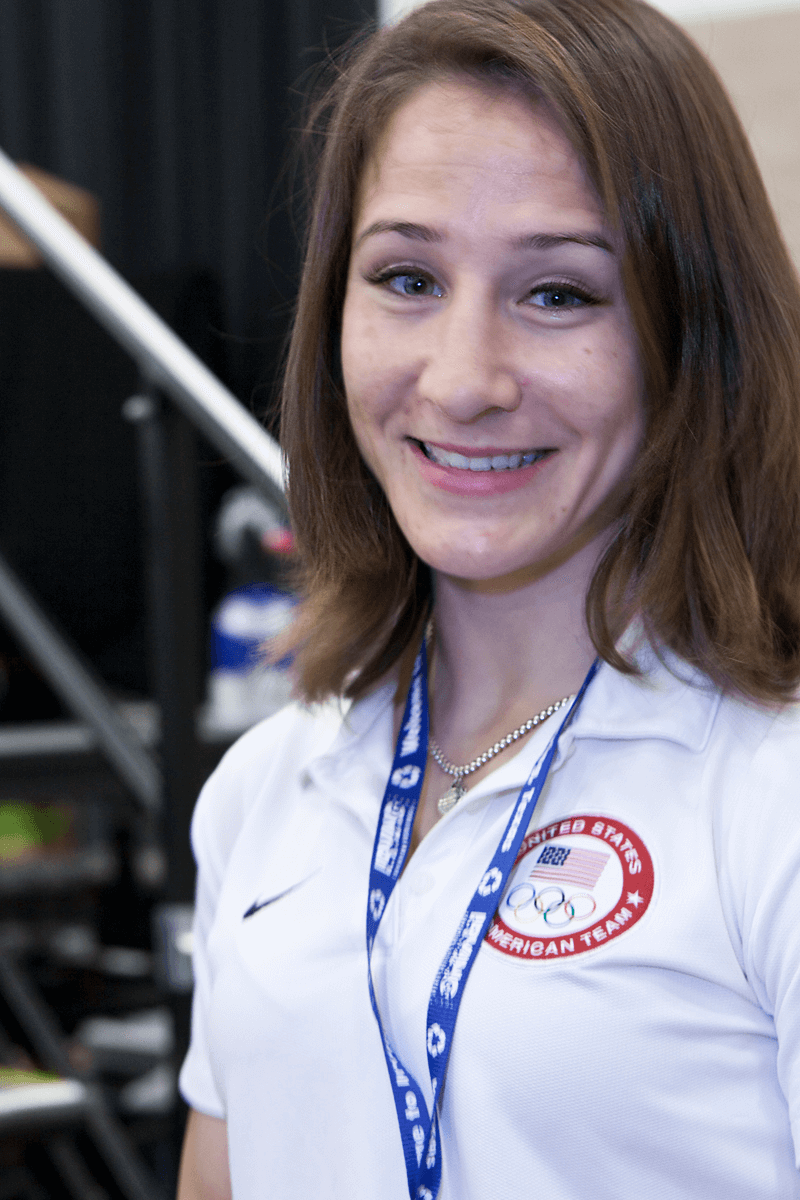 At the 2016 US National Championships in Dallas in early April the USJF Roving Reporter spoke with the three women who are representing the US Olympic Team in Rio in August. The first interview was with Angelica Delgado, and the second interview in this series of three was with Marti Malloy.
Marti, the last four years have been different from the years leading up to 2012. Could you reflect upon that difference and how doing so well in the 2012 Olympics changed things for you?
"I think that the main difference between now and London is that I barely qualified for London. The top 14 qualified and I went in at number 12. And because of that you wouldn't have called me a 'favorite', so I think a lot of people felt that 'She's lucky she made the team'. Fast forward, and I take the bronze medal, and now it's four years after that date and not only have I been qualified for a long time, I easily qualified for the Olympics, I don't have to go to any more competitions and I'll still be fighting in Rio, which is a great security blanket and it takes a lot of that nerves and anxiety away that probably half of our potential Olympic team is probably feeling right now, knowing that they have to go to the PanAms and they've got to do well.
"And I know what that's like, as well, because I hadn't qualified for 63 kgs for the Beijing Olympics in 2008 and I had to go to the Pan Ams and all I had to do was take a bronze medal. And I lost in the first round because I was so anxious and so nervous about making that happen.
"So taking those twelve years into perspective, not making the team by a small margin, then barely making the team and getting a bronze medal, now I've come a long way, full circle in a way. I feel very confident, feel like I've had four years to take my potential that I had in 2012 and make it even better."
Judo has been a part of your life for a long time. How do you see that changing as Rio approaches and then passes?
"I don't see that changing at all. Judo will always be a part of my life. People always say, 'When you retire, what are you going to do next?' But retiring from competition does not mean that judo leaves my life. I'm going to teach, I'm going to coach. People go to the gym every day and they work out and they exercise, and I will be doing judo as my exercise, because I absolutely love it. I almost wish that I would never even have to be in that position where you need to retire, because I love competing and I love challenging myself to get better. But it becomes out of your control as you start getting older and your body can't hang in there as much, and you get injured.
Could you talk about how judo has changed or not changed and what you would like to see?
"I would like to see more high level competitors, more harnessing and funneling of young athletes that aren't necessarily successful but have dabbled in international competition get more competition and do what we did when Kayla and I and Nick Delpopolo and Michael Eldred and Travis Stevens all did the under-23 team when we were in our late teens. We were introduced to international competitions and the international players that we would have never, ever gotten our hands on and realized how big the judo world is. If we hadn't been on that team and Jimmy Pedro hadn't said 'You're going to Italy, you're going to Germany, you're fighting in these B-level competitions, then you're doing the training camp' because that's what he and USA Judo put together as a schedule.
"And for me that was an eye-opener, because I realized that although I may be #1 in the United States, but there's a whole other world of judo out there and I need to meet that level. So it was an eye-opener for me, and I think that a lot of American kids now need to do that.
"They talk about the financial distribution of wealth in the United States – the top 1% and then everybody else. Not in terms of wealth but in terms of the dispersion of ability in judo, there's kind of this top few percent of a few people and then everybody else is kind of in a gray area in between. Some are a little better, some are so-so, but we haven't had a consistent rush of players that are at that next level and that are going to get good results or potentially will later on.
"I'm hoping that with what Jimmy Pedro has been doing over the last few years, trying to harness those young kids and get them to go to the training camps that all the top players, Kayla and Travis and I are at, that they're going to be that next era."
---
Marti Malloy will be representing the United States in the -57 kg division in Rio de Janeiro. She is currently ranked 5th in the International Judo Federation's World Ranking List, and will be seeded #3 at the Rio Olympics!
photo by and interview with Chuck Medani