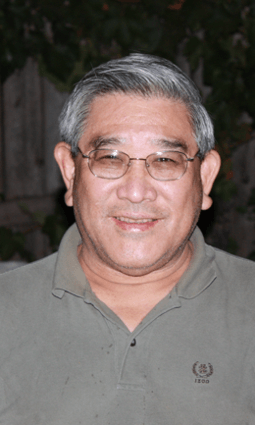 Matsuo 'Mac' Takeda
Inducted 2016
Head Instructor 7th dan at the Sacramento Judo Club, Inc.
Born December 14, 1944 at the Internment Camp, Gila Rivers, Arizona
Raised in the Fowler and Fresno area on a farm
Education
1967– BS Degree, Agribusiness-Agronomy, California State University, Fresno
1968–1969 Judo and Japanese Language, Tenri University, Japan
1969–1972 MS Degree, Plant Science, California State University, Fresno
Professional history
Program Supervisor, California Environmental Protection Agency, the Department of Pesticide Regulation. In charge of state-wide licensing and Certification Program which regulates the recommendation, sale, and use of pesticides in California. For 36 years employed by the State of California. Retired.
Judo History
1957, started Judo at the Fowler Judo Club at age 12 under Sensei Toshiyuki Yamauchi (8 Dan), one of pioneers of American Judo and Sensei Frank Kawano (6 Dan). His father insisted that he take Judo since he was weak, skinny and uncoordinated. Mac's first two years of Judo were very difficult and miserable as he was continuously being thrown and pinned by other players. Mac says he dreaded going to practice but continued at the insistence of his father. In 1959, Sensei Haruo Imamura (4 Dan) now 9 Dan came who was an all-Japan High School Champion, Tenri University Captain and the USA Grand Champion at the 1960 US Senior National Judo Championships. After graduating from California State University, Fresno in 1967, Mac traveled to Tenri, Japan in 1968 to study Japanese and practice Judo under Yasuichi Matsumoto (8 Dan), Japan's first Olympic Coach in 1964, Hashimoto (8 Dan), Koga (6 Dan), Inouye (6 Dan), and coach Isao Okano (6 Dan). After a year in Japan, he returned to the USA and completed his Masters degree in Plant Science. He continued to train and teach Judo in Clovis, Fowler, Visalia, Bakersfield, Reedley and Tulare before moving to Sacramento in 1978. In 1978 he joined the Sacramento Judo Club as an Instructor and became the head instructor of the Club in 1992.
Family
He is married to Keiko and has three children who all have black belt ranks in Judo. Tina- 1 Dan, Harvey- 4 Dan, and Eric- 2 Dan. His children all graduated from the University of Davis in the biological Science fields. Harvey Takeda received his Doctor of Physical Therapy from the University of the Pacific.
Judo Promotion Hisotry
Started Judo in 1957 at the Fowler Judo Club in Fowler, California under Toshiyuki Yamauchi- 7 Dan. In 1962, Mac received his shodan (1 Dan); Nidan (2 Dan) in 1964; Sandan (3 Dan) in 1973; Yondan (4 Dan) in 1977; Godan (5 Dan) in 1987; Rokudan (6 Dan) in 1996 and Shichidan (7 Dan) in 2006.
Competition history
As a competitor Mac's credit include the following: Many times Regional Judo Champion in his division from 1960 through 1990, 164 lbs National Collegiate Champion in 1967; 1977 Western Regional Judo Champion- 176 lbs; Central California Grand Champion and many times Central California Champion in his weight class; US Senior National Judo Championships quarter finalist and semi-finalist; National Masters Champion in the -95 kgs, -100 kgs, +100 kgs and Open division from 1983 to 2005.
Regional and state activities
Hokka Vice President, vice chair and now Chair of the Board of Examiners for the Northern California Judo Association (Hokka), Referee Clinic Chair,; Member of Hokka Board of Directors. He is also an accredited National Referee and Continental Coach. California Judo Inc.- Chair and member Board of Examiners, past vice president, Chair of Standards and Certification Committee, Representative to USA Assembly and member of Board of Directors when CJI was a part of USA Judo.
National activities
United States Judo Federation: USJF Life Member and Vice Chair of the National Board of Examiners, Board of Directors Hokka representative; served as an Executive Board Member; Promotion Committee Secretary and vice chair; Member of the Referee Development Committee; Junior and Youth Development Committee served as Chair and Vice Chair, Hokka delegate to the USJF National Meetings and member of Strategic Planning Committee and Teachers Institute Committee. United States Judo Inc.: CJI delegate to USA Assembly; Nationally certified Referee and Coach. Life Member of USA Judo.
Tournaments
Director of the annual Capital Open Judo Tournament in Sacramento since 1992. Director of the California State Judo Championships in 1997, 2002 and 2014. Director of the USJF Junior, Youth and Team Judo Championships held in 2002.
Club
Has over 100 USJF registered members annually
Awards
1996 USJF National Coach of the year.
2000 Time Management Award from USJF President Mitchel Palacio
2005 California State Development Coach of the year.
2012 Sensei Jigoro Kano Statute award from USJF President Neil Simon
Many times top 10 USJF club membership award
Certifications
USJF Self Defense Certification, Teacher's Certification and Coach Certification, Safe Sport, CDC concussion certification and CPR, first aid and ADE training. Nage no kata and Katame no kata Certification as an A level Judge and teacher.