The Hall of Fame Committee have announced four new names: Kayla Harrison, Marti Malloy, Howard Nishioka and James Tekemori. Their profiles follow here.
---
Kayla Harrison
Kayla Harrison made history at the 2012 Olympics in London by winning the first Gold Medal by any American (man or woman) in the history of the sport of judo. Her victory marks another step in a career characterized by success at the sport's highest levels. Kayla's judo career has been undeniably impressive. However, it is her perseverance through incredible personal struggles that is truly inspiring.
Kayla began judo at the age of 6. As a teenager, she quickly distinguished herself as one of the top junior players in the country. Among other national titles, she won the Junior U.S. Open in 2003, 2004 and 2005. She was a two-time US Senior National Champion before she turned 18 and she became only the third American to win the Junior World Championships in 2008. She won a Silver Medal at the Junior World Championships in 2009 and became Senior World Champion in 2010. She was only the fourth American ever to become World Champion. Since 2008 Kayla has been on a world podium every year.
Her competitive success masked an unimaginable personal struggle. At the age of 16, Kayla revealed the fact that she had been for years sexually abused by her coach. After the story came to light, Kayla moved from Ohio to Massachusetts to train with Jimmy Pedro, a two-time Olympic Bronze medalist and his father Jim Pedro, Sr. The Pedros became Kayla's coaches but also her surrogate family. When she arrived in Massachusetts, she entertained suicide, was depressed, hated judo and wanted to run away. Through discipline, tenacity, and the support of others she fought through the pain both on and off the mat, transforming herself into a strong, confident, articulate young woman who happens to be a world-class athlete.
She also summoned the courage to face her abuser, delivering a victim impact statement at his sentencing hearing in Federal Court in Ohio. She intends to use her Gold Medal profile, voice, and example to encourage and empower others. She also plans to maintain her dominance on the mat by remaining a competitive Judo player with sights on defending her Gold Medal in Rio in 2016.
Kayla created the Fearless Foundation to shine a light on the darkness that is child sexual abuse and to enrich the lives of survivors through education and sport, leading survivors to mastery and enabling them to flourish in all aspects of life. She is a member of the Board of Directors of Doc Wayne, an organization that provides sports-based therapy for at-risk youth, and uses her voice on behalf of countless organizations dedicated to protecting children and women.
Kayla was awarded the 2012 OC Tanner Inspiration Award, The Women's Sports Foundation's Wilma Rudolph Courage Award; was named one of Glamour Magazine's Women of the Year for 2012, Boston Globe Magazine's Bostonian of the Year, and the Boston Sportswriter's Association Athlete of the Year. She has been inducted into the New York Athletic Club Hall of Fame and the Middletown High School Hall of Fame.
Kayla Harrison's Career Highlights
2014
Bronze – World Championships Chelyabinsk
Silver – Russia Grand Slam
Gold – Miami World Cup
Silver – El Salvador World Cup
Gold – Cuba Grand Prix
2013
Gold – Senior Nationals (-70kg)
Gold – World Cup Argentina (-70kg)
Silver – World Cup Uruguay (-70kg)
Bronze – Pan Am Championships (-70kg)
2012
Olympic Champion
Gold – Brazil Grand Slam
Gold – German Grand Prix
Gold – Hungary World Cup
Gold – Czech Open
Silver – Paris Grand Slam
2011
Gold – Pan-American Judo Championships
2010
Gold – Senior World Championships
Gold – USA World Cup
Gold – Sao Paulo World Cup
Gold – Venezuela World Cup
Gold – El Salvador World Cup
Gold – Birmingham World Cup
Gold – U.S. Open
Gold – USA Judo Senior National Championships
Silver – Uzbekistan World Cup
Bronze – Rotterdam Grand Prix
Bronze – Senior Pan American Championships
Bronze – Dusseldorf Grand Prix
Bronze – Warsaw World Cup
Fifth – Rio Grand Slam
2009
Gold – USA Judo Senior National Championships
Gold – USA Judo National Junior Olympic Championships (IJF-Junior, 78kg)
Silver – Junior World Championships
Bronze – Belo Horizonte World Cup
2008
Gold – Junior World Championships
Gold – USA Judo Senior National Championships
Gold – U.S. Olympic Team Trials for Judo
Gold – Fall Classic National Championships
Gold – Junior World Team Trials
Gold – U.S. Open
Gold – U.S. Open (Open)
Gold – USA Judo National Junior Olympic Championships (IJF-Junior, 78kg)
---
---
Marti Malloy
From Washington to the Olympic Stage
Hailing from Whidbey Island located in beautiful Pacific Northwestern Washington, Marti has been doing judo since the age of 6. She picked up the sport alongside her older brothers and after winning her first competition just months after starting she set her sights on one day being an Olympic Champion. 20 years later with numerous national and international successes under her belt she has made a name for herself in the sport where she is the #1 player in the United States at 57kg and #6 on the planet. Marti also made her life-long dream of being an Olympic medalist come true in 2012 when she took a bronze medal at the London Olympic Games defeating a tough and talented field along the way. While qualifying for the 2012 Olympics Marti attended San Jose State University where she served as team captain for 3 years before graduating on the Deans List with a BS in Advertising. In 2013 Marti had one of her best years ever taking a gold medal at the Miami Grand Prix, a silver medal at the World Championships and a silver medal at the prestigious Tokyo Grand Slam all while pursuing a Masters Degree in Mass Communications at San Jose State. In the big picture,next up for Marti is the 2016 Olympics in Rio where she hopes to realize her big dream of Olympic gold.
---
Hayward Nishioka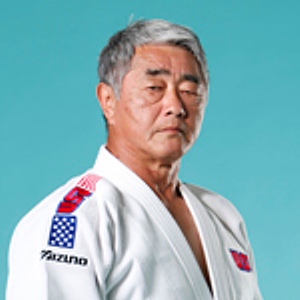 Hayward Nishioka is the retired Professor of Kinesiology and Health, Los Angeles City College for 41 years teaching judo as a credit course.
His education cullminated in an MA. in Physical Education and MA. Administrative Education, CSULA.
He obtained these credentials – California Community College Chief Administrator Credential, Supervisors credential, and Instructors credential, (Lifetime) Standard Secondary Credential.
He has attained the status of 8th Dan (since 2002).
As a competitor:
Placed 5th in the World Championships 1965 and 1967
Pan American Games Gold Medalist, Winnipeg Canada 1967
U.S. National Grand Champion 1965, runner up 1970.
U.S. National Champion 1970, 1966, and 1965
U.S. Overall Kata Champion 1978 and 1979
He has also been the "A" level Coach for USJI at the following events: Head Coach for Guido Sienne, Tre Torri, Canada Cup, Good Will Tournament to Argentina, Pan American Championships (twice), World University Games, Pan American Games in Cuba. Assistant Coach at the World Championships 1987,1989,1993,1995,1997,1999. 84 Olympic Training Site Manager.
He has acted as "A" level IJF Referee at the following events: World Military Games (twice), World University Games, Pan American Games (twice), Pan American Championships (twice), Kano Cup, Fukuoka Cup, Canada cup, German Open, Dutch Open, Hungarian Open New York Open, U.S. International Invitational (Numerous times), 1996 Olympic Mat "A" Technical Observer.
Administrative positions:
Past President of California Judo, Inc.
Past First Vice President (NANKA)
Past President of Southern California Collegiate Judo Association
Past Chairperson of Public Relations (USJI)
Past Chairperson of The Teachers Institute (USJF)
Past member of the following Committees:
Referee Commission (USA Judo)
Promotions Committee (USA Judo)
Athletes Representative (USJI)
Coaching Committee (USJA)
Current Chairperson of Coach Development (USJF)
Current member of the following committees:
Board of Directors and Board of Examiners (USJF)
Teachers Institute (USJF)
Board of Directors (NANKA)
From his list of publications are
Foot Throws, Ohara Publications
The Judo Textbook, Ohara Publications
Judo Heart and Soul, Ohara publications
Training for Competition Judo, Ohara Publications
Excellence in Judo, Palacio Publications
He has produced over 35 videos on judo, the first "I (HEART) JUDO" bumper sticker published in the early 1980's
and the first popular 'throws of judo chart' published.
He has published over 150 judo articles in various magazines, plus others electronically.
Among honors received are
Scholarship to Tenri University
Kodokan Kenshusei
Selected to demonstrate nage no kata at the All Japan Championships 1962
Member of the U.S. Goodwill Team to Europe 1964
Member of 2 U.S. Judo Teams to the World Championships, 1965, 1967
Black Belt Hall of Fame; for competition 1967, for coaching 1972
The Johnny Osako Award for excellence in refereeing
Shodan in Shotokan Karate
Shodan in Kendo
---
James H. Takemori
James H. Takemori wrote the following about his judo experiences.
In 1937 at the age of 11, I had my first taste of judo in the small town of Parlier, California. My sensei was a Buddhist reverend. When I first started practicing ukemi it gave me a headache and made me sick. I had to wait over 2 years to get into the judo club because they had too many kids practicing. My dad begged the sensei and finally the sensei consented to let me practice.

The Parlier club was closed after a couple of years (I don't know the reason). The club moved to Reedley, California. By then, most of the kids stopped practicing and a few other kids and I and our black belts settled in our new dojo. The Reedley Judo Club became quite strong in the central California area. We competed in Northern California (San Francisco area). I was on of the shonen team (13-16 age) and we came in second to the Lodi, California team in competition before the war.

My family and I were incarcerated in the Gila, Arizona Relocation Camp during the war years. In camp, I practiced judo 5 days a week. Most of the judoka were black belts. I was shonen champ in camp.

At 18, I was the first draft from the camp in 1944 to the Army. I was in Camp Shelby, Mississippi, the home base for 442nd Infantry Battalion. I attained the rank of First Field Sergeant. I was sent to Italy. After the war in Europe was over, they asked for volunteers to go to the Japanese language school in Ft. Snelling, Minnesota. I took and passed the test and was sent back to the States. I was supposed to go to the language school, but the Company Commander wouldn't allow me to go because he wanted me to keep the peace between the nisei kids from Hawaii and the States. I got out of the Army in 1946 and moved to Seabrook, New Jersey. After a couple of years, the family and I moved to Washington, D.C. and went into the restaurant business.

I started back to judo in September of 1952 when judo was started up by Bill Berndt and then Donn Draeger and Kenzo Uyeno, which became the Washington Judo Club. In 1953 they had the first National Judo Championships in San Jose, California. They had 4 weight categories- 139, 150, 180 and heavyweight. I fought in the 150 lbs division as a Nikyu and defeated three Nidans and received a batsugun promotion to Shodan.

In 1953 the Shufu Judo Yudanshakai was organized. It was the governing body of all judo clubs on the East Coast. There wasn't much judo on the East Coast at that time. We officials traveled throughout the East Coast area- New England area as well as the Southern States helping the judo program. Many judoka were coming back from the orient, so there were people mostly from the Marine and Army bases. Of course there were many people interested in learning judo also.

I competed until 1960 and retired from competition at the age of 34. When my student Jimmy Bregman (the Bronze Medal winner of the first Olympics in which judo was included in 1964 in Tokyo, Japan) started throwing me around it was time for me to retire.

I was the United States Judo Federation Junior Chairman for many years. My first National Senior Men's Coach job was at the World Championships in 1969 in Mexico City. I was coach to the first women's senior world team in 1980 (first women's World Championships) in New York City. I coached the women's team until 1991. In that capacity, I traveled to Japan about 10 times, as well as Korea, Hong Kong, Moscow, Germany, Austria, France, Poland, England, Belgium, Puerto Rico, Cuba, Colombia and Venezuela.

I have held many positions with the United States Judo Federation and am now the Chairman of the Promotion Committee.

I am also an International Judo Federation class B referee. Four of my former students are International class A referees. One of my daughters is a class A referee. I have four daughters, three hold rank of Kodokan Godan, and one Sandan.

My judo rank is currently Hachidan (8th degree black belt). I teach judo three days a week at Georgetown University and two days a week at the Naval Academy in Annapolis.

Awards and other highlights

Henry Stone Award – In recognition of significant contributions in promoting the efficient administration of the sport of Judo under the auspices of the United States Judo Inc. Presented by the Board of Directors, United States Judo, Inc. 1975
John Osaka Award – In recognition of his contribution to Judo as a referee by demonstrating integrity and selflessness to further Judo. Presented by Board of Directors, United States Judo, Inc. 1999
Ambassadors Citation – In working for the proliferation of the sport of Judo in the Washington, D.C. area contributed to the improvement of mutual understanding and friendship between Japan and America. With this citation, the Ambassador of Japan (Ryozo Kato) acknowledged distinguished service and expressed his deepest respect. Presented by Ambassador of Japan, Ryozo Kato- April 16th, 2002
New York Athletic Club- Lifetime Achievement Award – Presented at the 21st NY Open Judo Championships on March 7th, 2004 in recognition of his lifelong dedication to the sport of Judo.
Japan's Emperor of Japan Order of the Rising Sun, Gold and Silver Rays – Presented for his lifetime contribution to Judo in the U.S. –presented on November 3rd, 2004
Virginia State Lifetime Achievement Award – Presented for many years of extraordinary dedication and devotion to Judo. Presented on March 4th, 2006

• Kodokan Hachidan
• International B Referee
• Four of his students: David Long, Gary Berliner, Roy Englert and daughter Teri Takemori have their International A Referee licenses. Michael "Tad" Nalls is an International B Referee. Many other students are National Referees.
• Class A Teachers Certificate
• Class A Kata Judge
• Class A recognized coach
• Three daughters, Miki, Robin, and Teri, are Kodokan Godans, and other daughter Chrissy is a Sandan
• Member of International Team that competed in Cuba in 1955
• US Men's Coach at World Judo Championships in Mexico City in 1969
• US Women's Coach at the first Women's World Championships in 1980
• US Women's Coach from 1980 to 1991.

Highlights of Coaching Career

• 1983 Pan American Championships in Venezuela when the women's team won seven Golds and one Bronze – Coach.
• 1982 Pacific Rim Championships when the girl's team won five Gold, two Silver and one Bronze – Coach.
• World Championships in 1984 when US won it's first Gold medal by Ann Marie Burns – Coach.
• When my student, Jim Bregman won the Bronze medal in the middle weight division at the 1964 Olympics in Tokyo, Japan.
• As a Shufu official helped to organize new Yudanshakais in the Shufu Yudanshakai area (East Coast). They were Rokushu Yudanshakai, Dixie States Yudanshakai, Hudson Yudanshakai and Florida Yudanshakai.
• At the last count, the membership in the Washington Judo Club is 87 judoka.
• At the present time, he works as jury to the referees in the USA
• At the present time in Shufu Judo Yudanshakai holds the position of Chairman of the Promotional Committee. In the US Judo Federation holds the position of the Chairman of the Promotion Committee.
sources: Kayla Harrison's website, Marti Malloy's website,
and material submitted by Hayward Nishioka and James Takemori