Today, Wednesday August 27th, began with high hopes and expectations from the U.S. Judo team at the World Championships in Chelyabinsk, Russia.
It was about 9:30 AM local time in the Traktor Arena, and the three large mat competition areas were filled with judokas from all over the world who were going over final warm-ups and reviewing strategic plans, when the roving reporter (RR) found the US team and their coach. They were gracious enough to spend a brief moment to comment on their thoughts as the start of the competition approached.
Nick DelPopolo: "I feel ready. I prepared quite well for this tournament. I trained in Russia, at Jason Morris' Judo Center (In New York), for two weeks at Jimmy Pedro's Academy (in Massachusetts), and a week in Montreal. I've trained extensively, with a lot of different styles, I've tried to get as much randori in as possible, to see as much as I could for this event, so I feel like I'm ready."
When asked how his successes in the past, as high as fifth place in international tournaments, affects his approach to this year's Worlds, he said, "I look at fifth place not quite as a curse – I've done fifth so often now- I know I'm consistent. I know I can beat anybody on any given day – I can throw anybody, I know this. It's just putting more wins together. The fact that I can get fifth is not necessarily a bad thing, it's actually a confidence booster. I get it so often that I'm always in the tournament – I'm always fighting for a medal. That's a good thing – a lot of people would kill to have that position. But I do see it now as quite a bit of an annoyance, so I want to approach it as a motivator. Now I'm going to light it up."
Hana Carmichael: "This is my fifth Worlds, and I feel great. I've already trained a lot, and definitely peaked for this, so I'm ready. I haven't placed in any of the Worlds I've been to, so it gives me a carefree attitude, I can go out there and put it all on the mat and not have to worry about placing here, so it's actually a motivator, I think. There's a little less stress because I haven't placed. I have nothing to prove, so I'll go out there, give it all I've got, throw my hips across, and see whatever happens."
Coach Jimmy Pedro: "Today's a big day. You've got silver medalist Marti Malloy taking on reigning Olympic champion Matsumoto in the very first round. But I'm very confident in Marti's ability to beat her today – it's Marti's time. I think Matsumoto's had her turn, and I think you're going to see a strong Marti come out and stay focused, be on that sleeve, out grip her, and beat her today. But after that, Marti has a very hard road. She is going to have (Teima) Monteiro from Portugal, who was one of the best in the world going into the London games and Marti upset her at the Olympics, so that's a hard fight. All day today, Marti will have one tough match after another – she couldn't have had a harder draw.
Pedro continued: "Nick Delpopolo's going up against Drebot from the Ukraine – quite honestly the guy's very strong, he's a lefty – but I think it's a very winnable match for Nick. I actually like Nick's draw. If he gets by Drebot, I think he'll win the next one and he's going to have France after that and he should go through to the quarters (quarter finals) so I'm looking forward to that.
"And then we have Hana Carmichael. She actually has a decent draw for 57 kg, which is a deep division. She's going up against Gazimova from Azerbaijan. She's a strong girl, big thrower, a big O Goshi, a big Sode. I think if Hana sticks to the game plan here, hustles and out-attacks her, she's going to win that fight. So I'm looking forward to a good day from our three athletes. It's not going to be easy, but this is the World Championships."
But despite the enthusiasm and confidence, the day didn't go as planned. Very quickly, the US team's fortunes changed.
Hana Carmichael lost her first round match against Gasimova by two waza-aris. "It was a careless mistake. I came high when I shouldn't have on someone I know uses the counter and uses her hips a lot. It was a really bad mistake on my part, a lapse of judgment, really bad on my part. I'm really unhappy, but life goes on." As for the next challenge, "Next up for me is Croatia (in early September), and then I go to Kazakhstan and Uzbekistan (in October) and then finish the year in Korea (in November). So I have a lot of tournaments to make up the points.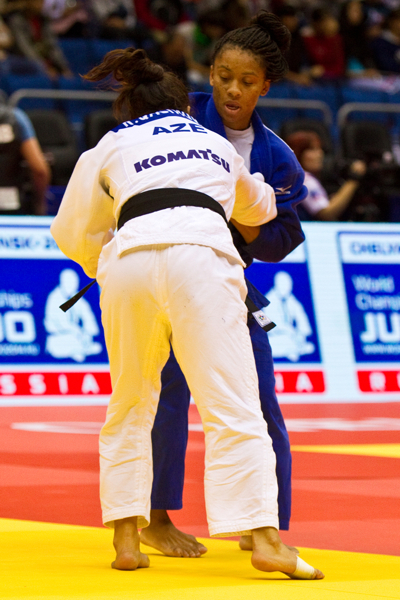 Then Nick DelPopolo lost his first round match against Drebot, behind by penalties, and near the end getting caught by a yuko. "I'm really disappointed. I was feeling really good this morning with my wind, my body, and my mind. Today my peaking worked, but tactically, I didn't do what my coach and I had planned. My response was not instinctive; it was just a matter of tactics. He is left-sided, and moves to his right. He dictated the movement and flow. The match was decided by that one shido against me for a false attack."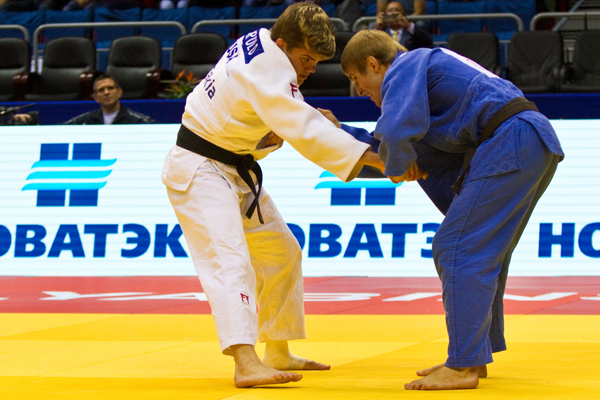 The team's fortunes seemed to have made a turn for the better, when Marti Malloy stunned the crowd and 2012 Olympic Gold medalist Kaori Matsumoto with an incredible victory in 24 seconds. Matsumoto came out after Malloy very hard and fast, Malloy fighting for control, then controlling her opponent's right wrist with a great left hand grip. She then threw Matsumoto with an ashiwaza, with Matsumoto spinning out and landing on her stomach. Marti then dropped into juji gatame for the win.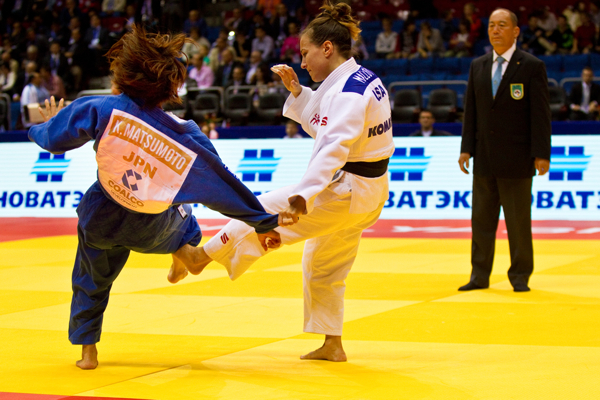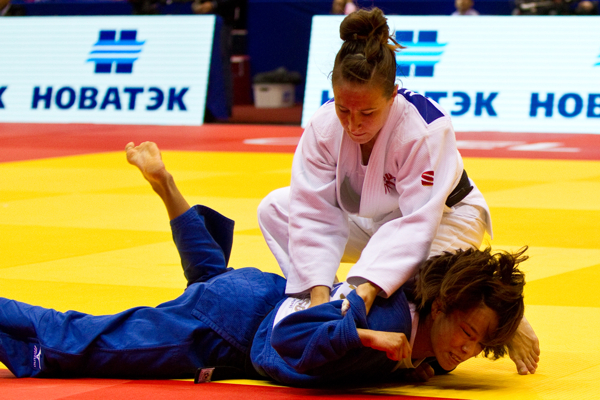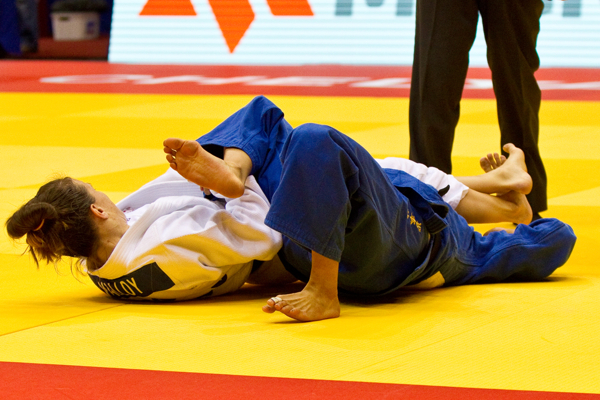 Unfortunately Matsumoto had waited too long to tap, and she could not get up from the mat, trying rise from her back, but with her right arm seemingly attached to the mat, unmoving. Malloy, waiting to bow out of the match, remained expressionless (unlike coach Jimmy Pedro, who, it might be said, was more than a little excited).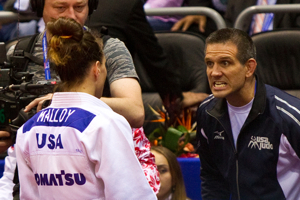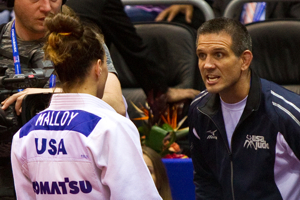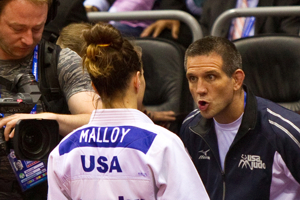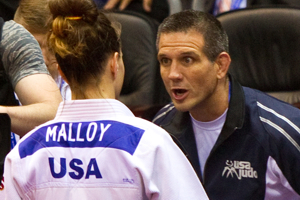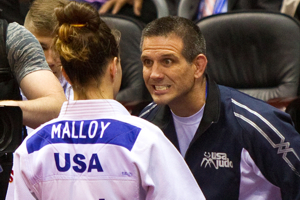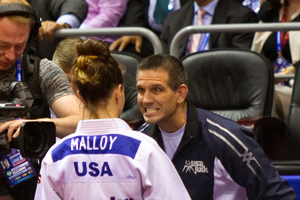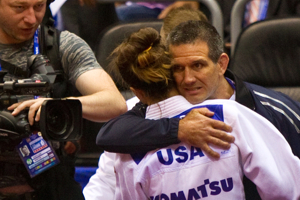 But the emotional peak was then followed by a rapid fall, with Malloy losing in the second round to Monteiro by a yuko, though Monteiro had two shido penalties against her late in the match for what your RR will call "creative non-combativity".
Later that evening, Marti spoke with the RR: "For the good part of the day, I had probably not the best draw, considering I was the number three seed. My first fight that I had imagined would hopefully be the final at the end of the day. But it doesn't really matter because you have to get up for every single fight and fight every fight like it's the final. I just try to get really motivated, and I was really happy with the win. It happened really fast, and I didn't remember everything that happened until I saw the video later. I was operating basically on instinct. She's a really tough player and I didn't want to give her any opportunity to put me in a bad position and so I was happy that I was able to win it that fast."
When asked about the armlock technique that apparently injured Matsumoto's arm, Malloy explained. "I felt some snapping feelings in her arm. But I would never want to hurt somebody in a tournament, just as I wouldn't want them to do that to me, but she just wasn't tapping. I was pretty sure her arm was extended completely, and she was kicking around a lot with her feet, and she kicked me in the forehead while she was flailing around, and so I realized it wasn't really extended so I switched angles with my hips a little, and then really drove it home, and then she tapped. I thought she would have tapped sooner. It's unfortunate because I would never want to put her out of training or judo, but that's why we have the tapping system so that doesn't happen. I really hope it's not too serious – I would hate to see it be a long-term problem for her. I know she had an injury on her other arm last year."
As for the second round, loss, "Monteiro and I have a long-standing rivalry. Obviously we've fought a lot, I think five or six times. I've only beaten her once, and that was at the (2012) Olympic Games in the first round. We go back three or four years, so I knew it was going to be a tough fight. She's very strategic, what I would call a tricky fighter. She has a very distinct style, but I was ready for it.
"She caught me early with a yuko score, and I was kind of surprised by the score because, being honest, I didn't feel my body hit the mat more than my shoulder, but I didn't want to waste time worrying or being angry about it. I knew that if the referee called it, I was going to have to fight through it and try to get the score back. I think it was a drop Sode, and I came around on the other side. But then I felt like I chased her most of the match.
"I couldn't really get my hands on her – I felt like I was running in circles, and it was kind of frustrating. I couldn't get more than one hand on her at a time before she would drop in for an attack; she was always just out of reach – she backs up a lot so I couldn't get two hands on her. But it's her style, and it works. I've been watching her for years, studying her for years, so I know what to expect from her. We can say that we don't like her style, that it's difficult, but in the end she wins.
"I am definitely one who wants to go out and get two hands on the gi and fight, and let's see which one of us is the better fighter, not play the game where they run away the whole time and you have to chase them down. This was the exact opposite of my first fight, with Matsumoto wanting to come forward and wanting to brawl. And that's my comfort zone. But everyone has what works for them, their little niche, their strategy that works within the judo rules.
Malloy will be active through the rest of the year: "I'm going to fight in Abu Dhabi in October, then in a Brazilian team competition. They asked me to fight in a club championship in Brazil, and then I'll do Tokyo at the end of the year."
It was truly a tough day for the US team. But hopes will be high again tomorrow when Travis Stevens (81 kg division) takes to the mat, healthy and eager for the podium. For the women, Hannah Martin and Leilani Akiyama will also be seeking podium honors in the 63 kg division.