Nick Kossor, fighting in his fourth consecutive World Championships, was doing everything right. He appeared cautiously confident as he worked for his grip and positioning against Lukasz Kielbasinski of Poland.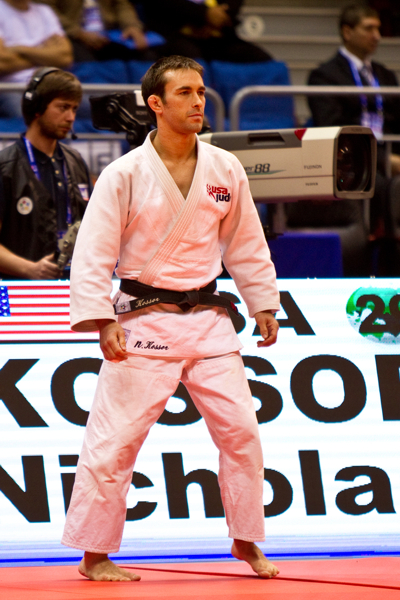 Kossor attempted his signature uchimata without effect, but still appeared to have the clear edge in standing techniques, and had a significant margin of dominance in newaza (matwork). He moved confidently and forcefully into newaza as he repeatedly forced Kielbasinski into a defensive huddle, following by effective turnovers and twice had Kielbasinski in juji gatame (armlock) after a battle to break his opponent's locked-hands defense.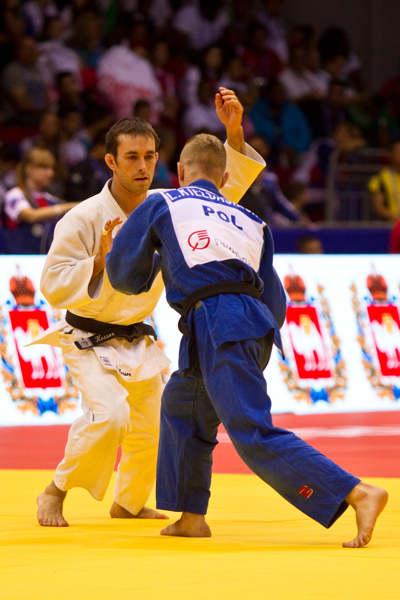 As the match moved into its final minutes, Kossor attempted a hip technique that by his own description might not have been as strong as it generally is, and was surprised by Kielbasinski's sudden, smooth, and fast stepover into his own juji gatame that was effective nearly instantly, with Kossor submitting.
When asked about his performance, Kossor immediately answered, "Today was a bummer. Coming into it, preparation-wise, I felt very, very good. I thought I did my judo properly, I did my weight well, I felt strong, and my conditioning was good. My preparation was done properly, and I felt I was dominating the match, controlling the guy, and I was in a good spot to win – I felt that I was going to win. My confidence was high, but I had a momentary loss of focus. He capitalized on that and he armlocked me. That's on me.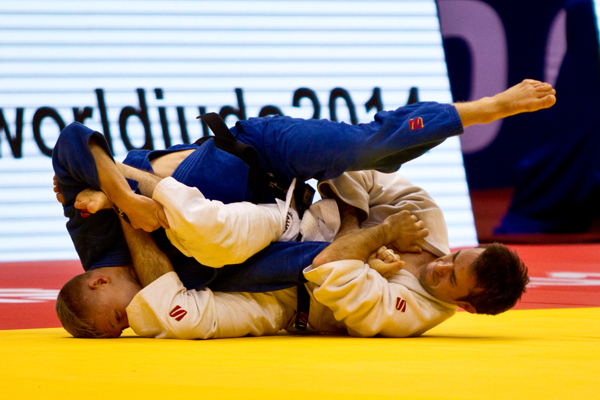 "I really felt I could have beaten the guy. Getting my hands on him he really didn't feel that threatening at all, and for sure I should have had those two juji gatames, or at least one of them…it's ironic that I lost on an armbar. Since I've been doing judo 'for real', that's the first time I've ever lost in newaza.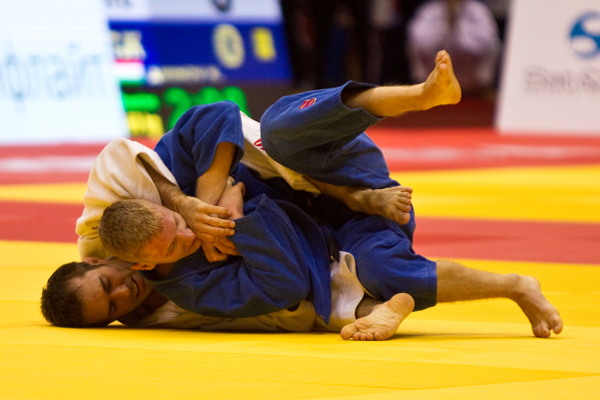 Kossor volunteered a couple of other thoughts. "This has been a really well-run Worlds. It has been a real pleasure to be here. Everything has been super smooth, very accommodating. Compared to other Worlds I've been to, this one's awesome."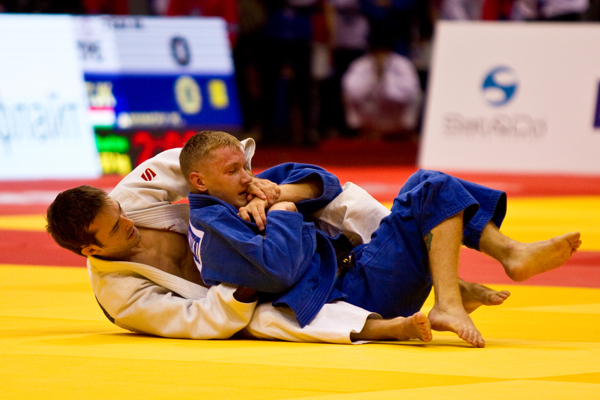 Then Nick went out of his way to add, "Win lose, or draw, in the range of things, it doesn't really matter. It's about how professionally you approach this thing that you are trying to do. There are people in this division who have far better resumes that I do. There were Olympic champions, Olympic medalists, World medalists who lost in the first round today just like I did. I'm not saying it's OK to lose, but everybody's got the same pressure to win. So I shouldn't beat myself up more than an Olympic or World medalist. And the game keeps changing. I'm not the same person or player that I was back in 2010. As time goes by, new problems arise, old problems go away, and it's a constantly evolving thing, so just take it easy, go with the flow, and just treat it as professionally as you can. My dad says you have to play the hand that you've got the best that you can, do the best with what you've got – that's what matters, in my opinion.
And so it was not a good day at the office for Nick Kossor, USA World Team member. But he made this observer realize that looking at the day's events with a good dose of realism made the bad day a little less so, and perhaps this was a good jump start to further successes for Nick Kossor.