It was morning again at the Traktor arena in Chelyabinsk, Russia, for the World Championships today, where the men's 81 kg and the women's 63 kg divisions were being contested. Today the United States fielded three of their members, Travis Stevens, Hannah Martin, and Leilani Akiyama. The RR was able to grab a couple of brief comments from two of them during warm-ups:
Martin: "This is my second World Championships, and I feel great. I did all the work that I had to do to get up here. I want to win today, and that's what I plan to do. And I have to take it one match at a time. I have to focus on one, win that one, and then the next one, until the day's over. You can't be happy with just one win – you've got to keep going for the whole day."
Akiyama: "I feel really good, and I'm excited to be here. This is my first Worlds, so I'm just going to give it everything I have. World Team training is hard – I've been busting my butt every day."
For the first round, Akiyama had drawn Isabel Puce of Spain, an experienced elite player. As the match progressed, Akiyama had her left hand tied up by Puce, and couldn't regain control. This allowed Puce to maneuver Akiyama into position where she scored an ippon (full point) by throwing her for O Soto Gare.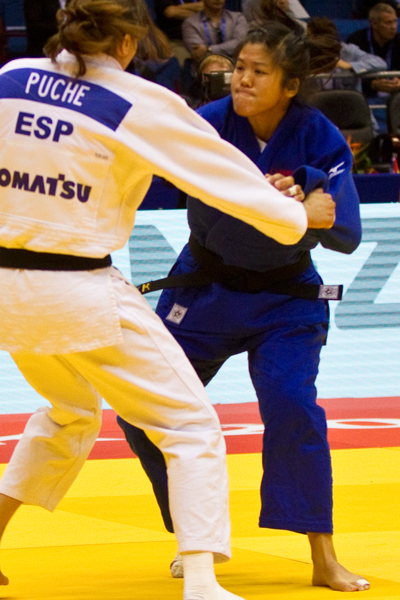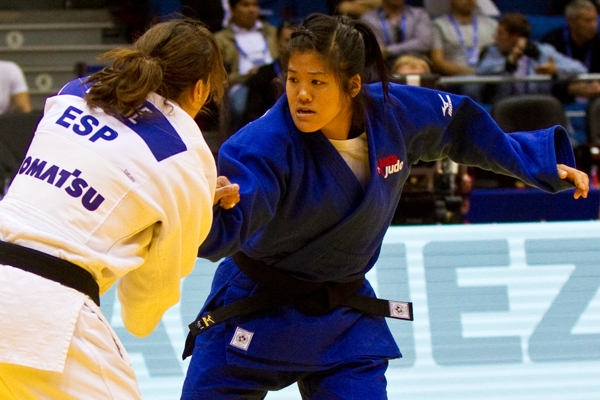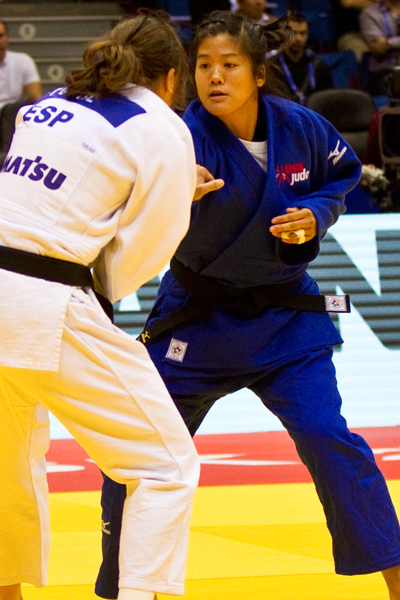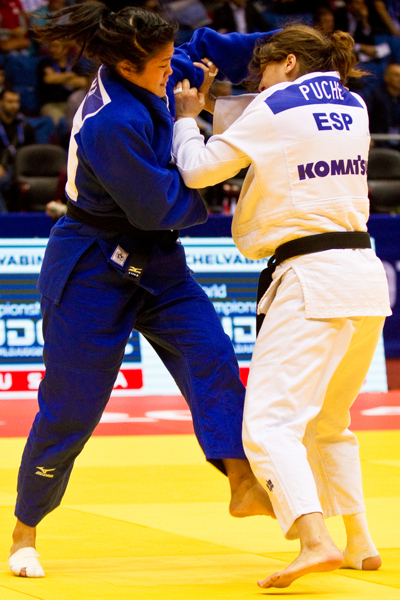 Things did not go well for Hannah Martin in her first round, either, losing to Tina Trstenjak of Slovenia, the eventual bronze medal winner, on a shido (penalty). She appeared to have difficulty getting her grip and controlling Trstenjak's movement, and was unable to score.
In the day's biggest surprise, Travis Stevens lost in the first round to the Hungarian Lazio Csoknya, being on the wrong end of a 3 to 2 penalty total in a match that appeared to be conducted in slow motion, without consistent dynamic action.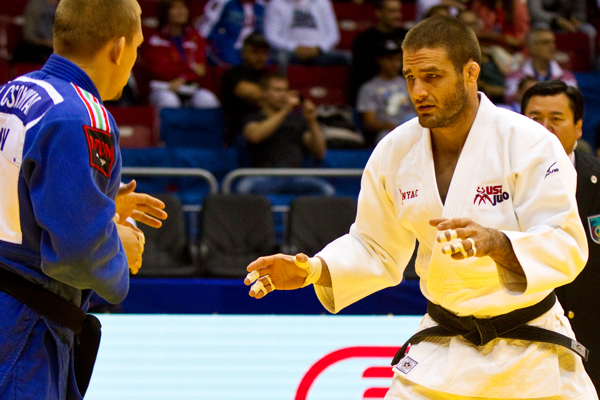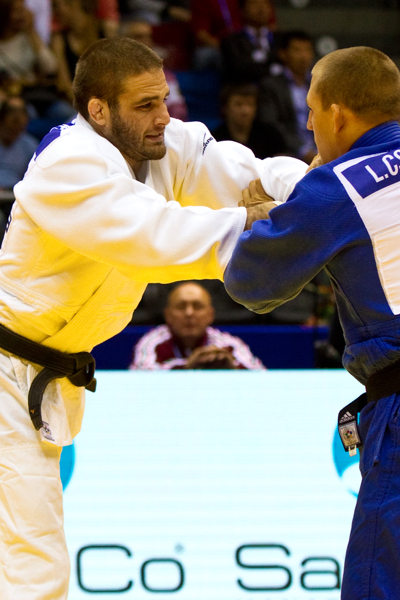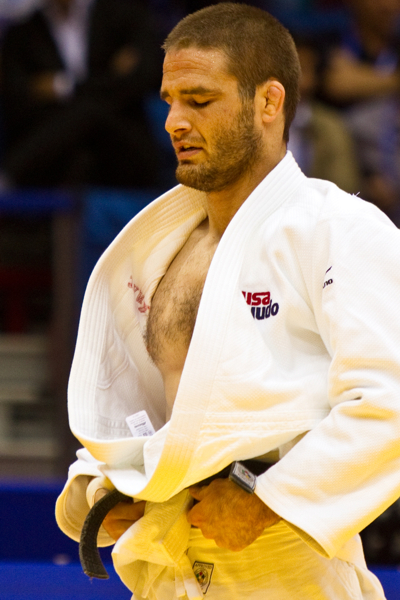 Thus ended the US team's hopes for podium honors after the first round of matches, a surprising and certainly disappointing result.
Later that day, your RR was able to catch up with Akiyama and Martin, both of whom were happy to talk a little about themselves and about the day's competition.
Leilani Akiyama, 27, the newest member of the U.S. team, trains at the Olympic Training Center (OTC) in Colorado Springs, Colorado, where she moved last year from Seattle, Washington. "I've known Ed (Ed Liddie, Director of Athletic Performance at the OTC) my whole life, and so I thought it would be a good next step to move to the OTC. And this is my best year so far. It's my first World Team. Every year I would clear my schedule to be able to watch the Worlds, and I would always say to myself, 'Next year I'm going to go', and then, 'Next year I'll be there'; and then finally I made it to Worlds. I didn't have a very good day, but I'm still pretty excited to have made it, because every year I would say that I would go. So this is the best year so far – more medals. When I moved to the OTC, my world ranking was 88, and I've gotten down to 30 in less than a year. This year in [the U.S. Senior] Nationals I took gold. I had been taking bronze in the years before that – I would just lose in the semifinals."
Leilani graduated from the University of Washington in 2009 with a degree in political science, and is now a personal trainer. She has been doing judo since age seven – for 20 years. "I've always been pretty serious about judo, but lately it's been more of a reality. Ever since I was a kid it has always been my dream to go to the Olympics.
"I actually tried to go for (the Olympics in) 2012, but it didn't work out for me. I've always felt that because of injuries it's really held me back. I couldn't finish the run for London because of surgery, so I planned on coming back for 2016."
As for her performance in today's 63 kg category, she was dissatisfied but seems to have benefited from it. "I wish I done better. I felt like I made a mistake and will learn from that mistake. Everyone says that but I know exactly what I did wrong."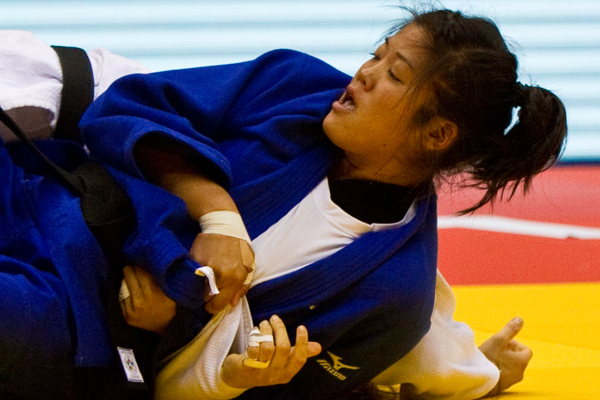 Hannah Martin is always a happy, pleasant person whenever I have spoken with her, and despite the competitive loss, this was no exception. "I'm extremely disappointed in myself. When you go to Worlds you want to leave it all out there on the mat, and I lost by one shido. One shido determined my fate at the Worlds this year. So it's disappointing this year because I know I am just as good as or better than the girls who are medaling at these tournaments. I go with them to camps, and I know I have the skills, but I am not performing up to my ability.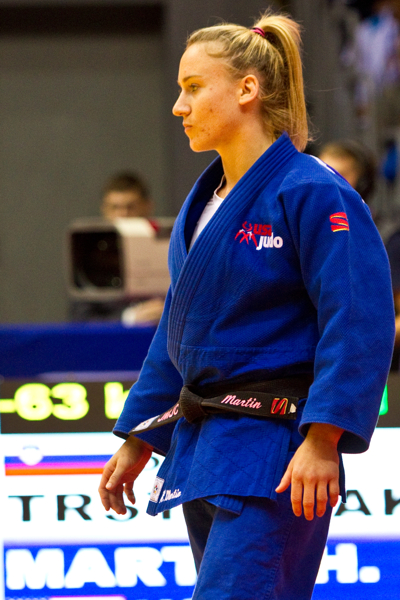 "I wanted this to be my breakout moment, but I guess it wasn't my time yet. It was really disappointing because I was expecting a lot more this year. Last year I had a really good performance, and I lost to the bronze medalist. And this year I lost to another bronze medalist. So I'm losing to people who are medaling, so I have to reach that next level so I can medal at these high-level events."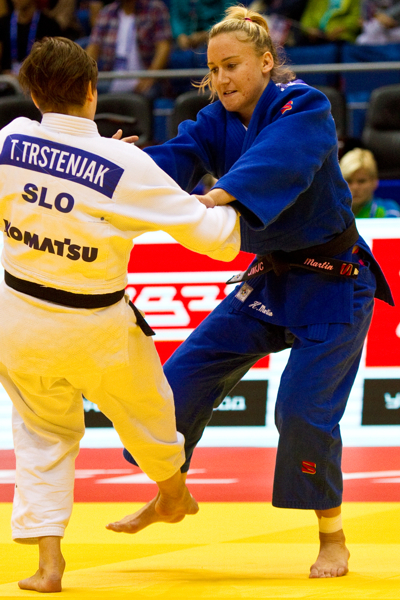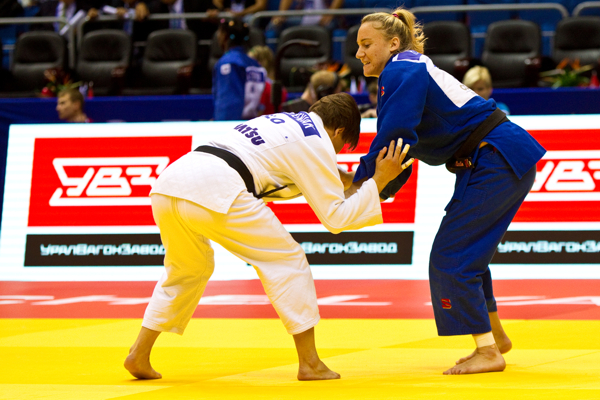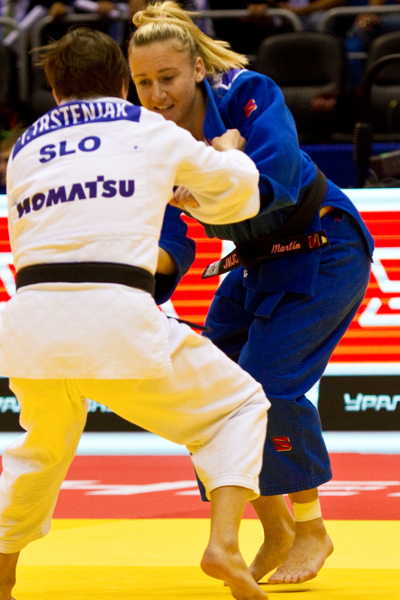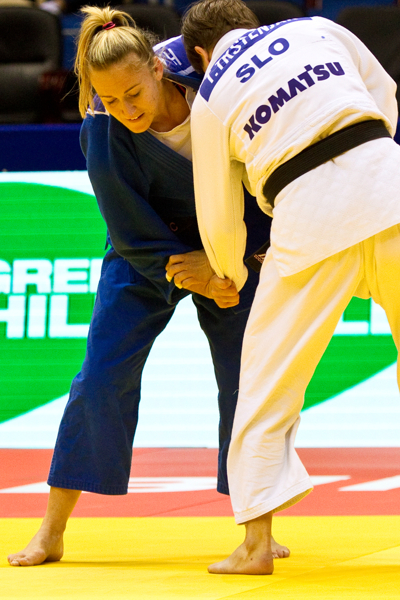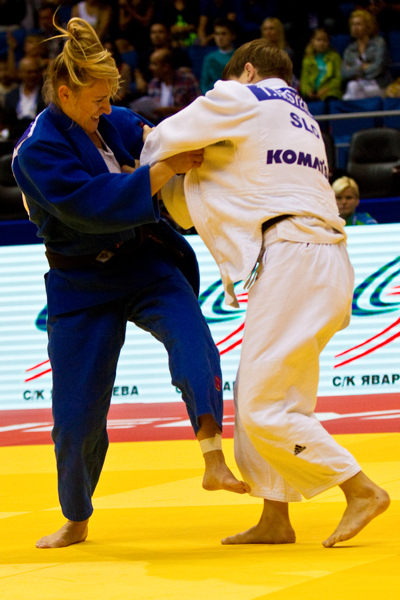 Taking a longer view, she said, "Making the (2016) Rio Olympics is a long marathon. It's not a sprint. I'm not taking a break – I'm going to Croatia in two weeks to compete in the Grand Prix, and I'm probably going to compete in Kazakhstan and Uzbekistan (in October) and Abu Dhabi (in October) and probably in Japan (in December). So I'm not done yet – I'm not going anywhere. My main goal is to win these events, not just medal. Hopefully I can win in Croatia."
"At this point in the game, it's all about confidence. Who really believes she is going to win. When you're out there, we're all at the same level. Most of the girls, the top twenty in the world, are all at the same level. But what girl believes that she's going to win when she's fighting. So I have to believe more than the other girl. At the end of the day, I personally believe that that's what it comes down to. You have to believe in yourself, believe in your abilities."
Considering the continued poor results of the U.S. team during the first four days of competition at these World Championships, I sought out head coach Jimmy Pedro, who was happy to talk about the situation and point out some factors that might not have occurred to the casual observer or to those who did not actually watch the competition.
"We had higher expectations of our team and obviously we're disappointed with the performance of the United States team, but everybody needs to realize that there are some serious programs in this world that have dedicated significant amounts of money to judo and most of them have failed also. If you look at Brazil, they're taking a beating at this tournament. I think they only have one medal so far. And for a program like Brazil, that's horrific, especially since they came in with some number one-ranked athletes in the world. Russia and Japan are shining at this event, but countries that used to be powerhouses like Korea are almost non-existent; they're not winning very many medals at all.
"Kazakhstan, Russia, Georgia, Mongolia – a lot of the Eastern European and Asian countries have stepped up their game and invested a ton of money in the sport and it's obviously paying dividends for them.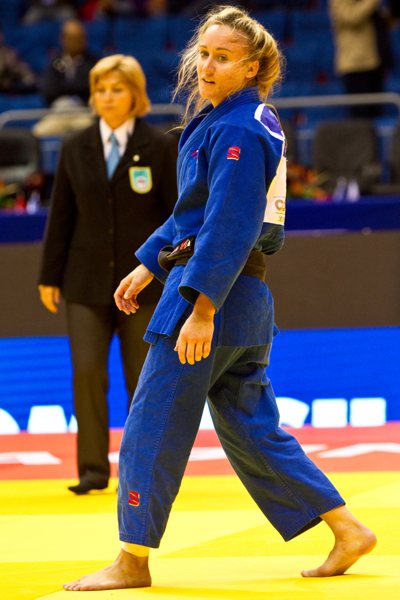 "But if you look at our athletes, we're competitive. It's not as if we lost by a lot. Marti (Malloy) destroyed the Olympic champion in the first round, and in the second round she fought a girl she upset at the Olympics, the number one in the world at the time. And Marti lost by the slimmest of margins. It was a questionable yuko, and the girl ran away from her the rest of the fight, wasn't penalized enough, and the match is only four minutes for women now and had it been a five minute match, Marti probably would have won.
"Travis (Stevens) is obviously a big disappointment today, but he got a couple of shidos, one for holding a sleeve down which they call "pushing" the sleeve down, he made a bad attack so he got a penalty for a false attack, and then he got a shido with 30 seconds left. And he lost three shidos to two.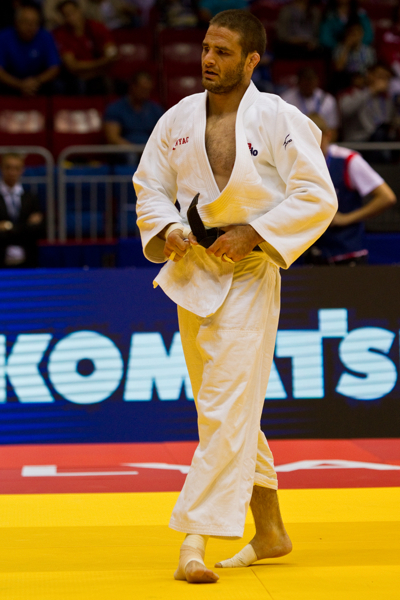 "Hannah Martin goes out there today and loses to the eventual bronze medalist by one shido. Our team's not getting destroyed, but they are losing by one penalty here, one penalty there. Or they're losing on tactics. It would also be a different story if we walked out there and got smashed by ippon in the first minute – then it would be a huge disappointment.
"The kids are competitive, and the Worlds is a very tough event. In many ways, it's a lot tougher than the Olympic Games because the field is a lot deeper. Instead of having 18 girls at your weight and maybe having 26 guys, you have 60 and 70 competitors in the division. So it's a deeper field and the whole world is here, they all take it very seriously, and they've all invested a lot of money in their programs."
Tomorrow, 2012 Olympic Gold Medalist and 2010 World Champion Kayla Harrison and teammate Samantha Bleier take to the mats for the women's 78 kg division. I'll also report on Jimmy Pedro's description of the additional maneuvers he believes are necessary to make the U.S. team truly competitive on the world judo stage. But you'll have to tune in again tomorrow for these stories. Until then …