On this beautiful weekend in Reno, Nevada, May 3 – 4, 2014, hundreds of judokas and kata specialists, from novice through Olympian level, gathered in Reno Nevada for the 2014 Senior National Judo Championships. Judokas, fans, coaches, teachers, families, and volunteers assembled for the 2 day event at the Grand Sierra Hotel and Resort, where the expansive convention hall afforded close proximity of the spectators to the action not often available with events such as this.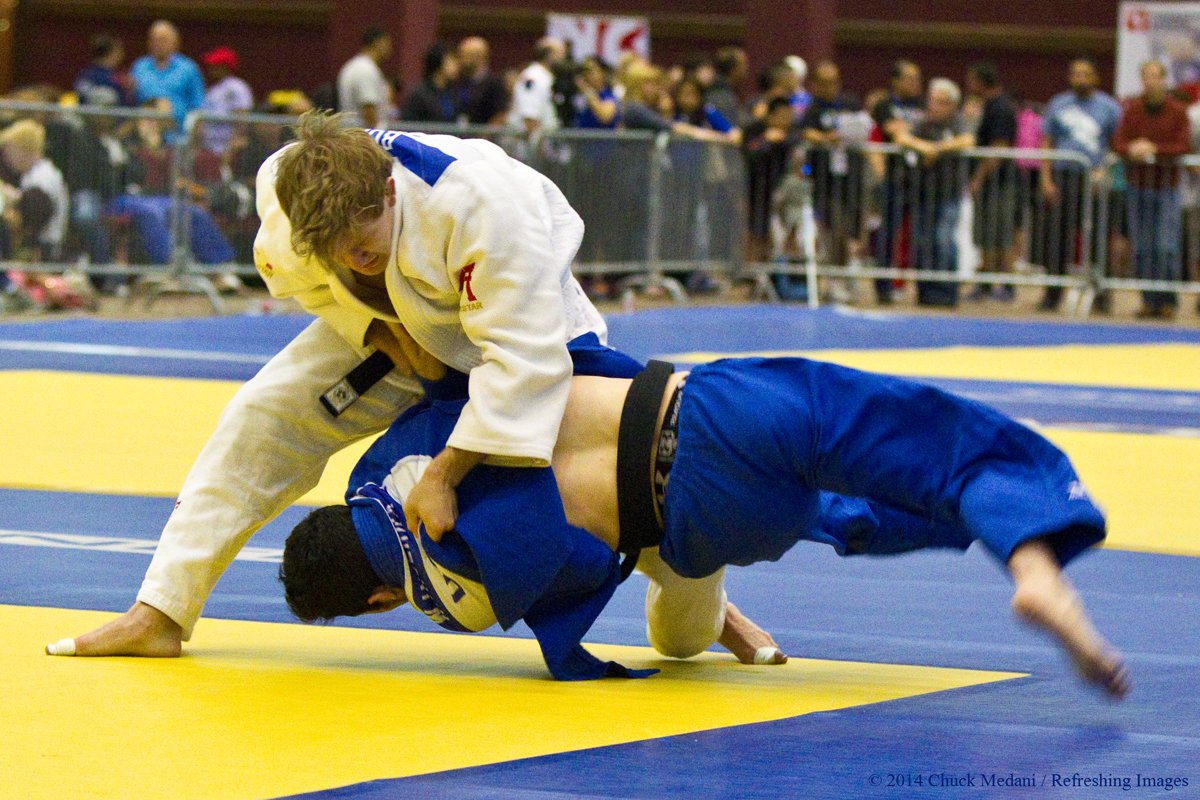 Brad Bolen, of the Jason Morris Judo Center in Glenville, New York, throws William Inserra, of San Jose State University, with Taiotoshi (Body Drop) for a half point in the men's 66 kg semifinals at the 2014 Senior Nationals in Reno, Nevada. Bolen went on to win the gold medal.
A total of 626 entries were registered for the championships. The first day saw competition in ten men's and women's categories, and competition in five katas in men's, women's, and mixed divisions.
On Sunday, the competition continued with six additional senior men's and women's categories, followed by a full afternoon of matches in the masters (ages 30+), visually impaired, brown belt, and novice categories.
The championship event was also the site of the annual meetings of the various committees and working groups of United States Judo Federation (USJF), bringing men and women from throughout the country who contribute their time and energies, mainly on as volunteers, toward the conduct and advancement of the sport. Many of these officials had spent several days preceding the competition working in their respective areas.
At the opening ceremonies, a special presentation was made to two individuals who have been long-time dedicated judokas and senseis, Jim Takemori of the Washington, D.C. Judo Club and Sergeant Major E. L. Beshimentob Mayfield, of MOJJJO, Mayfield's Martial Arts Academy in Jacksonville, North Carolina. Judo artist Andor Paposi-Jobb made the presentation of a large portrait of each of the two men, acknowledging their lifelong work for the sport.
A special treat was the appearance of two Olympic medalists from the 2012 London Games, gold medalist and world champion Kayla Harrison, and bronze medalist and world silver medalist Marti Malloy. Harrison made a public appeal for support of her foundation, Fearless, created to support young victims of sexual abuse. A photo session then followed, with Malloy and Harrison posing together with delighted individual fans who left with once-in-a-lifetime photos and the experience of having held a genuine Olympic gold medal.
Also present for the event were several former judo Olympians including Michael Swain of San Jose, California, Brett Baron of San Mateo, California, Joe Marchal of Las Vegas, Nevada, Damon Keeve of Morin, California, Leo White of Atlanta, Georgia, Ed Liddie of Colorado Springs, Colorado, Pat Burris, from Moore, Oklahoma, Jim Pedro of Wakefield, Massachusetts, current USJF president Kevin Asano of Hawaii, and Travis Stevens of Tacoma, Washington.
Barbara Shimizu, Chair of the US Judo Kata Committee, enthused about the participation in the kata categories. "I thought it was a great competition. About half of the players in this year's competition had not competed (at this level) previously, and so it was great to see a lot of new faces and some great performances. In particular, Ju No Kata had some fantastic performances and lots of new faces. It was also the first time that we had a visually impaired competitor, and we're hoping to expand the involvement of visually impaired players and players such as wounded warriors who could find kata a great way to compete if they can no longer do regular shiai."
Among the various officials, there were 65 referees, 13 of which were IJF-A referees, the highest possible referee certification in the sport. Chief Referee Joon Chi, from Edina, Minnesota, was most grateful for the work his referees were doing: "I really appreciate their sacrifices, paying their own airline tickets and hotel bills, and only getting a free lunch. They are away from their families, and from the bottom of my heart, I really appreciate them. I'm here not as the chief referee, but as their assistant, and I told all the IJF-A referees to help bring up the better qualities of the referees. So we are family. I told them if one person does a bad job, then we are all faulted. So we have good teamwork, working together. They are doing a good job."
Event Director Corinne Shigemoto, of Colorado Springs, Colorado, was equally enthusiastic about the work of the dozens of volunteers: "Without our volunteers, we couldn't run an event. It takes many different pieces of the puzzle to be able to pull off an event and volunteers are just such an important part. We appreciate all the help that they give us and we couldn't do it without them."
Several hours later, after the end of the tournament, many of those volunteers were still working to clear the pallets full of boxed equipment from the huge hall and pack the tractor trailers shipment to the next venue.
Vaughn Imada, First Vice President of the USJF, wishes to remind judokas, families, coaches, officials, and fans about the next major event, the combined USJF/USJA Junior Nationals to be held in Hawaii over the July fourth holiday.