On Sunday February 9th over 600 contestants including black belt elite judoka coming from all over California and the Midwest competed in the 66th Annual San Jose Buddhist Judo Club and 22nd "Sensei Memorial" Invitational Judo Tournament. This year the tournament was dedicated to Keiko Fukuda Shihan (or Master), 10th Dan, who passed away only one year ago on the same day of the tournament. Until her passing, Fukuda Shihan was the last surviving student of Dr. Jigoro Kano and the granddaughter of the man who was Dr. Kano's first sensei.
The tournament was initiated by a ceremony in her honor where San Jose Buddhist Judo Club Co-head Instructor Daniel Kikuchi presented gifts to prominent guests from the judo community. Among these guests were San Jose State University Judo Team Head Coach and former USA Judo president Mr Yosh Uchida who spoke about Shihan Fukuda's contributions to judo and the impact her contributions have made for women, as well as all members of the discipline.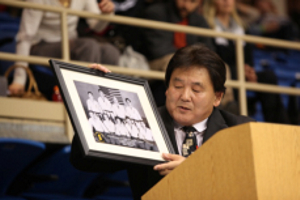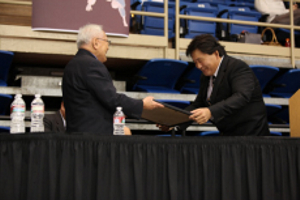 2012 Olympic Bronze Medalist Ms Marti Malloy, in symbolizing Fukuda Shihan's vision for women in judo, received a gift of a photo displaying both a portrait of Marti Malloy and Fukuda Shihan when she was about the same age.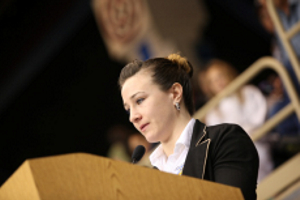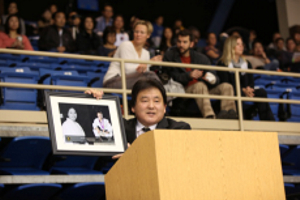 Fukuda Shihan's successor Mrs Wilina Monar Sensei accepted a gift from San Jose Buddhist Judo Club as new head instructor of Soko Joshi. In her eulogy to Fukuda Shihan, Monar Sensei spoke about how Fukuda Shihan's teachings made great contributions to not only her own physical and mental development, but to her spiritual growth as well.
Powerful messages from the United States Judo Federation Executive Director and USA Judo Referee Commission Chairperson, Mr Robert Fukuda and USA Judo President Mr Gary Goltz were followed by an equally moving presentation that began with a movie trailer for Ms Yuriko Gamo Romer's "Mrs. Judo", a documentary about Fukuda Shihan's road to overcoming sexism and eventually becoming the highest ranking women in judo.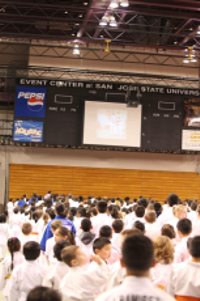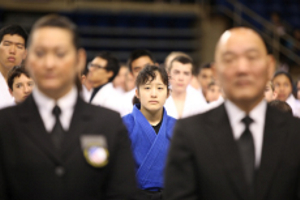 As the largest local tournament in the United States the event proceeded smoothly and ended earlier than usual with Cupertino Judo taking home 1st place for the team prize. San Jose Buddhist Judo Club gives special thanks to the San Jose State Judo Team for their participation in the tournament and to the clubs and competitors who have made this one of the best local tournaments over the years.
Photography courtesy of arikdaophotography.com