After the Junior Olympics and JA/JF Junior Nationals, with the help of Mrs. Eiko Sheppard, we contacted prospective Junior athletes and also received inquiries to attend the 2013 Sanix Juvenile Team Championships. Most of the team members were selected by the end of August, 2013 so that they could purchase lower airfare.
This year's team members were:
Noboru Saito (guest of organizer and served as girl's team head coach)
Shelly Tanaka (head of delegation)
Paul Troung (boy's team coach)
Madison Nakayama (assistant girl's team coach)
Boys' team members were:
Corbin Balitactac (13) – San Carlos, CA
Michael Mutz (12) – Chicago, IL
Robert Tanaka (13) – Denver, CO
Anthony Llamido (12) – Colorado Springs, CO
Devon Shah (13) – Danville, CA
Girls' team members were;
Elizabeth Keen (14) – Twin Lakes, WI
Akiko Balitactac (12) – San Carlos, CA
Hailey Runyon (13) – Three Rivers, MI
Morgan Nakayama (14) – Portage, MI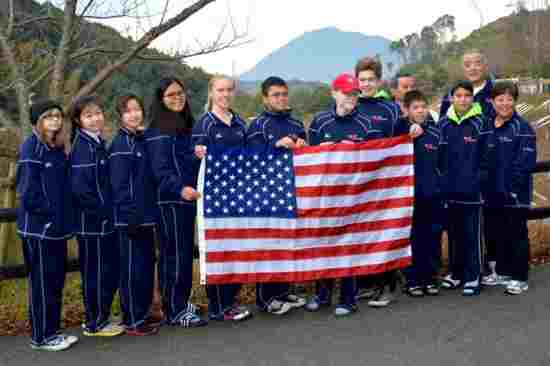 From left: Hailey, Morgan, Madison, Akiko, Elie, Corbin, Robert, Mike, Paul, Anthony, Devon, Saito, Shelly.
Note: Team members must be born on or after April 2, 1999
Many parents accompanied their young athletes to Fukuoka, and I took three of girls from Michigan to this event. I called this year's team the Konan Judo Club, since most of them are Konan members. This event is a club team championship, so all team members should be from the same club/school. However, since forming a team from the same
club in the US is very difficult, the organizers allowed us to organize the team comprised of selected young people from all over the U.S.
With the help of Dr. Robert Oishi (Taishi Dojo, L.A.) and Mr. Robert Fukuda (USJF Ex. Director), this year's team received a uniform sponsorship from Ms. Lia Hatashita of Hatashita Enterprise. The team looked really sharp. Thank you very much Lia! The kids loved the uniforms.
Most of the delegation arrived in Fukuoka on Sunday, December 22. The Colorado delegation was delayed at the Denver airport, causing them to miss their connection at Narita. They arrived mid-day on Monday, December 23.
On Monday, December 23, the team received an orientation of the Global Arena following the breakfast. At 9am, all coaches and some parents attended the international judo camp meeting and received the briefing of this year's camp.
This year's camp participants included:
Coaches:
Hioaki Kugisaki – Hakko Jr. High School
Shun Kasuga – Rittsumeikan University
Asahi Dai – All Japan Judo Federation Jr. Coach and Keio University coach
Yasuhiro Kai – Tokai Daigo High School, and
Ms. Haruna Asami – a current 48kg world champion as special guest coach

Teams:
Hong Kong – boys and girls
South Korea, Wonkwang Middle School – boys only
Nederlands, Stichting Topjudo Kenamju – boys and girls
Russia, St. Petersburg, Yawara M – boys only
Chinese Taipei, Zheng De Jr. High School – boys and girls
USA Konan team – boys and girls

From Japan
Japan Hakko Jr high School – boys and girls
Aya Jr. High School – boys and girls
Tokai Daigo High School – boys only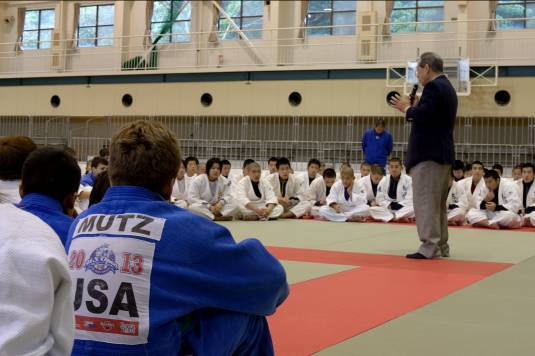 Camp started at 10am with a 30 minute lecture by Mr. Fujita, the Kyushu Judo Association President, about Kodokan Judo, particularly concerning the educational value of judo. That was followed by 30 minutes of warm-up led by the Hakko Team and then uchikomi. After a 15minute break, camp resumed from 2pm until 5:30pm with many rounds of newaza and standing randori.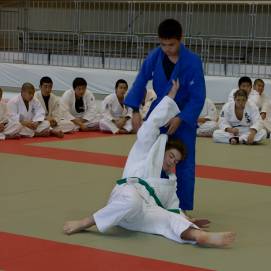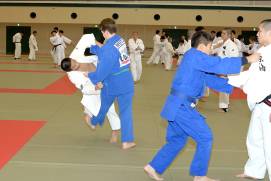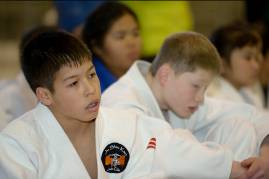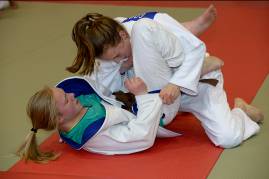 The second day started with breakfast at 7am. Camp began at 9am with warm-up and more uchikomi and sharing interesting
techniques, demonstrated by each team, followed by practice of those demonstrated techniques. The afternoon session started at 2pm with warm up then one hour demonstration/instruction by Ms. Asami. She taught her Kouchigari and tsukuri/griping for Kouchigari. After a 15 minute break, more newaza and standing randori until 5pm. Then we received the explanation of the tournament rules from Mr. Shun Kasuga.
Later, during the boy's first round, I learned that we'd be using the 2012 IJF rules, instead of the 2013 rules. One of the Japanese athletes grabbed the foot after kouchigari and threw a US player and scored wazaari, so I went to protest to head referee and he told me that this event is using 2012 IJF Rules. The rules were not clearly spelled out, and I was not pleased with the casual way they did things.
On Tuesday, December 24, the US team practiced at the Matsumoto Memorial Judo Dojo from 9:30 am for one hour to condition and prepare for the next day's team championships, lead by Coach Paul. The rest of the day, team members relaxed until the technical workshop by Ms. Asami from 2pm to 3:15pm. Paul and I attended the coach's meeting at 15:30 for one hour. We were told that over 800 athletes would participate in the team championships: 79 boy's teams (6
teams from overseas) and 44 girl's teams (4 teams from overseas).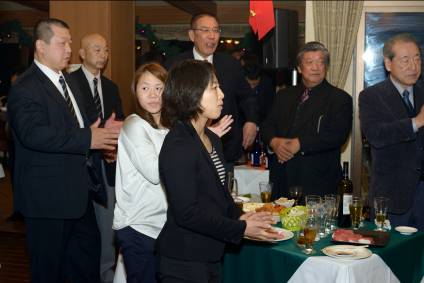 The official reception of the tournament started at 7pm at the Restaurant GA Club. Main dishes included Tuna sashimi/sushi (brought whole tuna and made into sashimi) and steak, but also assorted Japanese dishes as well as adult beverages. All accompanying parents were invited as well, and they enjoyed gathering and socializing with other teams' officials and parents.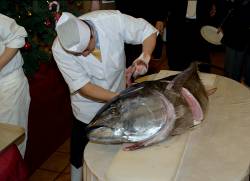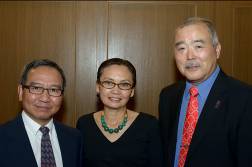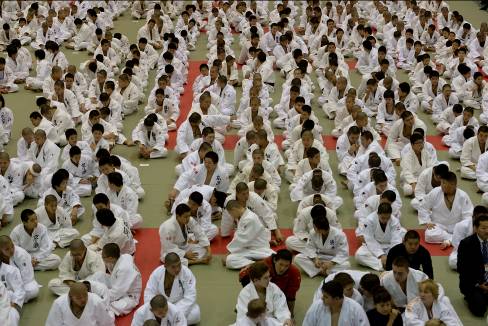 On Thursday, December 26 – tournament day, the team had breakfast at 6:30am and then headed to tournament site by 8:20am for warm up and the opening ceremony at 9:30am. Shai started at 9:45am. The boy's team faced Mizukami Jr. High School from Kumamoto prefecture. Konan team line-up included Anthony Llamido, Devon Shah, Corbin Balitactac, Michael Mutz, Robert Tanaka.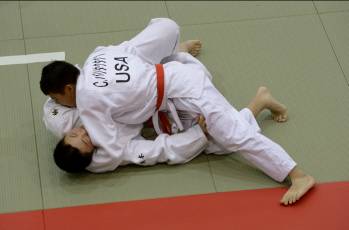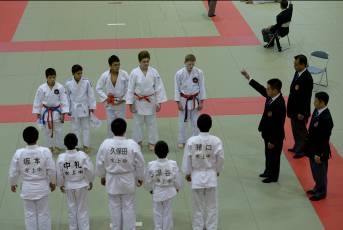 The boys' team fought hard and ended up winning over Mizukami with 3-2. However in the second match, the team lost 4-1 against Ashikari Jr. High School team from Saga prefecture.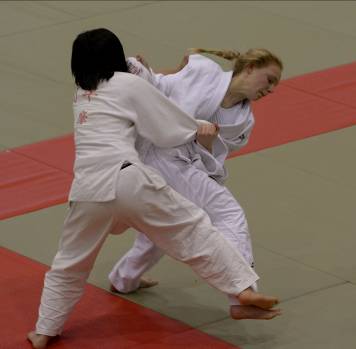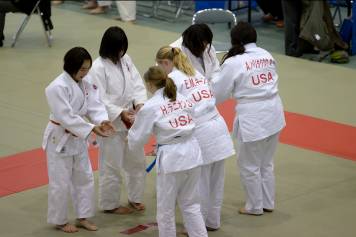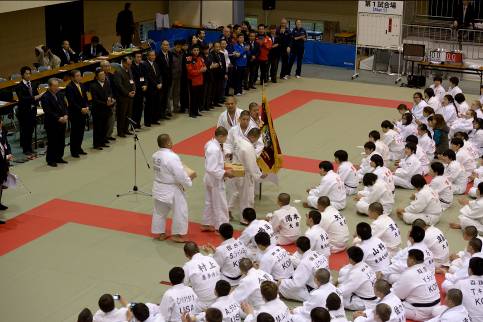 The girl's team line-up included Hailey Runyon, Elizabeth Keen, and Akiko Balitactac. The Konan team fought against Shima Middle School from Fukuoka prefecture. Hailey lost by Kesagatame, Elizabeth won by two Yukos, and Akiko lost by two yukos. However in Akiko's match, her opponent received two yukos from Akiko's two count throw "Uranage" – this should not have been scored against Akiko. And Akiko earned two shidos. So in my opinion, our team should have won. Anyway, our girls fought as hard as they could, and I am happy with their effort. They watched the rest of matches until closing ceremony. All of teams were asked stay for closing ceremony and lined-up in uniform to honor the winning teams.
That night, Paul and I decided to place the boys' team in the I level (there were 8 levels – A to E and I to K group: A is the strongest) and the girls' team in the H level (there were 3 levels – F to H group; F is the strongest) for next day's practice matches and gave our choices to the organizers.
Note: boys' team tournament rule – open weight and coach decides line up order. Girls' line-up is by weight, lightest to heaviest.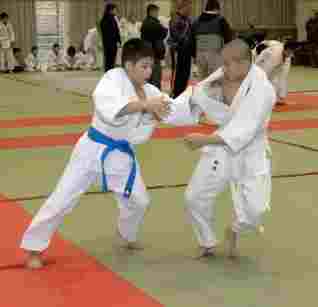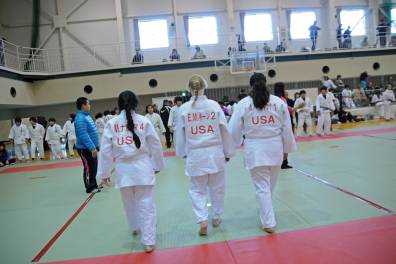 On Friday, December 27, I picked up the fighting order at the main gymnasium around 8:15 am for the day's practice matches. I learned that there were 10 teams in girls Level H. I also learned that Hailey had a stomach ache that morning, so I asked her sit out for the day. Practice matches started on time at 9am. Our girls started out slow but as the matches progressed, they grew stronger, improved fights and performance, which made me happy. Results were as a team: 3 wins, 3 draws, and 3 losses. Morgan Nakayama had 2 wins and 8 losses, Elizabeth Keen scored 7 wins and 3 draws, and Akiko Balitactac finished with 3 wins, 4 draws, and 2 losses.
Boys fought 7 rounds of practice matches and some US player played extra matches to make up for other team's shortage of player. US players results were Tony 7W- 1L, Devon 4W – 3L, Cobin 8W-1L, Mike 8W-1L and Robert 10W-1L,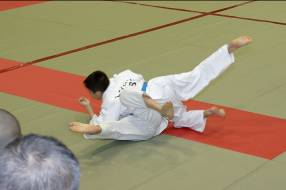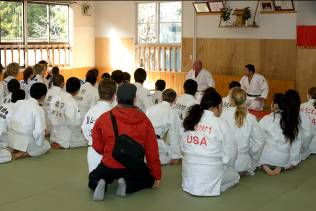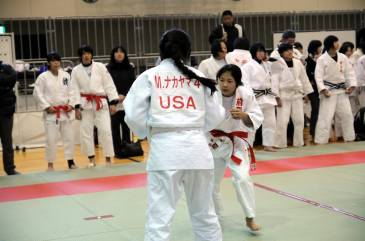 Overall, the organizers made every effort to create a fair competition/practice pairing and to give everyone a chance to fight well and gain confidence from this training. I really think the US players gained many experiences from the practice matches, which will serve them well as they prepare for future bigger events and for life.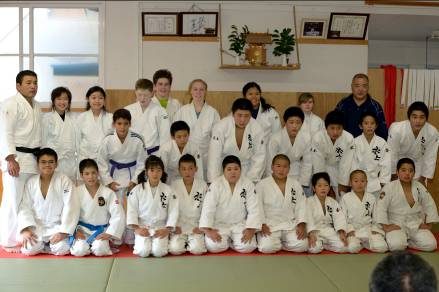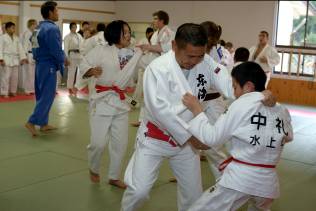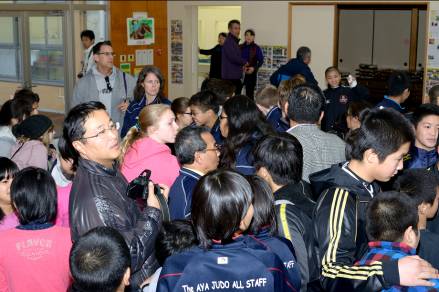 On December 28, the Village of Mizukami, Kumamoto prefecture, invited the Nederlands and US teams for a cultural exchange through judo. After a 4 hour bus ride, we arrived in Mizukami Middle High School and had a one and a half hour judo practice with local judo teams from Mizukami, Hakko Jr. High School (Omuta, Fukuoka Prefecture) and Aya Jr. High School (Miyazaki Prefecture).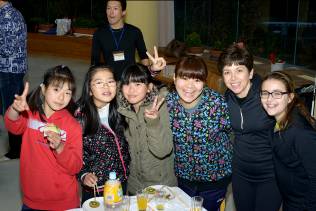 After the practice, teams were taken to the Mizukami conference center and introduced to local officials including the Mayer of Mizukami. We had dinner with local students as well as parents and spend time together sharing local games and stories.
After 3 hours, we were taken to Mizukami camp ground for our overnight stay. Overseas parents gathered at the meeting room and shared a fun time with local officials until late night.
On December 29, we had more local sightseeing after the breakfast and were treated to taiko dancing for about one hour. After lunch, we headed back to the Global Arena.
On December 30, all of us left the Global Arena to return home or for more sightseeing in Kyoto or Tokyo for few days.
Over all, the US kids behaved very well, practiced well, and fought hard. It was another successful Sanix event. The Global Arena team – from Mr. Kondo at the top to all staff members – was so helpful
and thoughtful and made our trip very enjoyable.
Thank you very much for USJF Funding of $5500. $2,700 went toward 9 athletes' airfare ($300 each) and $2,800 toward the team's accommodation cost.
2013 Sanix US Team Photos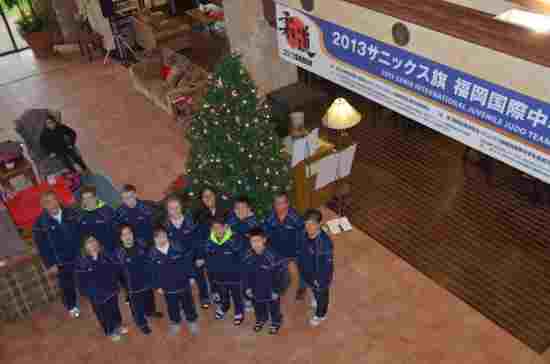 At Global Arena Lobby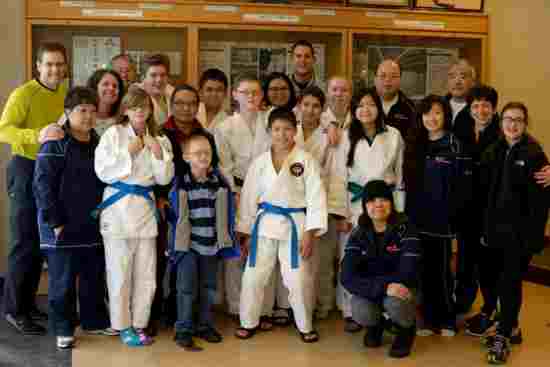 At Matsumoto Sensei Memorial Dojo – Everyone from US 2013 Sanix Konan Team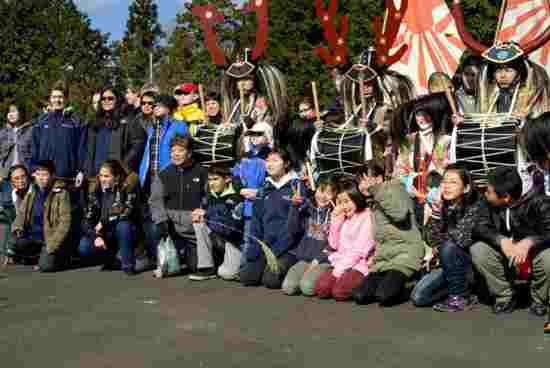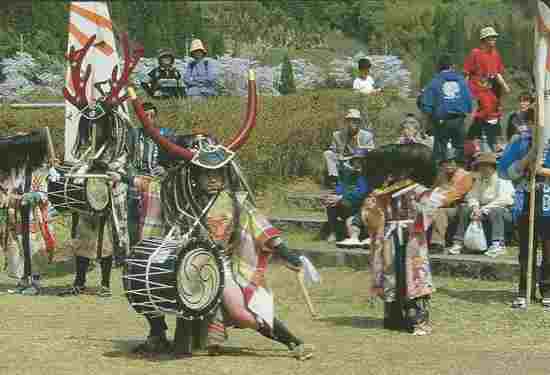 Mizukami Taiko Demo (right) and group picture with US team and local kids.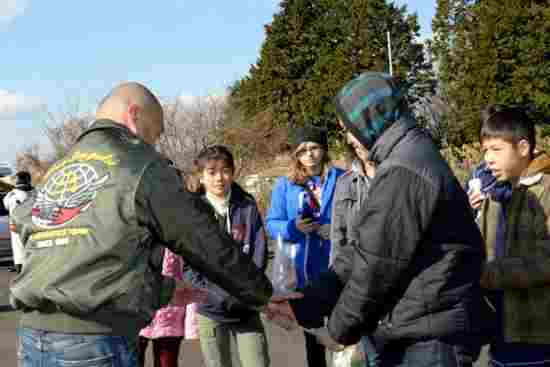 Local Fire Fighter Shimoda teaching Sword fighting to US Kids with a long weed.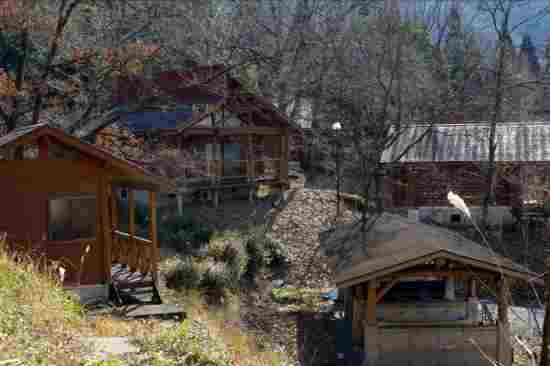 Cabins where we stayed in Mizukami.