Shufu Judo Yudanshakai held the 61th annual Eastern Open Judo Championships at the Greater Grace Christian Ministry Center in Baltimore Maryland. We had three competition mat areas.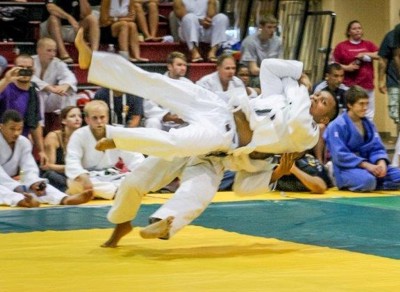 The event was hosted by Hui-O-Judo Beltsville and the venue was provided through Seigneury Judo in Baltimore. In attendance were over 300 judoka in kata and shiai competition. The junior divisions included 178 judoka representing teams from 26 dojos in the regional area, with students from ages 5 through 16 years old. There were 40 junior females competing in 12 female divisions and 140 junior males competing in 24 junior male divisions. There were 107 senior and master competitors representing 23 dojos in the regional area, who ranged in age from 15 to 60 years old. There were 11 females competing in 4 senior female divisions and 96 senior males competing in 13 senior and master male divisions. The Outstanding Junior Competitor was Mikhail Erstrov from Yawara Foce in Bucks County PA and the Outstanding Junior Team was Sport Judo Club. The Outstanding Senior Competitor was Alfred Brown from USA Stars and the Outstanding Senior Team was Sport Judo. Results are available as a pdf.
Participating at the 2013 Shufu Yuanshakai Eastern Open Judo Championships were judo clubs from the regional area including Maryland, Virginia, Ohio, New Jersey, Pennsylvania, Rhode Island, Georgia South Carolina, and West Virginia. Attending clubs included Aldan (PA), AMRA JUKU (PA), Arlington (VA), Baltimore (MD), British Royal Navy, Budokan (MD), Bushikai (MD ), Charlottesville (VA), CHU TO BU WEST (OH),College Park (MD), Dale City (VA), DC Judo (DC), DC Recreation Judo (DC), DC Veterans Affairs Medical Center Adaptive Judo program–DCVAMC (DC), Drexel (PA), Fairview (PA), Golden Dragon (PA), Harrisburg Judokai (PA), Hui-O (MD), Jason Morris Judo, Judo Movement (NJ), Kim's Martial Arts (PA), Kokoro Tatsu (GA), Lancaster (PA), Liberty Bell (PA), Mainline (PA), Maryland Judo Team (MD), Mayo Quanchi (RI), Mid Atlantic (PA), Mountain Kim (VA), Murty's (PA), NOVA MMA (VA), North Jersey Judo (NJ), Ocean County Judo (NJ), Philadelphia Judo (PA), Pure Performance (MD), Pure Performance (NJ), Rankin (WVA), Samurai(SC), Southern Maryland Jujitsu (MD), Sport (VA), Seigneury (MD), Team Maryland (MD), Tidewater, (VA), USA Stars East (VA), Wall 2 Wall (VA), Washington (DC), Yamaskai (MD), Yamaiskai (VA) and Yawara Force (PA).
At the event, Mr Tad Nalls from Washington Judo Club in Washington DC was honored with the Thomas Dalton Memorial Service Award. Many of you may not remember who Tim Dalton was. Tim was an active judo competitor in the 1960's. In 1962, he helped to found the Eastern Collegiate Judo Association. He served as President of Shufu in the 1970's and was instrumental in starting the Shufu newsletter, The Shimbun. He served as manager of the 1972 Olympic Judo Team in Munich, Germany. He was chairman of the United States Judo Federation Referee Commission. He served as Director of Operations for the United States Judo Incorporated. Tim and Dr Koiwai were the first two Shufu referees to be elevated to International Judo Federation "A" referee status. Tim is a Life Member of Shufu Yudanshakai. He will always be a proud member of the United States Marine Corps. He remained active in judo until he passed away. Michael Tad Nalls is a 6th dan, the Chairman of the Shufu Yudanshakai Board of Examiners, a certified USA Judo International Coach, an International Judo Federation Continental Referee. He is an instructor of the Georgetown University Judo club since 1967. In 1985 the Washington Judo club merged with his program for the mutual benefit of all of the members. We thank Mr Nalls for all of his years of dedicated service to Shufu Judo Yudanshaka.
We started the day with the kata competition.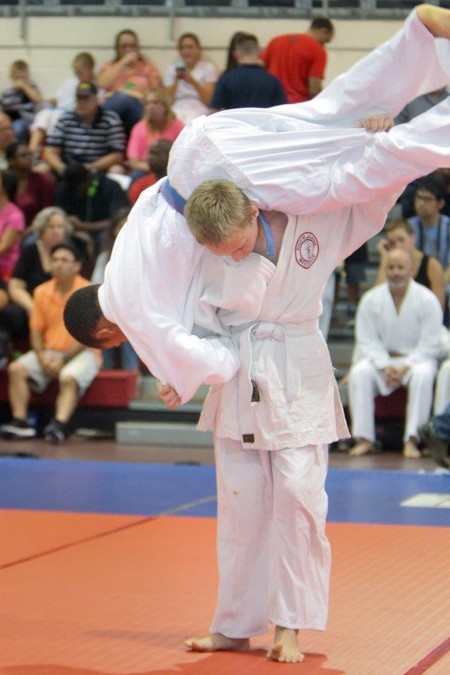 There were 14 teams who competed in the Nage No Kata, Katame No Kata, Goshin Jutsu and Ju No Kata. There were two teams competing in the Advanced Goshin Jutsu, three competed in the advanced Nage No Kata, five teams competed in the advanced Ju No kata, two teams in the Novice Ju No Kata, one in the Novice Nage No kata and one in the advanced Katame No Kata. Karl Tamai(College Park Judo) and Diane Jackson (Hui-O-Judo Beltsville) took top honors in the Nage No Kata. They are preparing to go to the World Championships in Japan in October. Lisa Capriotti and Robert Gouthero from Samurai Judo took top honors in the Goshin Jutsu. Karl Tamai(College Park) and Fran Vall (Washington Judo) took top honors in the Ju No Kata. James Campbell(12 y.o.Yonkyu from Hui-O-Judo Beltsville and Duncan Waite (13 y.o. Nikyu from Aldan Judo) took top honors in the Novice division Nage No Kata. Jill Robinson (12 y.o. Gokyu from Fairview Judo) and Laura Hobbs (11 y.o. Yonkyu from AMRA JUKU) took top honors in the novice Ju No Kata division. It was nice to see new young novice competitors on the mat with teams that are going to the World Championships.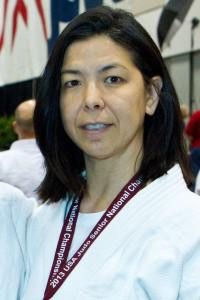 Diane Jackson is our kata development chair person and has been working to continually expand the development and growth of kata within Shufu Yudanshakai Diane Tamai Jackson, recently assumed the chair of the Shufu Yudanshkai Kata Development Committee. Partnered with her brother Karl Tamai, they are the reigning US national champion team in mixed Nage No Kata and are preparing to go to the World Championship in ocotober in Kyoto Japan. She was equally enthused about the day's events. "Shufu provided a Nage No Kata clinic in March and the Goshin Jutsu clinic in July. We have been working to get more judoka to learn the katas and participate in them. It enhances their overall judo experience and will make them better judoka."
Sensei Kevin Tamai, the tournament director from Hui-O Judo in Beltsville Maryland stated "On behalf of Shufu Judo Yudanshakai, I would like to thank all of the judoka who came to participate in this event. It is a great tribute to our yudanshakai that so many people have traveled to come here. The senseis were very pleased to see the quality judo techniques that were performed today. They were even more proud of the great judo spirit and character that so many judoka displayed. We would like to thank all of the parents for bringing their children to this event, thank all of the judoka who participated today, and to thank all of the amazing volunteers who make this event possible. Thank you to all of the referees, technical officials and all of the support staff. I would also like to thank Sensei Mike Veader, Seigneury Judo and Greater Grace World Outreach for providing us such a wonderful venue."
We were pleased to once again welcome members of the District of Columbia Veteran Affairs Medical Center Adaptive Judo program to another Shufu Yudanshakai event. Judoka were not separated in special divisions rather they participated in the regular divisions with some adaptive rules and allowances.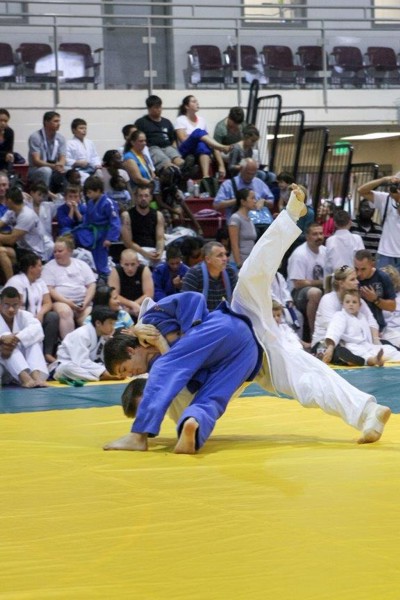 Sensei Mark Smith, who leads the DCVAMC adaptive Judo program stated " The DCVAMC Adaptive Judo Program is getting our veterans involved in judo programs. We are currently focused on individuals who are receiving care for Traumatic Brain injuies (TBI), Post Traumatic Stress Disorder (PTSD) and individuals who are visually impaired/ blind low vision. These athletes are going to competitions and kata clinics. We are helping them get physically and mentally alert, exercising with enhanced safety, working on sensory coordination, physical agile, as well as getting new coordination of motion and thoughts. We are getting these individuals ready for the Para Olympic games."
It takes lots of staff to make any event happen. We want to say special thank you to all of the volunteers who make our events possible. All of officials who volunteer their time to help make our event successful by being a referee, technical official, or other tournament official. We would like to thank all of our competitors, without you we would not have an event. Thank you to the parents for bringing their kids to the events. And to all of the judo supporters who come to cheer on our judoka.
Kevin Tamai, the event director from Hui-O-Judo in Beltsville MD stated
"It was a well attended tournament. We hope that it was a rewarding and enriching experience for judoka on every level who were able to attend. It was good to see so many teams competing in the katas. We were honored to have the British Royal Navy Judo team join us this year. We invite you to join us for the next Shufu Yudanshakai Tournament which is the Takemori Open Judo Championships to be held on October 5th at DeMatha Catholic High School in Hyattsville Maryland"
We continue to grow and develop judo in the area. Shufu Yudanshakai is strong because of its members and leaders. Shufu Yudanshakai was formed in 1953 under the Amateur Athletic Union, later under the Judo Black Belts Association, then under the current United States Judo Federation. Shufu was responsible for the eastern side the United States. Shufu Yudanshakai has outstanding local, regional, national and international leaders in all phases of our sport. To name them and all of their accomplishments would fill many volumes on each one. Their philosophy is plain: to strengthen and improve judo from the local through the international levels by the unswerving devotion to and promulgation of the Dr Jigoro Kano's Rules and Philosophy. There rules, as simple as they may appear on the surface to the casual practitioner of the sport, encompass all that Jigoro Kano envisioned when he propounded his findings of "Maximum efficiency with minimum effort and mutual welfare and benefit"
Shufu Yudanshakai provides events throughout the year for its members and is open to all members of the USJF, USJA and USA Judo members. We provide teacher clinics, clinics on various katas, referee clinics, two promotional events, kata competitions and four tournaments. In addition there are 8 other local tournaments run throughout the year by local Shufu Clubs.
Please note upcoming events will include the 2013 Faye Allen Memorial Kata Competition and Clinic on October 26th in Washington DC. The 2013 Shufu Yudanshakai Takemori Open Judo Championships which will be held on October 5th at DeMatha High School in Hyattsville, Maryland. It will feature three competition mat areas. The Shufu Yudanshakai Promotionals will be held on November 2 at the College Park Community Center. Please note that both juniors and seniors will be happening on Saturday. There is a Yudansha meeting on Saturday morning at 8am. All Shufu Yudansha are strongly encouraged to attend. The 2013 Shufu Open Judo Championships will be held on November 16th in Lancaster PA. It will have four competition mat areas. Information on all of the above events are posted on the Shufu website.
Finally we want to thank our leadership team of Shufu Judo Yudanshakai: John Morrisson, President; Charles Medani, Vice President; Kurt Tamai, Secretary; Michael Landstreet, Treasurer; Tad Wilson, Recorder; Mike Grunberg, registration and Tad Nalls, Chairman of the Board of Examiners. We also thank all of our subcommittee chairpersons for all the work they do throughout the year.
Thank you to all of our judoka and families for your support of Shufu Judo Yudanshakai.
Photos Courtesy of Roy Nanjo