Marti Malloy, representing the United States at the 2013 World Judo Championships being held this week in Rio de Janeiro, Brazil, won the silver medal in the -57 kg category after charging through her pool with wins over Anriquelis Barrios of Venezuela, world # 20 Jovana Rogic of Serbia, world #8 Ketleyn Quadros of Brazil, and world #3 and eventual bronze medalist Miryam Roper of Germany.
Malloy, a bronze medalist at the 2012 Olympics in London, entered these championships ranked at #10 in the world.
In the semifinal match, she used her great skill in grip fighting, combined with her sode tsurikomi goshi to score a waza-ari over a taller, very aggressive Vlora Bedeti of Slovenia, placing her in the first World Championships final of her judo career.
In the final, with her coach, 1987 world champion Michael Swain, sitting in the coach's position at the edge of the mat, Malloy faced off against Brazil's Rafaella Silva, ranked #4 in the world.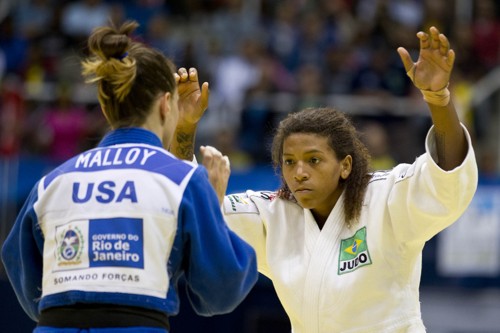 photo courtesy of Graziella Batista
Malloy was penalized within the first few seconds of the match for slapping at Silva's hand to break her grip, earning her a penalty for violating a rule which was recently established by the International Judo Federation (IJF). After both women had established their gripping positions, Silva and Malloy came to a stop near the edge of the mat. After a pause in which both seemed to be anticipating the other's next move, Malloy stepped forward with her right foot as Silva struck with a ko-soto gari, using her left foot to drive Malloy down into the mat for a waza-ari (half-point). A review of the technique using the CARE system (instant replay available to the referee jury off the mat) led to a change to ippon (full point), and the contest was over.
After the match, Malloy spoke to the media. "I can't wait to speak to my family, friends and teammates, everyone back home who I'm sure were going out of their minds hoping for me to win."
Malloy, 27, and a Washington State native, burst onto the international judo scene in 2002 as a 16-year old, winning the Rendez-Vous Canada. She eventually relocated to California, earning her undergraduate degree from San Jose State University, where she is now pursuing a graduate degree in marketing while training for the 2016 Olympic Games to be held in Rio de Janeiro. She is a 3-time US Senior National Champion, and a 5-time member of the US world championships team.