On a beautiful Monday morning in Rio de Janeiro, the 2013 World Judo Championships began the first of seven days of the best judo shiai competition on the planet, with 680 athletes from 123 countries all eager to give their best effort in the quest to win the title of "World Champion". With seven men's and seven women's categories being contested, followed by the world team championship, it's all about judo this week at the Maracanhazinho sports complex in the northern section of the city, about 14 km (and a seemingly interminable taxi or bus ride) from the exotic beaches of Copacabana and Ipanema. Crowds of people flood the venue, proudly wearing their team colors, walking around the arena soaking up the plentiful sunshine, and inside the arena gathering together to lead chants and cheers for their country's team members.
The place is loaded with not only competitors and their coaches, but the International Judo Federation's top officials, International-A referees, and broadcast teams, journalists, and photographers from five continents. Part of the outside perimeter of the arena is crowded with broadcast companies' trucks and their looming antennas.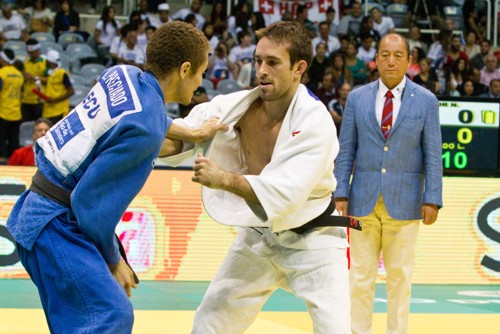 The United States national men's and women's team, lead by head coach Jim Pedro, Sr., Assistant Coach Jhonny Prado, former Olympian and USA Judo's Director of Athletic Performance Ed Liddie, and manager Chris Skelley, consists of a mix of highly experienced international fighters along with those who are on their first U.S. world team.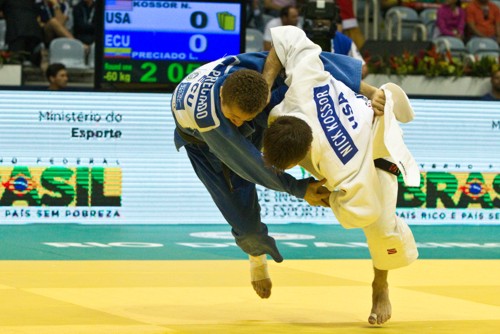 Today's matches started off well for the US team, with Nick Kossor, ranked number 36 in the world in the -60 kg division, coming back from being down by three penalties to throw Ecuador's Lenin Preciado with a right-sided hopping uchimata good for a waza-ari (half point) that he followed into mat work immediately, securing a picture-perfect juji gatame (armlock) for the ippon (full point) and the win.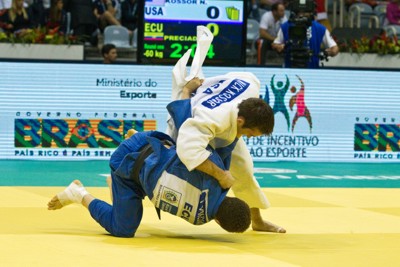 Nick was followed within minutes by first-time team member Alexa Liddie, who faced Cuba's Maria Celia Laborde, ranked 33rd in the world and bronze medalist in the most recent Paris Grand Slam (formerly the French Open). With her father and coach Ed Liddie in the coach's chair, Alexa showed confidence in her first engagement of the match. However, Laborde soon was able to break through Alexa's grip, dropping very low to the mat with a left-sided sode tsurikomi goshi, tying up Alexa's arms and rolling her over far enough to secure the ippon. Laborde went on to place fifth in the division.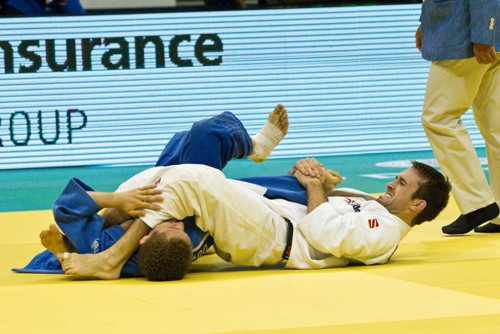 Nick Kossor returned to the mat soon thereafter, matched against Azerbaijan's Orkhan Safarov, ranked 71st in the world. Although the match went very well for Kossor at first, with both fighters attacking and defending successfully, Safarov used an unexpected variation of what could be described (with difficulty) as a twisting overshoot (undershoot?) of morote seoinage, spinning his body to follow his elbow underneath Kossor's arm, falling onto the mat as he pulled Nick over his body, and forcing him to roll onto his back for an ippon. Safarov continued to have a good day, finishing as one of the two bronze medalist.
With the fighting over for the day's two US team members, I asked assistant coach Jhonny Prado to reflect on the day's results: "Today we had Alexa Liddie, who is competing in her first world championships and does not have that much experience internationally. It's just going to take time – she can put this in back of her and work hard with it. I think Nick really did a great job – in the first fight he was losing by three shidos but he came back and took the win. In the second fight the player from Azerbaijan was pretty strong and gave him a good fight. But he got caught with that weird seoinage throw that is a new move that everybody is trying these days and it worked on Nick. But it is what it is – in the senior worlds you can't really take your time and think too long because it's a really competitive level."
"For the rest of the week we have some experienced athletes and some who are coming for the first time. Colton Brown has a really tough fight in the first round, and some like Hannah Martin we expect will get some things accomplished this week, and the same for Angelica Delgado and hopefully good results from Brad Bolen. But this is an event where everybody has high skills and they need to be ready for it. I think the team is prepared, and hope that we'll bring some medals home."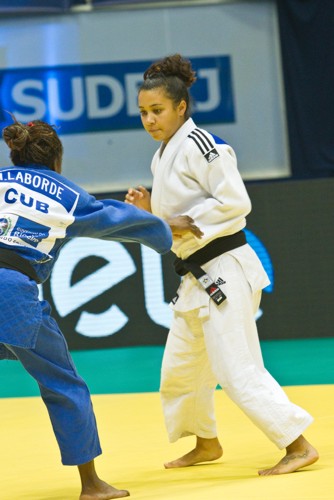 Ed Liddie, Performance Director of USA Judo, was also positive about the day's results: "This is the first year of the quadrennium, and we're looking to basically start the march toward Rio in 2016. We feel that we have a young team and a good holdover team, so we've got a good core right now. Unfortunately we're missing Kayla (Harrisson), our top gun, but we also have Travis (Stevens), Marti (Malloy), and Nick (Kossor). We're trying to find people to add to that nucleus. So this is the first step in creating a strong team in Rio. We are really looking forward to seeing who can do what in this next couple of years so that we can have a very strong team in Rio."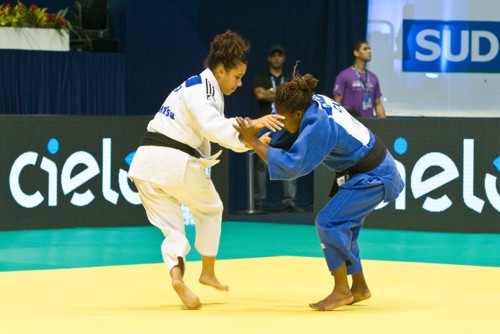 When asked about coaching his daughter on her first world team, he said, "Yeah, I am a proud dad, and hopefully she has gained some experience from here and it really motivates her to chase the dream. But that really has to come from within her and I think she has it within herself and has proven herself at various levels up to here, and this is the very next level. We hope that by being here it opens up her eyes and gets her to chase that dream very hard."
Tomorrow (Tuesday) the competition continues with The US team sending Brad Bolen into the mix in the -66 kg division, and Angelica Delgado to challenge the field in the -52 kg group.
August 26, 2013